7 Reasons The Babboe Big Cargo Bike Is A Big Deal
---
Posted on 01 February 2022
GO BIG OR GO HOME: 7 REASONS THE BABBOE BIG IS A BIG DEAL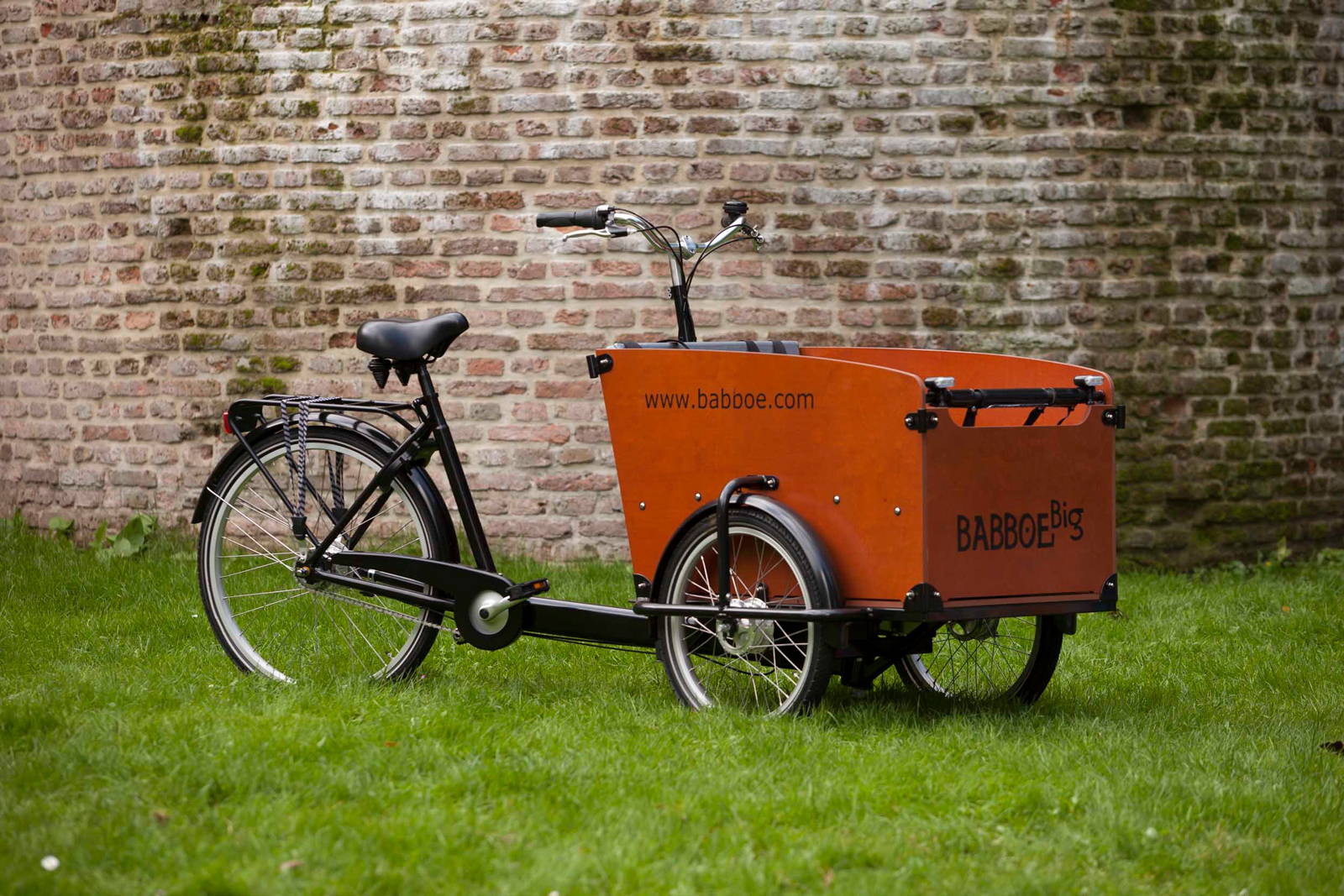 No one really knows who invented the first cargo bike, but what we do know is that it probably looked a lot like the Babboe Big. The Babboe Big might be the most proven cargo bike on earth and proof that "if it ain't broke, don't fix it". The funny thing about the Babboe Big is this design was only recently used for carrying children! In the past, bikes like the Babboe Big would have been used for bread or milk deliveries across Europe. But, adopted as a cargo bike for kids, the Babboe Big is big on space, big on quality, and big on economy. Let's take a deeper look into why this is the perfect cargo bike to link work, daycare, errands and rides home.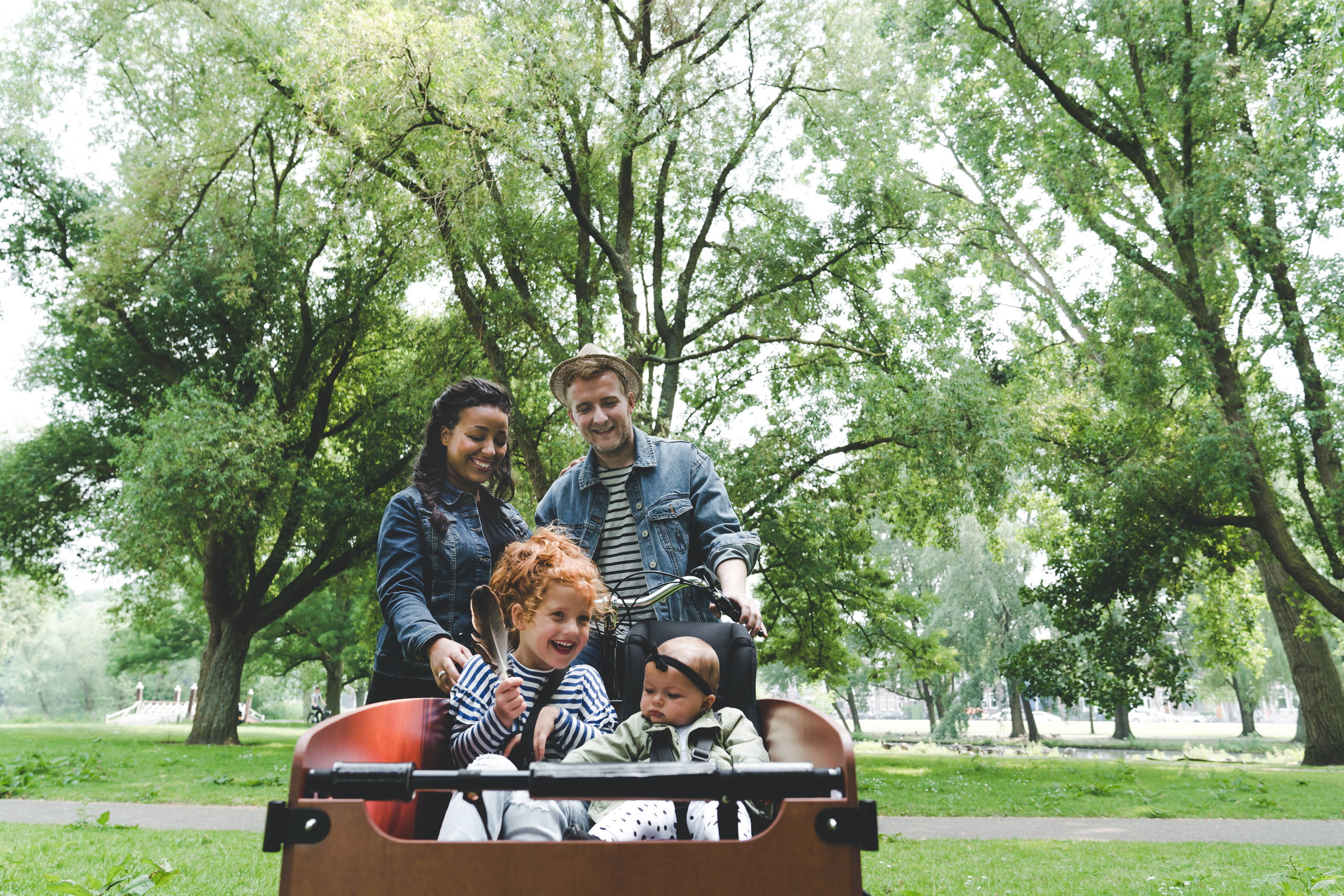 COMMUNICATE WITH THE KIDS - One of the most beautiful things about watching people use their Babboe Big is seeing how parents can talk to their kids and enjoy the ride together. The whole ride becomes a great conversation! Pack a picnic, take it out on the weekend and let the conversation steer with the bike. There's lots of room for your kids' playmates too!
2. NOT JUST STORAGE, SAFETY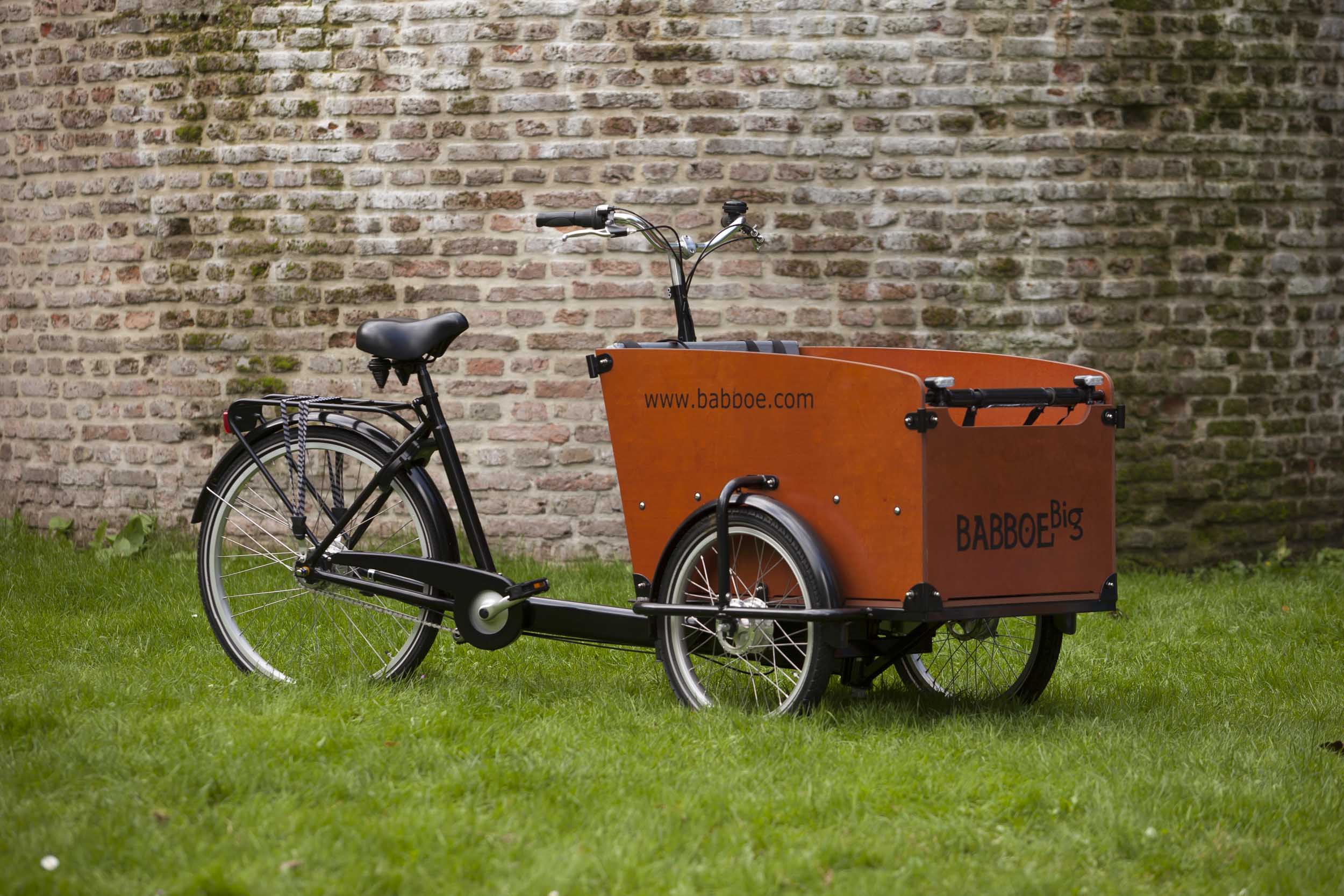 BOX SAFETY - We're seeing a bunch of newer and inexperienced cargo brands make cargo bikes with lots of storage in the box, but no box safety. The Babboe Big takes safety seriously with a rigorously-tested marine grade wooden box designed to sustain impacts at 40km/h. Put another way, the Babboe Big is not just about how much the box can store, it's about how much safety the box packs in. That's an important distinction!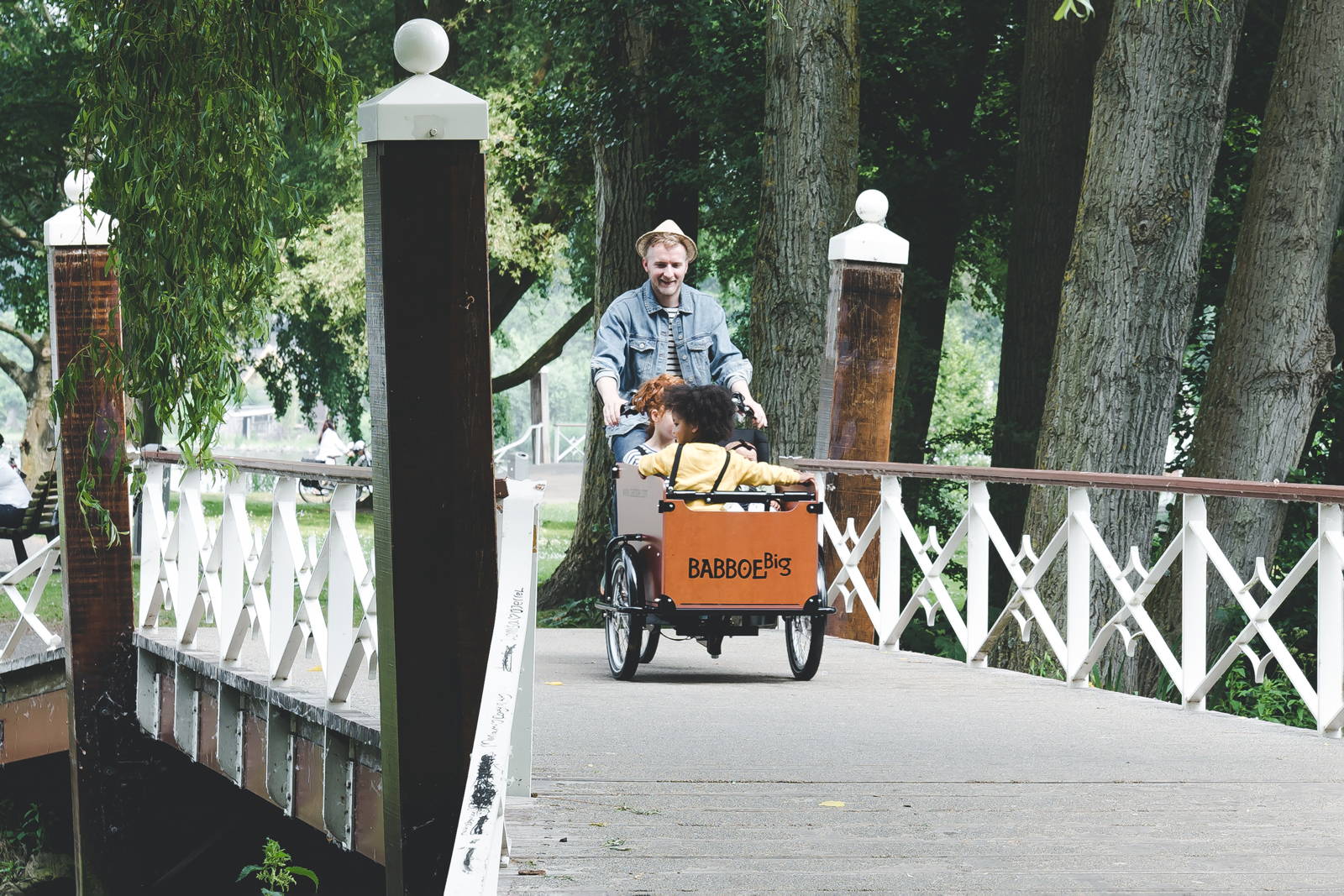 PRICE IS RIGHT - Cargo bikes are getting more and more costly these days, but the big reason for this is range. The further you go, the more you need things like electric-assist, bigger gear range, etc. This all costs money. But, if you live downtown anywhere, chances are good that you spend most of your time within 7.5km of home - that includes coffee shops, groceries, friend's houses and going to work. If you're buying a cargo bike to multitask then you're making a great choice. Most car trips in North America are under 7.5km, and the Babboe Big offers a car some heavy competition in terms of efficiency, cost, and overall happiness. In short, if you have a strong idea that you don't need any sort of extra range, the Babboe Big is a stalwart machine, designed to connect all the points on your map with efficiency.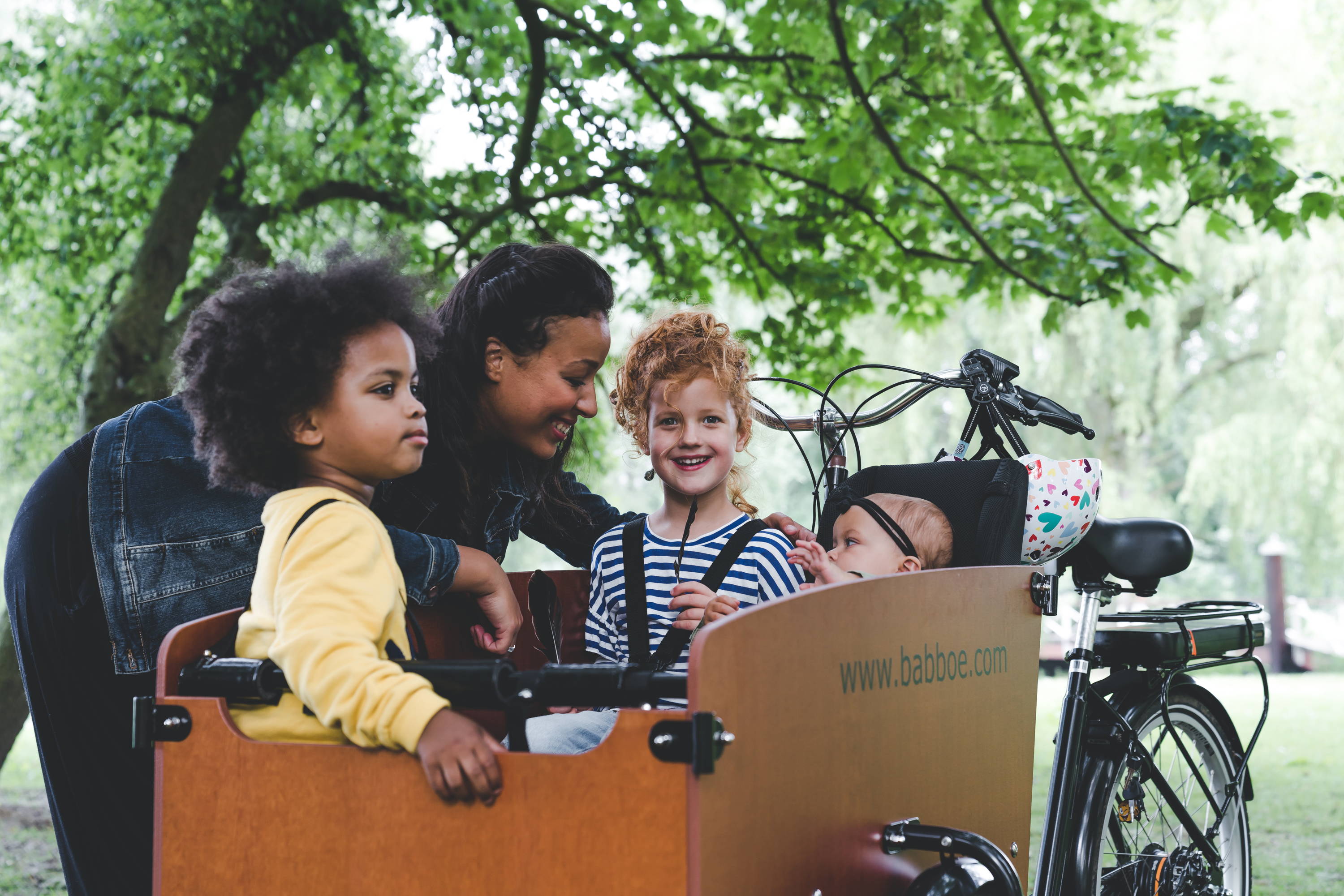 BIG HAULING - The box on the Babboe Big is big, which is probably why they call it the Big. The Big comes equipped with two benches and four seatbelts - enough space for four kids! Have a growing family? Babboe makes a baby seat for infants and a toddler seat for kids growing up. Want to add some more comfort? Babboe offers a whole line of super cute cushions for individual kids or the benches themselves. Whether you're bringing kids or groceries or Fido, the Babboe Big is a big city hauler - a bike with a ton of trunk space!
5. UPRIGHT SEATING POSITION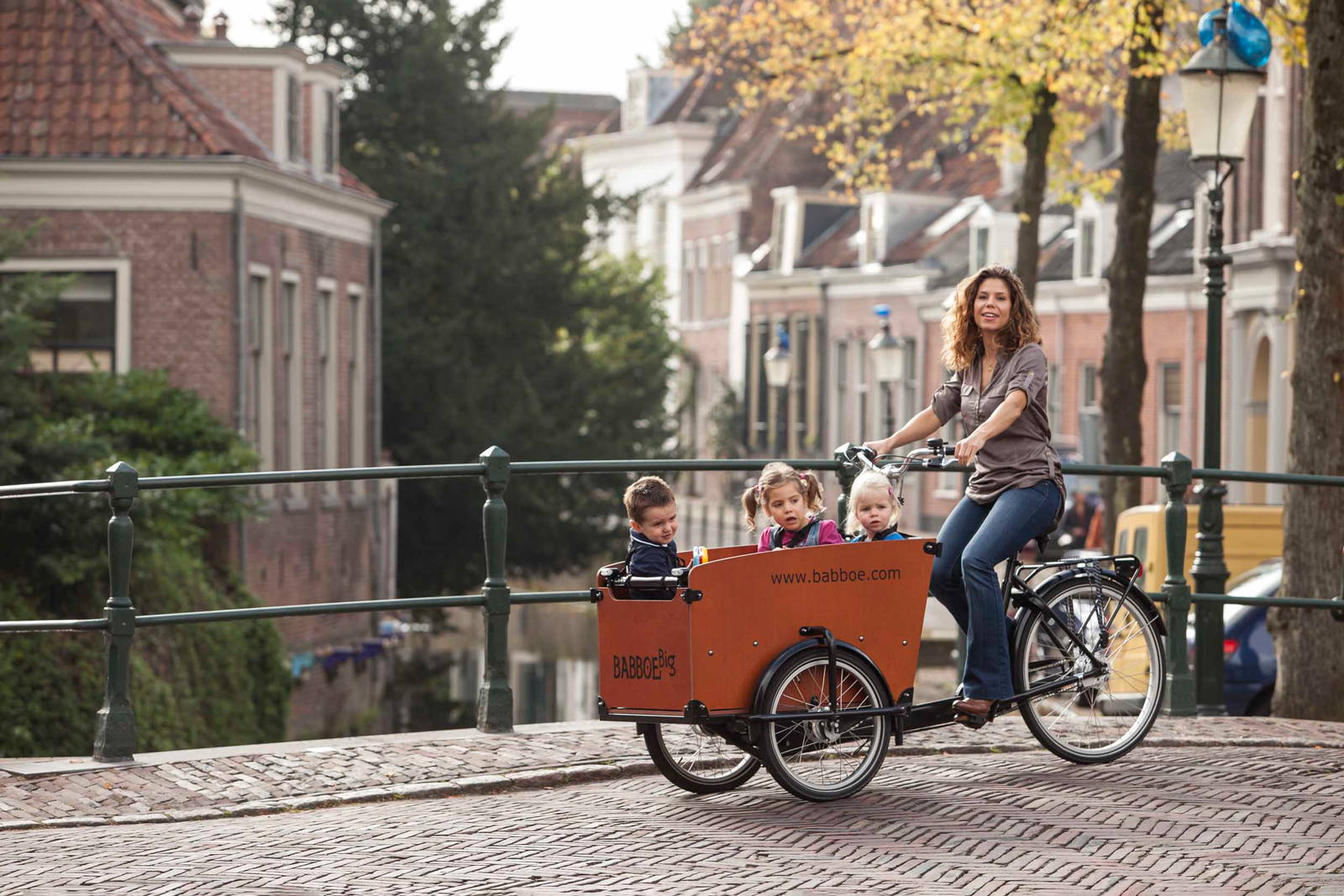 SEE AND BE SEEN - One very strange thing about bikes sold in North America is that they all seem to hunch their riders over the handlebars, which is super uncomfortable. The Dutch don't understand this at all. In Holland, they like to say that the Dutch riding position is "sit up and beg" - which we suppose is the Dutch making fun of themselves. But, it's true! On a Babboe Big, the position is gloriously upright. Your back is straight up. You can see and be seen. You're not reaching at all for the handlebars - your shoulders are squared. It may not be sporty, but why should dropping off the kids at daycare be a sport?
LESS TRIPS TO THE REPAIR JOB - We started bringing Babboe into Canada back in 2009, and that means we've had lots of time to see how they handle a salty and snowy Northeast winter. And boy, do they ever hold up. Let's start with the frame. The Babboe Big is made of steel, which is stronger than aluminum, but requires good finishes to avoid rust. Each Babboe Big is coated with a layer of rust-resistant undercoat and then a tough-as-nails powdercoat finish to ensure chip resistance. And what about the parts? The Babboe Big uses an internal gear hub, which means the gears are sealed inside the rear hub away from the weather. This means lower maintenance and less trips to the bike shop for repairs! The Big also has drum brakes sealed inside all three hubs, guaranteeing low maintenance and lots of power to stop with no matter the road conditions.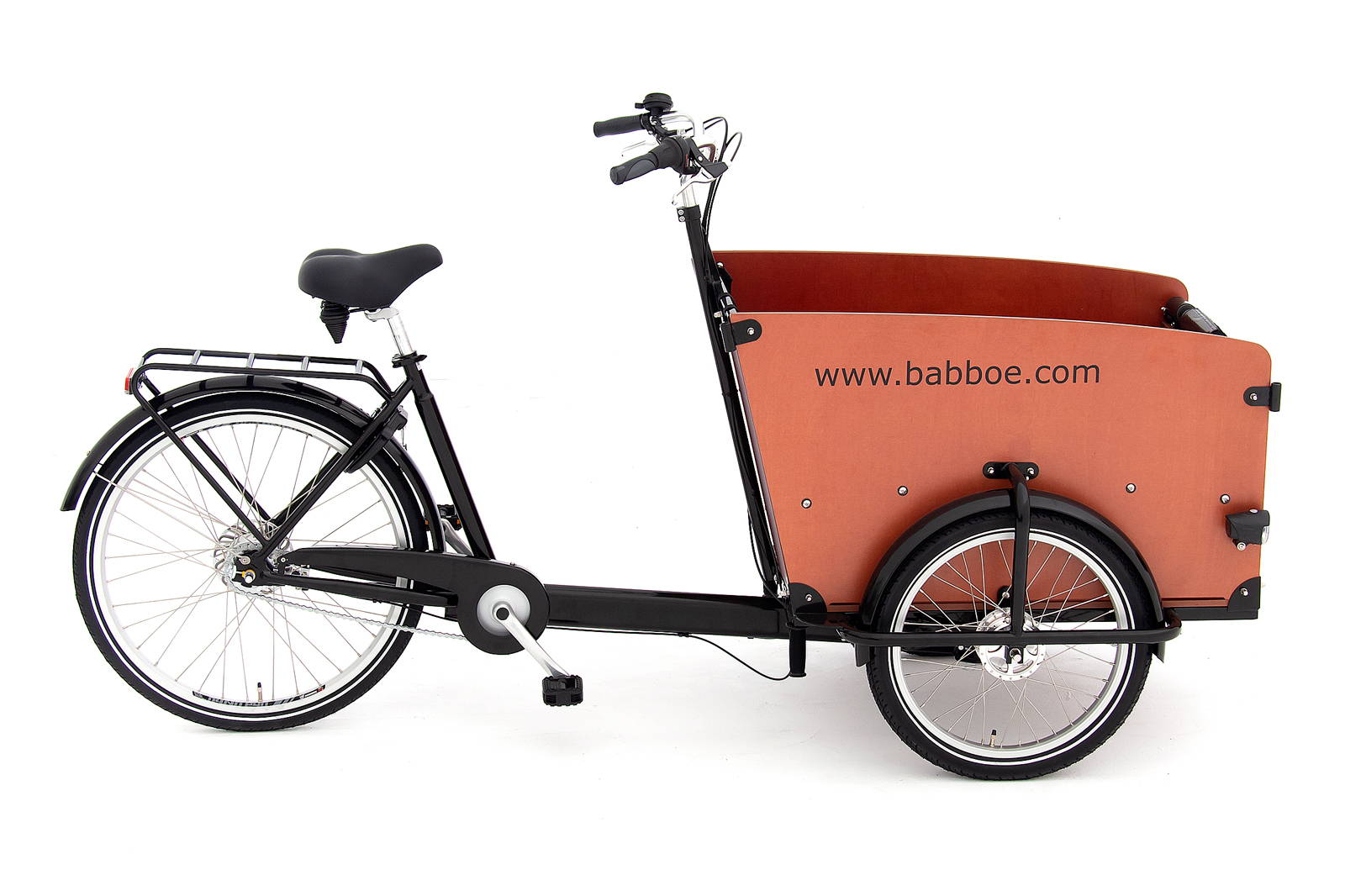 BUILT TOUGH - The cool thing about buying a Babboe is that it pretty much comes with everything already. There are fenders to keep you dry, the wheels are bolted down to prevent theft, all bikes already come with high quality lights - there's even a bell! But look a bit closer and you'll see some other cool stuff. For instance, the tires all have a built-in puncture-resistant lining, because no one likes flats! And, if you look at the rear wheel, you'll notice a built-in lock that is terrific when you're dropping kids off (so you can ensure the bike won't ride away on its own). Finally, all Babboe bikes come with a chain guard. In North America you always have to change into Lycra to ride a bike, but in Holland, people dress up to ride their bikes! The chain guard keeps grease and grime away from clothing. That means white dresses and picnics in the park!