8 Reasons The Babboe City Is The World's Bestselling Cargo Bike
---
Posted on 01 February 2022
BIKES BELONG IN THE CITY:
8 REASONS THE BABBOE CITY IS THE WORLD'S BESTSELLING
CARGO BIKE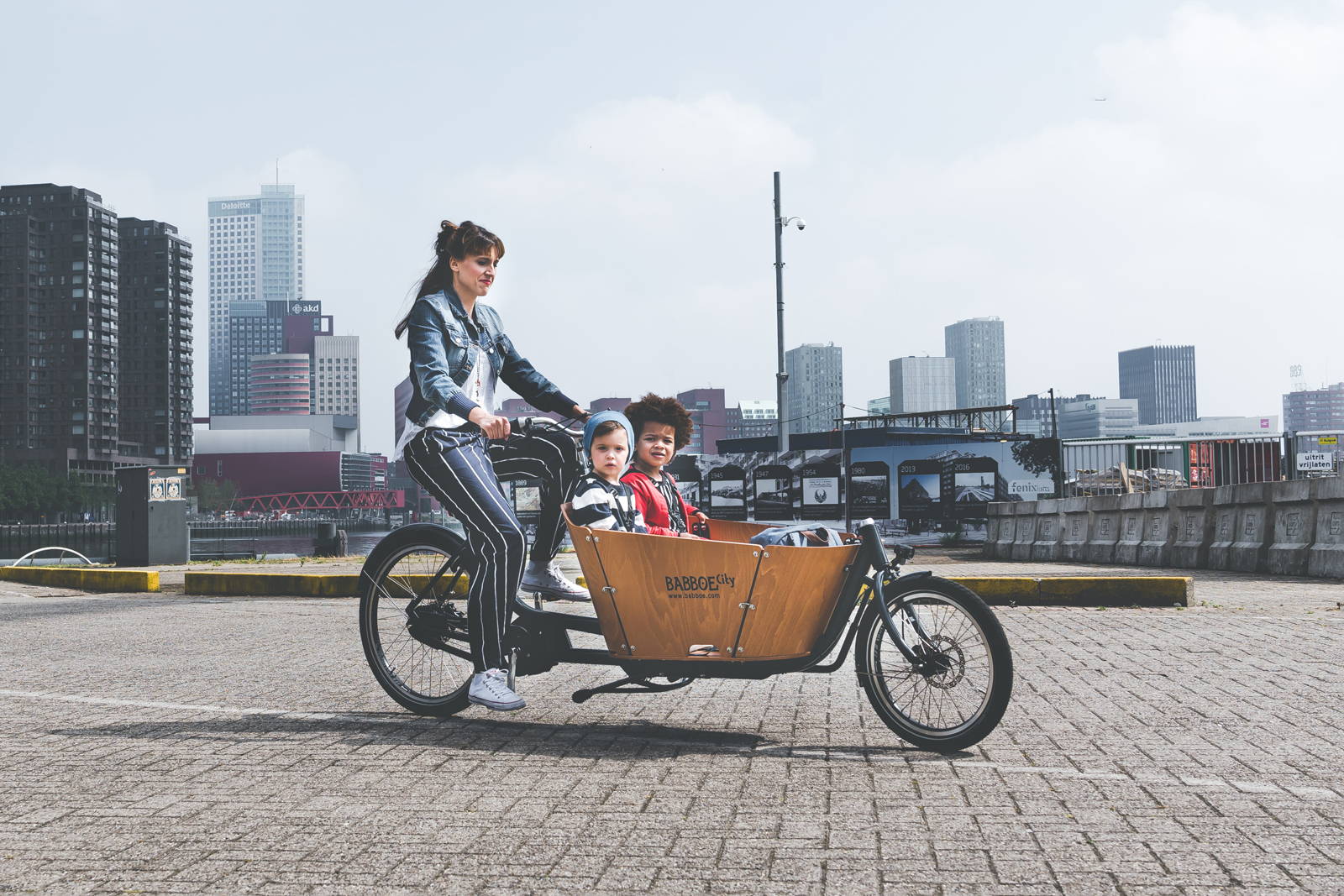 How do you build a better city? We think it involves getting more people on bikes. But that requires real city bikes, designed specifically for use in urban areas.

When you see a Babboe City here in North America, you can't help but think it's a moment of city building. It changes the entire landscape! The Babboe City is the world's best selling cargo bike, and for good reason. It takes everything the Dutch have learned about cargo biking and puts it into an economical and efficient package. It also helps that it's drop-dead gorgeous! So what makes the Babboe City so special? Let's dive in!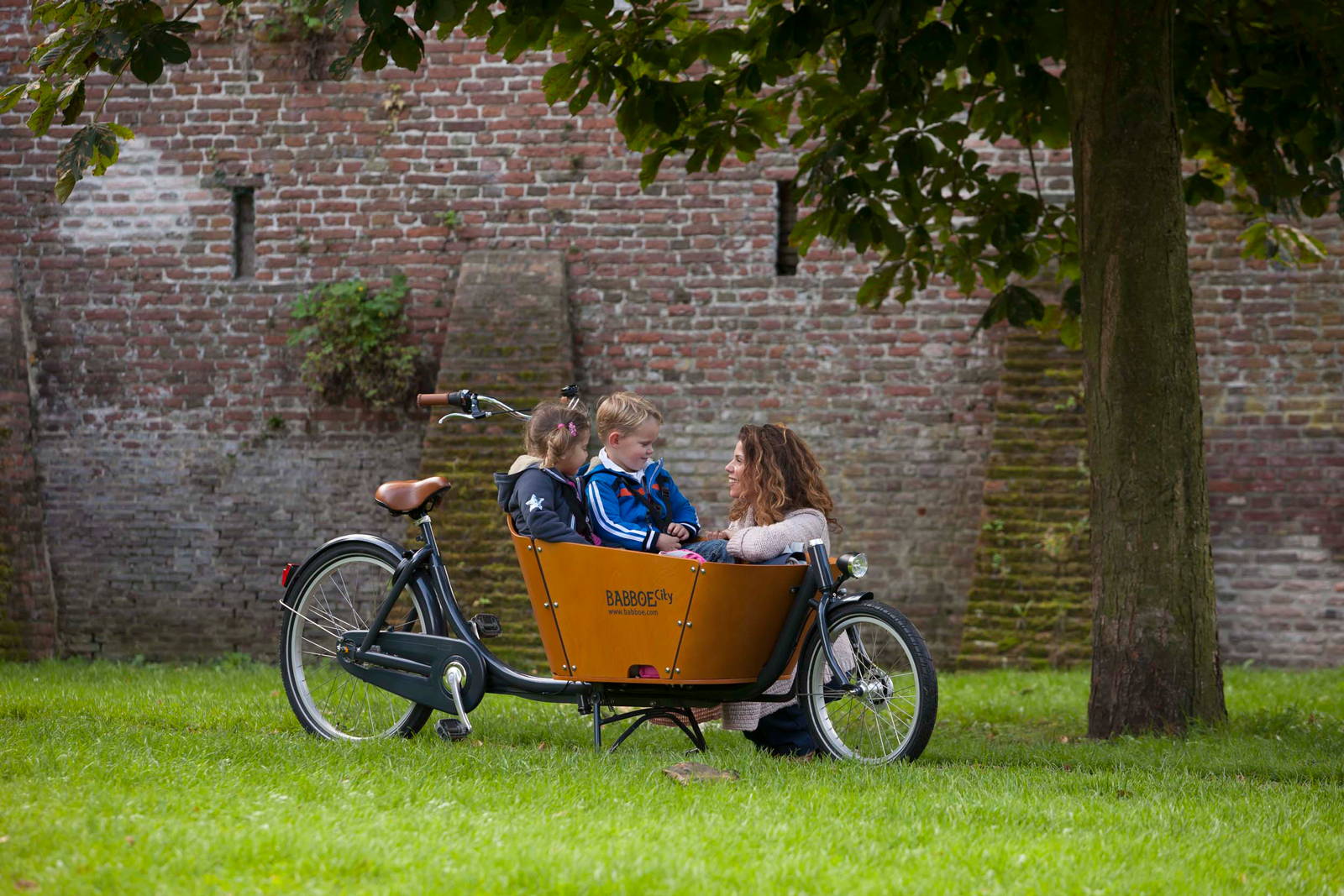 PRECIOUS CARGO - One of the most beautiful things about watching people use their Babboe City is seeing how parents can talk to their kids and enjoy the ride together. The whole ride becomes a great conversation! Take it out on the weekend and let the conversation steer with the bike. Go exploring!
2. NOT JUST STORAGE, SAFETY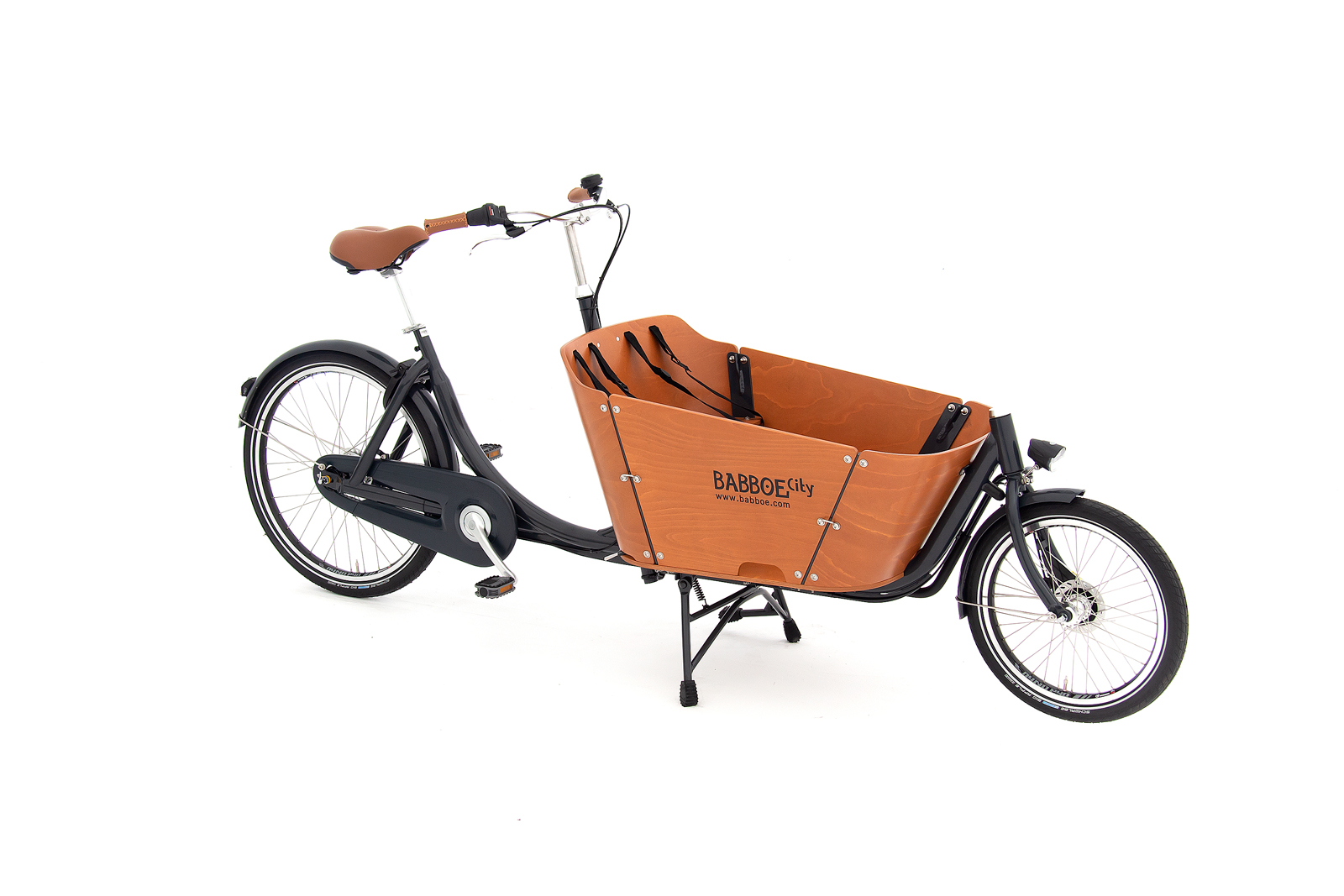 IMPACT RESISTANCE - We're seeing a bunch of newer and inexperienced cargo brands make cargo bikes with lots of storage in the box, but no box safety. The Babboe City takes safety seriously with a rigorously-tested marine-grade wooden box designed to sustain impacts up to 40km/hr. The Babboe City is not just about how much the box can store, it's about how much safety the box packs in. That's an important distinction!
3. STABILITY AND EFFICIENCY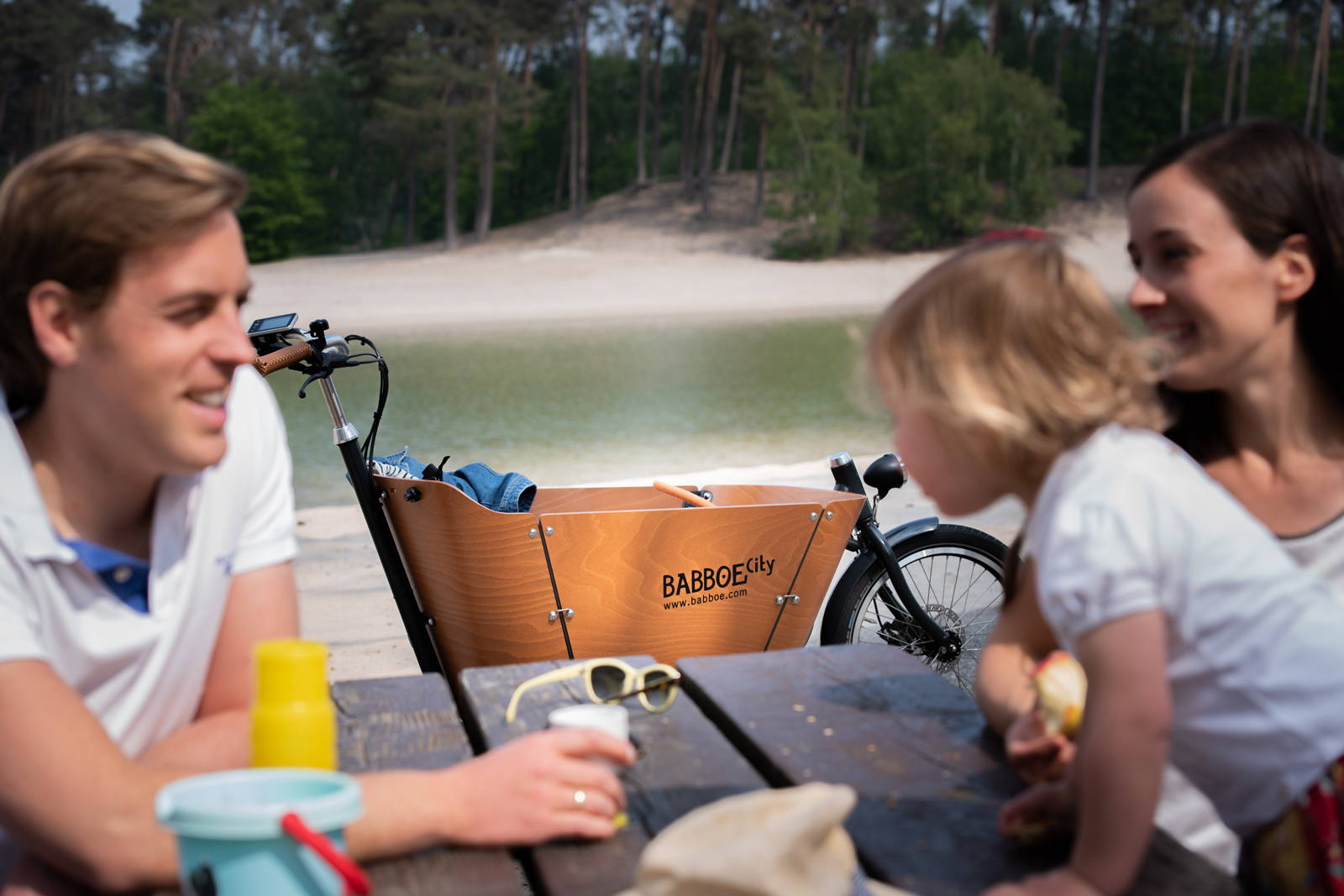 VERSATILE VEHICLE - One of the reasons the Dutch love their two-wheeled cargo bikes more than three-wheeled trikes is because two-wheelers have great handling and are far more efficient. That means you can go for longer rides, whether that's for daily errands or for weekend adventures. It makes sense that a two-wheeler is more efficient, but how is it at all stable with weight in the front? The first thing to notice is the length of the Babboe City. This longer wheelbase displaces the weight of the cargo box's contents over a greater footprint, making it ride like a regular bike - just a longer regular bike!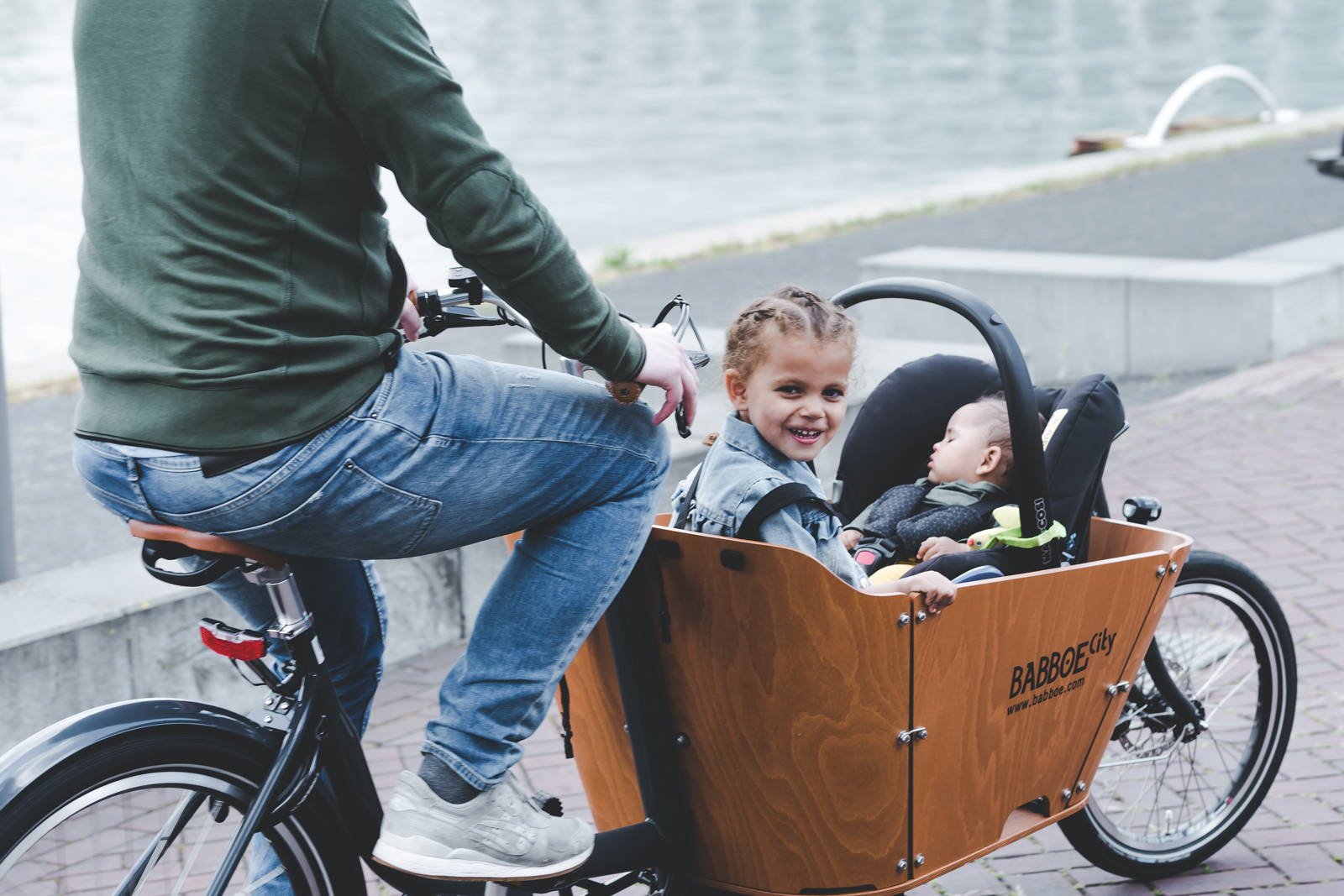 LOTS OF HAULIN' - The box on the Babboe City is huge - like, huge! And, it can grow with your family too! Have an infant? We can install the Maxi Cosi Adaptor in the front of the box so you can use your existing Maxi Cosi car seat. And there's still space for two kids to sit on the forward-facing bench! If you prefer, we can install the Babboe Baby Seat on the bench and you can reserve the front of the box for Fido or groceries. As babies become toddlers, you can add the Babboe Toddler Seat, which is made of shock absorbing material that smooths out the ride. Got an even bigger family? We can install an extra bench, putting up to four kids in the box! It's like your minivan becoming a bicycle, except better!
5. UPRIGHT SEATING POSITION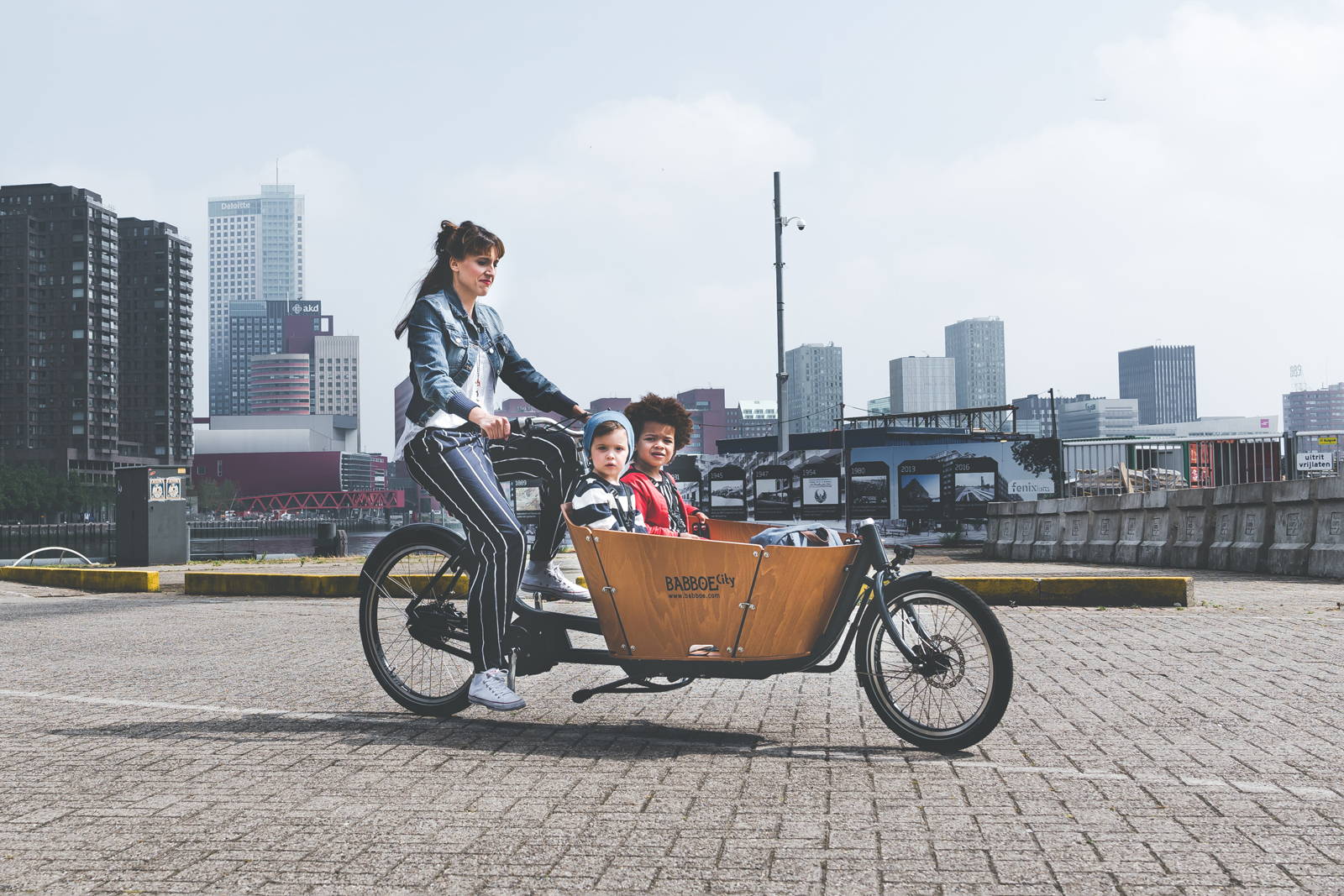 SEE AND BE SEEN - One very strange thing about bikes sold in North America is that they all seem to hunch the rider over the handlebars, which is super uncomfortable. The Dutch don't understand this at all. In Holland they like to say that the Dutch riding position is "sit up and beg" - which we suppose is the Dutch making fun of themselves. But, it's true! On a Babboe cargo bike, the riding position is gloriously upright. Your back is straight up. You can see and be seen. You're not reaching at all for the handlebars - your shoulders are squared. It may not be sporty, but why should dropping off the kids at daycare be a sport?
ZOOM ZOOM - A cargo bike is very different from a regular bike because it carries cargo, which means the overall weight of the bike is constantly changing. The heavier the bike gets, the more you have to work! That's why the Babboe City Mountain is such a popular bike. Featuring a Yamaha motor, the City Mountain can assist with heavier weight over long distances and up hills. The Babboe City Mountain is also a bit different from the 'acoustic' (non-electric) Babboe City. It has a much wider gear range, much more powerful hydraulic disc brakes, and comes with a stellar lighting system that runs off the battery. The best thing about the Babboe City Mountain is the price. While it may not have the lighter frame or box of the Urban Arrow models, it has pretty much exactly the same spec for a much better price.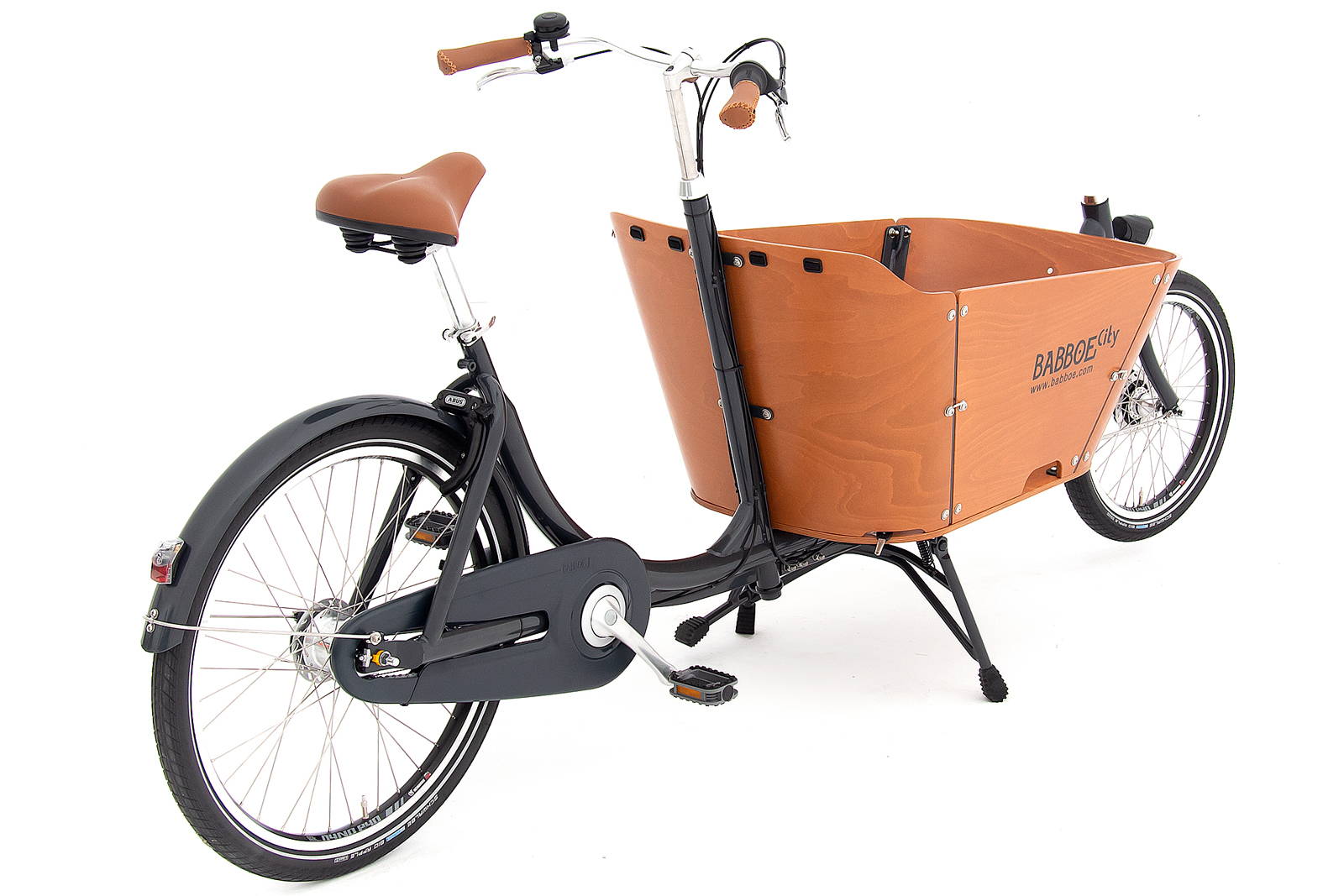 MORE RIDING, LESS REPAIRING - We started bringing Babboe into Canada back in 2009, and that means we've had lots of time to see how they handle a salty and snowy Northeast winter. And boy, do they ever hold up. Let's start with the frame. Both models of the Babboe City are made of steel, which is stronger than aluminum, but requires good finishes in order not to rust. Each Babboe City is coated with a layer of rust-resistant undercoat and then a tough-as-nails powder coat finish to ensure chip resistance. How about the parts? The Babboe City uses an internal gear hub, which means the gears are sealed inside the rear hub from the weather. This also means lower maintenance and less trips to the bike shop! Finally, all Babboe bikes either feature sealed drum brakes or hydraulic disc brakes; both are as powerful as they are low maintenance. Finally, add the marine-grade wood box and you have a bike that can weather all weather!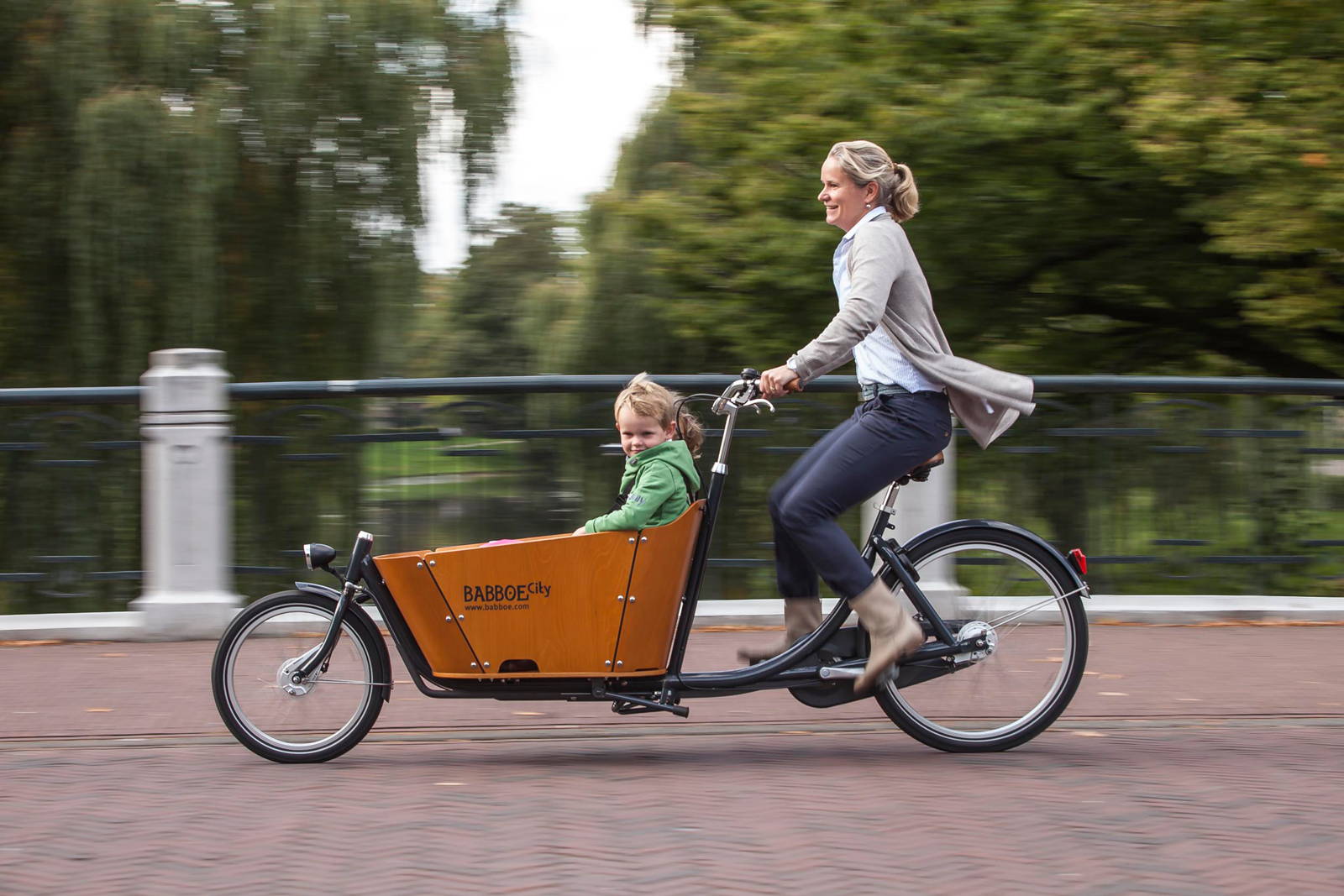 EVERYTHING YOU NEED - The cool thing about buying a Babboe is that it pretty much comes with everything already. There are fenders to keep you dry, the wheels are bolted down to prevent theft, each bike comes with high quality lights, and there's even a bell! But look a bit closer and you'll see some other cool stuff. For instance, the tires all have a layer of puncture-resistant lining inside of them, because no one likes flats! And if you look at the rear wheel you might notice a built-in lock that is terrific when you're dropping kids off (so you can ensure the bike won't ride away on its own). Finally, all Babboe bikes come with a chainguard. In North America it seems everyone feels the need to change into Lycra to ride a bike. But in Holland, people dress up to ride their bikes! The chainguard keeps grease and grime away from clothing. That means white dresses and picnics in the park!