9 Reasons We Love Nihola Cargo Bikes
---
Posted on 01 February 2022
9 REASONS WE LOVE NIHOLA CARGO BIKES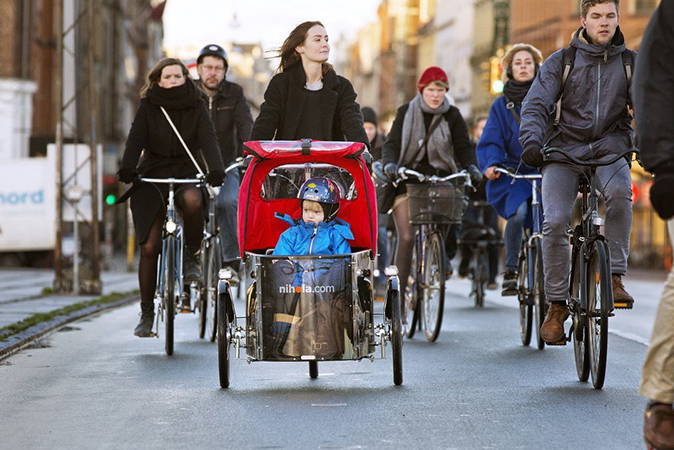 Take a trip to Copenhagen and you'll see so many Nihola bikes that you'll think you're dreaming! It seems that everyone in Denmark rides a cargo bike. Some say the three-wheeled cargo bike was invented in Copenhagen, and many disagree with this claim (namely: the Dutch, the Germans, the English). Although the jury is out, we can certainly argue that the three-wheeled cargo bike was perfected in Copenhagen - and the company that perfected them is Nihola. Besides offering bikes for all types of cargo, from kids to dogs to elderly folks and people with physical disabilities, the one thing offered by all Nihola bikes is the near-perfect blend of stability and handling.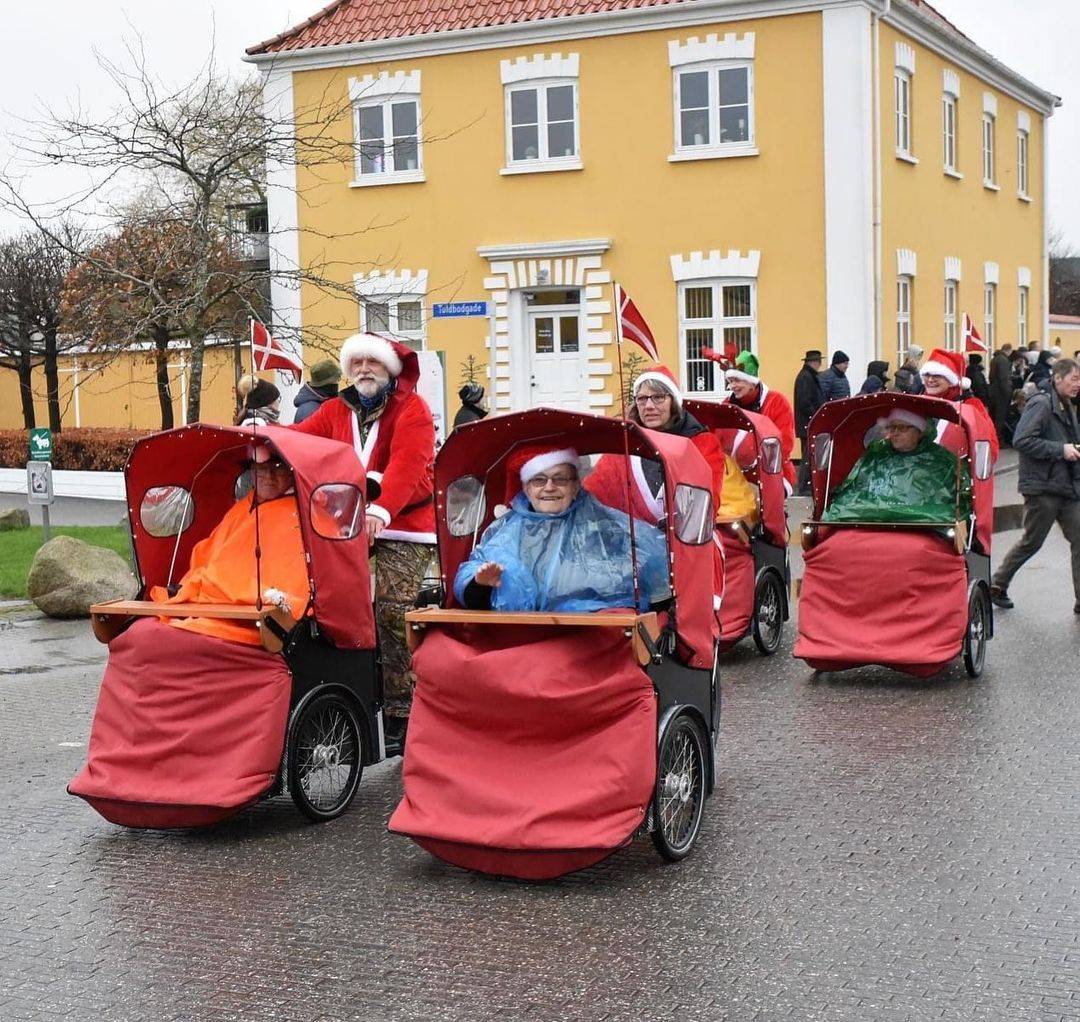 At Curbside, we believe bikes are for everyone, and no supplier embodies this mantra better than Nihola. They have spent a lot of time asking who isn't served by bicycles, and how to include them in cycling culture. Like many amazing European companies, Nihola took a risk on building cargo bikes specifically for families decades ago, and that makes them pioneers. But, Nihola also makes some truly amazing bikes that are designed to carry kids and adults, dogs, the elderly and even an entire wheelchair!
As we probably don't have to say, bikes have two wheels and trikes have three wheels. Two wheels are great for a single cyclist, but once you start adding other people, two wheels can start to feel wobbly. Most two wheeled cargo bikes solve this problem by increasing the length of the bike - this displaces the weight over a longer footprint, but still isn't near as stable as a good ol' trike. Nihola was designed in Copenhagen back when there weren't a lot of bike lanes and navigating well-travelled streets was difficult. That makes Nihola a compelling product for North Americans who want that extra bit of safety and surefootedness that a two wheeled cargo bike doesn't guarantee.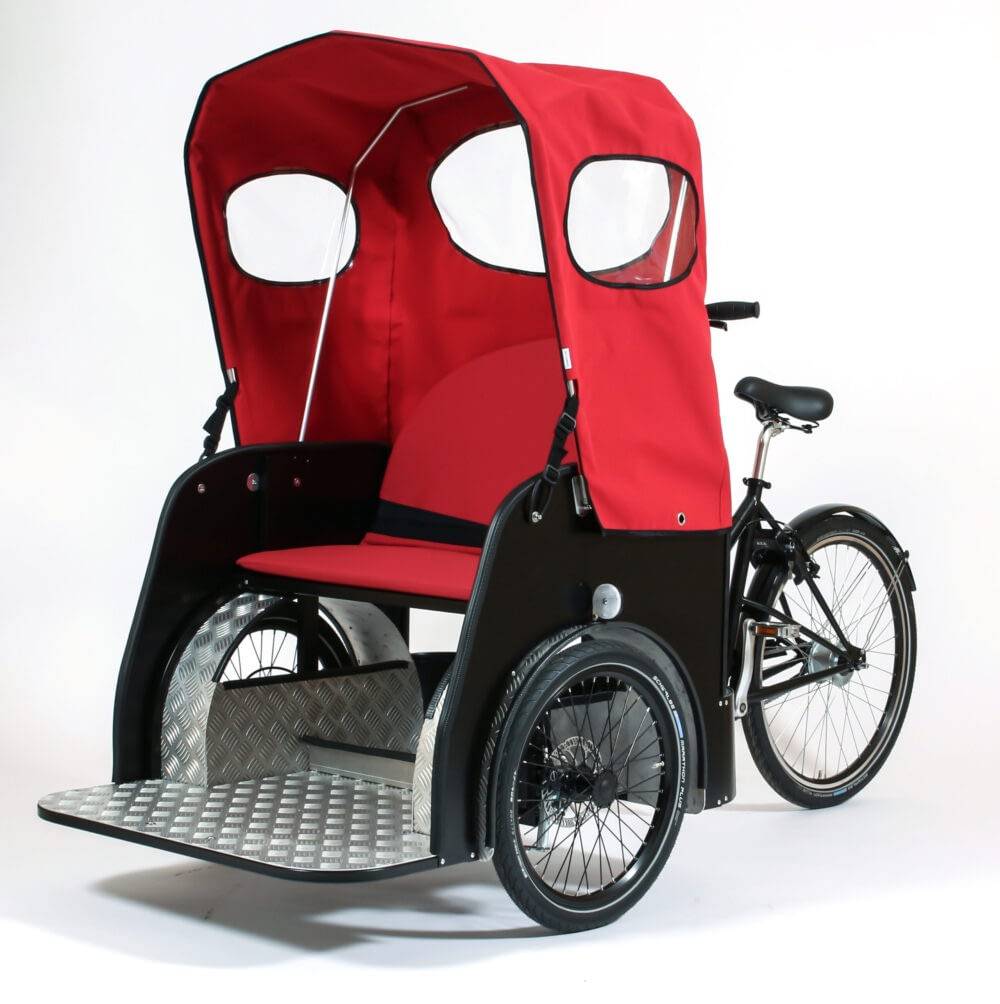 Nihola isn't just any kind of cargo trike - it's a tadpole trike! "Tadpole" means that there are two wheels in the front rather than the back - the opposite format of a child's tricycle. Two wheels up front means more safety and more grip, but also a much lower center of gravity where cargo can be placed - meaning a steady, stable ride. The best thing about the box up front is that you can carry on great conversations with your kids, dog or family/friends while riding. The commute becomes a conversation!
This is Nihola's greatest contribution to three wheeled cargo trike design. If you spend anytime looking at cargo trikes you'll quickly realize that they all have one thing in common: instead of just the wheels steering (like a car), the whole box steers. On most cargo bikes the wheels are bolted to the box and the whole box pivots left and right. The more weight you add to the cargo box, the more the steering becomes heavy. That affects handling, and you need good reactivity - especially in traffic. Nihola steers just like a car. You turn the handlebar and both wheels turn. That may not seem revolutionary, but it is for a cargo trike!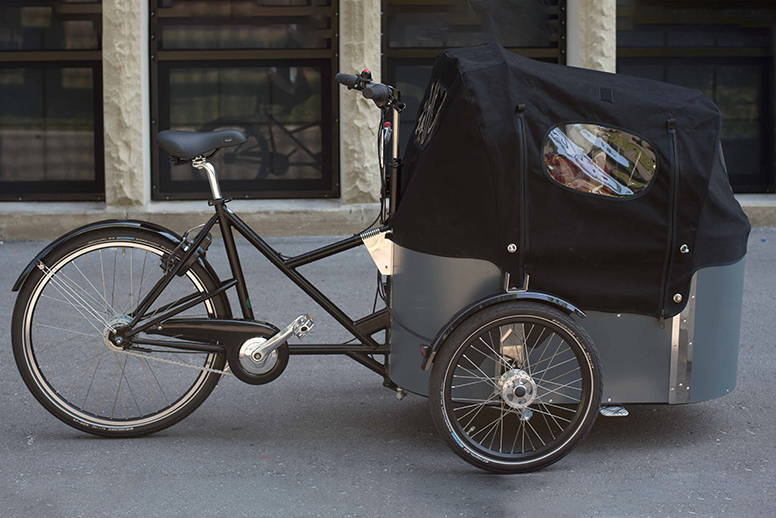 We're starting to see a lot of unproven cargo bikes enter the market with what we call "white label" products. That means someone with some money can buy them from a Chinese catalog or website, and if they buy enough at once, they can brand these products as their own. On many of these bikes, the box is treated as storage without considering safety parameters. This is completely the wrong approach. The box on a Nihola, first and foremost, is designed to be safe. Nihola family bikes have tough steel frames wrapping around your precious cargo designed to sustain impacts of 40km/h. And, attached to these steel frames is super high-impact Lexan Plastic, the same clear plastic they use for hockey rink boards to sustain high impact body checks. That's the difference between Nihola and many of its inferior copycats - a Nihola is designed to carry your precious cargo, but also carry your precious cargo safely.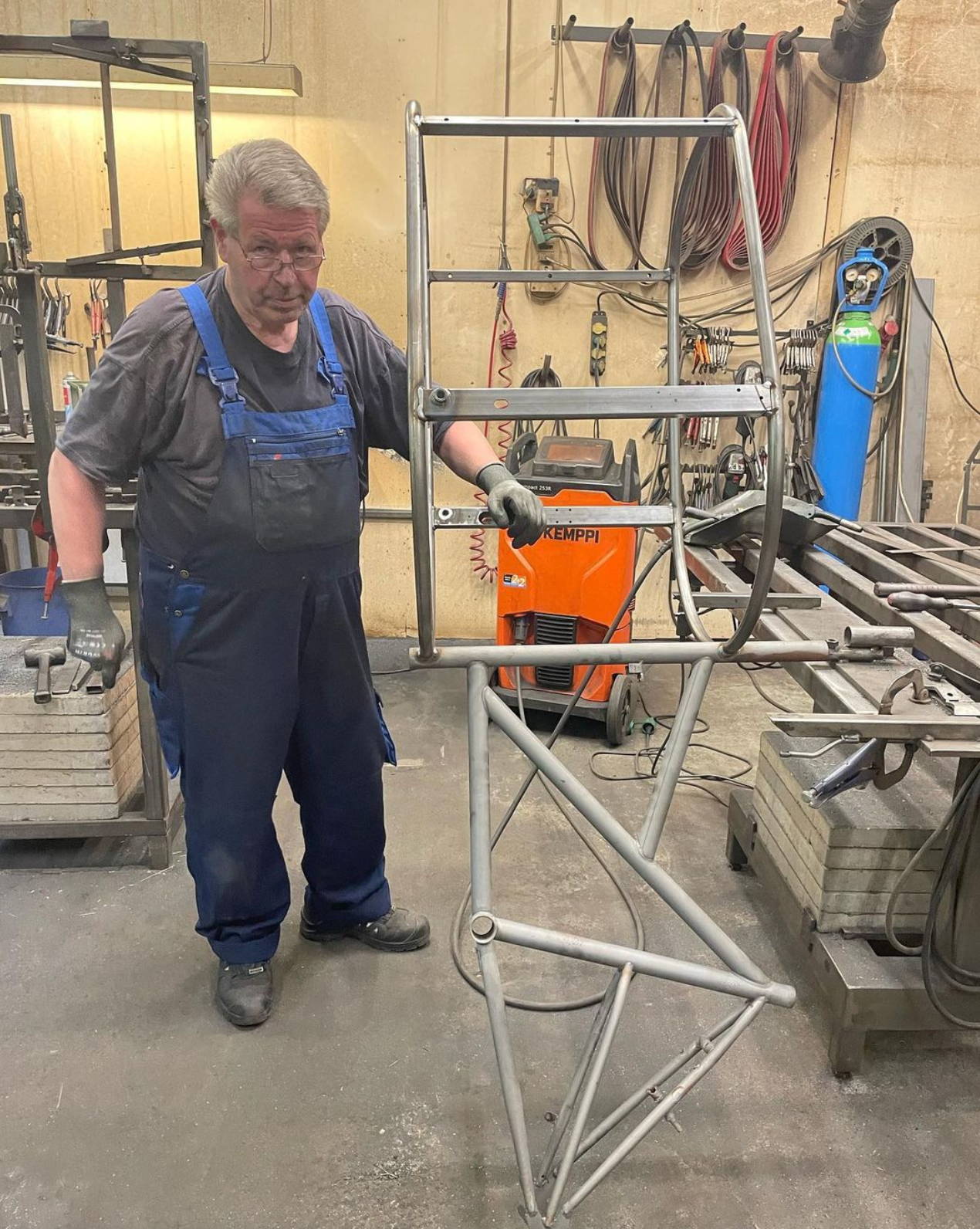 We've been to Denmark and Holland enough times to notice that the Dutch own a lot of bikes per person, while the Danes stick to one or two. Perhaps that explains why Dutch cargo bikes tend to be so heavy - in Holland, people only ride the cargo bike when they are carrying cargo. In Denmark, people will use their Nihola as their regular "everyday" bike and their cargo bike. That means Nihola needed to build bikes that take weight seriously to make them easy to use. Want an example? The Nihola Family weighs only 70lb. A competing Babboe Curve model weighs 130lb. That's a huge difference!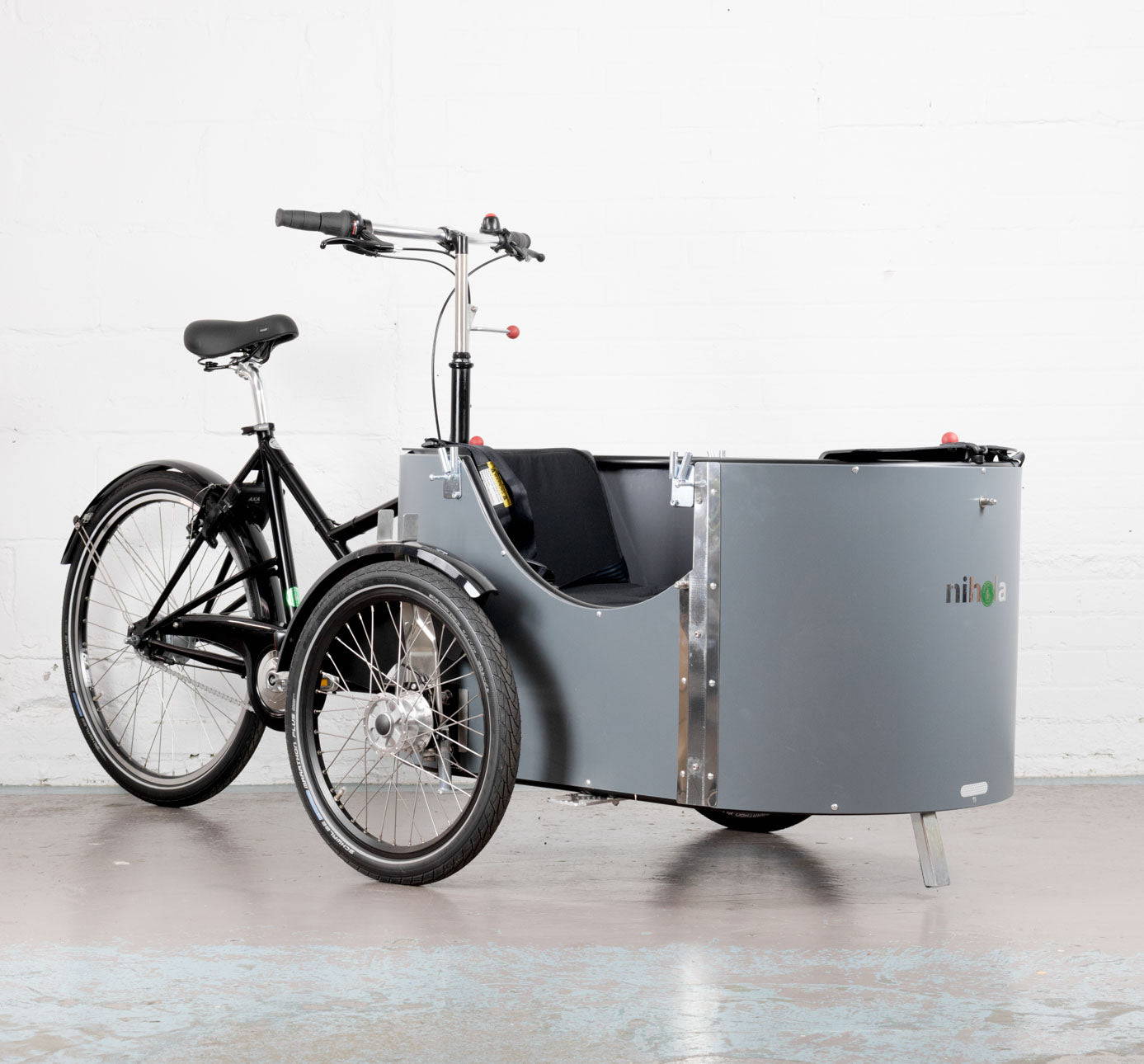 We travel to Denmark every year to visit the Nihola factory, and usually in February - which means we've seen some pretty severe Danish winters! Like many Torontonians, the Danes live in condos or apartments and have to leave their bike outside year round. That means Nihola has to design a bike that's made for all-weather riding and all-weather storage. We've seen Niholas in Toronto that are 12 years old, stored outside year round, and still looking great. That's because Nihola uses really strong chip-resistant finishes on their frames, and ensures that brakes and gears are sealed rather than exposed to the elements. A Nihola is meant to be your all-weather, all-city vehicle!
One of the weird things about most bikes sold in North America is that they force the rider to hunch way over the handlebars. We can't figure it out. If you're riding in the city, chances are good that you want to see and be seen, and that you're probably not trying to win the Tour De France - especially when riding a cargo bike! The Nihola riding position is gloriously upright, and it fits anyone between 5'0" and 6'6".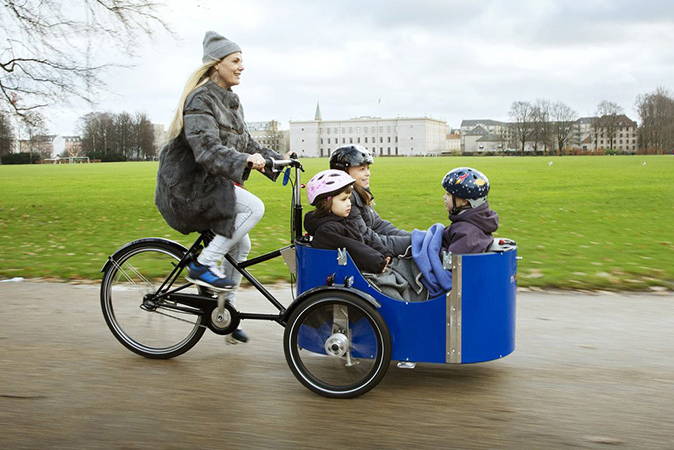 Look a little more carefully and you'll see that a Nihola comes with a couple of handy things. We'll just point out three of them. First, the tires are super puncture resistant! They are top-of-the-line Schwalbe Marathon Plus tires. We live for these!! Second, there's a built-in lock on the rear wheel that lets you quickly lock the bike to itself while you're dropping the kids off at school or grabbing a quick coffee. You'll use it all the time! Third, Nihola bikes come with a chain guard! That means you can wear whatever you normally wear - whether that's your favourite jeans or a long maxi-skirt. One thing we love about Denmark is how people dress up to ride their bikes. And, we aren't talking Lycra or athleisure, we're talking corporate meetings and nights on the town.