Geez, Louise! 5 Reasons the Achielle Louise Is Pure Riding Perfection
---
Posted on 04 February 2022
GEEZ, LOUISE!
5 REASONS THE ACHIELLE LOUISE IS PURE RIDING PERFECTION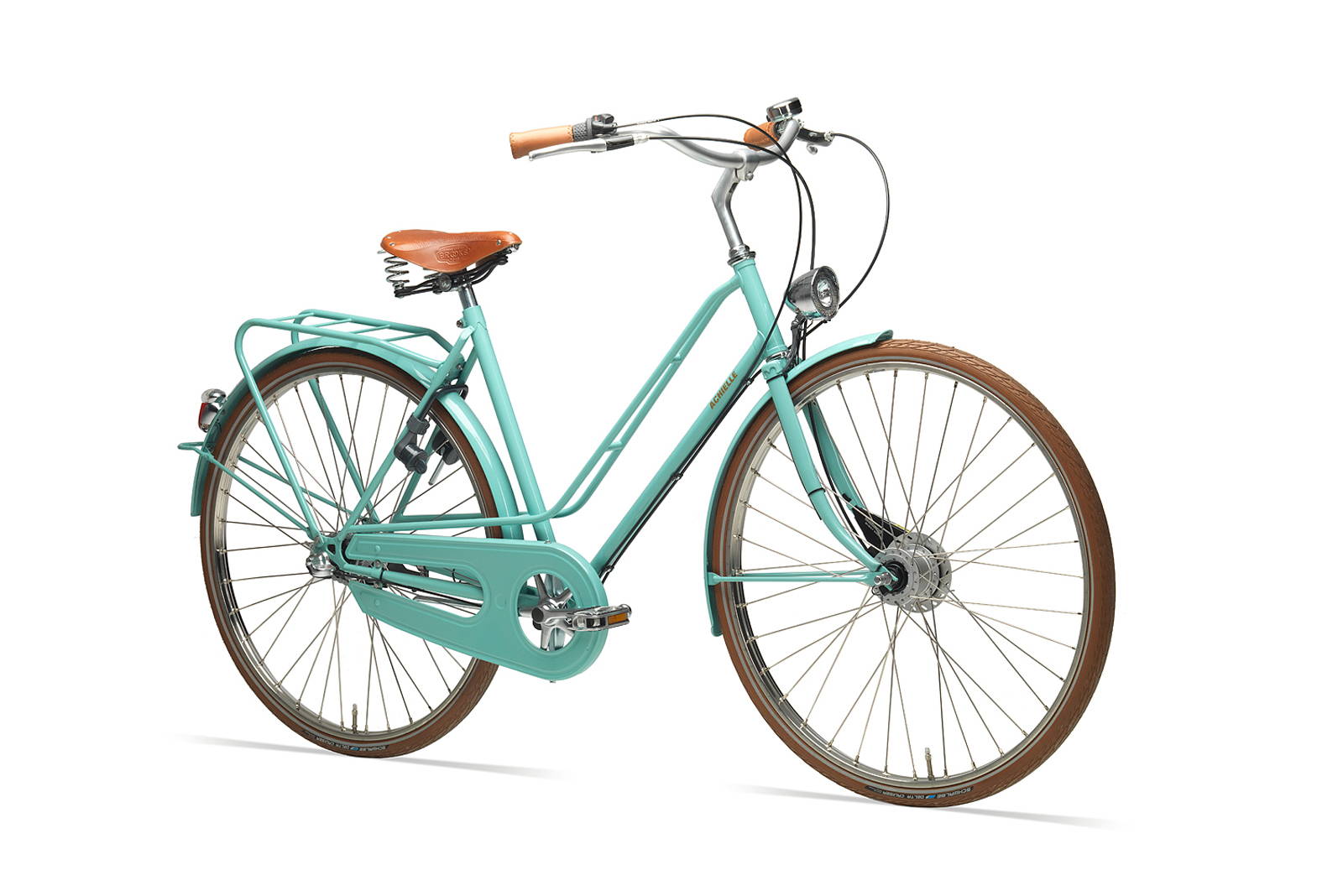 Without a company like Achielle, who prefers to swim against the tide, a bike like the Louise couldn't exist in today's cost-cutting market of perpetual sameness. As a Belgian manufacturer, Achielle straddles the rich bicycle cultures of Amsterdam and Paris. The latter being austere and no-nonsense, the former embodying speed, grace and romance. The Louise is a classic French "Mixte," a bike designed for speedy dashes through Parisian sprawl and narrow uphill streets. But the Louise is a difficult frame to manufacture. It is brazed by hand using brass, a method that produces the highest quality craftsmanship but is also notoriously difficult - a bit of a "dark art," if you will. The complexity doesn't stop there as the frame of the Louise is constructed from multiple tubes with an equal multiplicity of infernally difficult-to-access brazing points. It's a master and apprentice kind of product, something that cannot be easily subcontracted to Asia - something that requires a guild-like ethos.

The "Mixte" frame, with its thin assemblage of elegant tubes, was designed for a reason. Step-through bikes are often a bit 'noodly' if you ride them in a hurry, meaning they tend to flex a lot between the handlebar and seat, lending a 'sloppy' feeling that also wastes a percentage of your energy. Again, this is only if you're riding in a hurry, which the Mixte was designed for. The Mixte frame is delightfully stiff in feel, yet it remains in essence a step-through bike - as easy on the eyes as it is easy to get onto. While you can custom-order a Louise in whatever configuration you like (email eric@curbsidecycle.com for more info), the Louise we import is the result of a collaboration between Achielle and Curbside to build an elegant little city bike that travels fast and keeps things simple, all with a small dash of luxury.
1. PARISIAN FLAIR, DUTCH PRACTICALITY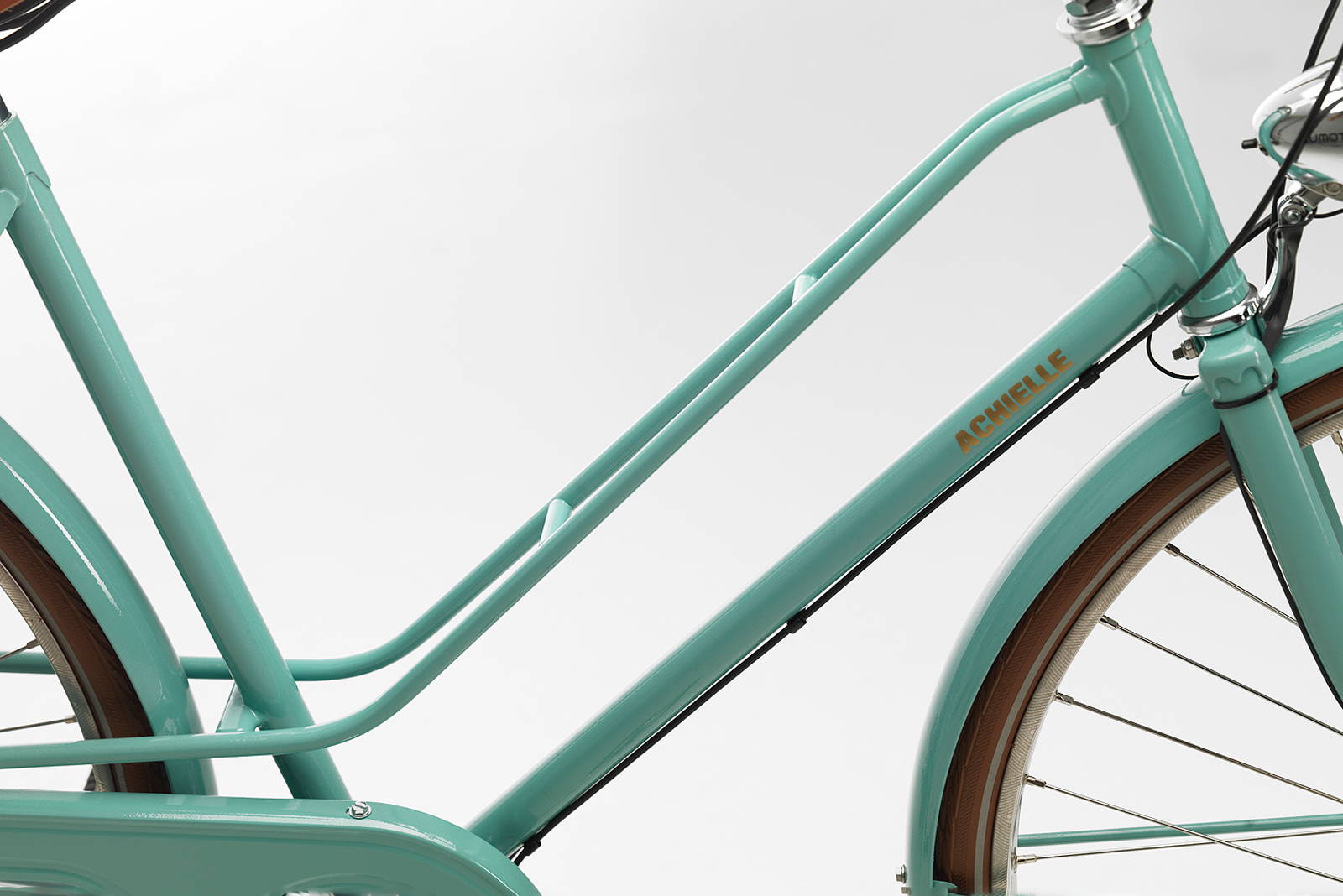 Achielle is based near Ghent in Belgium, making them a little bit Dutch and a little bit French. A Mixte frame is pure francais. Unlike Amsterdam, Paris is a sprawling metropolis (with hills!) - and that means a bike commute across town is typically longer and ridden a touch faster. That requires a city bike that takes some influence from the classic French racing bike. The riding position is just a little more hunched over. There's a touch more weight on the handlebars for quick steering, and a bit more tilt of the pelvis over the pedals for power (and climbing). Unlike most step-through bikes, the feel of this bike is fast, yet it maintains its step-through DNA - easy to step onto and fundamentally unisex by design. The rest of the bike is Dutch, and thank goodness for that. Most French Mixte's use high-maintenance derailleur systems that are exposed to the elements and cause nothing but problems. The Louise keeps all mechanisms sealed from the weather, a point we'll circle back to.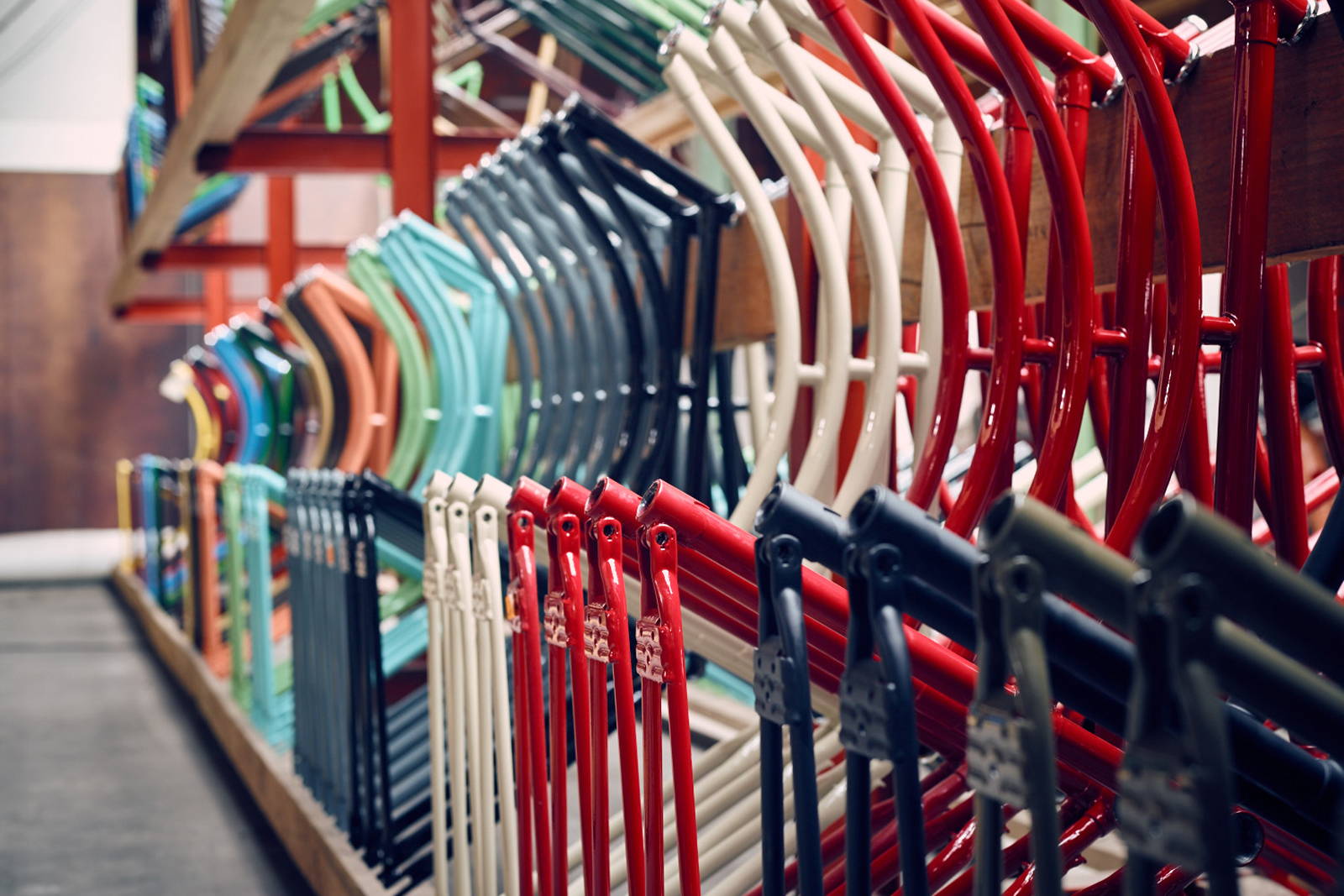 Achielle makes bikes out of steel and steel is a very good thing. If you see a bike still riding around from the 60's or 70's, chances are good that it's made of steel. Steel is strong, steel kind of lasts forever, but the problem with steel is that it can rust if not finished properly. At Achielle, paint finishes are considered as structural as the frame itself. Each Achielle frame is coated with a super chip-resistant powder-coat (that's where the frame is electrocuted with one charge and the paint another to make a super-strong bond). Beneath this is a rust-resistant undercoat. Achielle finishes are pretty, for sure, but they also ensure that beauty isn't just skin deep.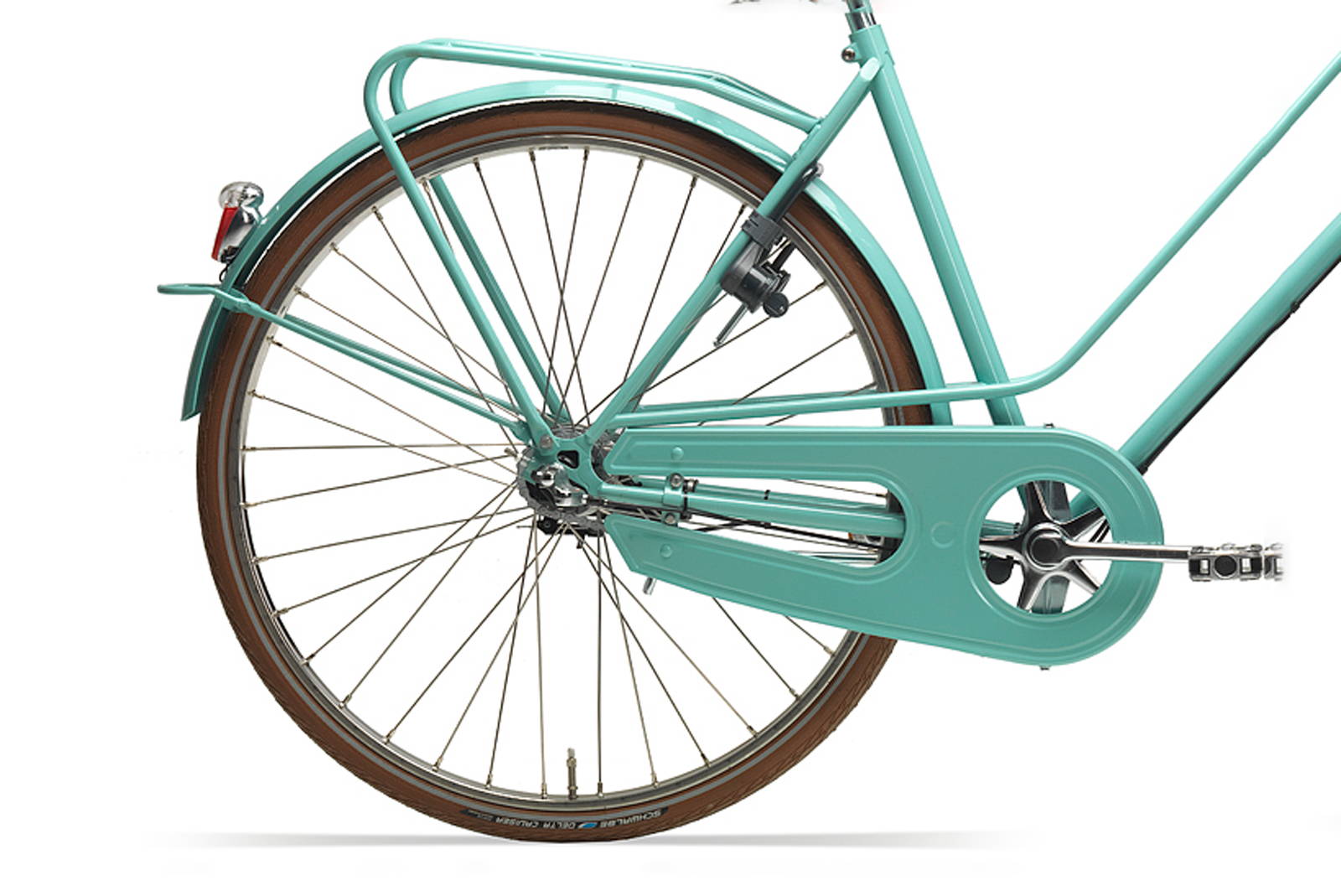 The Dutch are fairly paranoid about water getting into stuff, which makes sense when you consider that most of their country lies below sea level. Sealed mechanisms make just as much sense in dense northeast North America, where people have no choice but to store their bikes outside year round (we still recommend a tarp). Of course, if you ride year round, then sealed mechanisms are also critical. Most bikes sold in North America use exposed drivetrains and brakes that are not only quite fragile, but require constant maintenance. The Louise uses the legendary 3-speed Sturmey Archer gear hub - which has been around for about a century - and drum brakes, just like on a car. That means less parts and labour, and more weather resistance too!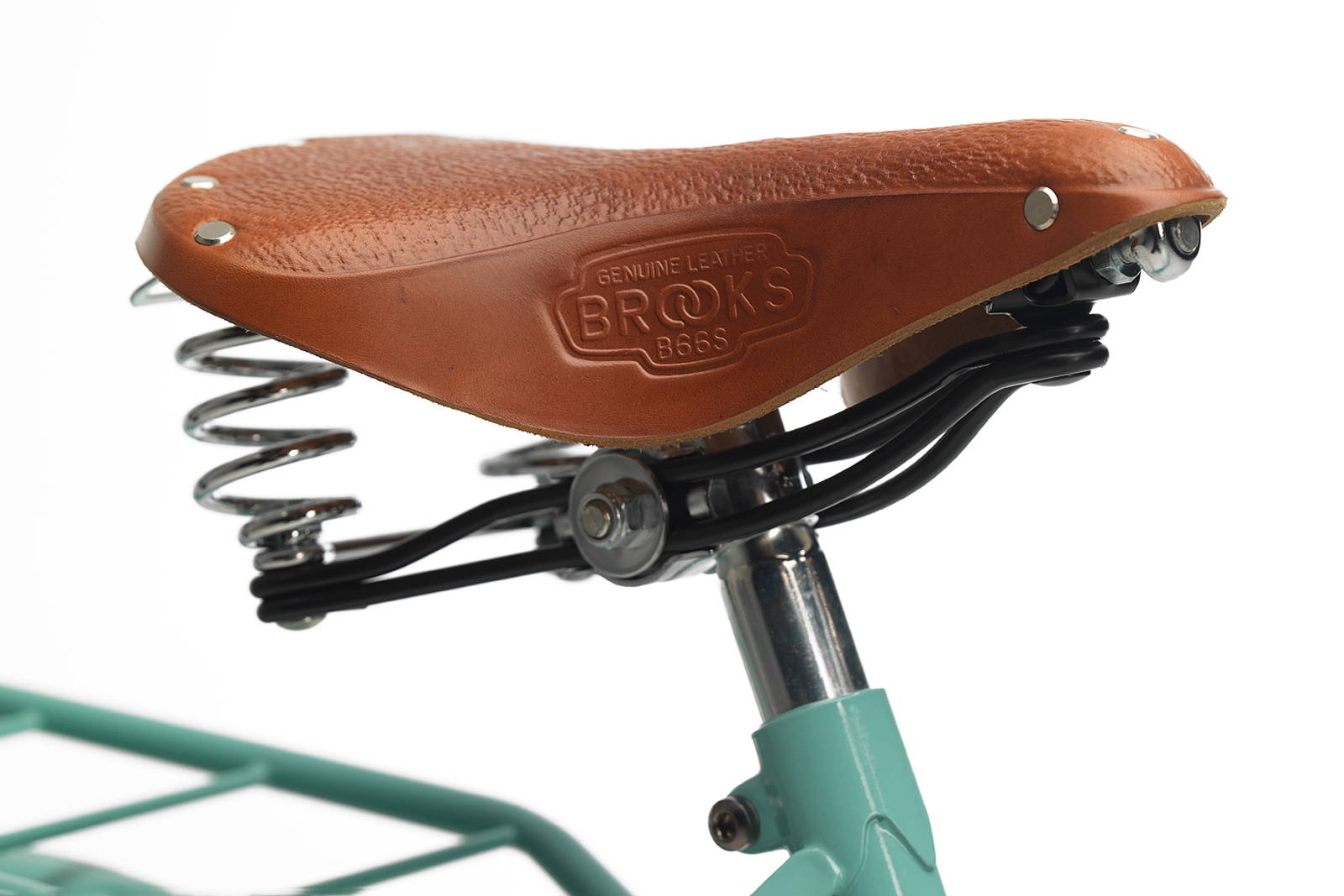 We said that the Achielle Louise has a dash of luxury, and this can be found where the body meets the bike: at the grips and saddle. These features might make it look luxury - which is true - but the most important thing here is that this is luxury you can feel. The grips are gorgeous with a soft comfort cushion covered by hand-stitched honey-leather. But the saddle is where the Louise finds its tactile comfort. The Brooks B66s saddle is sprung to absorb bumps while the English bridle leather slowly molds to your body, fitting your shape like a fine leather shoe. Pure comfort, and beautiful too!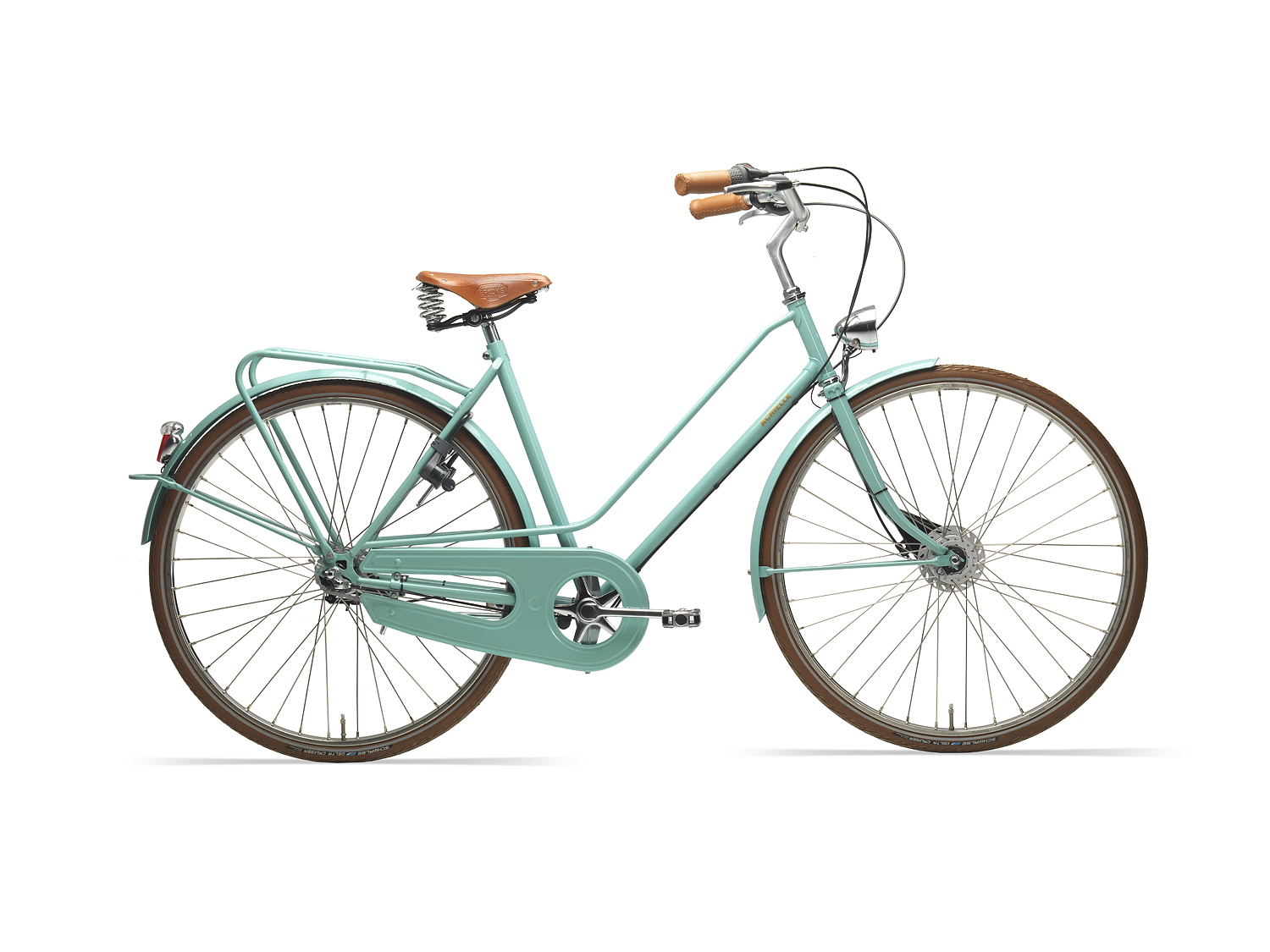 Now, this is essential. If you've had the chance to visit Holland, no doubt you'll remember seeing thousands upon thousands of cyclists riding in crisp office wear during the day, and classy evening wear at night - from cocktail dresses to heels. This is where a bike like the Louise is categorically different from anything sold in North America. Like many bikes, the Louise comes with fenders to keep you dry, but unlike many bikes, the Louise comes with a full chainguard. This full chainguard covers the entire chain, letting you wear the longest maxi skirt or the whitest pants without worrying about chain grease or dry-cleaning costs. That lets you do as the Dutch do: make the bike lane your catwalk!