Sell the Van: 6 Ways the Babboe Transporter Takes Your Business To The Streets
---
Posted on 03 February 2022
SELL THE VAN: 6 WAYS THE BABBOE TRANSPORTER TAKES YOUR BUSINESS TO THE STREETS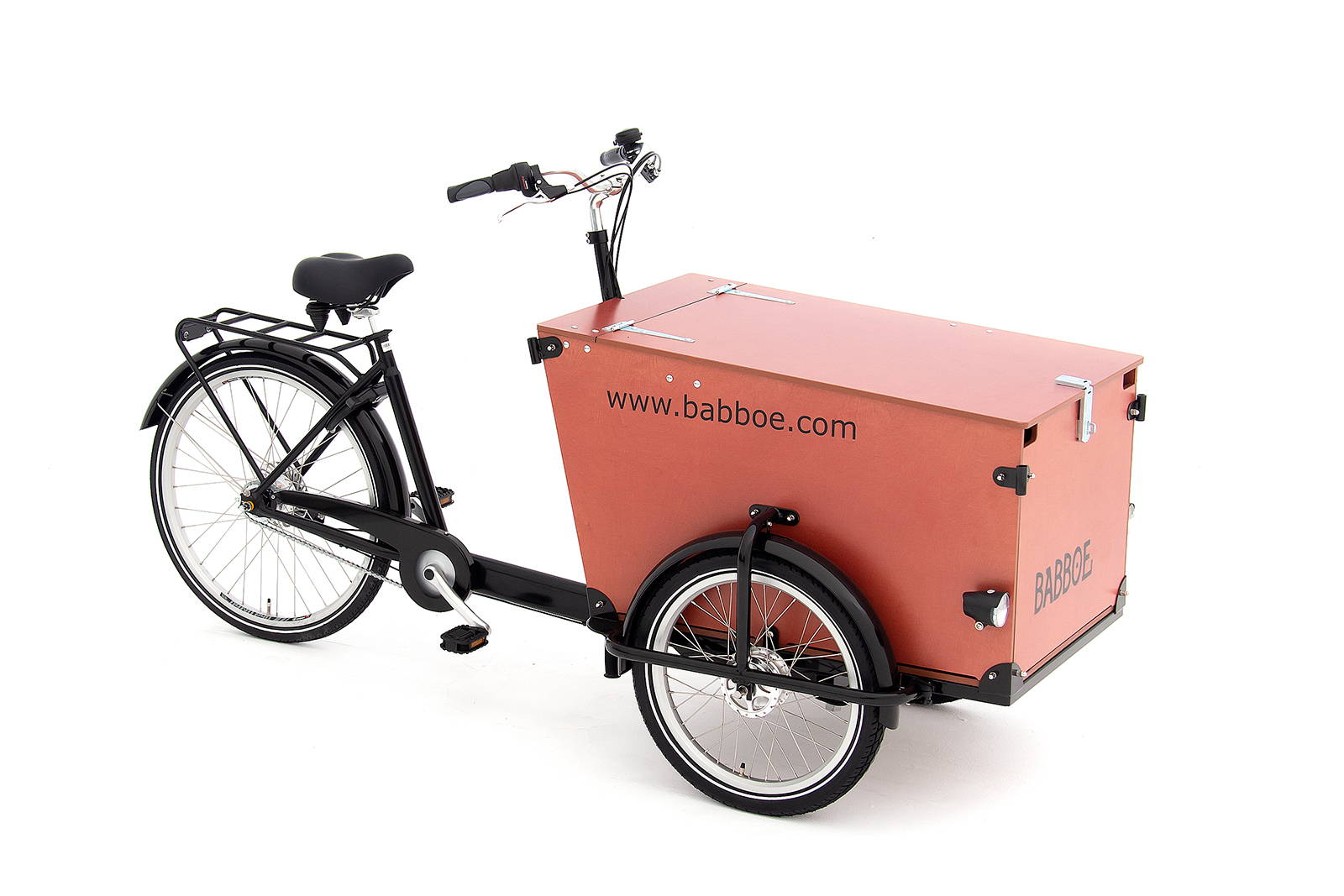 The Babboe Transporter might just be the grandmother of all cargo bikes. Back in the olden days, bikes like the Transporter were used all over Northern Europe and the UK to deliver bread, milk and butcher's products. Today, as more and more people move downtown and near-immediate shipping of goods grows increasingly important, the need for 'last mile' deliveries has come full circle.
A Babboe Transporter does everything a van can't. It can ride on the streets, it can ride through a park -- it can even breeze through the bike lane while vans sit idling in gridlock. And sure, you could throw all sorts of logos on your van, but really, no one's looking. With cargo bikes, on the other hand, people notice. It creates smiles and leads to conversations too. Most importantly, the Babboe Transporter increases efficiency while saving you money. We've sold the Transporter to all sorts of projects and businesses. Mobile bookmobile? Check. Mobile ice cream cart? Check. Mobile trade show booth? Yep, that too! Whether it's a brand activation or serious last-mile logistics, the Babboe Transporter is your ultimate brand vehicle.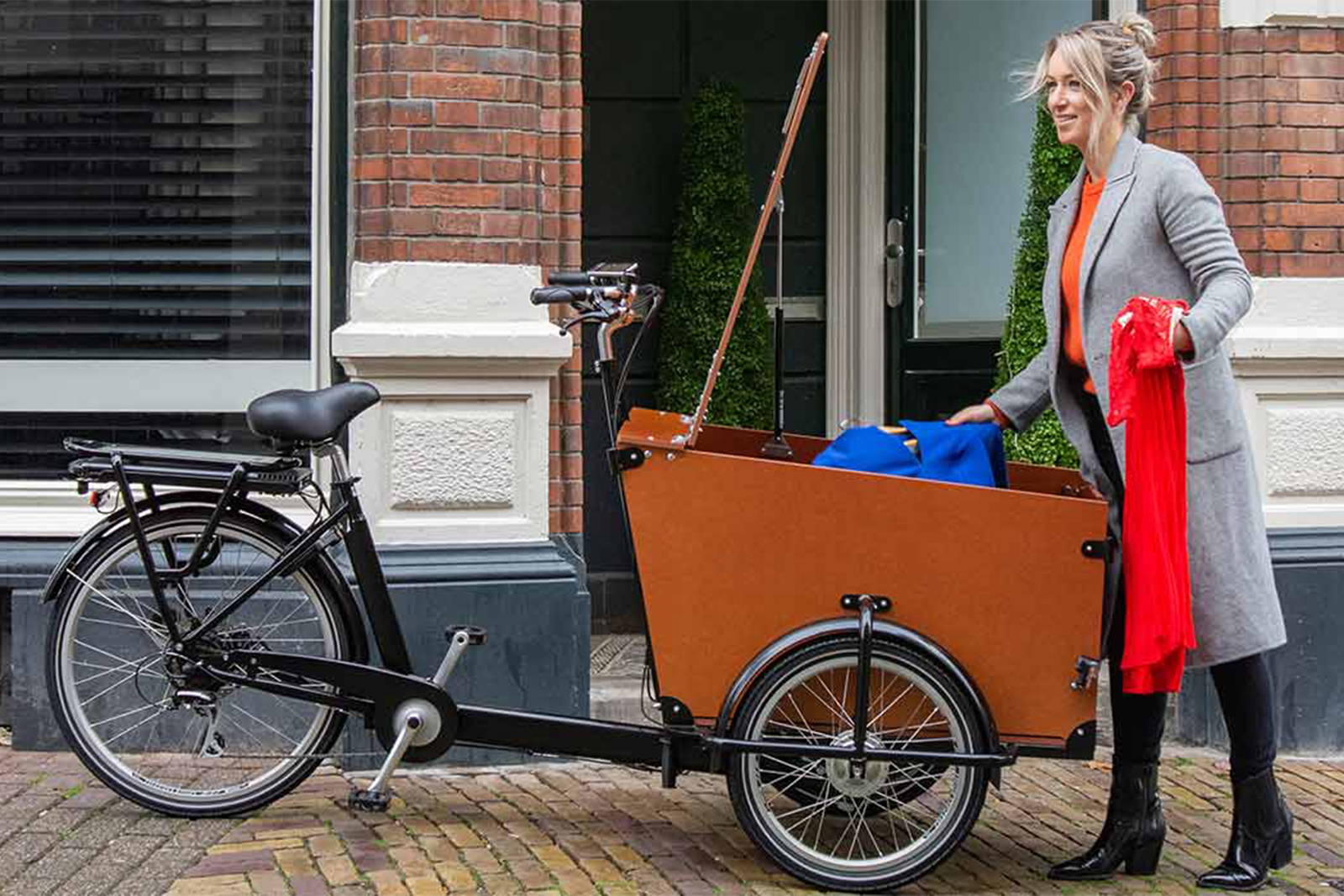 As one of the bigger suppliers of bikes for businesses, we've found that a lot of customers gravitate first towards the bikes that look the most like trucks. And it makes sense - growing up in a car culture, we use the references we have. But sticking to what you know is also a big mistake. Cargo trikes may have begun with two wheels in the back (aka Delta trikes), but this evolved over the last century to two wheels up front (aka Tadpole trikes). Why? The answer is simple: Handling. The function of a rear wheel is to be a drive wheel. In fact, despite having two wheels at the back, all Delta trikes still only employ a single drive wheel. The rear wheel is lazy. So, move that lazy wheel up front! Now, the function of a front wheel is to provide handling. So, when you have two wheels actively participating in front-end handling, you get a bike with terrific ability to take corners, even at speed. Why then are we seeing so many Delta trike cargo bikes in North America these days? That's because these bikes are still used in China, where most of them are also made. What you have to remember at the end of the day is that a cargo bike is only as good as it rides.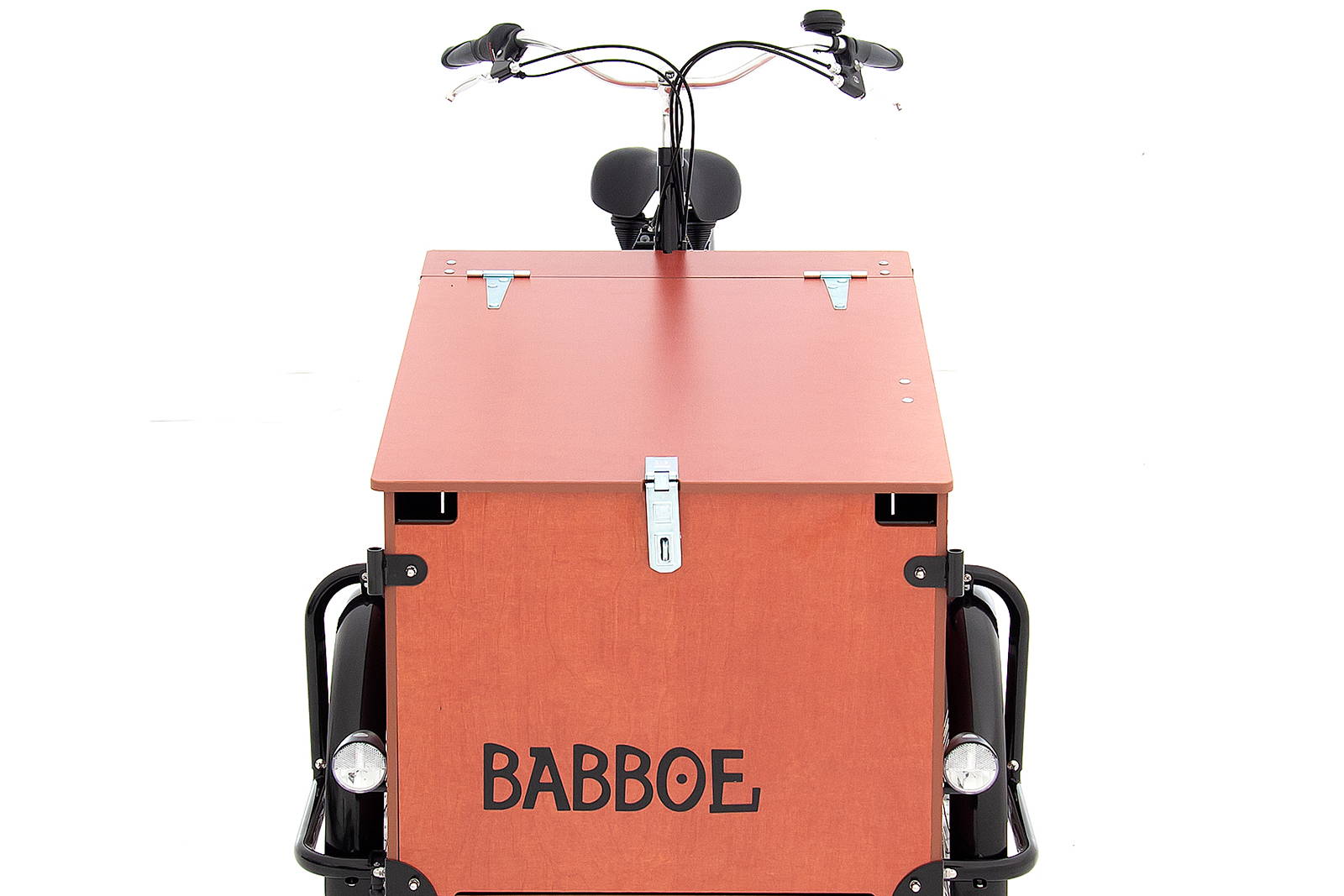 The Babboe Transporter has a massive 265L of box space - that's a lot of space for your microbrew growlers, sandwiches, or product samples. But, best of all, the box is easily and quickly lockable. Just engage the latch, snap on a padlock, and voila, your precious cargo is secure!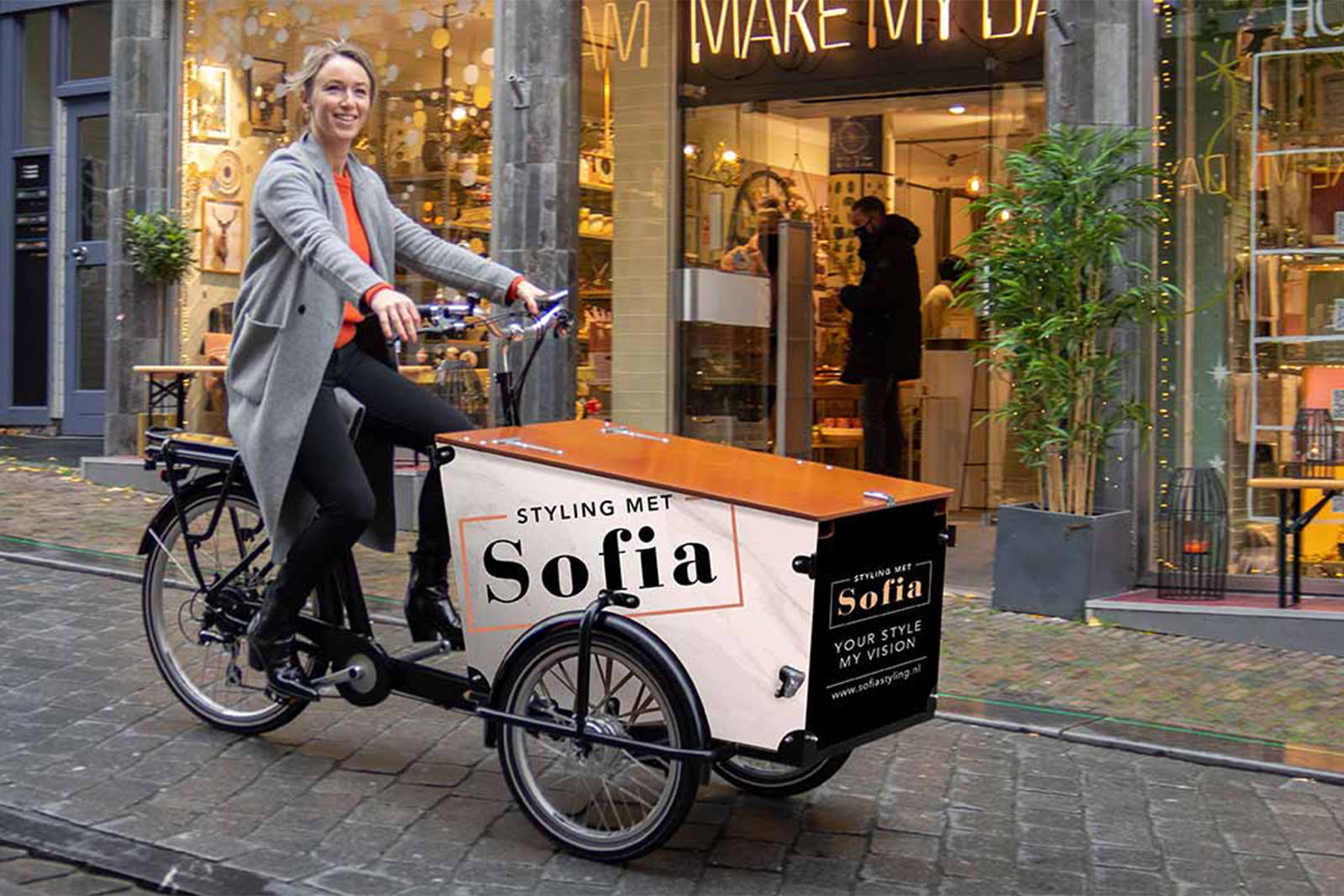 The Babboe Transporter has without a doubt been one of our most popular and easiest cargo bikes for branding. We can provide Illustrator or PDF files of each panel so that your art department can get to work designing! Once we have your artwork we get each panel professionally vinyled, and the results are spectacular. This quick and easy branding makes the Babboe Transporter one of the best plug-and-play cargo bikes we sell -- requiring almost no customization other than the vinyl wrap.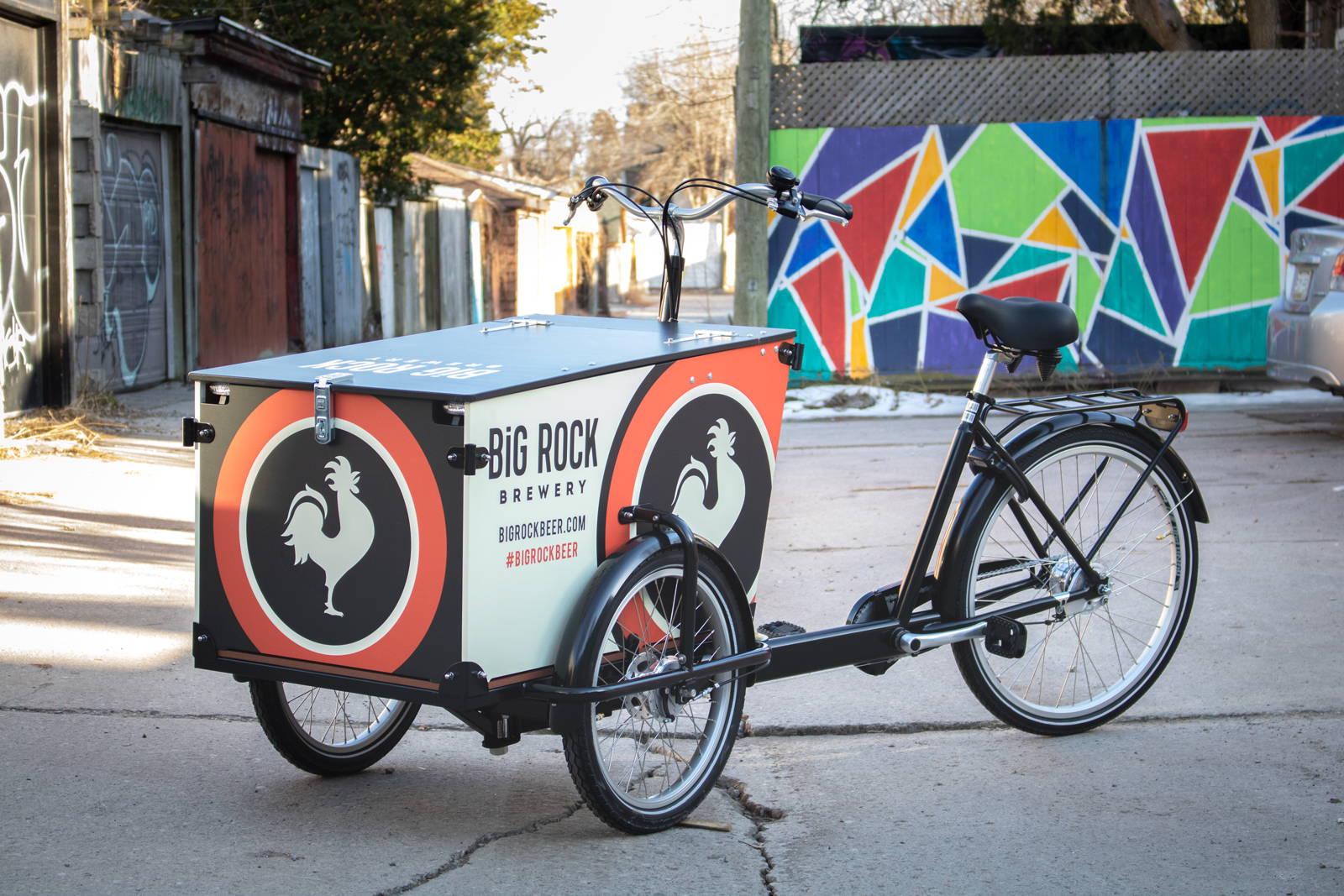 We may have been the first to import cargo bikes into Canada, but that doesn't mean we don't have competition. However, the majority of this competition is what we call 'white label' cargo bikes made in China. "White label" means a company can select a bike from a catalog, design their own website and logo, and presto - they have their "own" cargo bike company. These bikes are generally unproven and unsafe, using inferior materials and parts that are often disposable. The bikes we import are what we like to call 'investment grade,' - put simply, they're made for life. Made for life means that they work with you; that they are safe for your employees and that they are built to last a long time. Those details work hard to save your company money. Used in Holland for nearly a century, the Babboe Transporter is made of heavy duty steel that is finished with rust and chip-resistant powder coats, and uses internally sealed gears and brakes that guarantee a lifetime of low maintenance and high performance. And the box up front? Marine grade wood, designed to last no matter the weather.
5. HUMAN RESOURCES APPROVED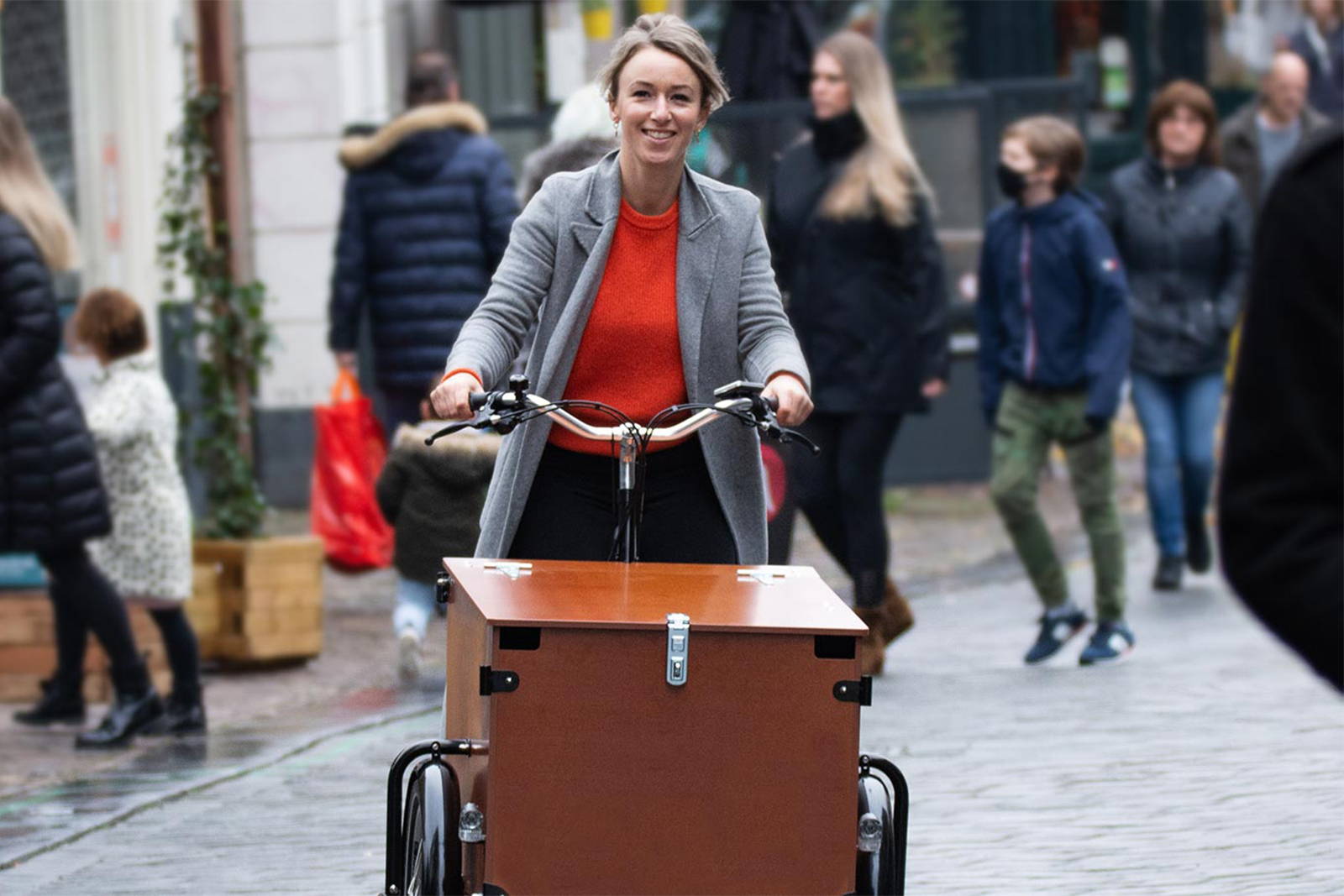 A lot of two-wheeled cargo bikes are designed for speed, speed, speed, and often require an experienced cyclist. The Babboe Transporter however is on three wheels, making it perfect for cruising around and starting conversations. Best of all, it has zero learning curve so you can hire anyone you want with the assurance that your employees are on the safest platform out there.
The cool thing about buying a Babboe is that it pretty much comes with everything needed already. There are fenders to keep you dry, the wheels are already bolted down to prevent theft, and all bikes come with high quality lights. They even come with a bell! Look a bit closer and you'll see some other really cool stuff. For instance, all the tires have a layer of puncture-resistant lining inside of them, because who the heck likes flats?! And, if you look at the rear wheel you might notice a built-in lock that is terrific when you're stopped to talk to people (so you can ensure the bike won't ride away on its own). Finally, all Babboe bikes come with a chain guard. In North America you usually have to change into Lycra to ride a bike, but in Holland people dress up to ride their bikes! So if you have a dapper company uniform to match your snappy Babboe Transporter, you're doing less laundry and making more sales.