FedEx Launches First Official Cargo Bike Fleet Across Canada
---
Posted on 15 September 2021
FOR IMMEDIATE RELEASE
September 16th, 2021 . We are pleased as punch to announce that FedEx Express has launched their first official fleet of cargo bikes across Canada. While many small co-ops and businesses have been using cargo bikes for years, this FedEx fleet represents the first time a global courier brand has moved beyond pilot testing to an actual investment in a concrete North American cargo bike fleet. And, as North America's most experienced cargo bike provider, we're proud that Curbside Cycle provided FedEx with their fleet, from early research to early piloting to the official launch today. FedEx Express now has the largest North American cargo bike fleet, with 50 cargo bikes spread across Canada. And, with FedEx Ground piloting a fleet of 10 cargo bikes in Canada and the USA (all supplied by Curbside Cycle), it's fair to say that we're only going to see more and more cargo bikes on the road in the decade to come.
This project has its earliest antecedents in Europe, where cargo bikes have been used for decades in gridlocked streets for deliveries. In 2006, Curbside Cycle was the first company in North America to import cargo bikes - no small risk! And, while these were largely designed for family transportation, our research trips across Europe revealed the vast opportunities that cargo bikes offer to private consumers and beyond, whether NGO's, small business, governments, or publicly traded companies like FedEx.
At Curbside, we started the first Bikes for Business program for cargo bikes in Canada. In this time, we've identified three different market streams: bikes for mobile retail, bikes for public service and finally, bikes for delivery. We've helped global companies like Nestle launch bikes for mobile retail, we've worked with the City of Toronto on bikes for public plant watering, and now we are pleased to see global players enter the delivery market. Bikes can make a huge impact on reducing gridlock, but also CO2 emissions; and that's especially true if bikes are used for deliveries.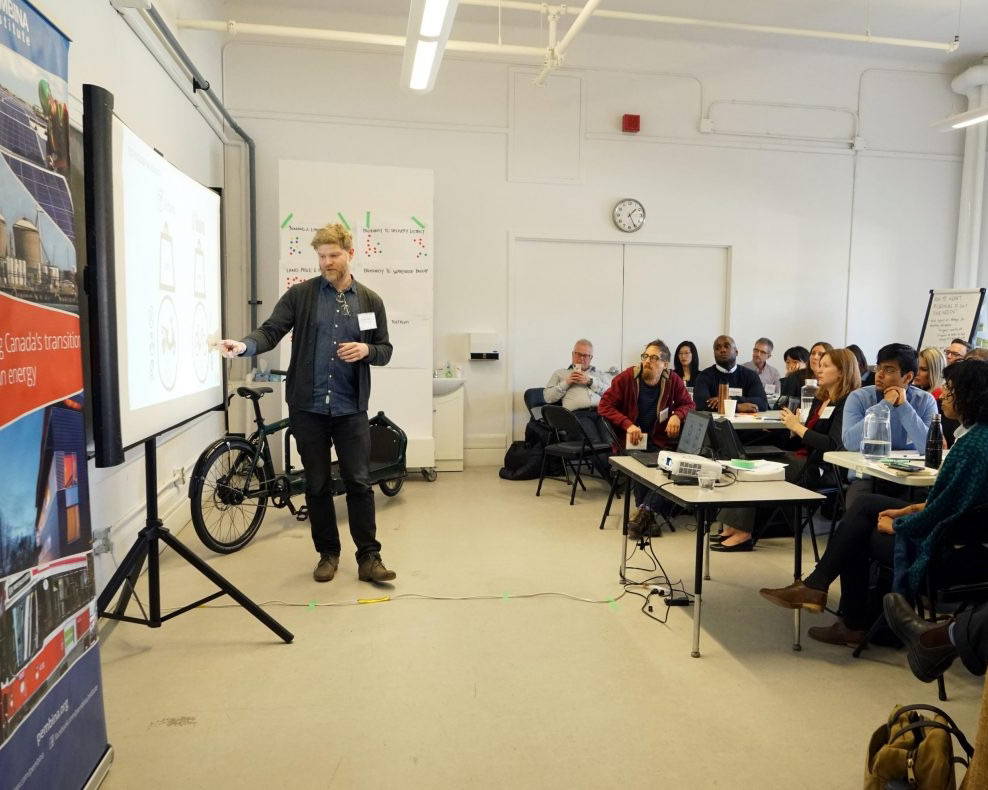 Our man Eric presenting at the first Pembina Institute Forum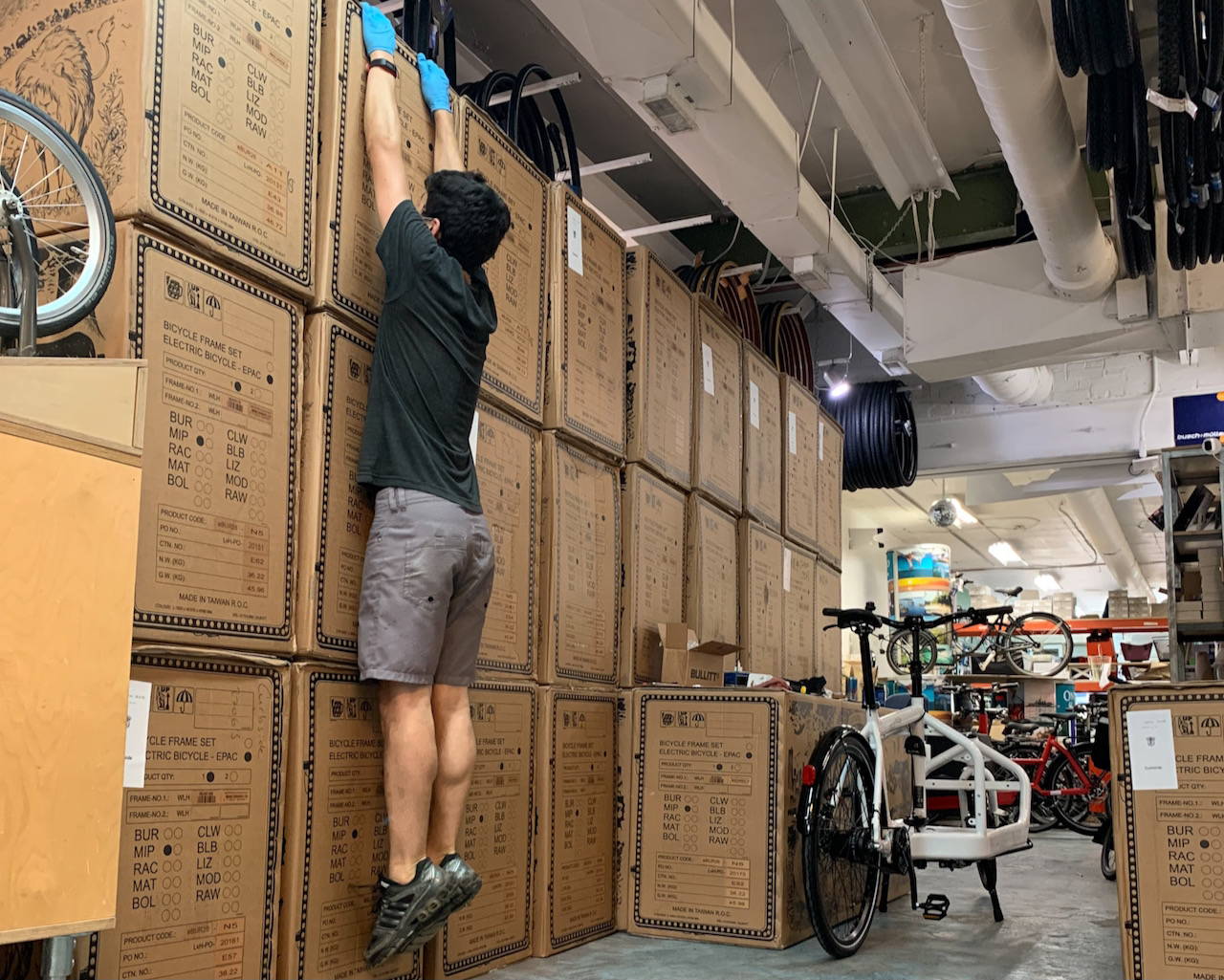 The Great Wall of Bullitts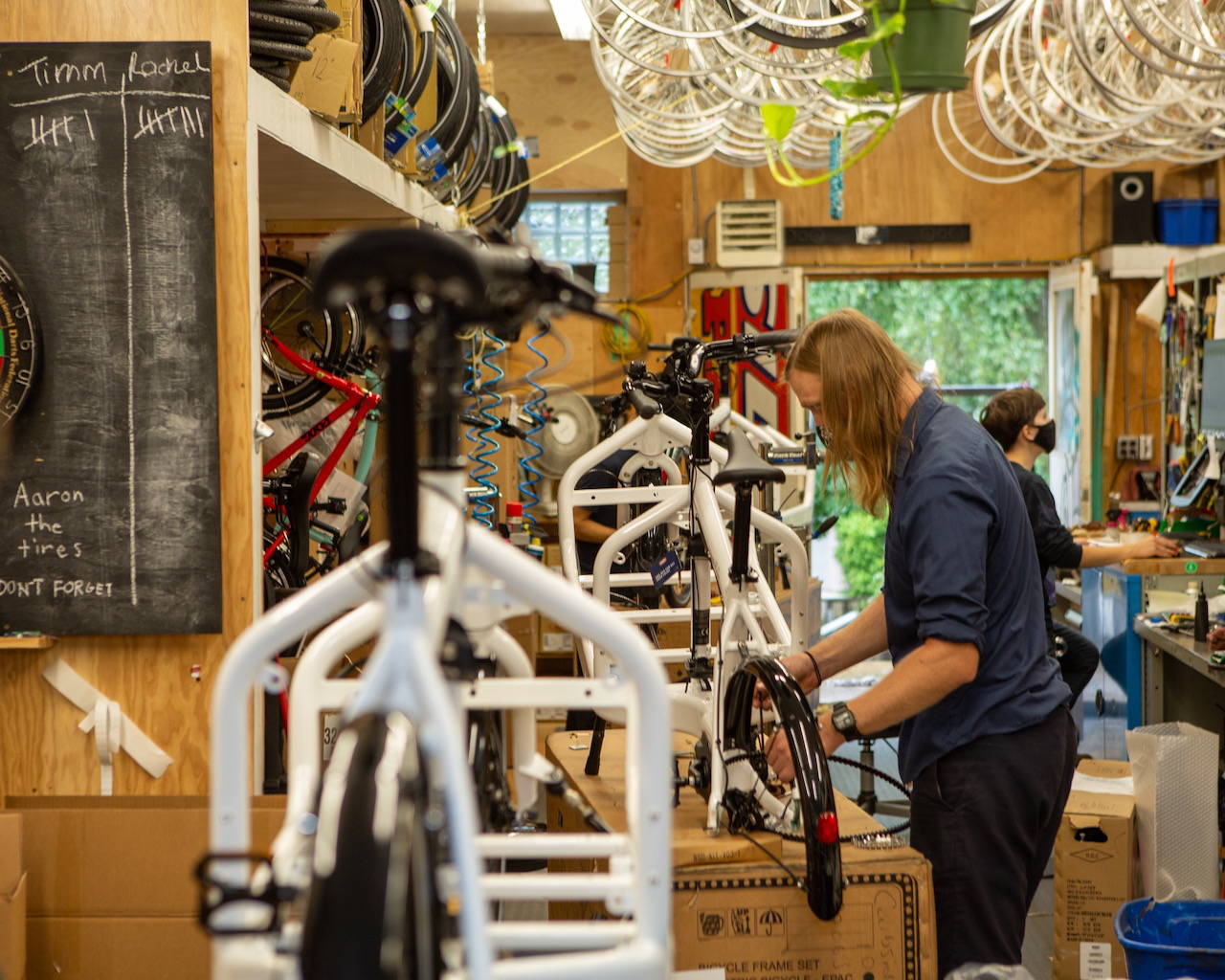 Final departure: FedEx carrying FedEx.
In 2019, Curbside Cycle was invited to take part in several presentations around Cargo Bike Logistics with Canada's Pembina Institute, a clean energy think-tank. The Pembina Institute identified freight logistics as one of the key culprits in urban CO2 emissions. And, they noted that freight logistics will only continue to increase CO2 emissions as cities continue to densify and especially as online shopping continues to assert its dominance.
We worked alongside Pembina to provide research on a groundbreaking white paper that provided proof-of-concept that the European model of using cargo bikes for last mile logistics could easily work in North America. Critical to this study was two things: the type of bike that would be employed and the use of micro-hubs.
Micro-hubs are the number one reason why freight logistics by cargo bike work so well. A micro-hub is basically a localized feeder hub planted into dense urban cores. Most studies show that by planting a micro-hub in a dense area, a cargo bike can serve a radius of five miles more efficiently than a truck or van. This range increases to a ten mile radius if the cargo bike is an electric assist. So, the first thing that is required is a feeder hub planted in the middle of density. The second thing required is a bike that can cut through gridlock, park freely, and carry sufficient volume.
Now, courier companies aren't bike people and it's no surprise that most pilots across North America have employed bikes that look a lot like trucks. One thing in common from the defunct UPS project in Toronto to the failed Amazon project in New York, is the use of "rickshaw" trikes that have large freight boxes in the back (like a truck) that tend to be very tippy in corners. These bikes may have large payloads, but they move slowly in traffic, cannot pass or be passed in bike lanes, and are difficult to move up onto curbs to park freely. In other words, they look like trucks and tend to have the same problems as trucks.
Alongside Pembina and Curbside, FedEx did their due diligence in product selection. Starting with the core principle of a micro-hub, they looked at successful European operations (like DHL) who use fast, lightweight cargo bikes with sufficient storage that can move quickly between the feeder micro-hub and destination drop-offs and repeat that process over and over again. And, the only company in the world who have made freight cargo bikes their mission is Copenhagen's Bullitt.
The two-wheeled cargo bike, or "long-john" is a Copenhagen invention that was used originally for cargo delivery. Copenhagen has always been a pretty sprawled out town and two-wheeled cargo bikes were required to monetize package delivery over speed and distance. Bullitt, based near Norrebro in Copenhagen, are leaders in the continued Danish obsession with freight delivery by bike. Their bikes, already used by DHL and hundreds of small courier companies worldwide (including Sendit courier in Toronto - one of the largest Bullitt fleets!), are the leaders in strength, speed, and durability. A Bullitt is narrow enough to pass and be passed, light enough to lift off a curb easily, and they have the acceleration and cornering needed to efficiently navigate dense city blocks.
FedEx chose the Bullitt E6100 model with a low-maintenance internal gear hub for their first pilot here in Toronto. With its Gate's belt drive - capable of running up to 60,000km - this bike is designed for four-season use with the lowest amount of maintenance. In its first year of piloting, the results were clear: just like in Europe, a cargo bike in Toronto could do more drops per hour than a cargo van. On some routes, the van was eliminated entirely.
Obviously, we're delighted that Toronto was chosen for the pilot. But, there are many reasons for this. First, Toronto is a large city that has always maintained strong urban density, even in the 60's and 70's when suburbanization was the trend. Second, Toronto has always had a strong cycling community that has showed strength in numbers, even when infrastructure has been lacking. Third, Toronto has Curbside Cycle, who laid down the first template for cargo bike use in North America, and its proof of concept. And finally, there was the research done by Toronto's Pembina Institute, the first of its kind in North America.
Even more exciting, the FedEx program is getting interest from other FedEx offices around the world. According to Jeffrey Gilbert - Project Manager for FedEx, "This project has opened up conversations around the globe with other cities trying similar things, it's really exciting."
Like many good things that come to fruition, the FedEx bike launch has been one of partnership and collaboration. We are pleased to introduce one final partner in this program, the good people from
VeloFix
, who will provide all after-sales service to the Bullitt fleet outside of Toronto. Velofix is a Vancouver-based company with the largest Fleet of Mobile Bike Shops across North America. Using specially outfitted Sprinter Vans, Velofix can not only fix bikes on-route, but perform scheduled maintenance at each FedEx depot. "We are proud to partner with Curbside and Fedex on this exciting project, and we look forward to supporting the growing Fleet of delivery bikes across North America" says Chris Guillemet, Co-founder Velofix Group of Companies.
Questions about this program or a cargo bike fleet for your own organization?
Contact eric@curbsidecycle.com
Want to be a FedEx Bike Courier? Apply here!