REASONS THE POSTER BIKE IS GREAT FOR YOUR BUSINESS
---
Posted on 03 May 2022
REASONS THE POSTER BIKE IS GREAT FOR YOUR BUSINESS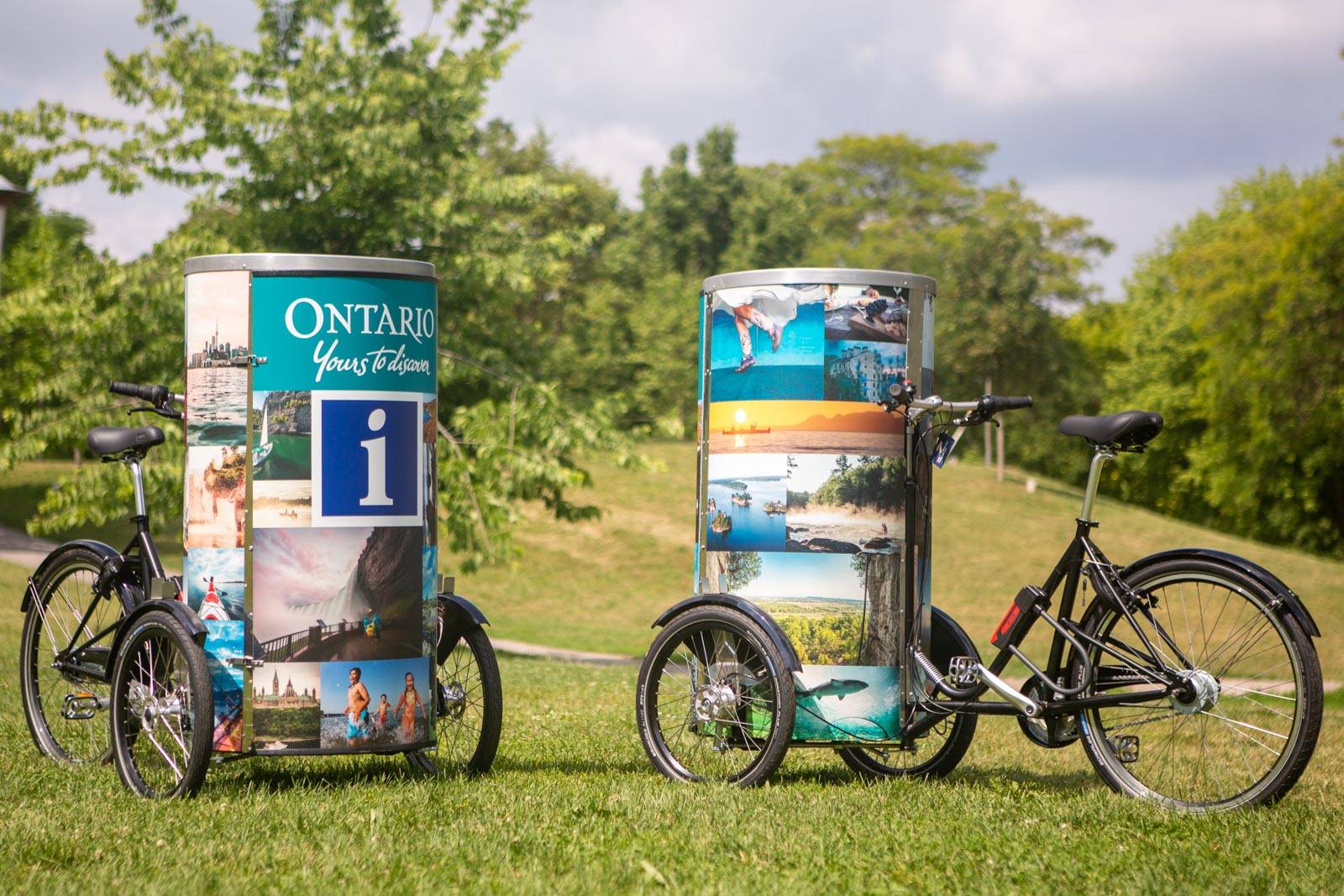 One of the reasons we love Nihola bikes so much is not just that they build their bikes by hand in Copenhagen, it's because they really think about all the ways a cargo bike can be used. Take the Nihola Poster Bike. It's a bike that is designed for high-impact engagement, the best way to bring your brand to the streets! We've sold a whole fleet of them to the Ontario Tourism office who used them as a mobile tourist kiosk. Nothing turns heads like a cargo bike for business, and the Poster bike knows how to turn heads.
The Nihola Poster Bike comes with a long cylinder that yes, even the shortest rider can still see over (we knew that question was coming!). This cylinder is just waiting for your branding. One example is the vinyl wrap we did for Destination Ontario. It features a big information "I" and features lots of iconic Ontario destinations.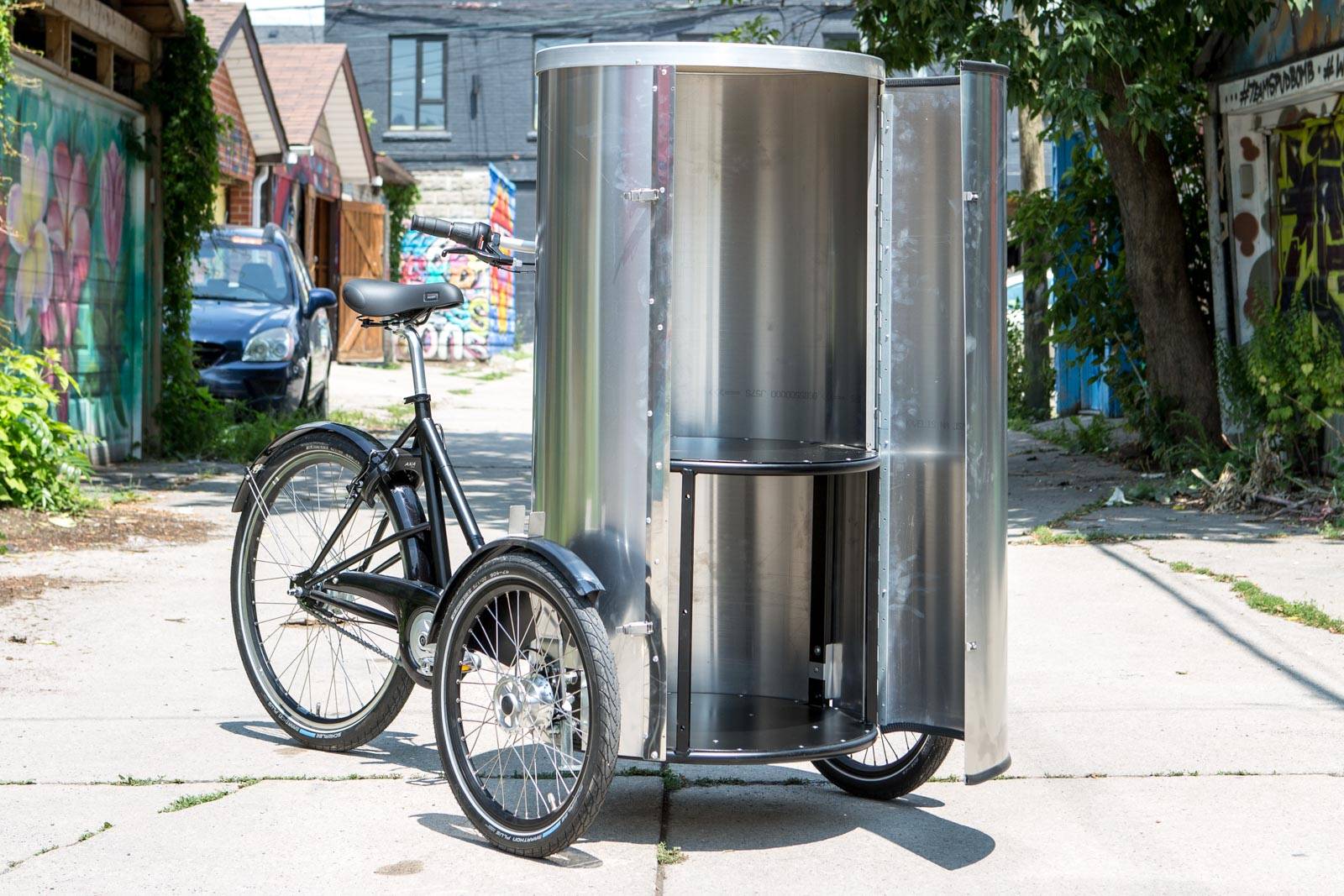 So, you're riding your Nihola Poster Bike around with some sweet branding and you know that everyone is looking. That's causing some great engagement and conversations. But, nothing engages your customer more than opening up the front cylinder and giving them a sample or brochure. Or, maybe you're selling something! The Nihola Poster Bike comes with a built-in shelf with tons of storage room and lots of room for interior customization as well.
3. HUMAN RESOURCES APPROVED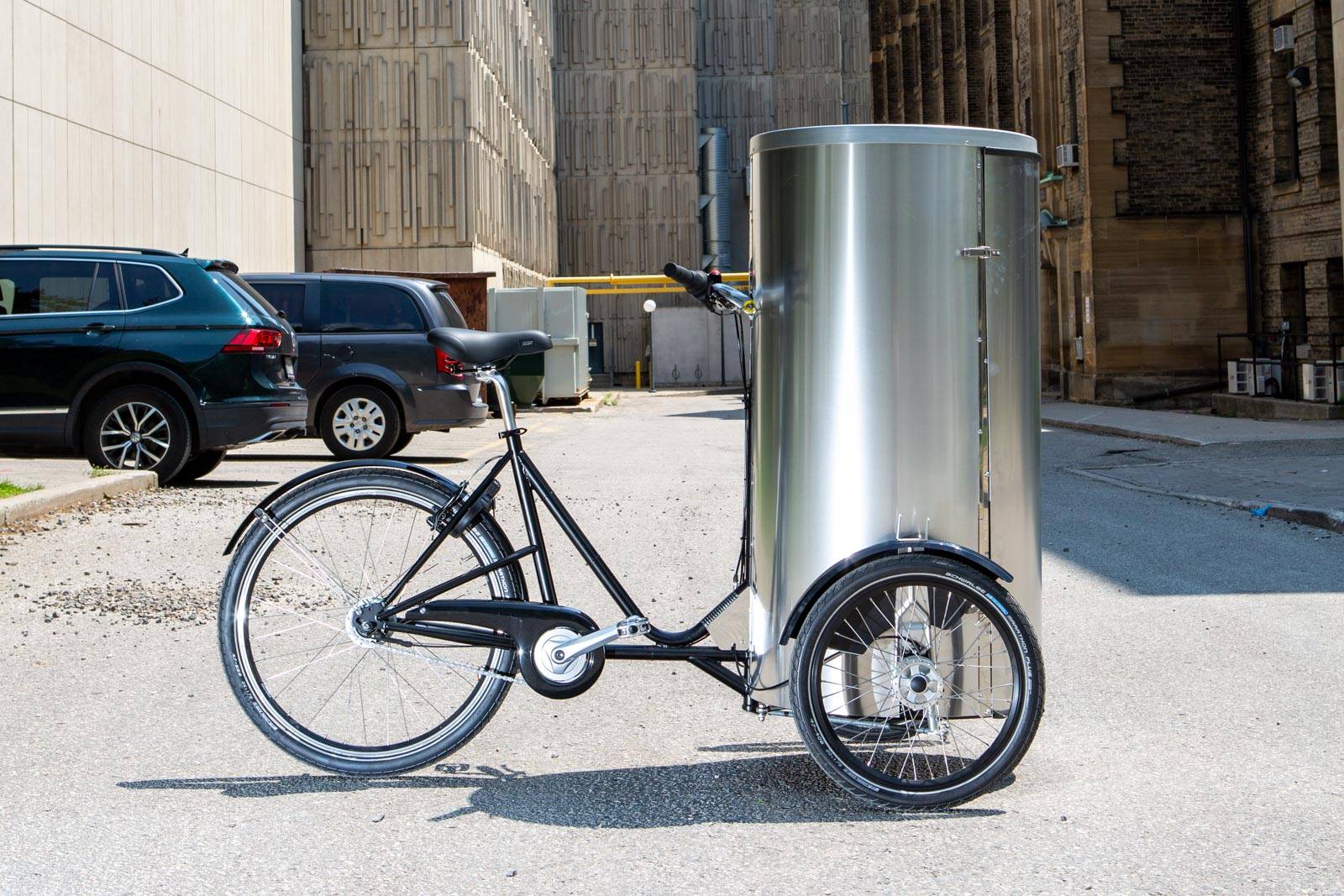 A lot of two-wheeled cargo bikes are designed for speed, speed, speed, and often require an experienced cyclist. But, the Poster Bike is on three wheels, perfect for cruising around and starting conversations. Best of all, it has a zero learning curve so you can hire anyone you want and not worry about safety.
The weird thing about most cargo trikes is that they all seem to steer by swinging the box left and right. You read that right: on most cargo bikes the wheels are bolted to the box and it's the entire box that steers. On the Nihola Poster the box stays put while the wheels steer, just like a car! That means extra safety, whether in the park or on the streets.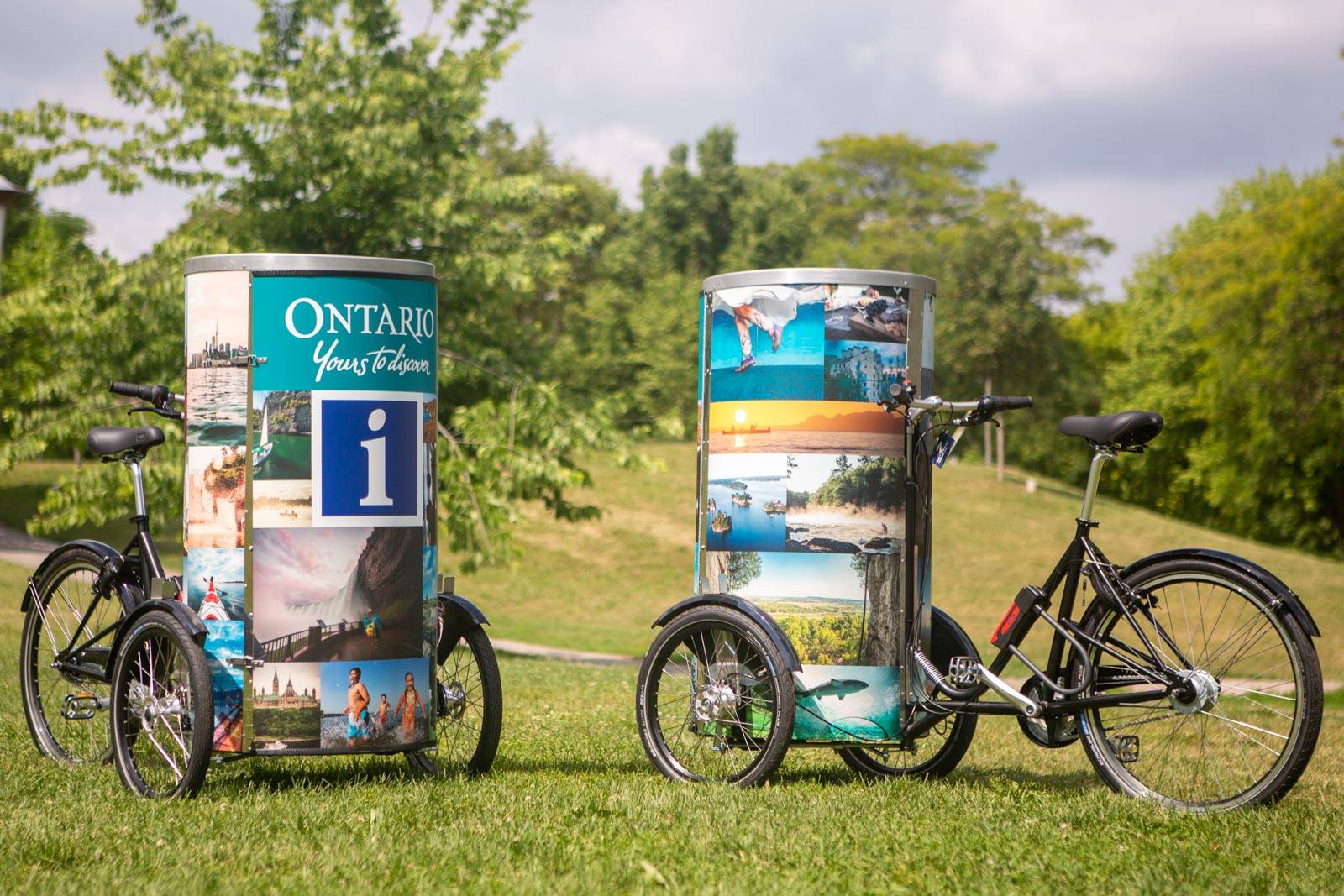 We can't stress this point enough. It seems these days there are a lot of North American cargo bike brands with what we call "white label" products. These are products that are selected from a big Chinese catalog and, if you order enough, you can put your own brand on it. What these bikes all have in common is that they were built around price, not performance. The Nihola is a proven, investment grade bike that is designed with strong frames and finishes and sealed, low maintenance parts that might cost more up front, but save you money in the long run.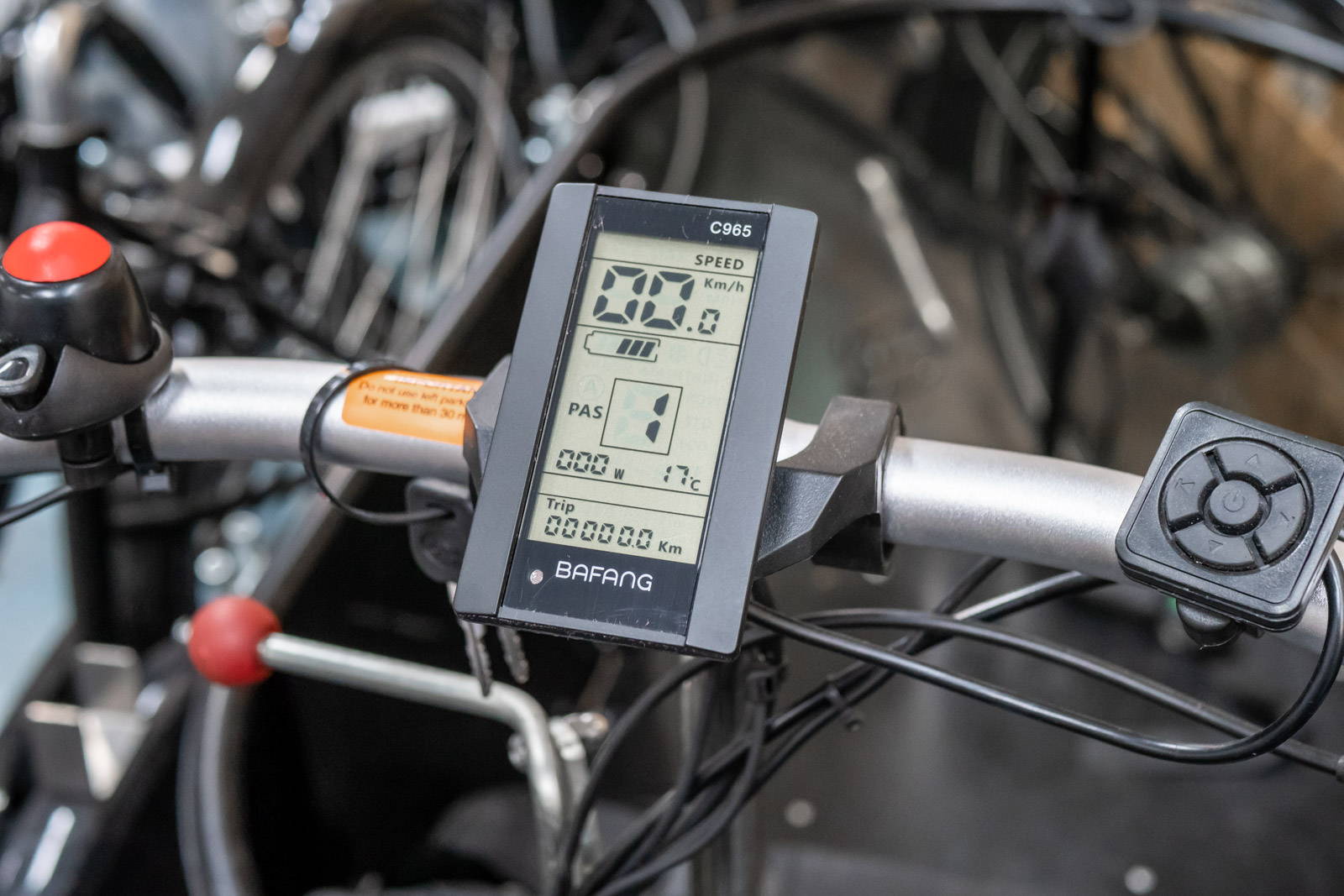 Need an extra boost? Climbing hills or traveling from job site to job site? We can install a powerful electric assist motor that gives the Nihola Poster Bike up to 60km on a single charge and easy pedaling up the biggest hills.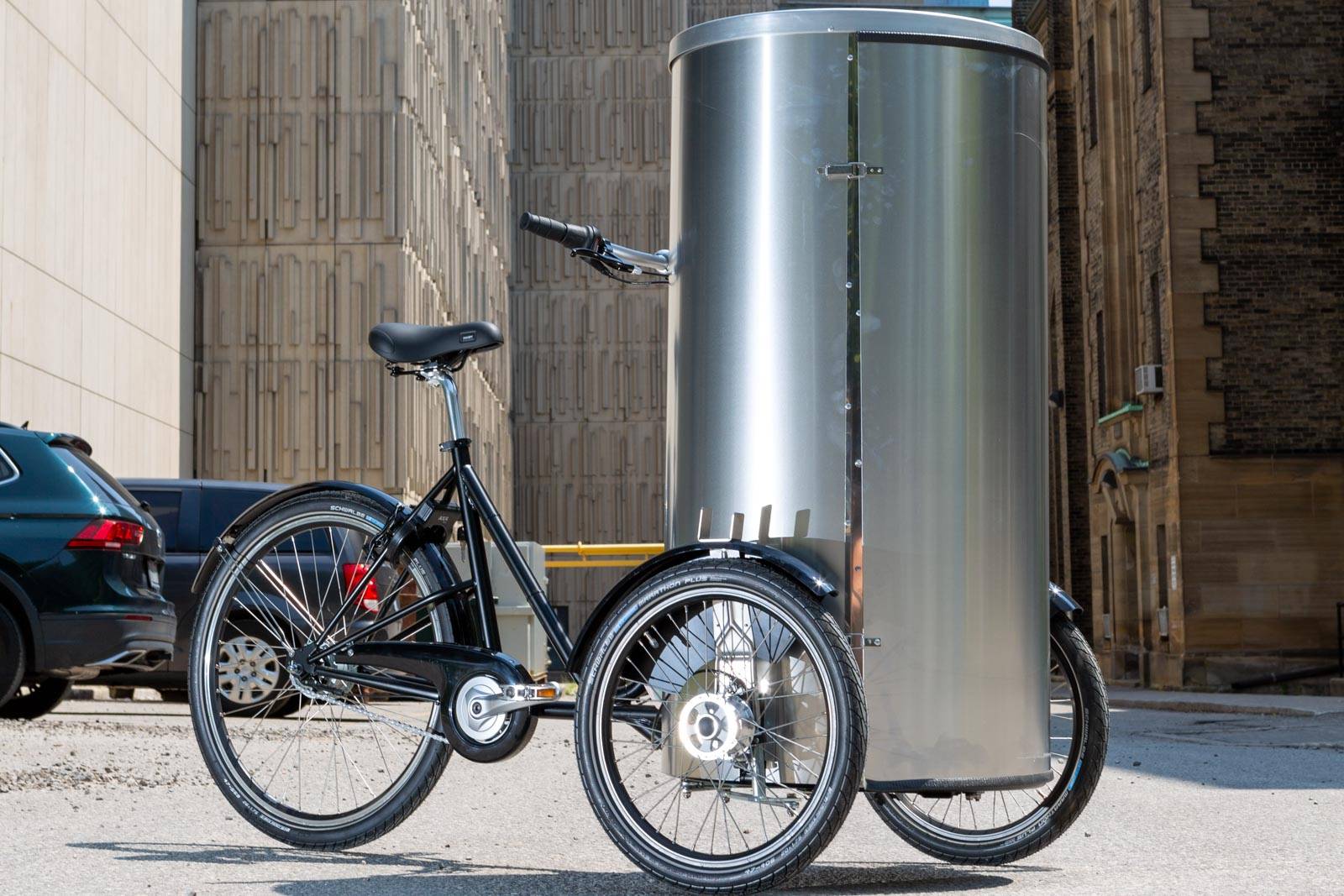 Look a little more carefully and you can see that the Nihola Poster Bike comes with a couple of handy things. First, the tires are super puncture resistant! Second, there's a built-in lock on the rear wheel that lets you quickly lock the bike to itself while you're off the bike talking to customers nearby. Third, the Nihola comes with a chainguard! One thing we love about Denmark is how people dress up to ride their bikes. So if the company uniform is as stylish as the Nihola Poster Bike, you don't have to worry about grease and laundry.