What is the ultimate winter bike?
---
Posted on 30 October 2020
What is a winter bike? Perhaps the best way to answer this is, what is not a winter bike?

Most bikes sold in North America are designed for recreation, which means: spring and summer. Of course you can ride one of these recreational bikes all winter, but repairs will begin to add up.

In Europe, bikes are made for transportation, and that means all-season transportation. This changes everything!
The all-season bike is quite different from the concept of a 'beater bike' that you might ride through the winter.

A beater bike is generally a bike not made for all-seasons that is being ridden through all-seasons because it's on its last legs and perhaps near-death.

The problem is, riding in winter is more dangerous than riding in summer, so having a bike near-death means you're pretty compromised yourself!


So, the real problem is: you're probably not riding an all-season bike. And this isn't your fault!!

Unfortunately, most of the bike industry in North America only cares about recreation and performance. So, it's not exactly like an all-season bike is easy to find.

Luckily, we import all-season bikes! These are designed for transportation and recreation. Best of all seasons, best of all worlds!


When you buy an all-season bike, you have an amazing summer bike and an equally amazing winter bike.

In summer, you can take the bike through the city to work, or ride recreational distances. In the winter, the bike is super low-maintenance, so you're not always taking a toothbrush to your cold, greasy chain.

So, what makes a good all-season bike? It starts with strong corrosion resistant finishes, and parts that are internally sealed rather than exposed to snow, oil and muck.
WHAT'S SO DIFFERENT ABOUT A WINTER BIKE?
It's not just a winter bike - it's an all-season bike!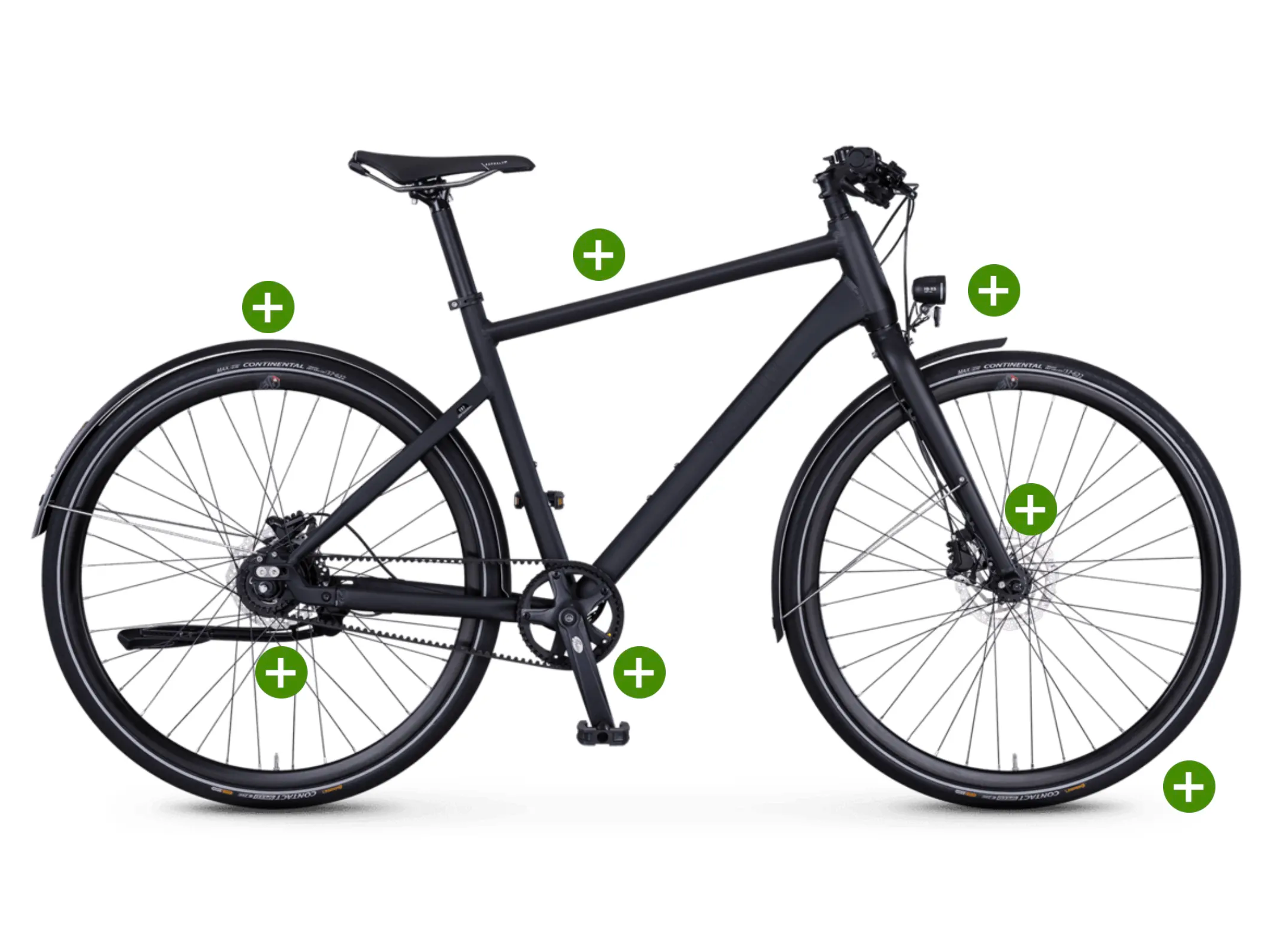 THE ALL-SEASON BIKE - A BREAKDOWN:
In Germany, a city bike is defined by whether or not the bike is internally geared. An internal gear hub provides all the gears you actually need rather than a million gears that provide a million problems. Best of all, the gears are sealed inside the rear hub. That means that they work flawlessly, no matter how cold or nasty it is outside. Even better? They require a minimum of tune-ups.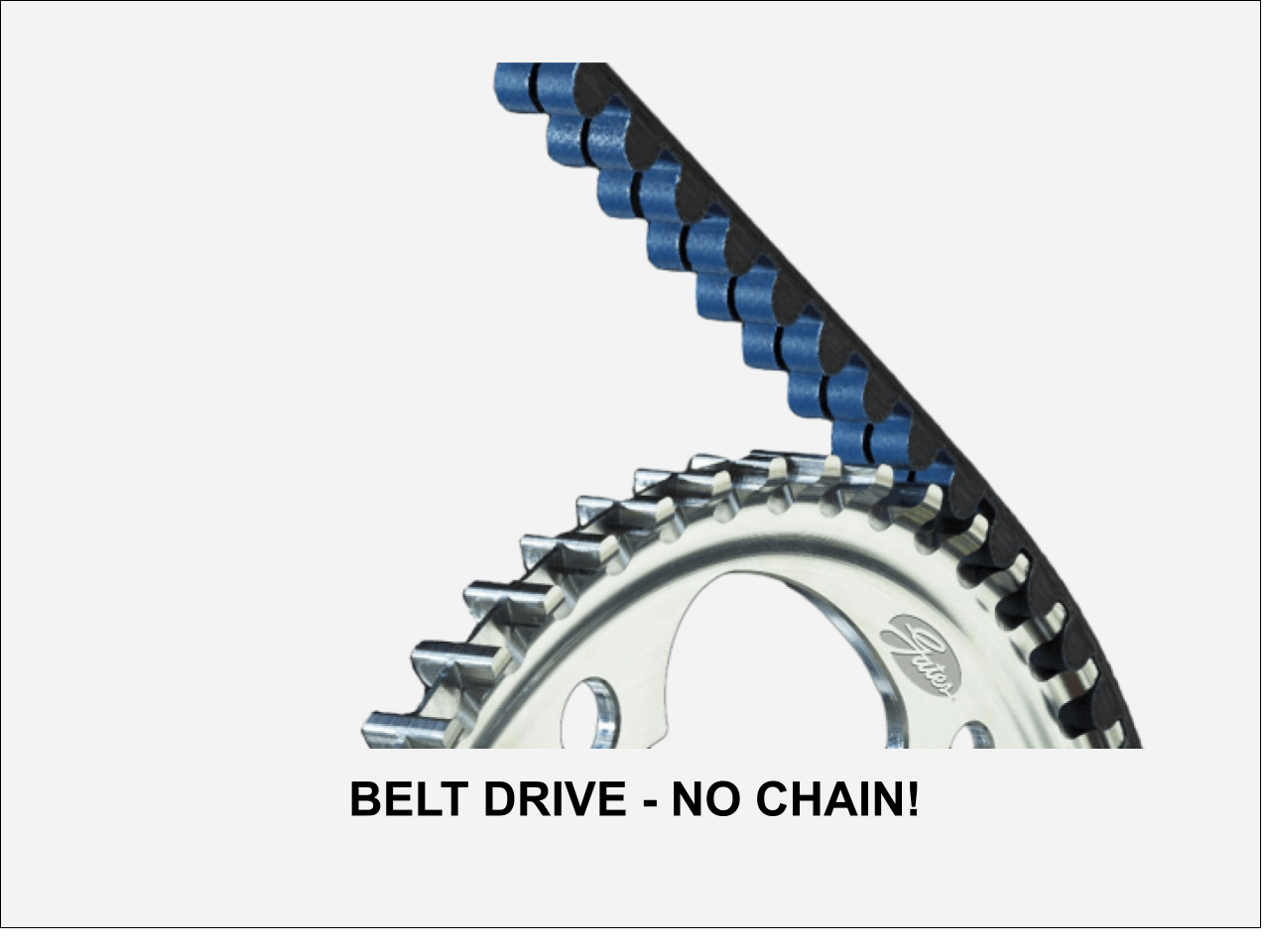 Belt drives are an absolute game changer. While a chain-guard is the next best thing (since both keep your clothing and chain clean), a belt drive requires almost no maintenance and runs for 30,000km (that's about 85% more than a chain) without replacement - all with zero oil (on your clothes or the belt!). That saves you money, maintenance costs, and laundry too!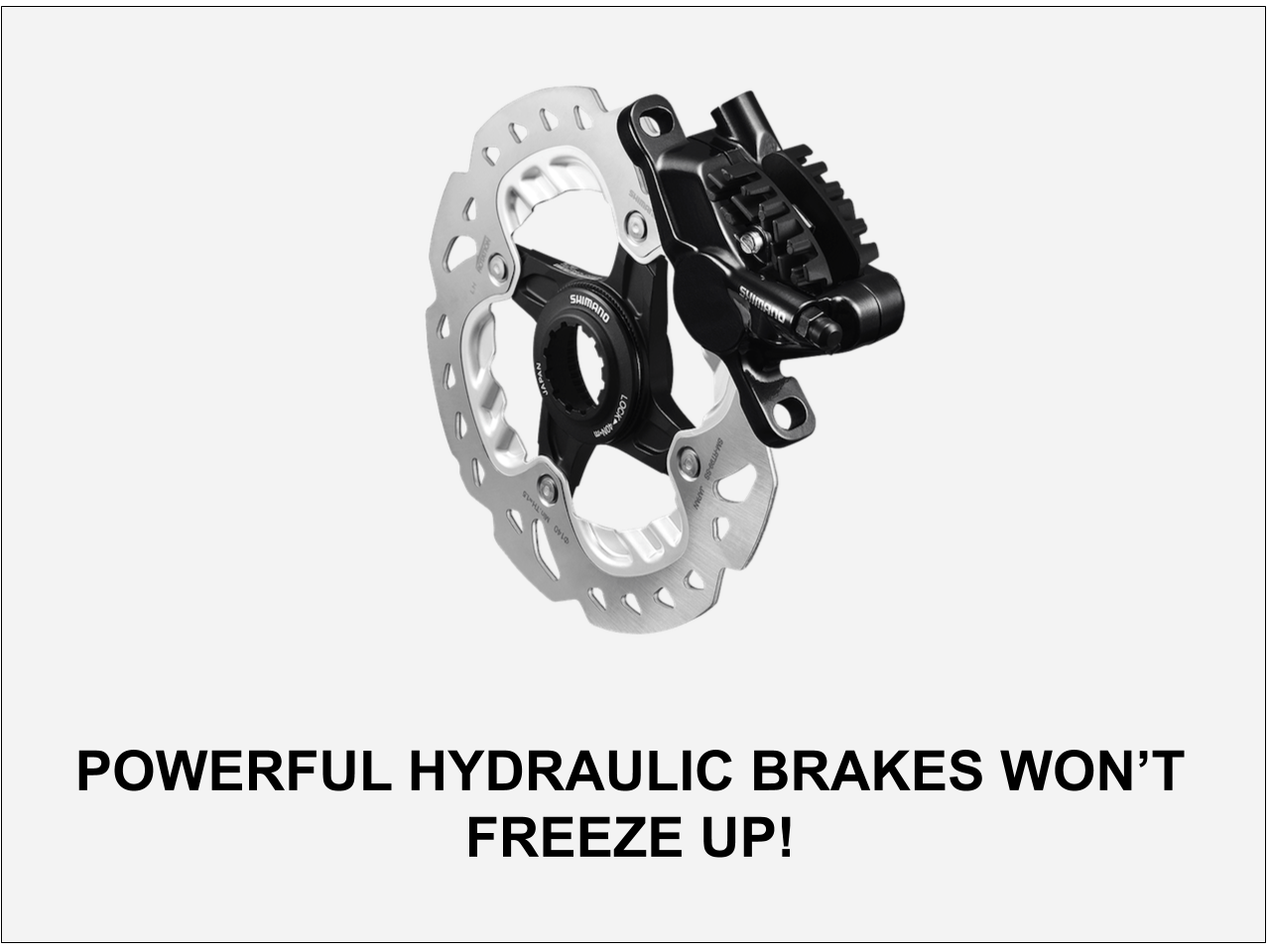 The big problem with winter is that cables tend to freeze up. That means that on really cold days, you get on your bike only to discover you have no brakes or gears. While frozen gears are annoying, frozen brakes are dangerous. Luckily a lot of bikes today come with hydraulic brakes. Not only are they powerful, they also use freeze-proof hydraulic fluid in the brake housing rather than a cable.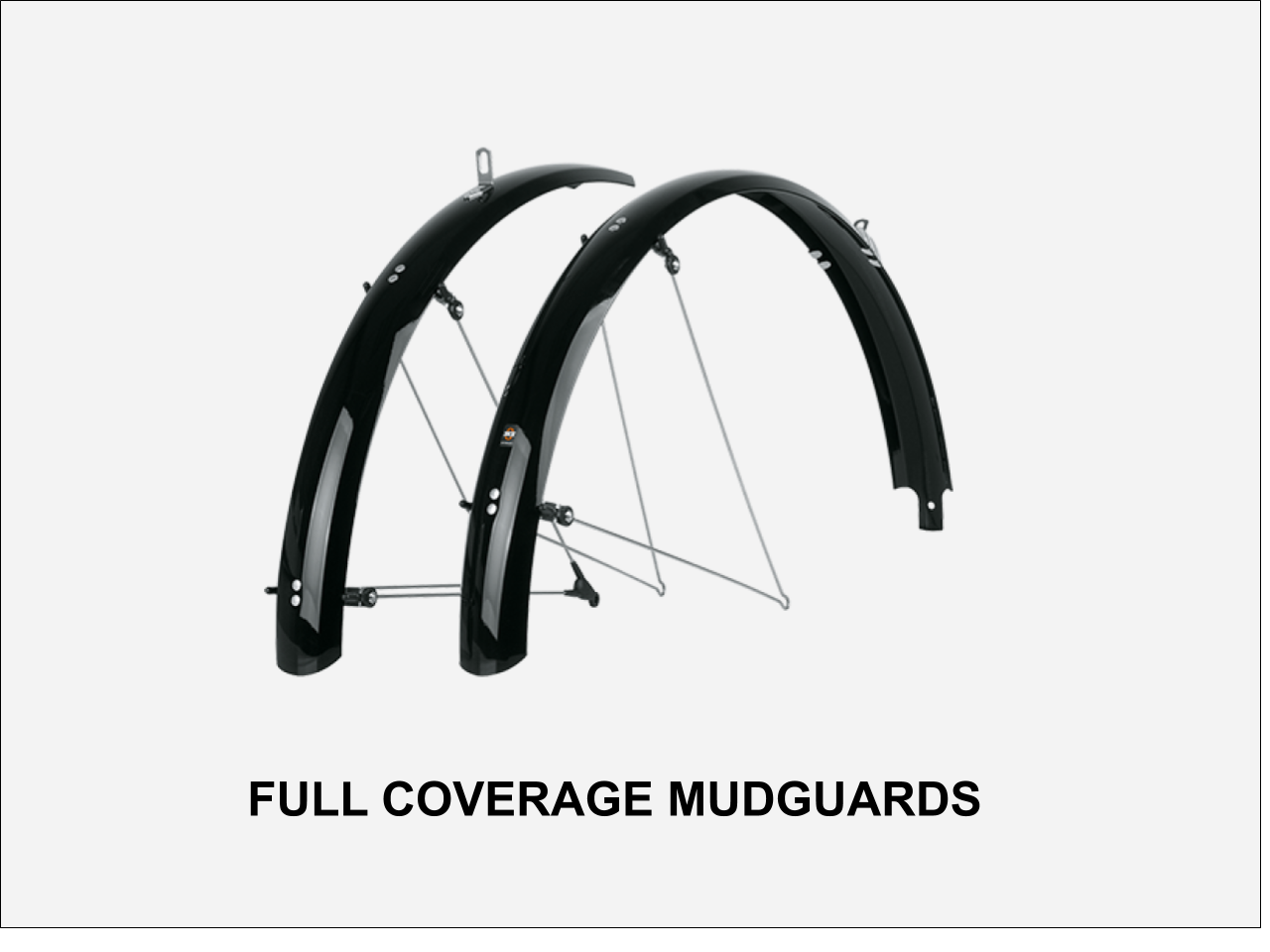 This is a no-brainer, but it's always staggering to see a winter rider getting butt-splashed by freezing cold, dirty slush on their way to work. Fenders are not only essential, they are cheap as chips! Our favourite fenders are the Evo Powerguards because they have an extra long tail, use rust-proof stainless steel hardware, and are made of unbreakable ABS plastic. Learn more here!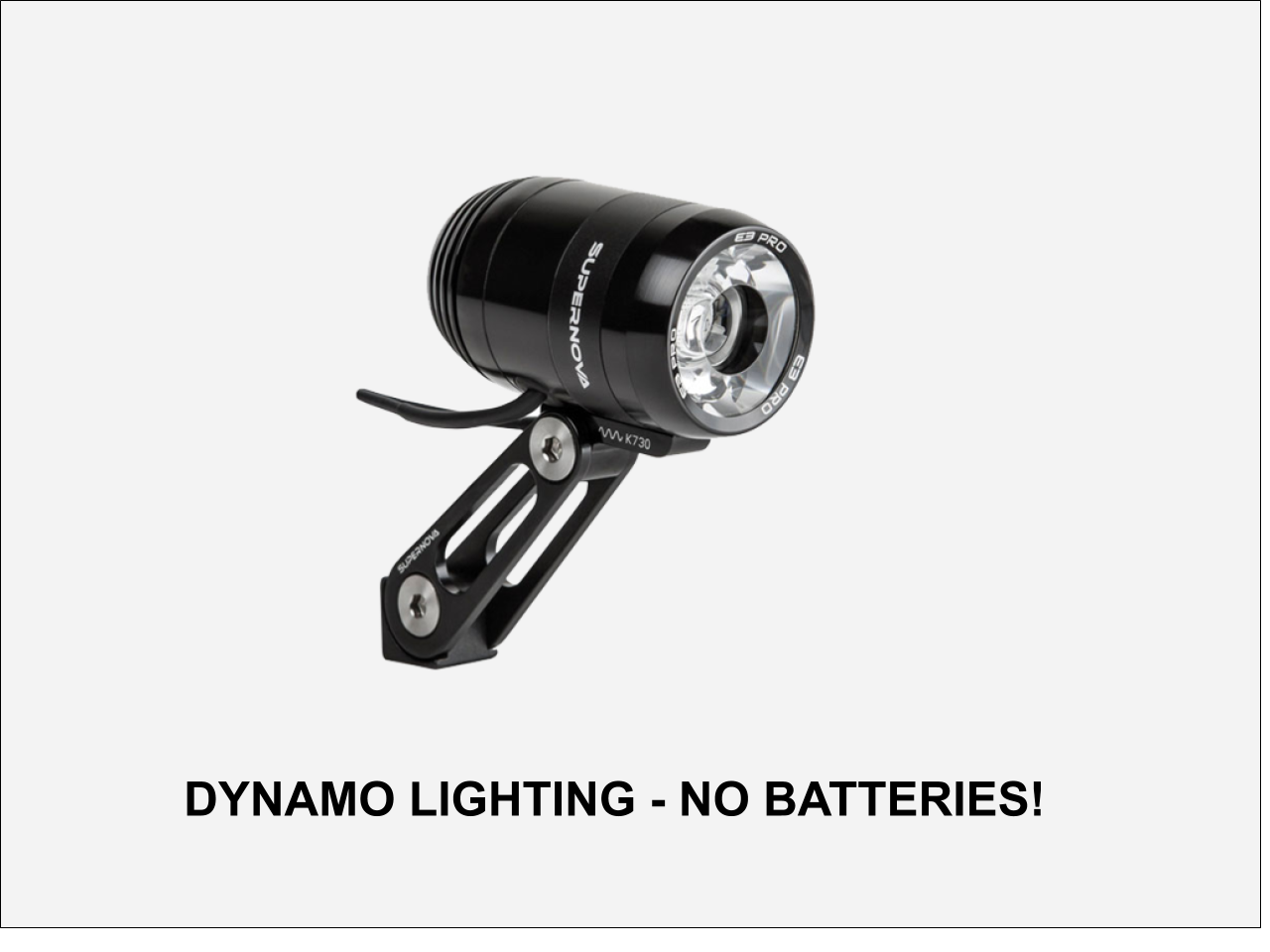 In Germany, a bike cannot be called a city bike unless it is equipped with dynamo lights. Makes sense... imagine selling a car without headlights! Dynamo lighting is awesome because they are battery-free and run on your front wheel. Unlike most flashing lights, dynamo lights are about being seen and seeing. Best of all? They are bolted and wired to the bike, making them theft-proof. Learn more here!
A good all-season city bike approaches finishes as something that is as structural, like the frame itself. Good finishes mean chip-resistant paint and rust-resistant undercoats. There are a variety of ways to undercoat (ED coating, phosphate baths), but all good city bikes must be painted with thick chip-resistant powder-coats - unlike the cheap 'wet paints' found on most North American bikes.
HIGHLY RECOMMENDED FOR WINTER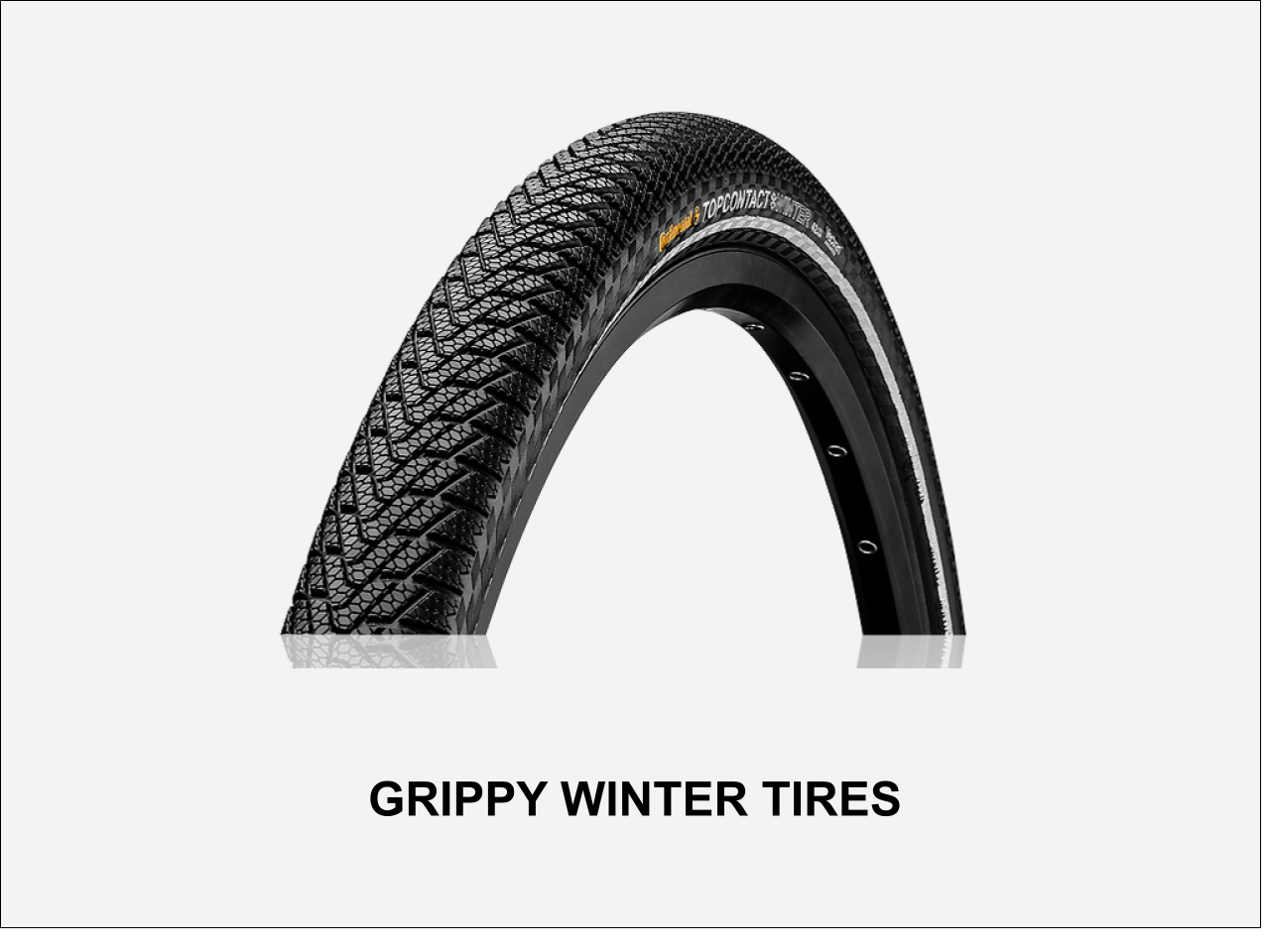 Your regular tires freeze up in winter, making them dangerous on unseen patches of black ice. But, your regular tires aren't real winter tires, because real winter tires aren't just a softer compound, they use a tread pattern called micro-siping; millions of tiny little treads that suction to ice. These are a must have!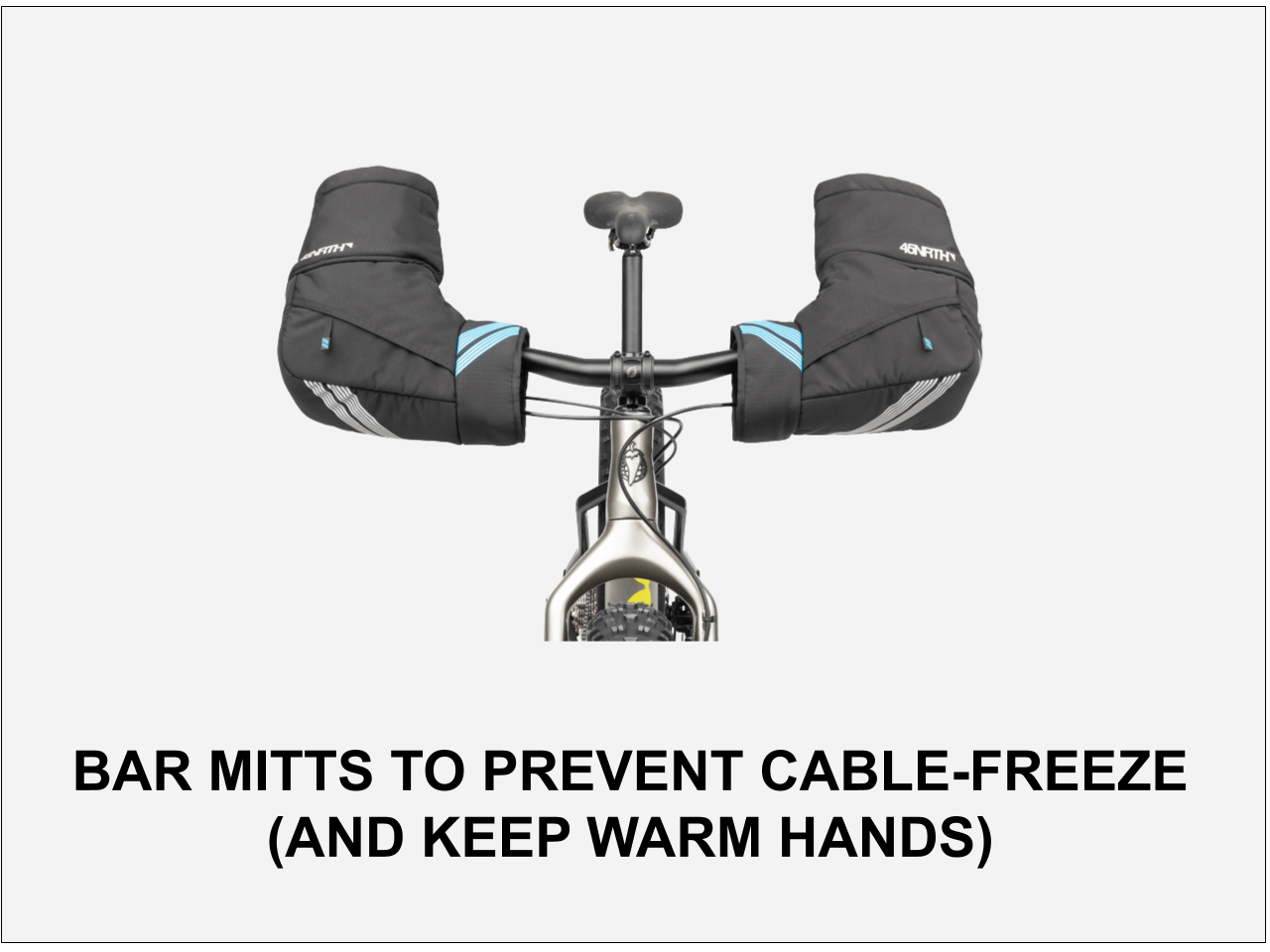 While hydraulic brakes prevent cable-freeze from occuring in your brake lines, this isn't true for your gears. Unless you have electronic shifting (which exists!), water can easily find its way into your gear cables, causing them to freeze. These bar mitts ensure that your cables are dry, but best of all, that your hands are shielded from wind, cold, and rain.
---
At Curbside, our mission is to encourage riding bikes as transportation and for fun - and all season too! This means we import a number of bikes from Europe while ensuring that our domestic products are best-in-class. Below we take our winter essentials and see how they apply to a broad array of bikes we carry!
Most true all-season bikes - no surprise! - come from Europe, where are they are made so that quality lines up adequately to the reality of salt, snow, and nasty weather. These are true all-weather bikes with enough gear-range to handle hills and sprawl, recreational distance or short city commutes. The difference between the bikes shown here is really just rider position. Bikes like the TX-7 or Olivia are a bit more hunched over. Bikes like the S-300 or T-300 (the T-300 uses a full-wrap chainguard, not a belt) is that they sit much, much more upright. Add some winter tires and bar mitts in winter and you're set!
---
These bikes are awesome as city bikes and recreational distance bikes - and they are economical too! While they lack a belt drive, they feature chainguards that keep the dirt off your clothes. The T-50 uses a 3/4 chainguard - so, the chain can get quite filthy - whereas the T-100 uses a full wrap, so both clothing and chain stay clean. The only issue is that the brake levers are exposed to water (which freezes up your brakes) but this is easily solved by putting bar mitts onto the handlebars. Add some winter tires and you're ready to go!
The Pelago Brooklyn works as a great winter bike so long as you have some winter tires on the wheels and some bar mitts on the handlebar. It may lack the dynamo lighting system, but it's pretty easy to add some bright USB battery lights for cheap. Finishes are durable and made for a lifetime of use. Add some winter tires and bar mitts and you're ready to rock!
Linus bikes (and many similar brands from Regal to Pure City, etc) are terrific Spring and Summer bikes, and while they do use internal gear hubs - which are amazing in winter - the frame finishes aren't anything like the other bikes we sell. Does that mean you can't ride all winter? No! It just means that anytime the frame chips (and these bikes can cheap easily), make sure to cover with touch-up paint (nail polish is great too) to prevent the metal from rusting. As Neil Young said, rust never sleeps!
Brands like Devinci are from Canada, and take great care to make durable recreational bikes that are also made for the city. So, while Devinci is already a better city bike than all other hybrid brands with its stronger wheels, frame and puncture-resistant tires, they don't feature the internal gears that are so essential to low-maintenance, all-weather riding. The Cartier is better than most other hybrids for winter because it has a "1x" drivetrain, meaning there is only a real derailleur, no front, reducing drivetrain maintenance by 50%. The hydraulic brakes are a god-send, and if you're ok with some ritual monthly drivetrain cleaning, there's no reason why you can't ride this bike all year. Learn more about winter maintenance here.
Devinci is from Chicoutimi Quebec, so they know a few things about winter. They are also Canadian, so they know people ride in our dense downtown cores, and not just on recreational bike paths. That means they come equipped with tougher frames, wheels and puncture-resistant tires. Bikes in the Devinci Milano series are certainly better than competitors over streetcar tracks and potholes, but these bikes are still designed to be seasonal, so the most winter-proof feature they have is stainless steel fixtures that don't rust throughout. That said, they are economical, but this economical aspect only works if you promise to keep the chain cleaned and lubed and the bike tuned - otherwise things get costly fast. Learn more about winter maintenance here.
---
"Too many people in North America believe that winter biking is something other people can do, something younger or fitter people can do, or something only crazy people do. In reality, all it takes is the right attitude and a bit of warm clothing. Riding through the winter is a great accomplishment, sure, but it isn't out of reach for anyone. By choosing to ride through the snow, we remind ourselves and others of what we can achieve with our bodies if we choose to use them. We reconnect with our environment by refusing to hide from winter, and instead embrace all it has to offer. Because winter is beautiful, and biking is just one of the many ways we can enjoy it while getting ourselves around town in the process. So now we're ready, bring on the snow!"
25 - NOVEMBER 2016
---