The Babboe City is the world's most popular cargo bike. Five minutes in Amsterdam and you'll get tired of seeing them. But out here, they are a thrill to see. And, the reason we can see them is because Babboe is the first company to make the world an affordable cargo bike. Flat packed to save money on shipping, Finnish marine-grade hardwood, frames and parts to withstand years of all-season riding or outdoor storage. This is the quintessential Dutch cargo bike designed to turn your city into a bike city.
Dutch quality is something special. Truth is, North American's have rarely seen anything quite like it. The Dutch are often called cheap, but this isn't true. Cheap means you buy crap that doesn't last. Cheap is expensive. No, the Dutch are thrifty. That means they spend money to save money. That means, they build things properly. The Babboe City is not just a stylish, upright cargo bike, it's made of powder coated and galvanized steel, marine grade wood from Finland, and parts made to last years of use in all weather. The Babboe City is pure Dutch sensibility. And, that means quality.
Let's see what makes this bike so special!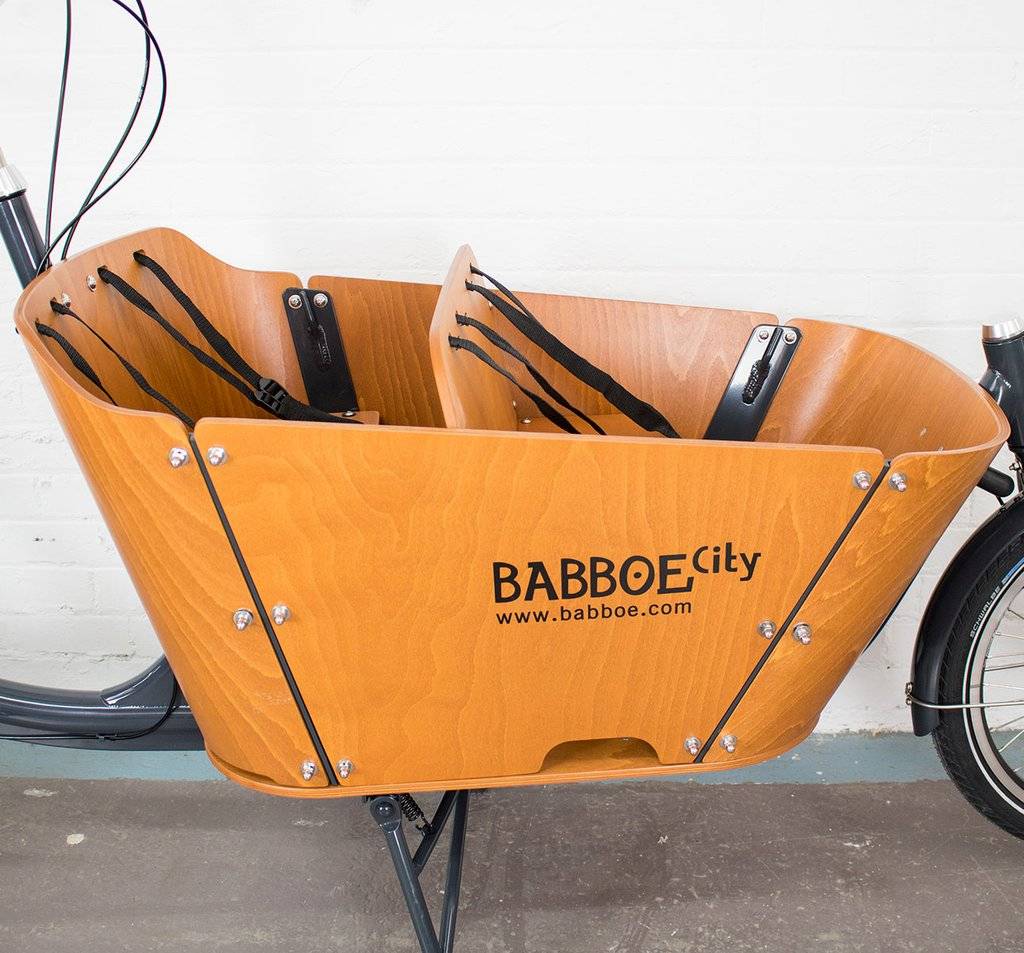 Like all the cargo bikes we sell, the Carve comes equipped with a highly impact-resistant box, to protect your precious cargo in city traffic.
Wood is amazing for impact-resistance. And, of course, it also looks beautiful. But, the wood on a Babboe isn't any ordinary wood. It's made of strong hardwoods sourced from Finland, and it's marine-grade, which means it's totally waterproof. Perfect if you store your bike outside year round (as the Dutch always do). It's the same stuff used for ocean-going recreational vessels.
Salt, ice, rain: it's no match for the Babboe City. And, it looks pretty too!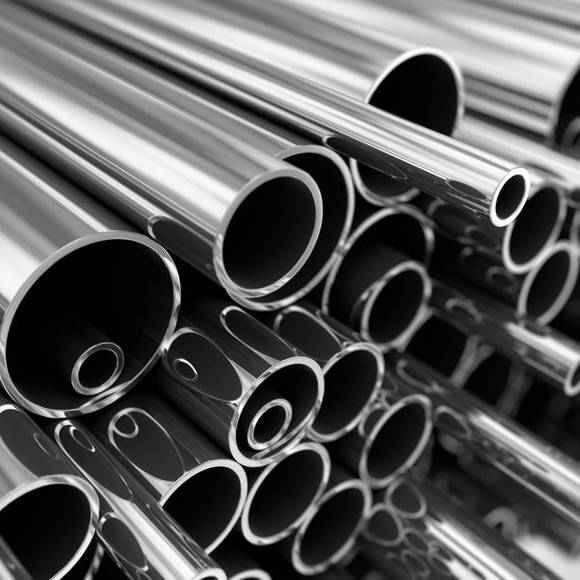 Stronger than aluminum, steel is arguably still the best way to build a cargo bike.
Of course, there's a negative side to tip the scales: steel can rust.
That's why finishes are so important.
Most bikes made in the Far East use cheap wet paint that chips easily. The Babboe City uses durable powder coats that are highly chip resistant. And, underneath these coats are a rust resistant layer. It's a frame designed to last forever.
One trip to Holland will reveal thousands of bikes in great condition stored outside year round, next to the salty North Sea. On close inspection, most of these bikes will be Babboe Citys!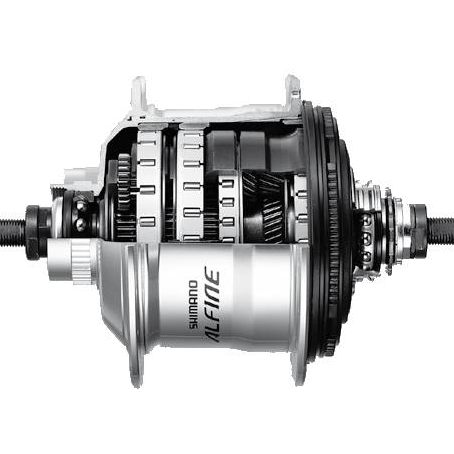 Few people in Holland or dense North American cities have places to store their cargo bikes. They probably also don't have a great deal of tolerance for high maintenance gears and brakes.
That's why Babboe (like 90% of our cargo bikes) use internal gears and brakes. These are proven low maintenance systems that are remarkably reliable (and durable) and which seal all mechanisms behind tons of o-ring seals.
This is very different from most North American bikes which use external derailleurs and brakes, both of which require constant attention and are susceptible to easy damage.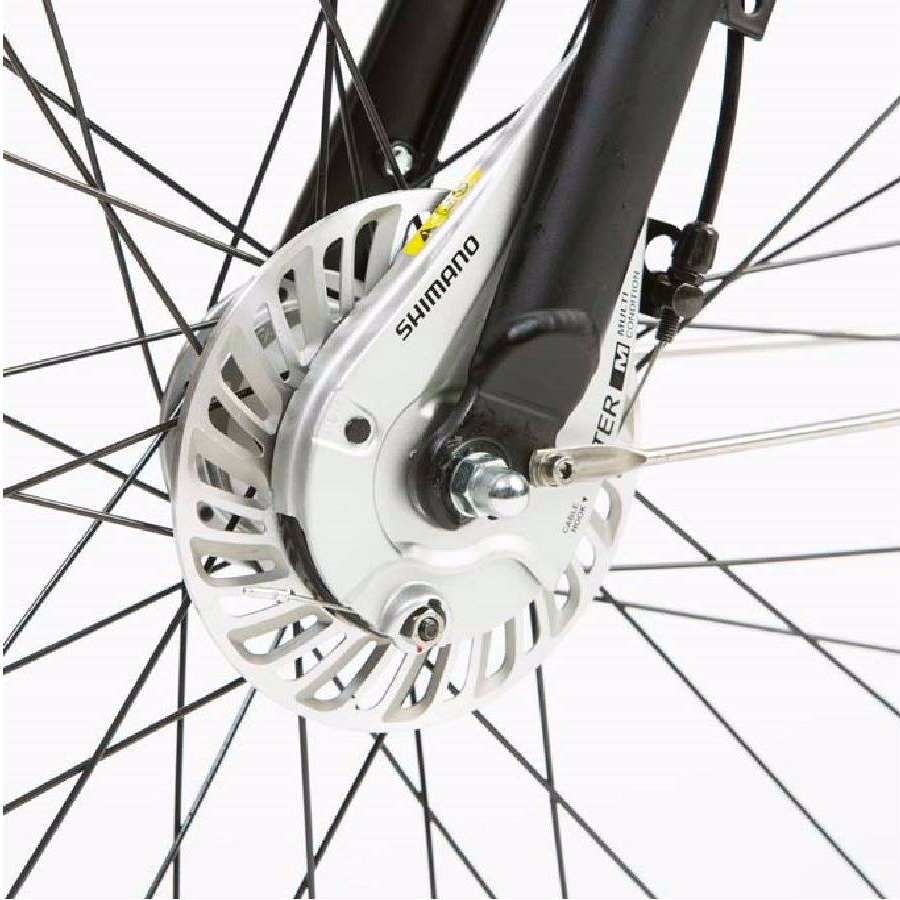 Like nearly all Dutch bikes, the Babboe City takes low maintenance and all-weather (and all year) storage and use seriously. That means all the mechanicals are hidden in the hubs, sealed from the grit, salt and moisture of the big bad world.
Drum brakes are found on cars but also a high percentage of European city bikes. They are sealed inside the hub, have remarkable power, and require very little service.
When they do require maintenance, they are not at all complicated. Any mechanic can remove them, clean them, or replace the brake pads. Pretty easy stuff!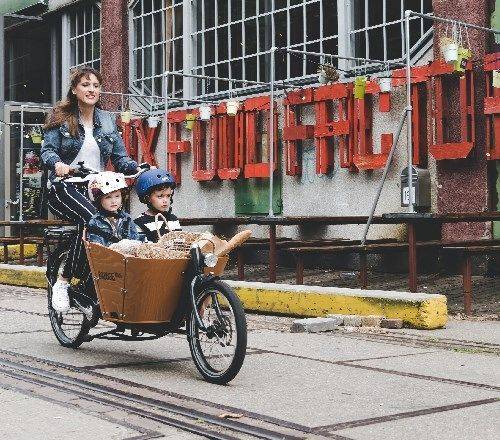 Dutch bikes are famous for being upright and comfortable, and this is certainly true for the Babboe City. Not only do you sit high above traffic - so you can look out for danger - you're also in a relaxed position with your shoulders squared and your back upright.
And, with the super low step-through frame it's easy to hop off safely!
Safe, comfortable, and a joy to ride - that's the Babboe difference!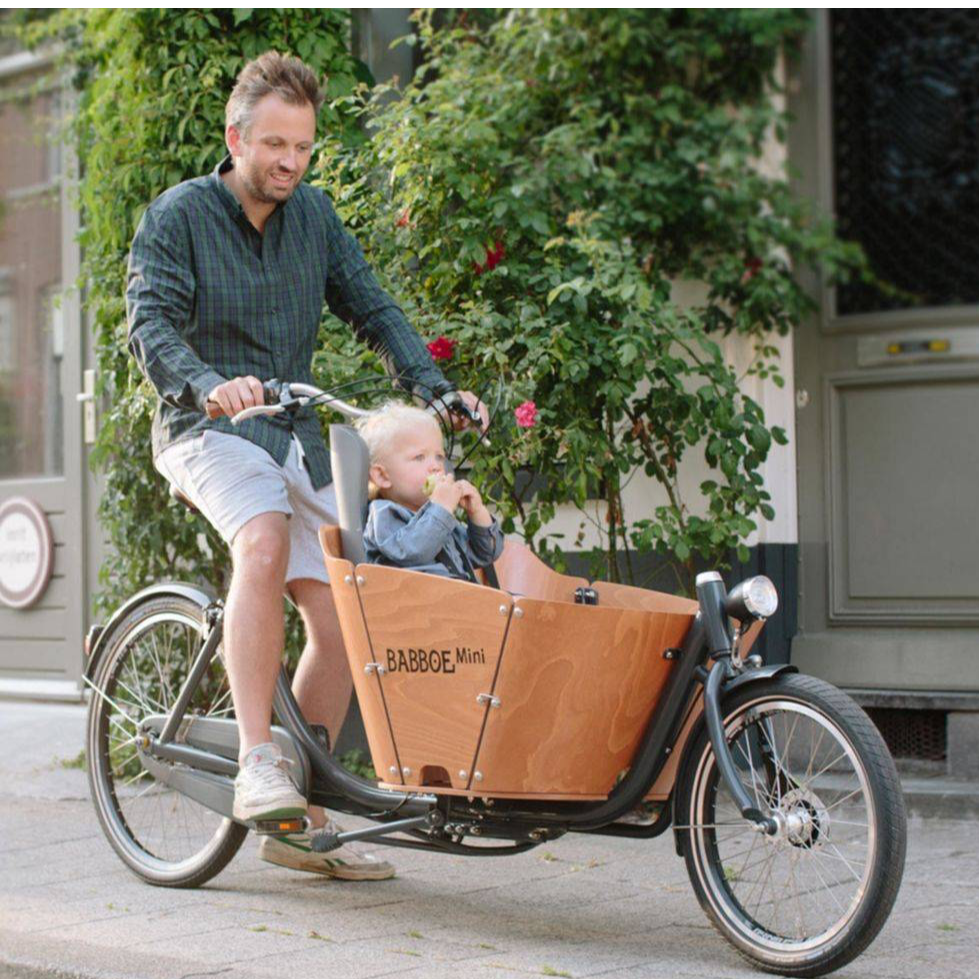 Who invented the cargo bike? Nobody knows. And, for years, the cargo bike in Holland was made by small custom manufacturers who could not export the bike beyond their local county - and had no intention to do so.
Babboe was the first company to see that the Dutch cargo bike was a national treasure, and they were the first to scale production so that it was available to anyone and everyone.
Today, Babboe is the biggest cargo bike company in the world by sales, and the Carve is the crown jewel - truly the most advanced city bike for city and recreation, and with the most advanced technology, from the tilt steering to the Yamaha motor.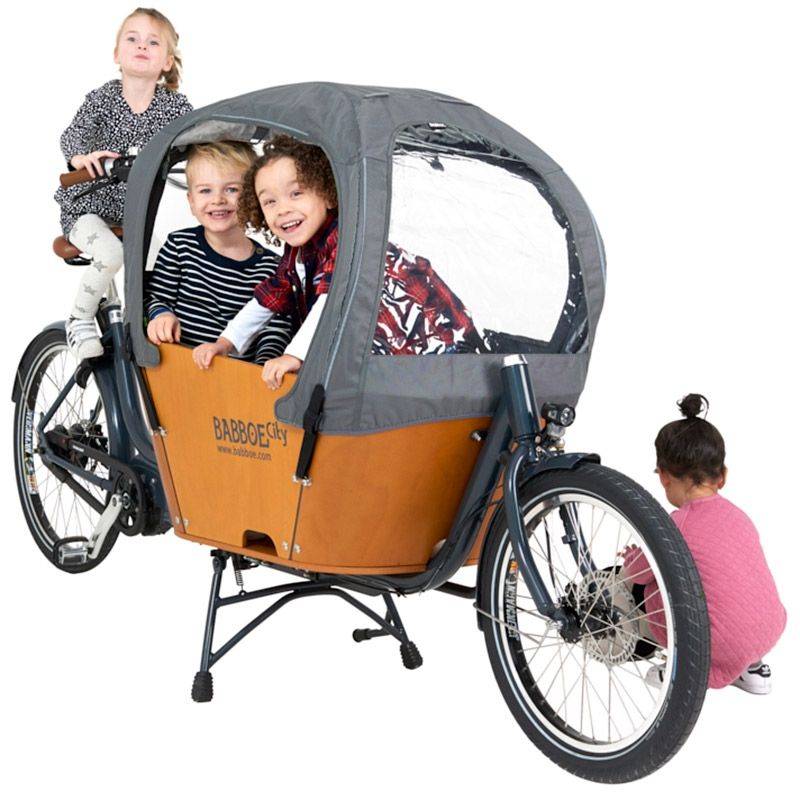 Your Babboe City has a ton of options you can add to make it even better.
A rain-tent that keeps the wind and water off the kids. And, keeps them warm in the winter!
A rear rack, just in case you need more storage space!
Fun cushions for the bench with lots of great patterns.
An extra bench! So you can fit up to four kids!
And, baby seats and toddler seats and adaptors for car seats, so you can transport precious cargo safely!
---
Only have one or two kids and prefer a zippier feel? The Mini uses a smaller box and shorter wheelbase that feels lighter in corners.
The original Dutch bike! Whether two kids (or four kids, with second bench) the City has lots of room for groceries too
---
---

YUBA SUPER MARCHE VS BABBOE CITY

HOW ARE THEY DIFFERENT?
Tongue-in-groove wood construction that easily splinters on impact
Untreated Bamboo designed for Spring/Summer riding and indoor storage
Cable activated steering feels great but is downright unsafe
Derailleur system is high maintenance and exposed to all weather
Powerful disc brakes are higher maintenance and exposed to all weather
Carries up to two kids
Small 20" wheels that increase agility but compromise stability
330lb capacity (rider + cargo)
No chaincase
78lbs weight
The Yuba Supermarche is a great first attempt for a North American company building cargo bikes but it pales compared to an EU cargo bike, from safety to quality. The box isn't remotely impact resistant and the thin cable steering is downright scary. Whearas the Babboe City uses a strong 1/4" steering rod, the Supermarche uses a thin brake cable that, if snapped (and cables snap) means serious accidents. And, whereas the Babboe is made to be stored outside in all weather, the Yuba betrays its California roots quickly, especially with its external gears and untreated box.
Low step frame with upright position
Puncture resistant tires
Comfy saddle and grips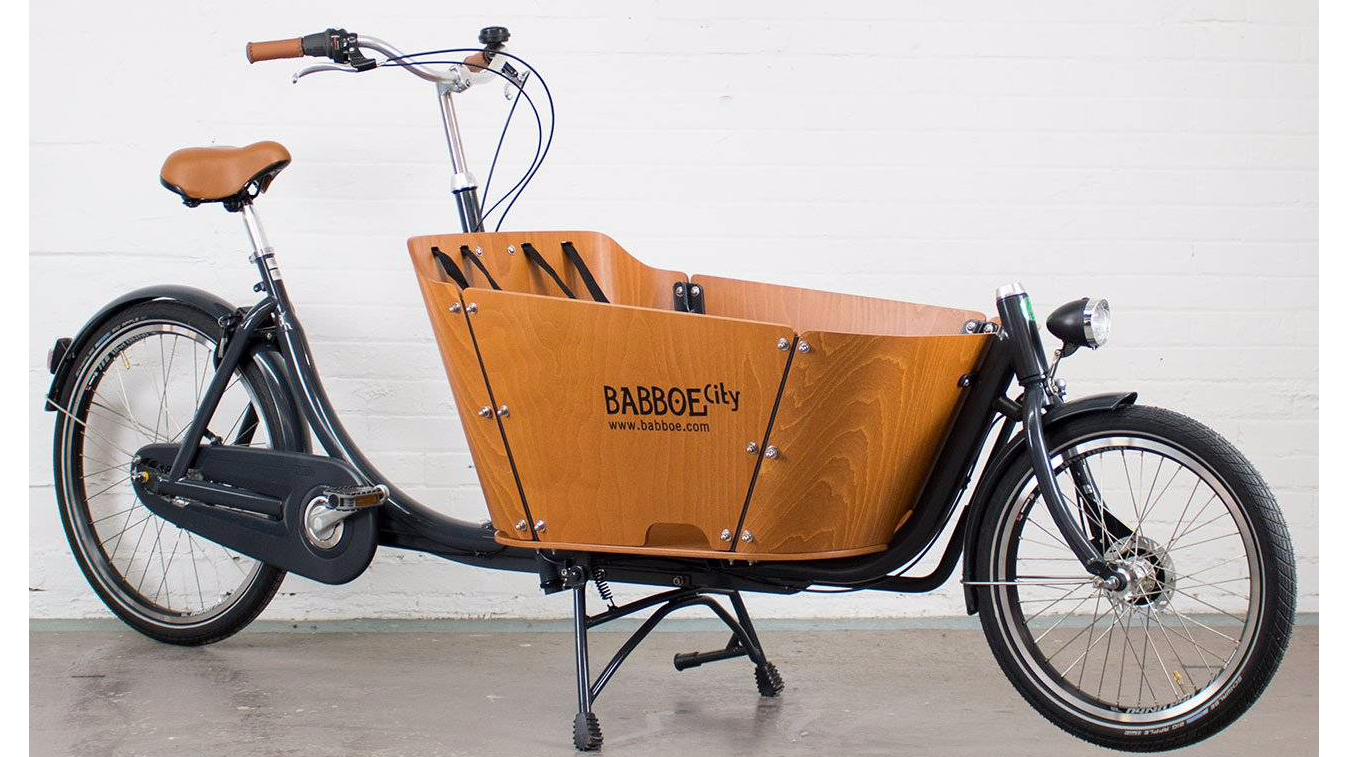 HOW ARE THEY DIFFERENT?
Steel reinforced Finnish plywood for the highest level of impact resistance
Marine-grade treated wood for perpetual all-season storage/use
1/4" steering rod is strong and guarantees rider and cargo safety
Internal gears are low maintenance and sealed from all weather
Powerful drum brakes are low maintenance and sealed from all weather
Carries up to four kids
26" wheel and 20" front wheel balances both stability and agility
440lb capacity (rider + cargo)
Full chaincase
132lbs weight
---
ACCESSORIES WE HIGHLY RECOMMEND

Ready to hit the streets? Make sure your bike is well secured with an Abus lock. The City rain-tent keeps your kids dry (and also warm in the winter!). Cushions make the ride comfier and both babies and toddlers can fit with Babboe's special seats - both made from extra impact resistant EPS foam or rubber. And, add an extra rack for more cargo capacity!
---
Why do we love the Babboe City? Because it's good quality at a great price!
It's wooden box is impact resistant and steel reinforced
The wooden box is marine-grade Finnish hardwood, made for all-season use or outdoor storage
The strong steel frame is finished with durable powdercoats and rust resistant undercoats for a lifetime of use
The internal gears are made for low maintenance and all-season use or outdoor storage
The internal drum brakes are made for low maintenance and all-season use or outdoor storage
The position is upright and safe
The chain guard reduces laundry costs and lets you dress sharp
It's a fine looking machine and the worlds most popular cargo bike!
"Want to know who started the cargo bike revolution? Without a doubt, it was Babboe. By scaling cargo bike production, Babboe made cargo bikes available to the world. Today, they lead with affordable cargo bikes and advanced R&D that betters the breed. One thing all our brands have in common is that they are all leaders. Babboe is no exception. We're proud to be North Americas first and largest Babboe retailer."
---
By families for families, that's the Babboe motto. Today there are numerous cargo bike companies, exporting to the world. Before them there was Babboe. And before Babboe, a hodgepodge of small Dutch custom builders who built cargo bikes to spec at high prices and very slow speeds. Want to know who kickstarted the whole cargo bike revolution? Without a doubt, it was Babboe.
The cargo bike before Babboe was largely a commercial use product. These were often slow to produce due to all sorts of custom requirements. But, Babboe knew that families used these bikes for kids, and that as a kid-carrying device it was a scalable product - and in being scalable, it could be cost-effective, and available easily.
Today, Babboe continues to lead the pack with advanced R&D that has produced remarkable bikes like the Babboe Carve, easily the best cargo bike on the market for safety and versatility. And, they continue to produce affordable cargo bikes for families, whether it's the popular City model or newer models like the Slim that compete with todays "longtail" market by offering more safety. And, of course, Babboe still pays homage to the commercial cargo bikes that gave them their start. Bikes like the Babboe Big are our most popular bike for small businesses looking for an inexpensive and effective way to reach their target markets.
As North America's first Babboe importer, we're pleased to carry this amazing product!
---