The P Line performance Brompton, now electrified. Performance and speed in one sleek package.
"Throughout, the electric P Line is incredibly well built and finished [...] A true upgrade from the electric C Line, it's worth every extra penny."
19th July 2022
---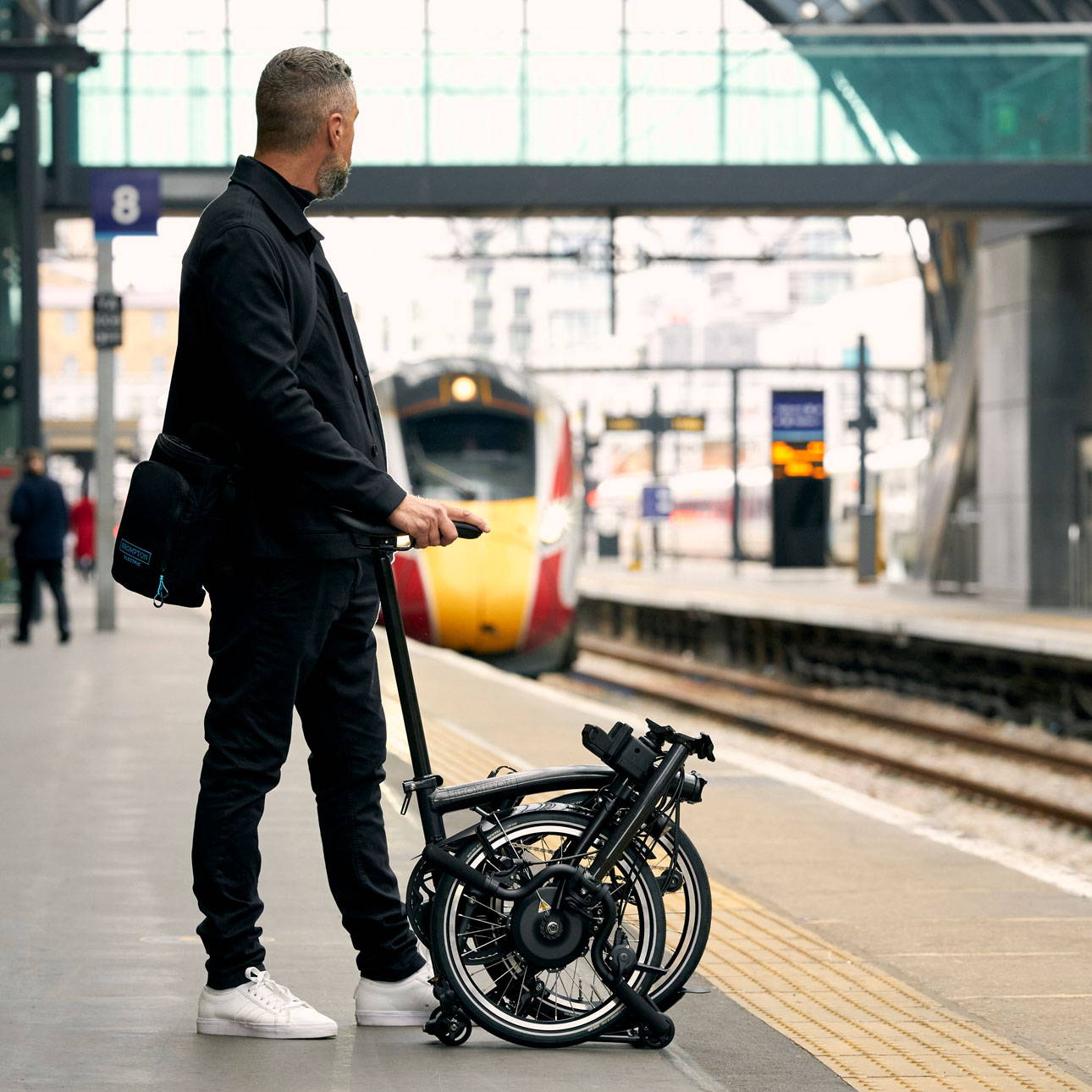 Go the Distance
The Brompton Electric P Line 300Wh battery and 250W front wheel motor work together to give you three levels of assist for 40-80km of distance at 25km/h speeds the entire way. And don't let distance stop you - the battery goes from drained to full in just 4.5 hours using the included wall charger.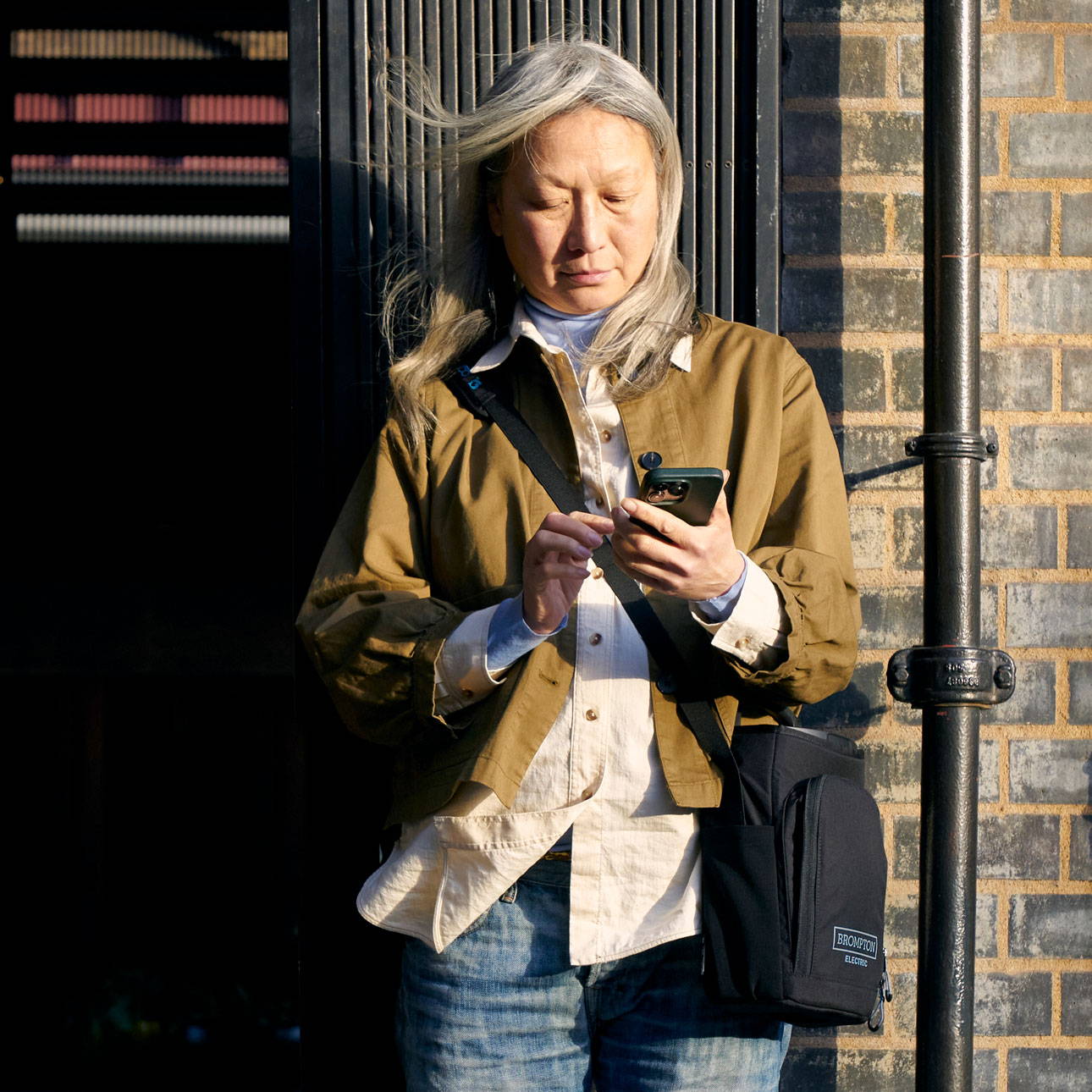 Plug and Play
The battery's built-in USB port lets you charge a small device while riding - perfect for GPS navigation or staying in touch with family and friends en route.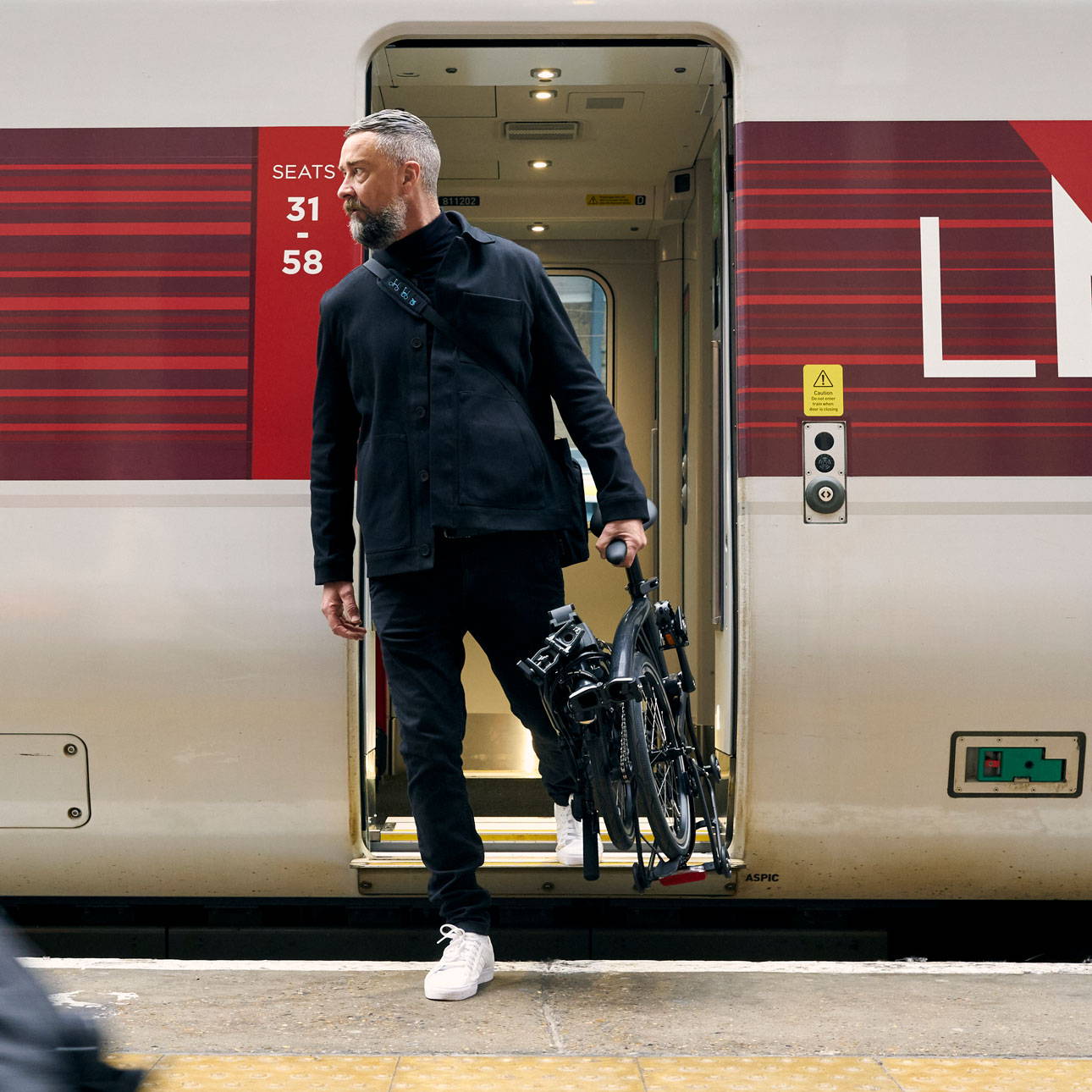 Carry In, Carry Out
The Brompton Electric P Line folds small and unfolds big - allowing you to bring it indoors and stow away under a desk, in a closet, or at a coat check in restaurants and theatres. At just 34.4 lbs with the battery (6 lbs lighter than the Electric C Line), it's one of the lightest e-bikes on the market.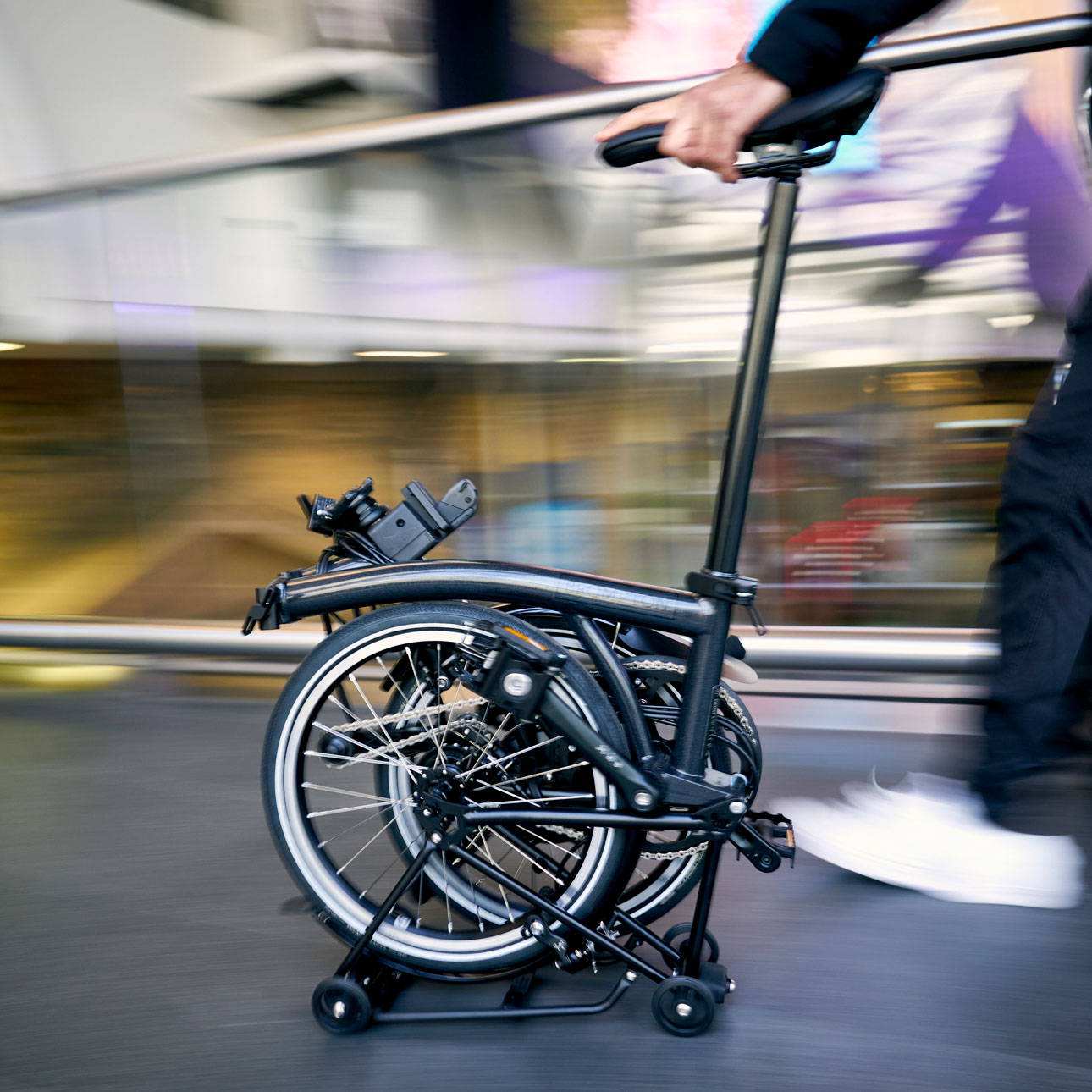 Dual-Lock System
A newly-designed seatpost locking system lets you manoeuver the bike through tight spaces with the seatpost up instead of the handlebars without the bike's fold coming apart.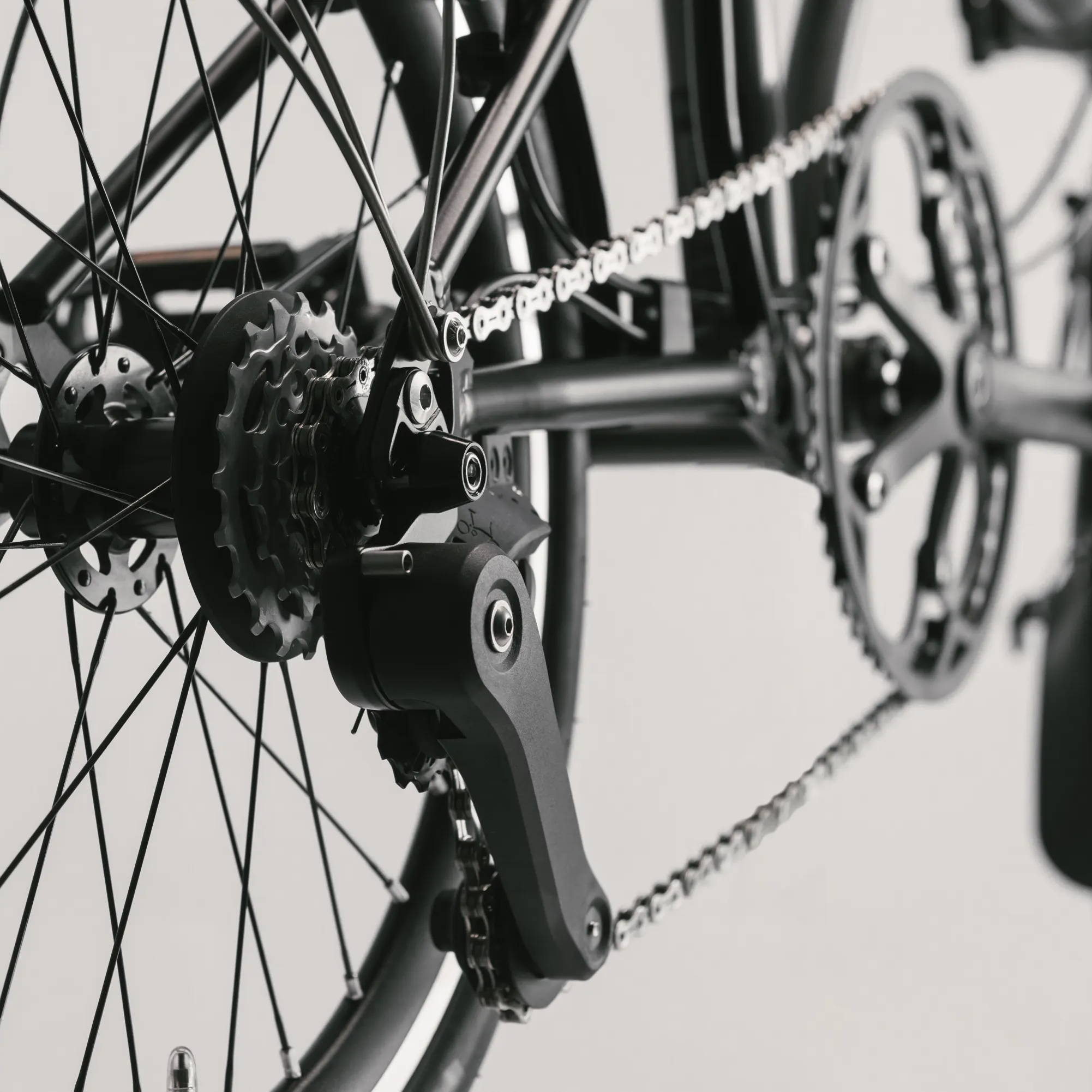 4-Speed Derailleur
Designed by Brompton, for Brompton, the 4-speed derailleur weighs a minimal 60g but offers a similar gear ratio to the 3-speed and 60% more ratio than a 2-speed. Save weight without losing speed or climbing power.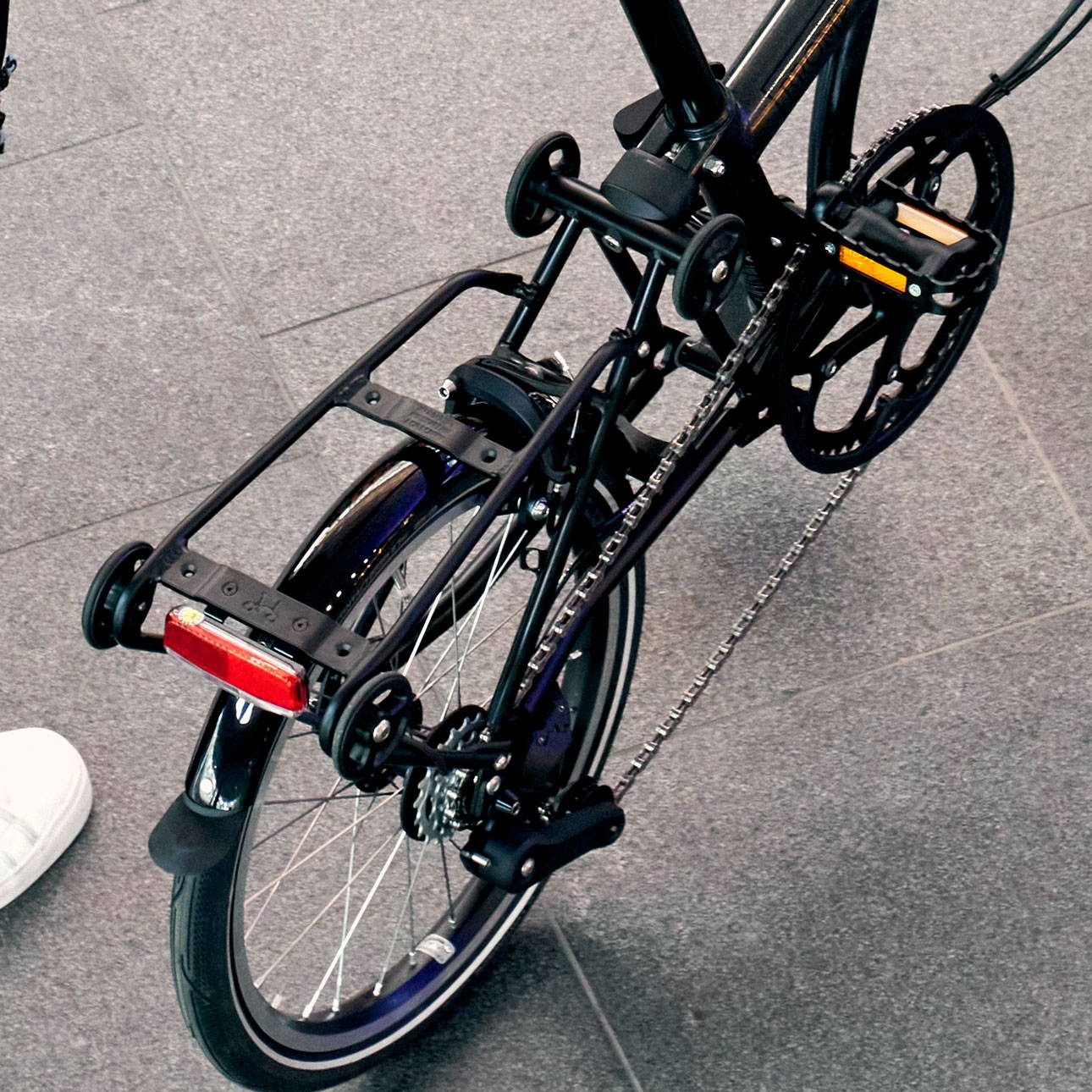 Titanium Rear Triangle
A titanium rear triangle reduces the bike's weight by 1.55 lbs and eats up road chatter for a smooth ride.
Redesigned Suspension Block
Maximizes efficiency and responsiveness by transferring pedal power directly to the drivetrain with minimal energy loss.
All-New Wheelset
Introducing Brompton's lightest, sturdiest wheelset yet. A redesigned hanger mount and hex-key axles make removing the wheels for roadside maintenance much easier, while the new hub design accommodates the 4-speed cogset and derailleur.
Superlight Saddle
All of the comfort and functionality of a Brompton saddle in a lighter package. Carbon rails reduce weight and add to the comfort, while an underframe grip makes carrying the folded bike by the saddle nose comfortable.
Fast Tires
The stock Continental Contact Urban tires are slick and fast with light puncture protection.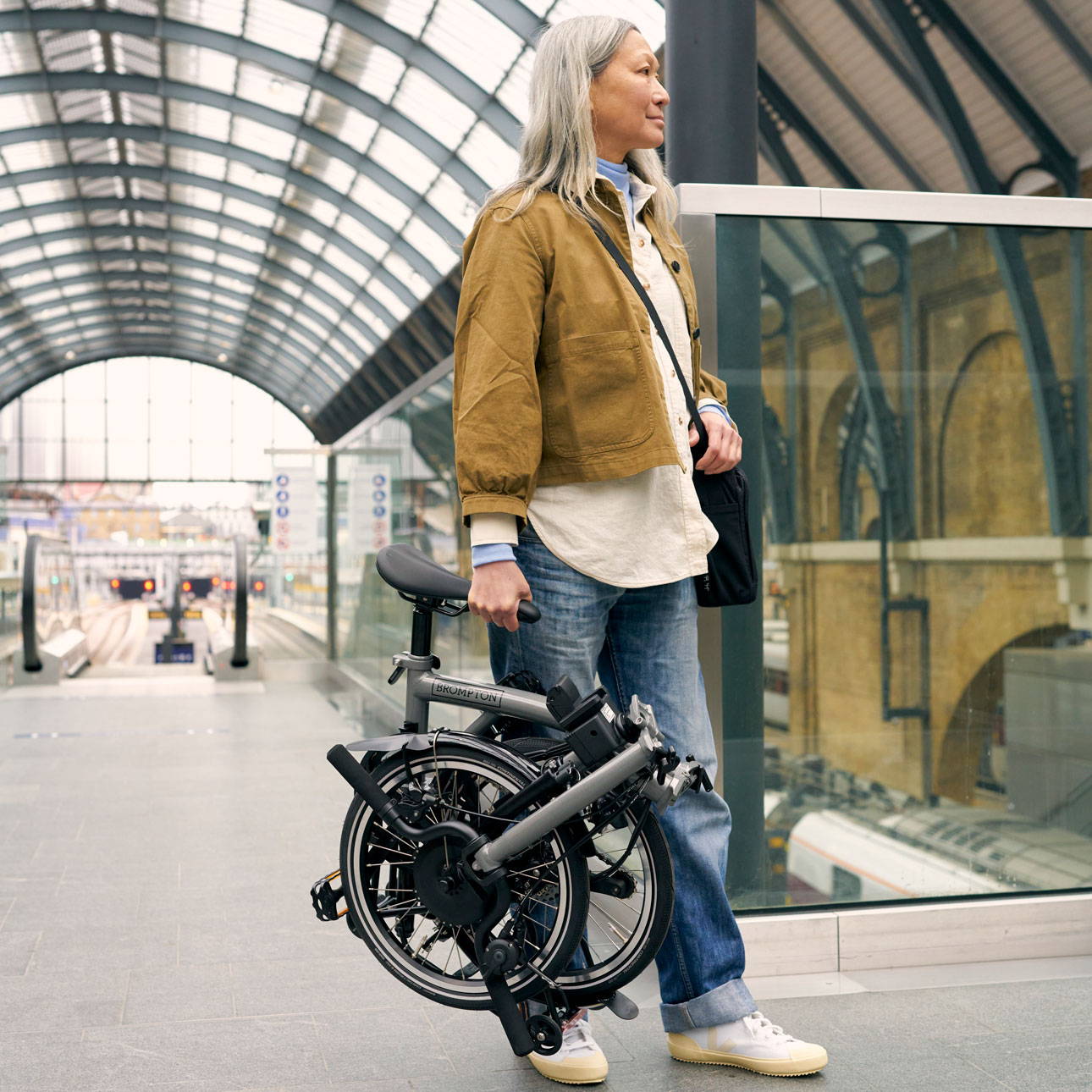 Incredibly Reliable
Over 1200 proprietary parts work in unison to build a low-maintenance bike up to the task of daily use and abuse. A Brompton is a bike built for life.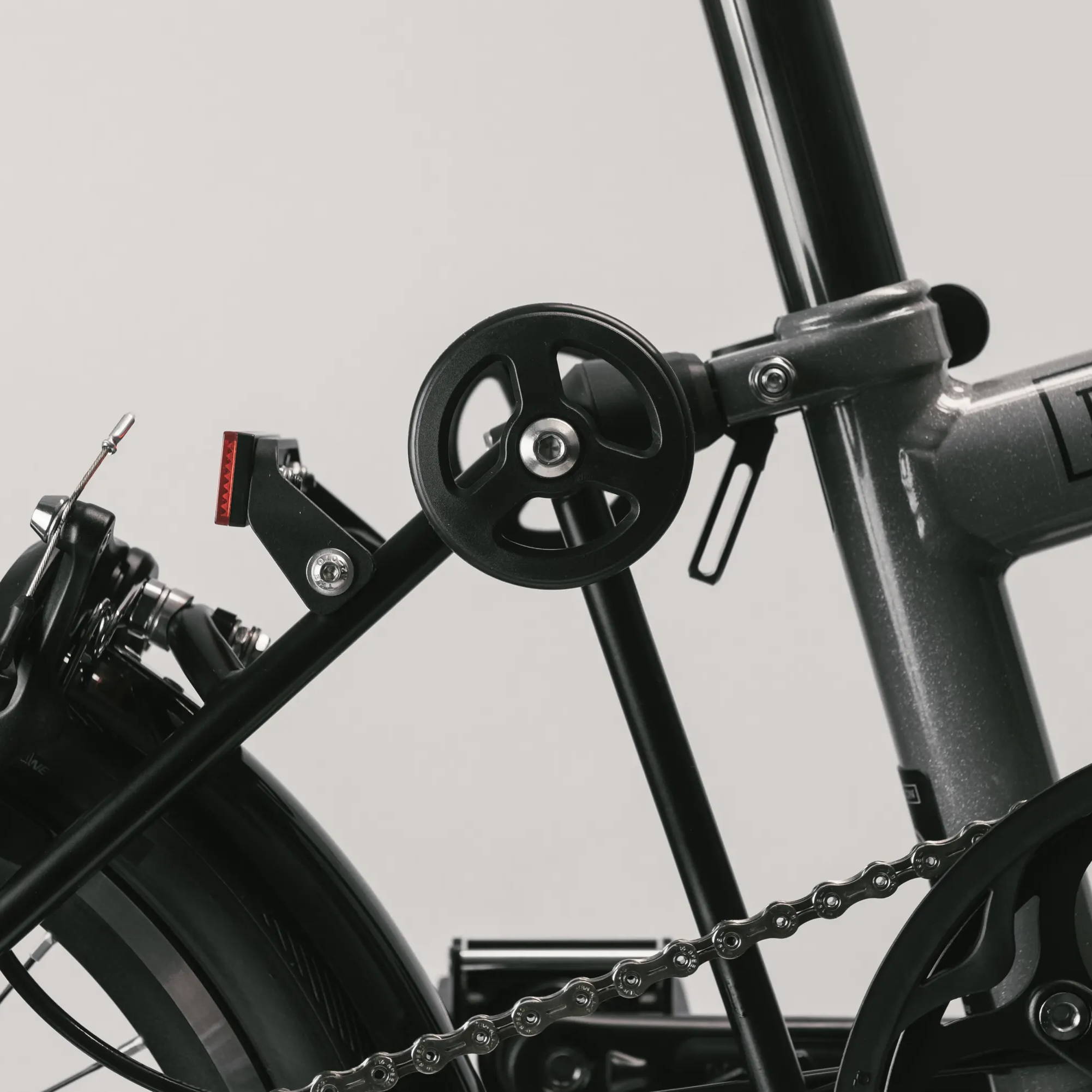 Redesigned Rolling Wheels & Optional Roller Frame
The rolling wheels are taller than the standard Brompton issue and keep your bike higher off the ground when folded, making transporting the bike easier. A roller frame option lends the stability of a rack without the added weight.
---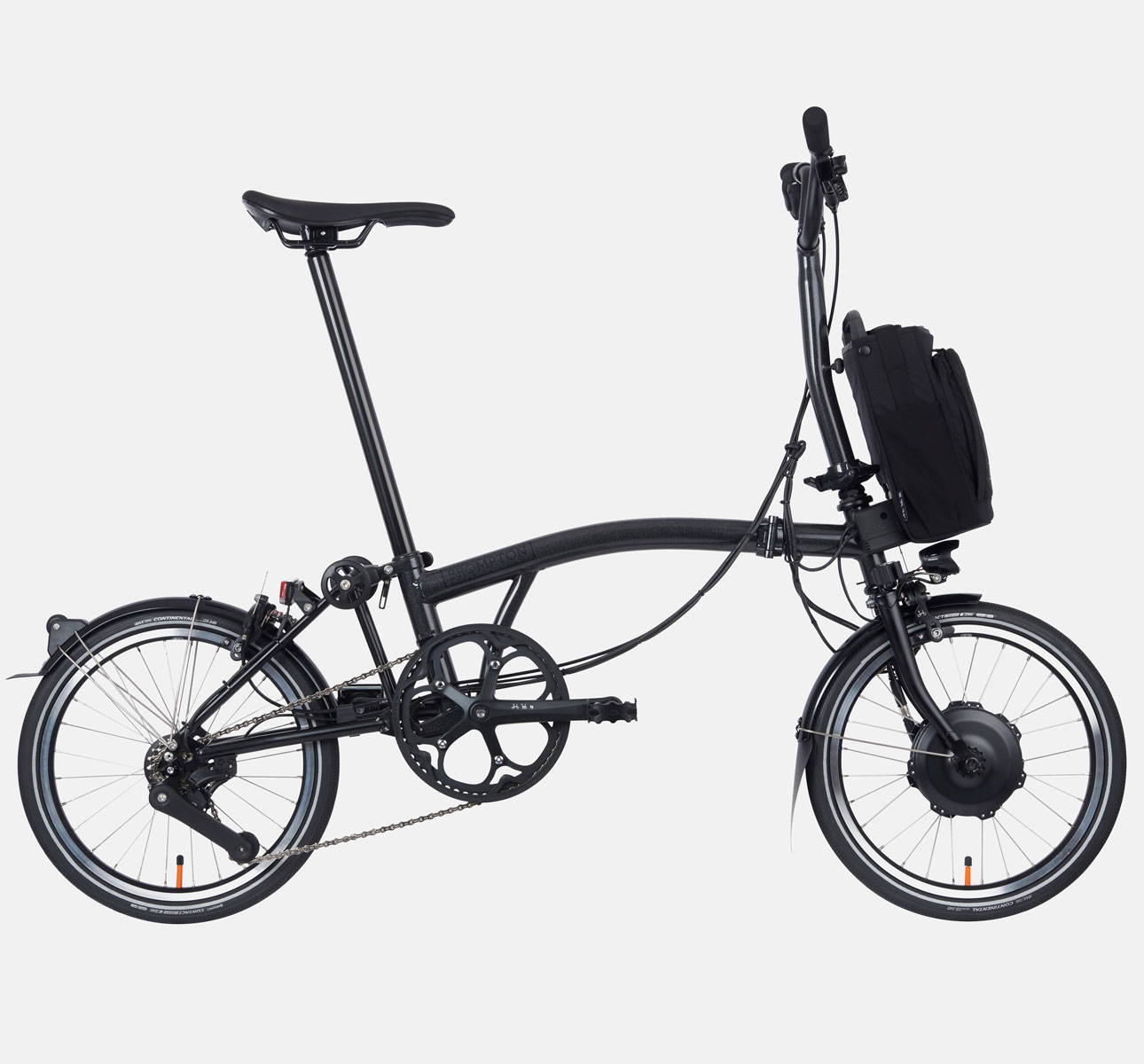 This handlebar offers a moderate riding position for mid-height riders, an upright one for shorter riders, and a sporty one for tall riders.
This handlebar gives a bolt-upright ride to mid-height riders and a moderate position to tall riders.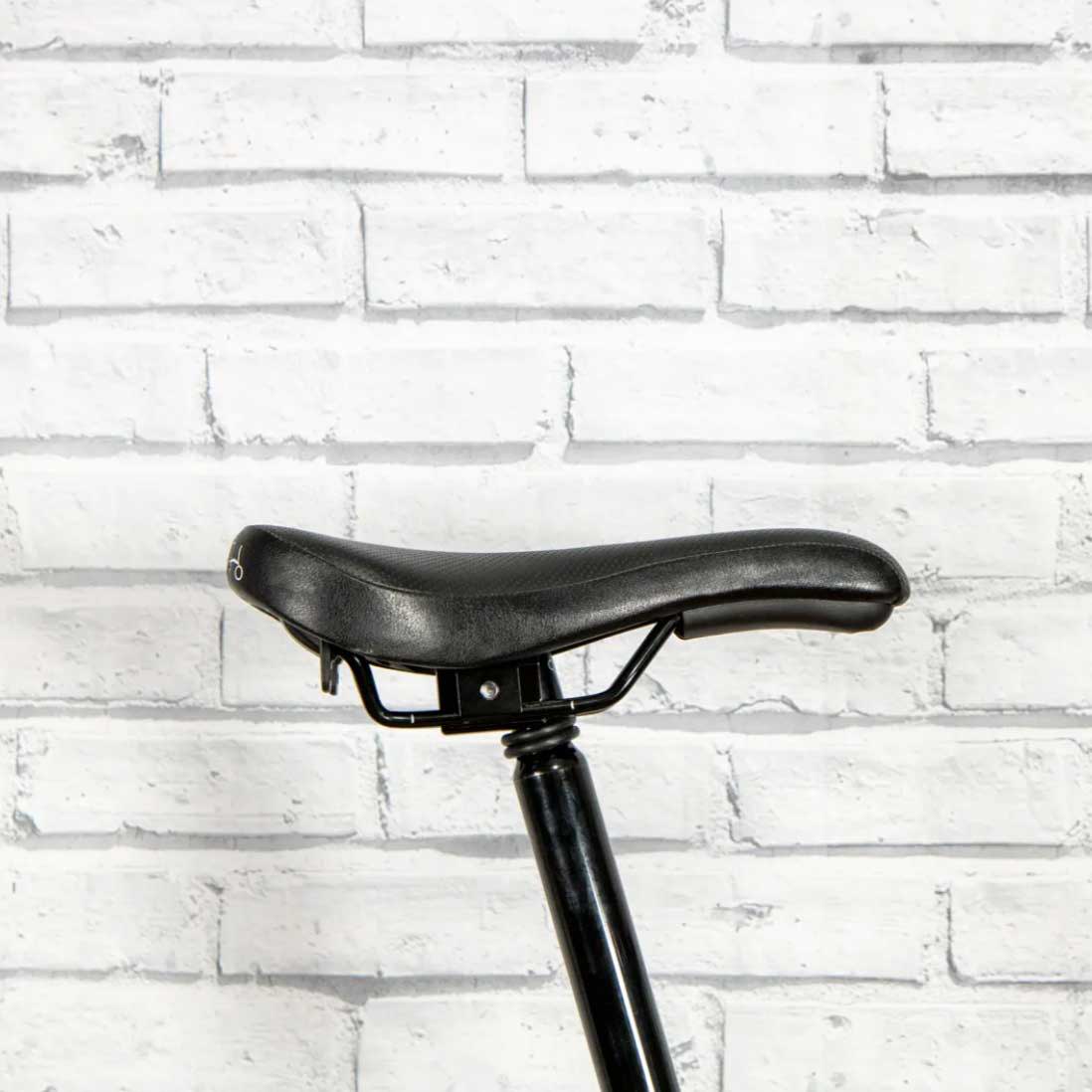 Suitable for average height people with an inseam of 26"-32" (66cm-81cm).
No charge to swap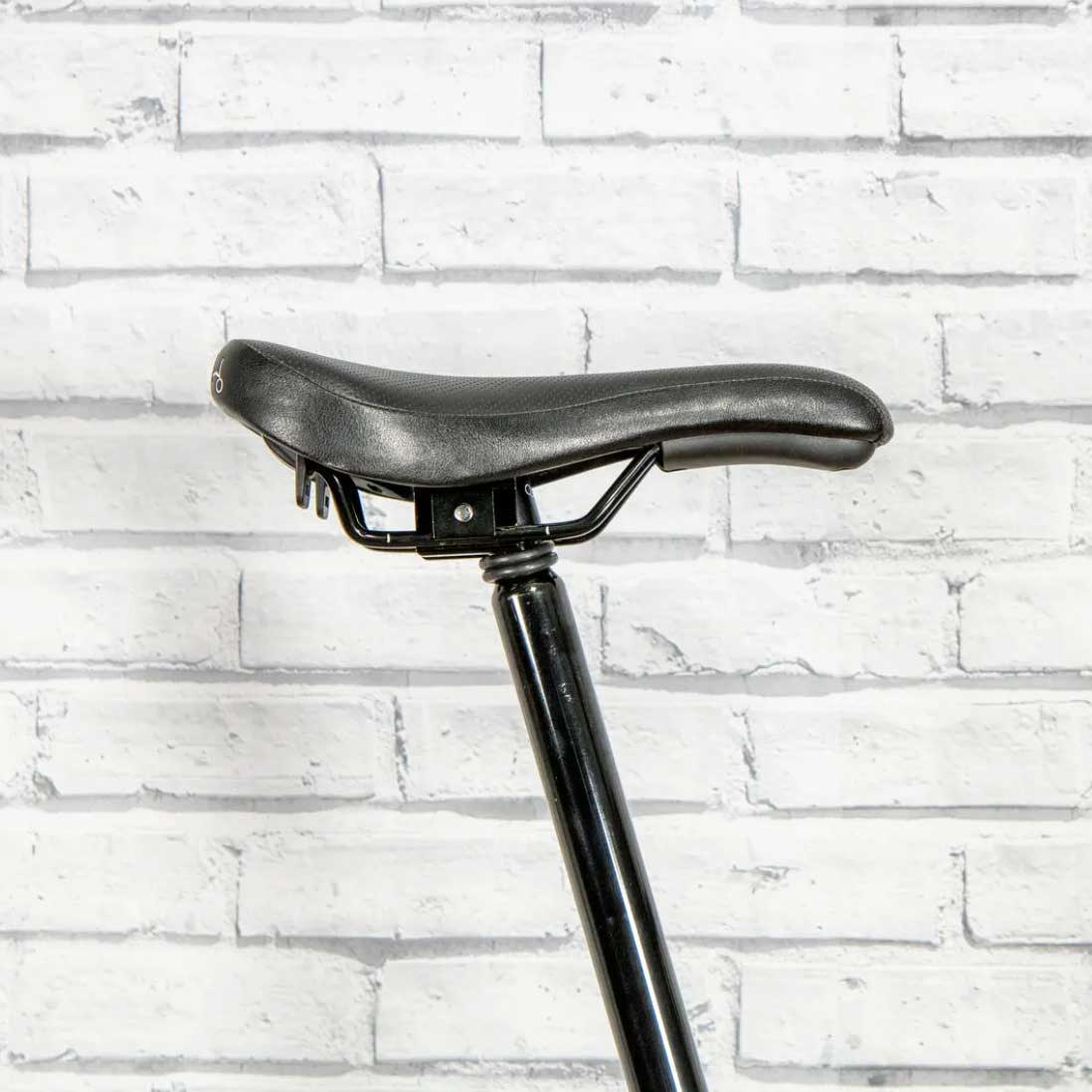 Suitable for taller riders with an inseam of 28.5"-34.5" (72cm-87cm).
No charge to swap
The versatile option. Suitable for all riders with an inseam of 27"-39" (68.5cm-99cm)
Add $80
STEP 2: CHOOSE YOUR COLOUR
The Brompton P Line is currently available in two stunning metallic finishes - Storm Grey or Midnight Black. The sparkle really shines in the sunlight where the frame looks its sharpest.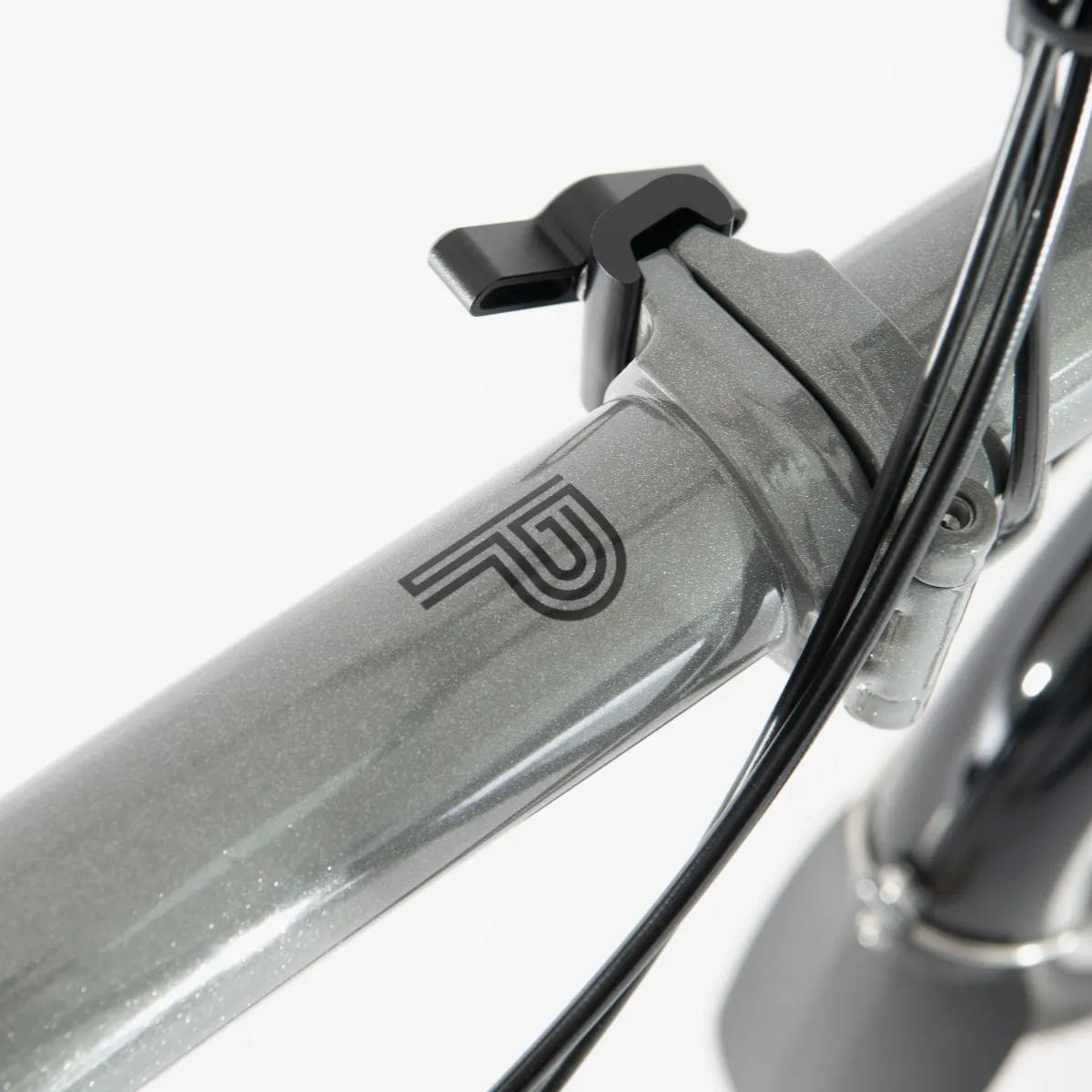 STEP 3: CHOOSE YOUR ADD-ONS
Each of the following items can be added to your Brompton after you ride it home, but they are easier to install while we set up and tune your bike. Please let us know if you would like to add these items.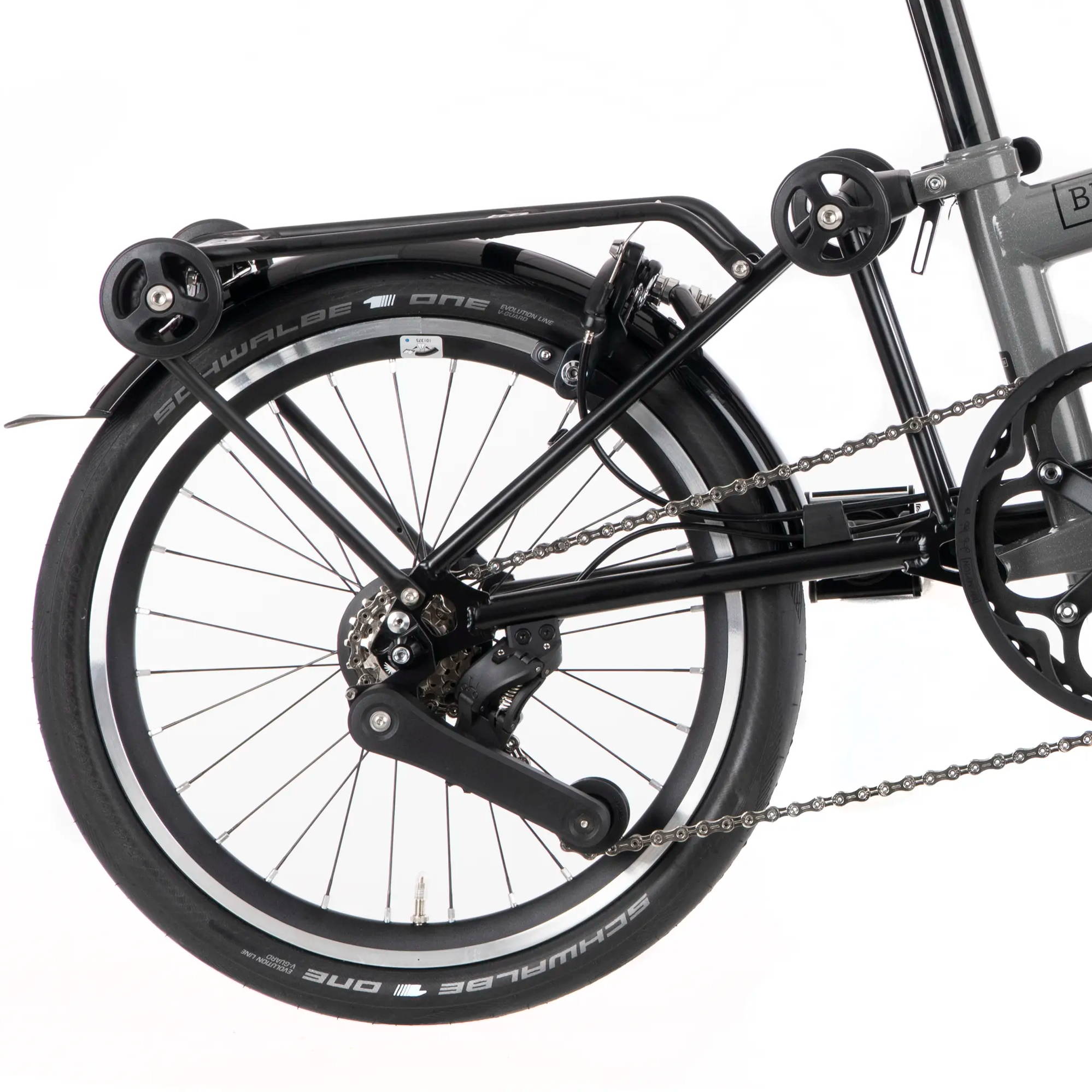 Make your bike more mobile and stable indoors with a four-wheeled rear roller.
Add $193 (CAD)
This bag adds 20L of storage space to your Brompton Electric. Designed with an integrated compartment for your battery, a padded laptop sleeve and two bottle pockets at the rear for lots of mid-ride refreshment.
Add $230 (CAD)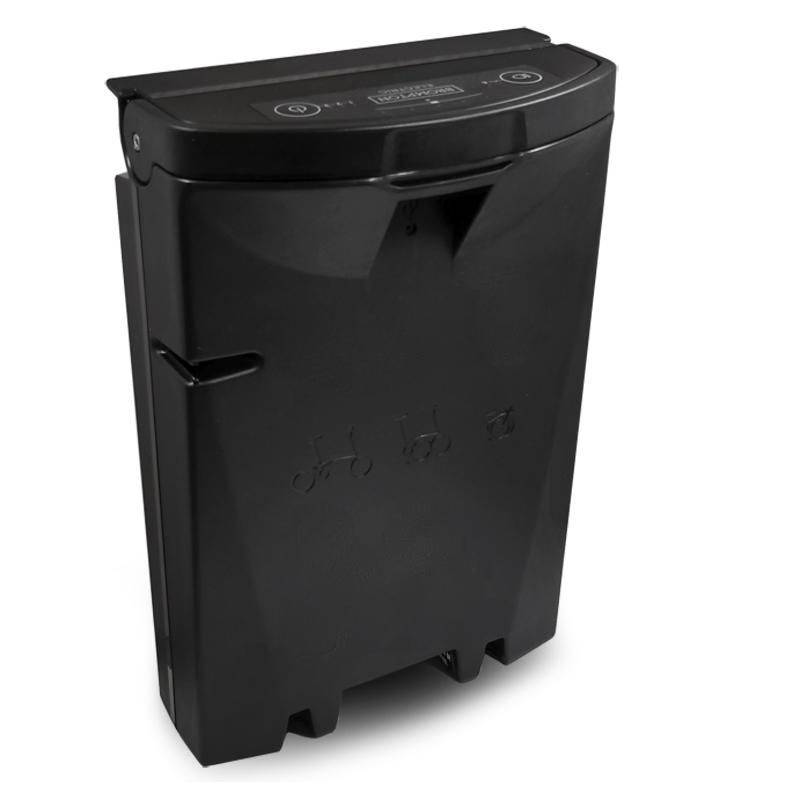 Planning on using your bike lots? Grab yourself a second battery and double your range.
Add $899 (CAD)
STEP 4: CHOOSE YOUR UPGRADES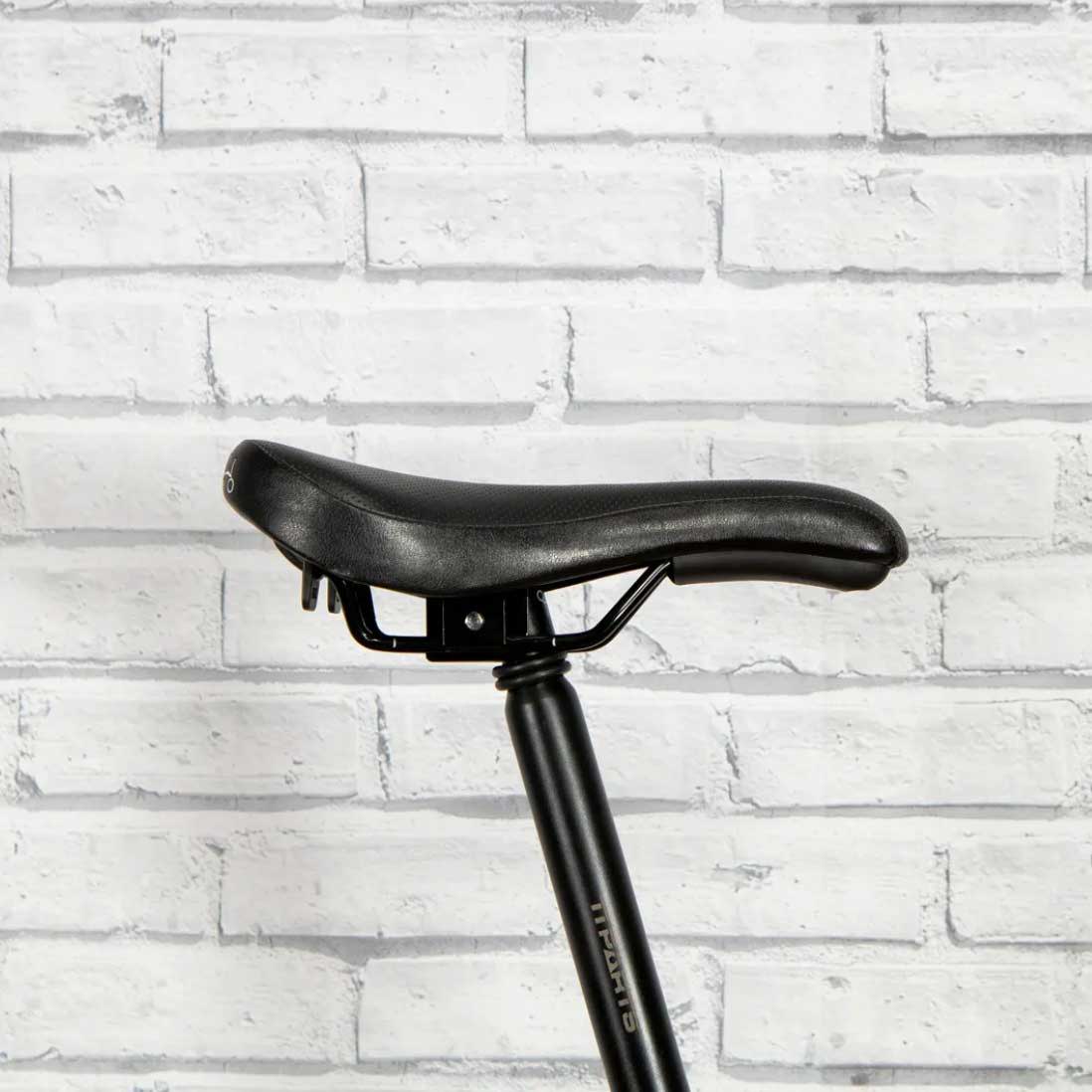 Absorbs tons of road shock and makes your bike lighter and more comfortable.
From $360 (CAD)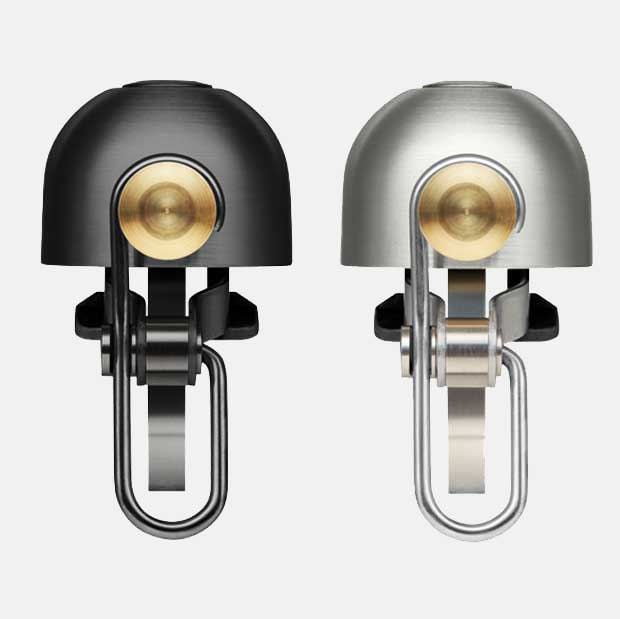 The loudest bell available! Lifetime guarantee and made in the USA.
From $70 (CAD)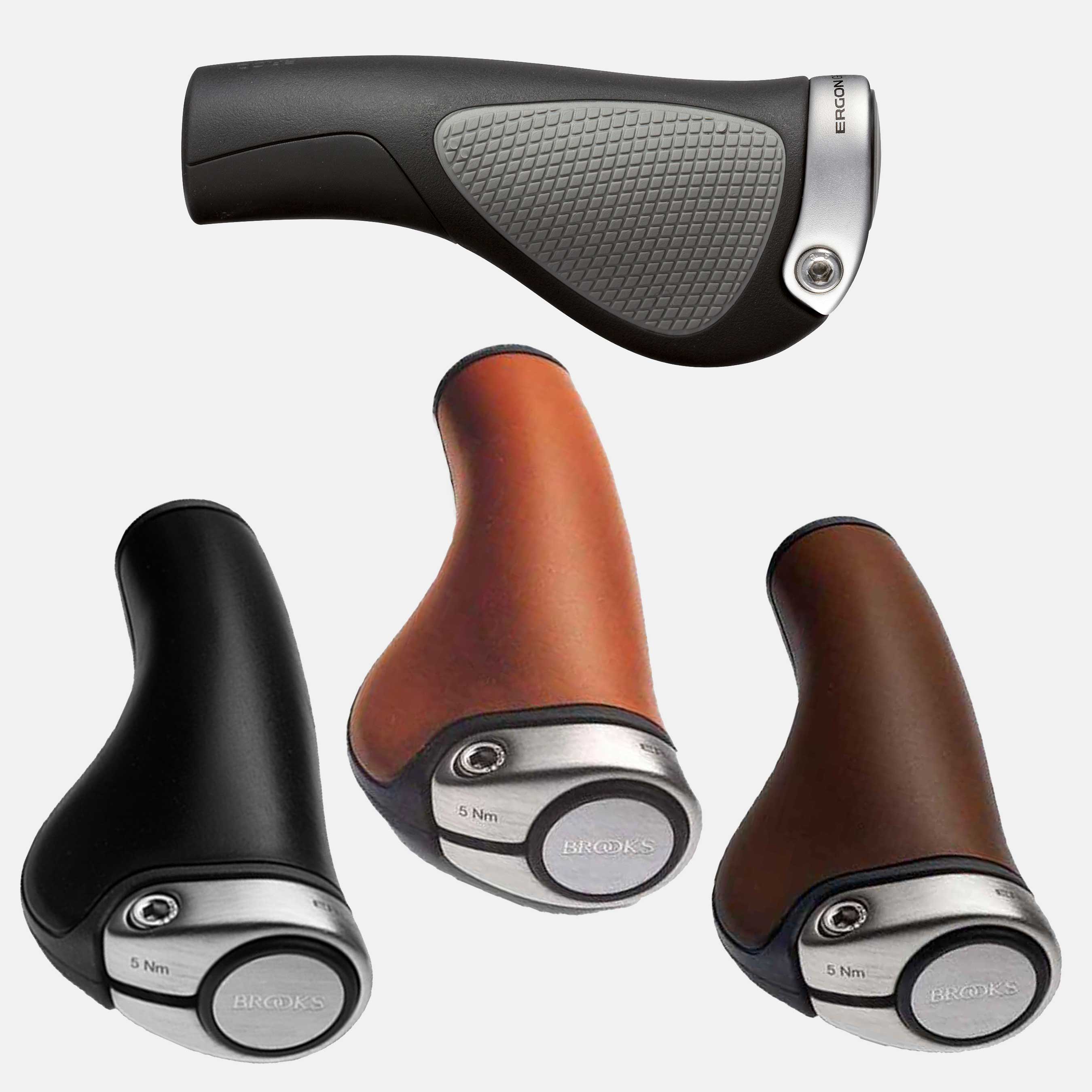 Take the pressure off your wrists! Available in classic Ergon rubber or with Brooks leather wrap.
From $50 - $120 (CAD)
---
---
CAN'T DECIDE? WE'RE HERE TO HELP - TALK TO AN EXPERT!