In Denmark, to say thank you, you say "Tak." Well, Larry and Harry of Larry vs Harry deserve a thanks. Because, while the cargo bike market grows and grows, it wasn't until Larry and Harry came along that there was a cargo bike for "cyclists." We don't mean to sound elitist (not at all!), but let us say that there are bicyclists and there are cyclists. Some ride and don't think much of it. For others, it's who they are. It's a question of enthusiasm. Just had a kid and want more time to ride? Well, now you and the cargo are building memories! Riding to work and sick of gridlock? Ride by and give your past rage a wave. Have a small business and want to make house calls? You get the idea. This is a bike for the urban tik-tak-toe. Tak, Bullitt. Tak.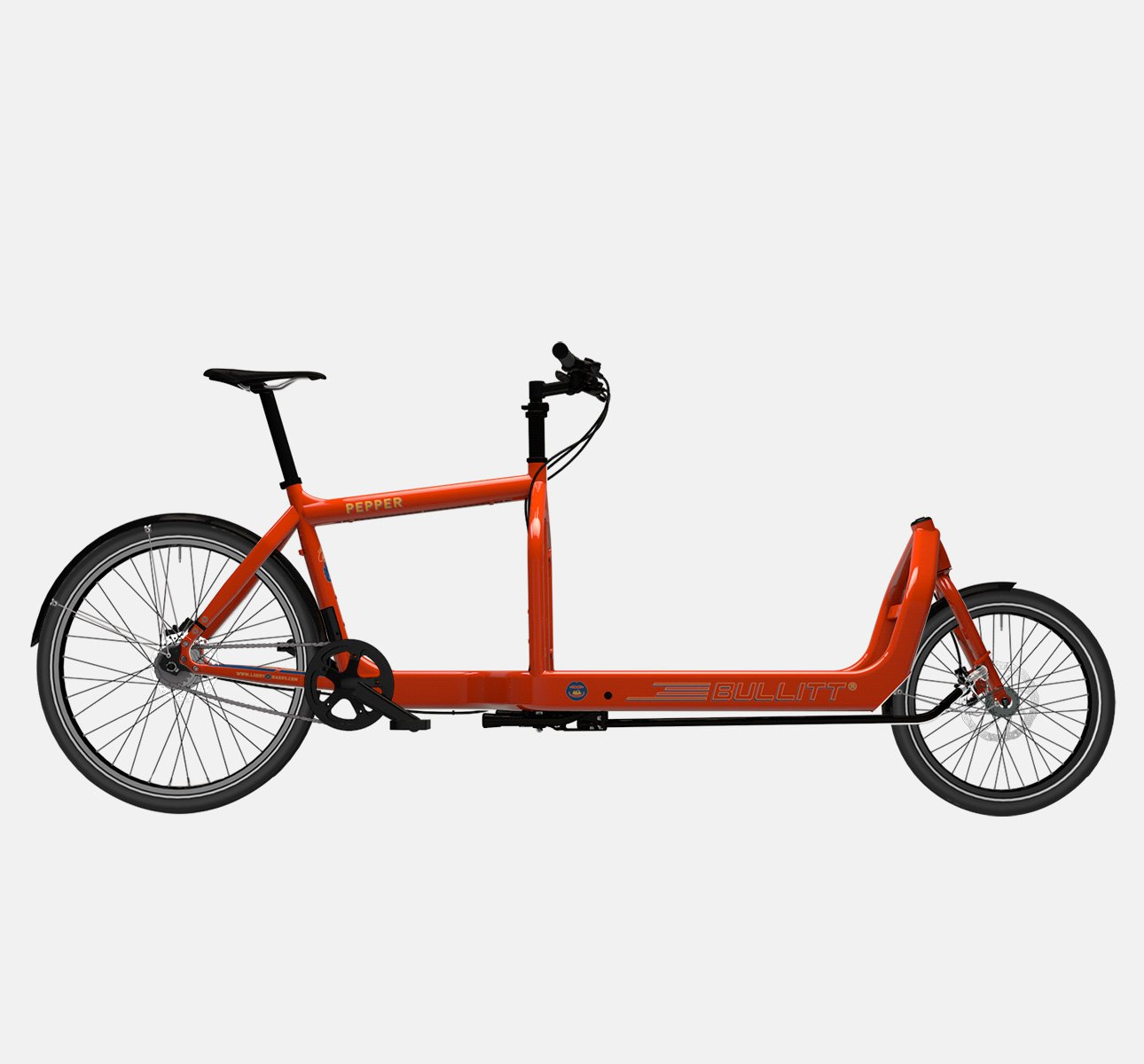 Not much is faster than a speeding Bullitt, especially in gridlock. No other cargo bike cuts through traffic like a Bullitt. Only 46cm wide, a Bullitt can squeeze through cars and pass in the bike lane. Cities are dense and messy affairs. The Bullitt's short wheelbase cuts corners with safety and speed and it's mountain bike inspired geometry provides quick power to the pedal and mind-reading handling. No other bike takes strength, weight, or performance as seriously as a Bullitt. Street smart and durable, these bikes have earned their respect. A cargo bike for cyclists.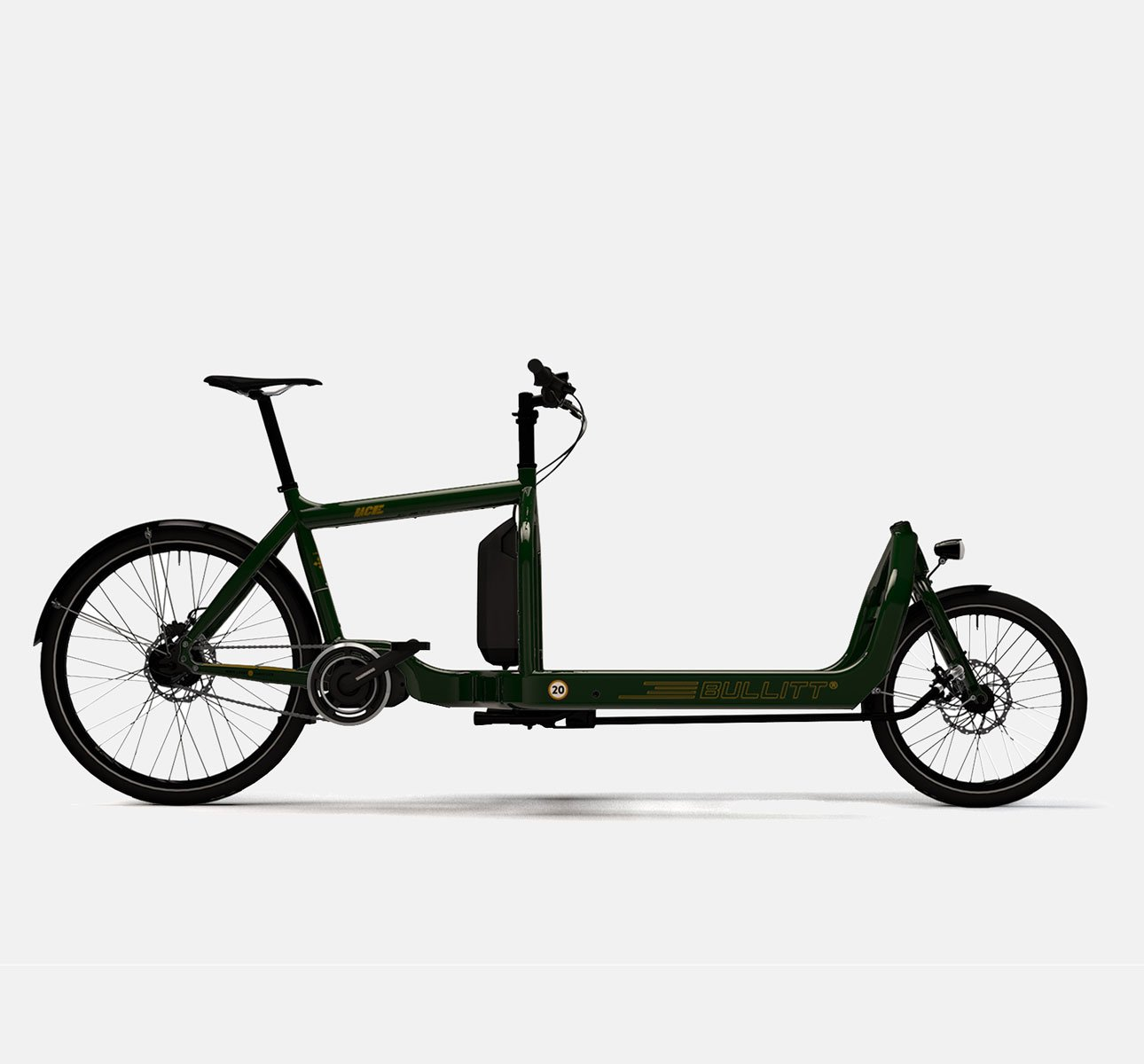 Let's see what makes this bike so special!
Most cargo bikes split apart in the middle for flat packing. That's fine for most cargo bikes, but the Bullitt is made for abuse. It's one-piece welded frame is made of oversize, squared-off aircraft aluminum tubes that won't flex a millimetre in tight corners. Oh, and it's aluminum, so it will also never rust.
That means a strong frame with a responsive feel, that keeps you in one piece, even if you're hopping curbs and dodging potholes - whether intentionally or just because they're there.
At only 46cm wide, the Bullitt frame is the product of street smart design. Stiff, lightweight, narrow and tough. Nothing pieced together here.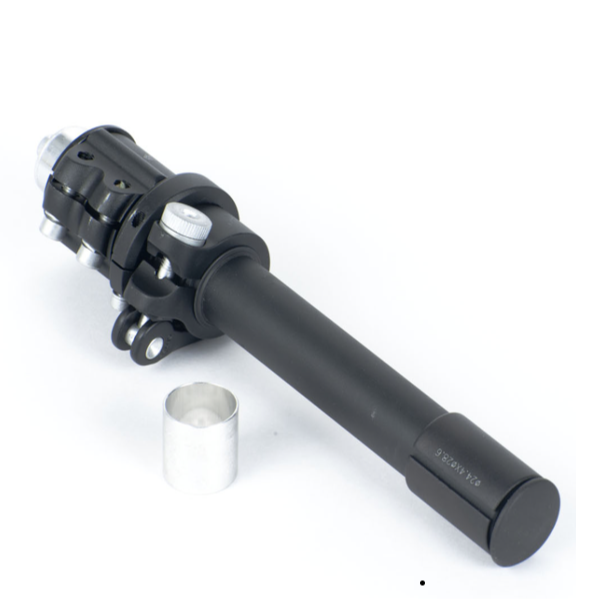 The Bullitt is a one-size fits most frame solution. How do they do this?
First, the top tube of the bike slopes generously. We've seen riders 5'4" hop on easily. Second, the bottom bracket sits very low to the ground. This means even shorter riders have a toe on terra firma. It also makes the bike handle better too. Third, all Bullitt's come with the Satori Easy-Up, a clever device (pictured) that raises the handlebars up and down with the flick of the lever.
Why no step through frame? We are asked this a lot. A step through is less strong and super flexy. That goes against the Bullitt DNA.
Some Bullitt's want to be practical, others want to bring out the high performance DNA that makes a Bullitt a Bullitt.
For the practicalist: a wide 306% Shimano Alfine internal gear hub that's a bit heavier, but low on maintenance. A Gates belt drive that runs 30,000km without replacement. The all-weather Bullitt.
Performance on a budget: a super light 20speed Shimano Deore system with a wide gear range, but higher maintenance. The consumer grade speedster.
Performance without compromise: the ridiculous Shimano XT system, with a massive gear range and 4-piston hydraulic brakes. The commercial grade speedster.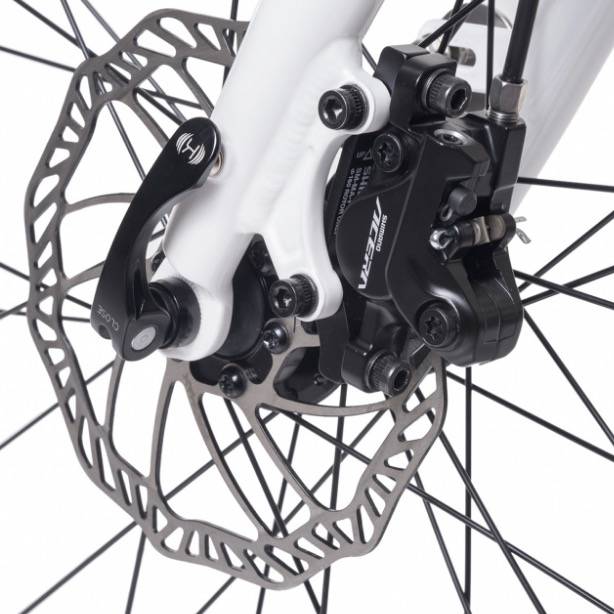 Carrying heavy stuff in a cargo bike means you need the most intuitive and powerful brakes possible. The Bullitt uses big 203mm hydraulic disc brakes, the same kind used on high performance downhill mountain biking. That may sound intense, but what it really means is lots of power, and near-perfect control.
The Alfine 8 Gates kit and Deore kit use TRP 2-piston hydraulic brakes. These are awesome brakes with remarkable control and stopping power. However, the XT kit uses 4-piston Shimano Zee calipers, offering the most intuitive control and stopping power.
These brakes aren't just meant to stop, they're meant to control speed, especially in corners and high contingency situations where you need to stop, suddenly.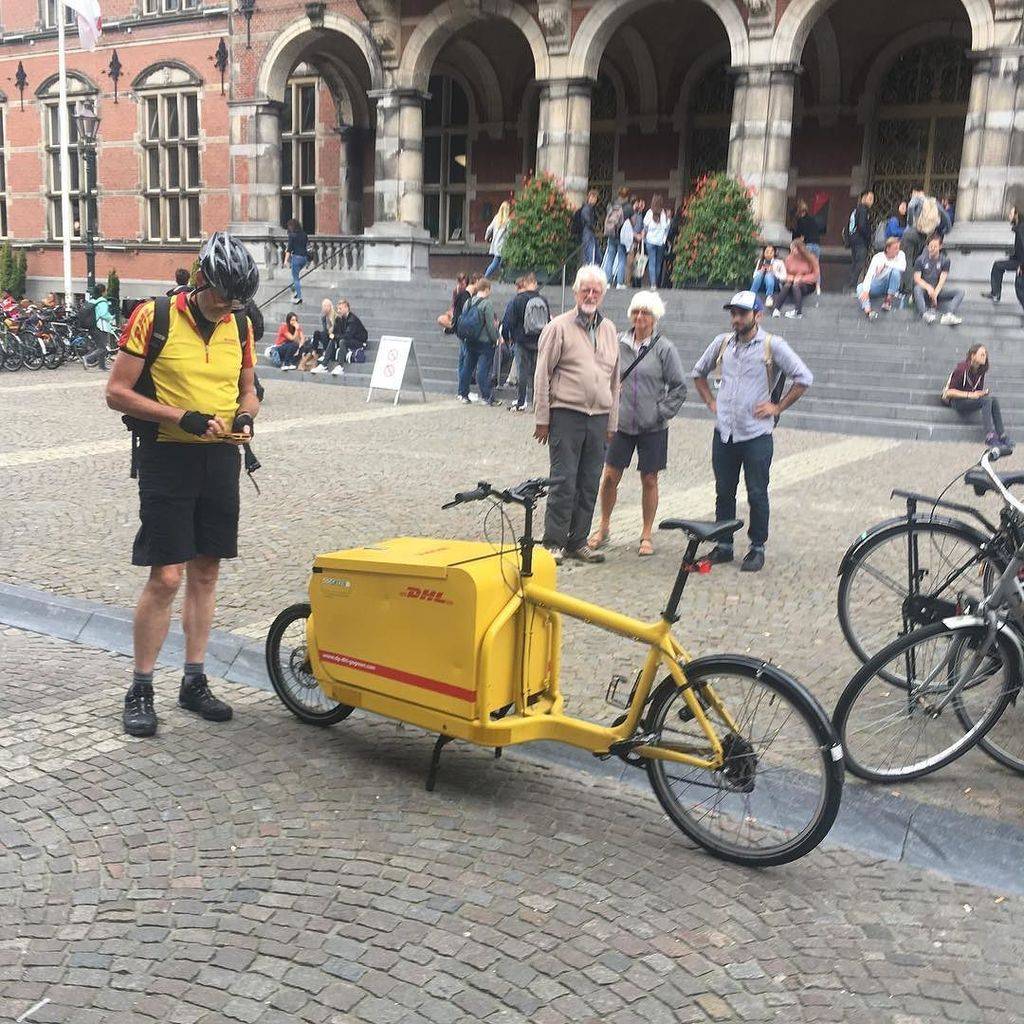 Who are those white haired people ogling the DHL cyclist? Why, that's the writers Mom and Dad (partner-in-crime and longtime Curbsider Aaron in baseball cap ogles besides).
Like Babboe who supply TNT and PostNL, Nihola who supply Dansk Post, and Urban Arrow who supply UPS, Bullitt is also deep in the last-mile logistics game. Why is this important? Because commercial use is an empirical indicator of a products consumer-use durability. Unlike Babboe, Nihola, et al, Bullits were purchased by DHL to be fast. That means more curbs, more rider force, and generally, more strain.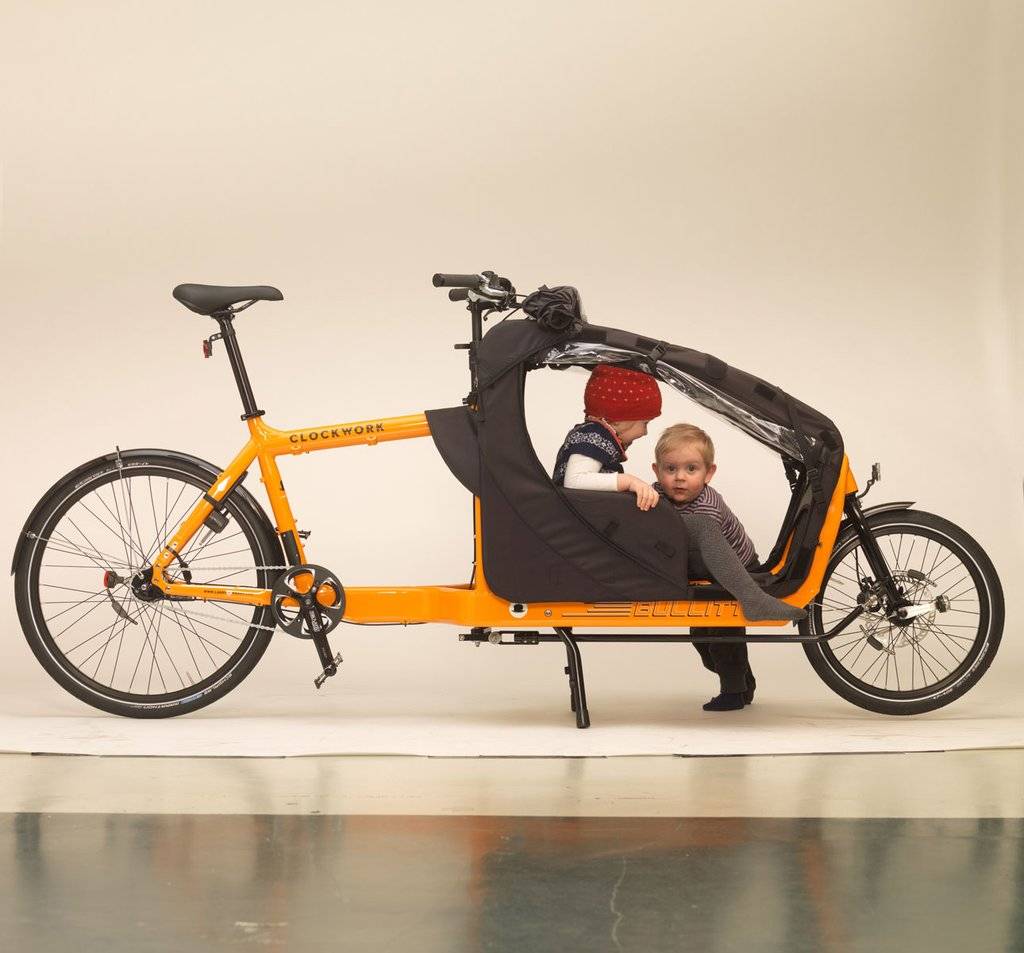 A Bullitt bike is whatever you want it to be. While you can only choose one colour, it can change its colour quickly, to use a metaphor.
Need to carry stuff? Grab the Cargo pack. The cargo pack uses impact-resistant honeycomb boards, strong and light (using the same stress-skin and space-frame as aircraft construction).
Want to carry kids? Insert the foldable seat (which folds up to make lots of room for groceries), and install the canopy. Canopy is not the right word. It's an impact resistant, full-coverage roll-bar with a waterproof cordura cover that rolls up for sunny days.
---
THREE DRIVETRAINS TO CHOOSE FROM:
---
A Bullitt can be your pickup truck, sports car or SUV. You decide! Whether you keep the chassis open and strap things down or pack things into the cargo pack, the Bullitt is the ultimate urban pickup truck. It's used by contractors, veterinarians making house calls, and delivery companies the world around. Carrying kids? The Kids Pack uses an impact resistant roll-bar system that completely surrounds the kids, and a foldable seat inside that tucks away to only consume 10cm of chassis space, so you can still pick up stuff and run those errands.
---
Bullitt E6100 in your choice of drivetrain and colour equipped with Honeycomb board, Foldable seat, and Canopy
Bullitt E6100 in your choice of drivetrain and colour equipped with Honeycomb board, BBX side panels and waterproof cover
---
BULLITT VS TRIOBIKE CARGO-E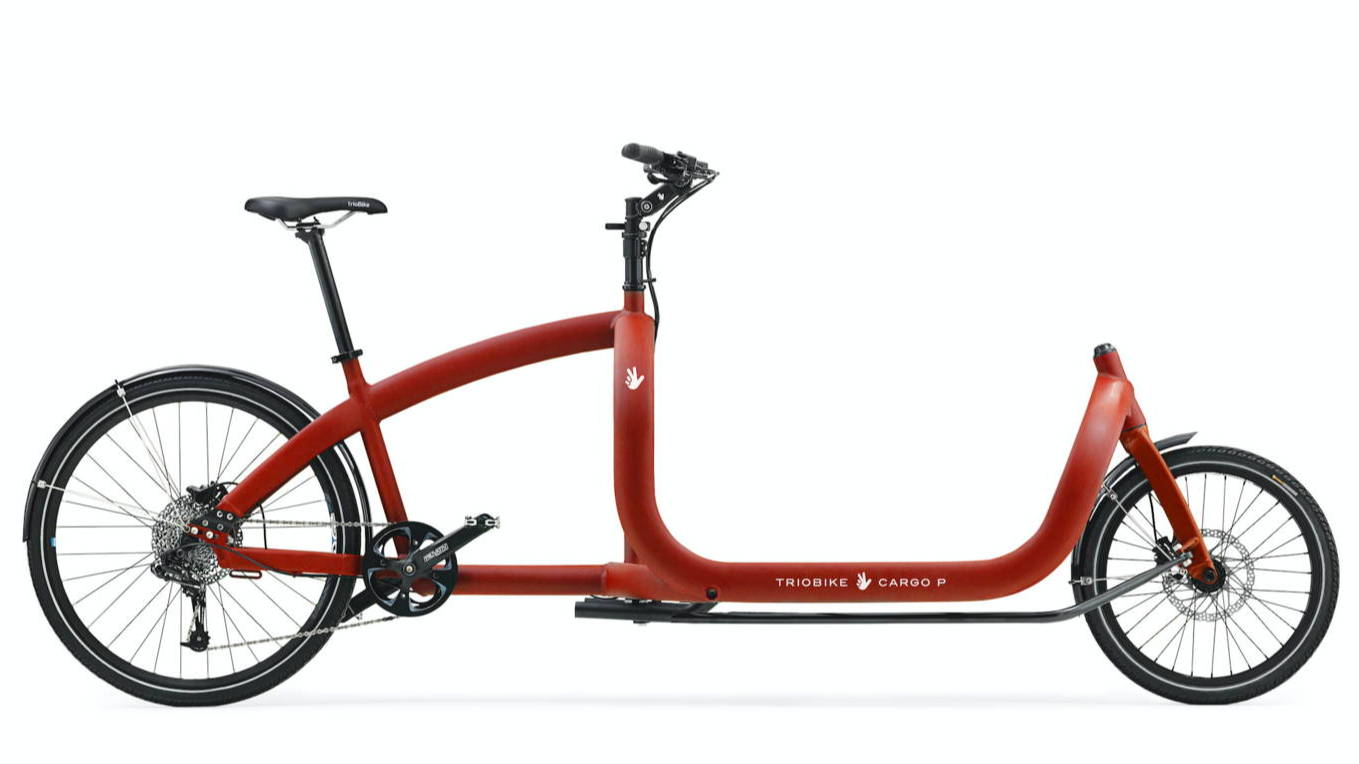 HOW ARE THEY DIFFERENT?
Upper-range SRAM GX drivetrain
1x drivetrain (single chainring)
Limited gear range
50cm wide
Adjustable stem (limited range and creaks like hell)
The copycat!
With every brilliant design comes the eventual copy-cat. Triobike is 2.1km from Bullitt and clearly they're drinking the same coffee. Triobike builds a bike to compete on price. Bullitt builds a bike that makes sense. For instance, why use limited 1x systems with low gear range on a bike that changes weight with every cargo load?
HOW ARE THEY SIMILAR?
Aluminum frame
Adjustable position
Powerful hydraulic 2-piston disc brakes
Puncture resistant tires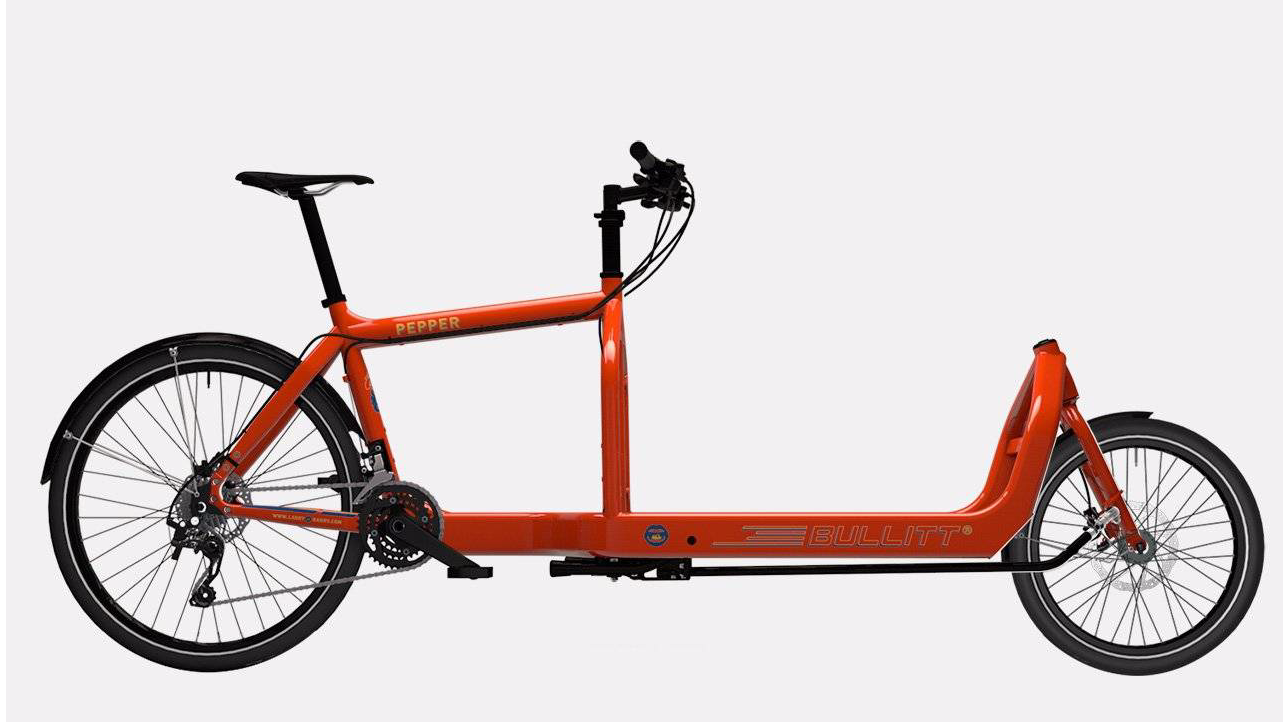 HOW ARE THEY DIFFERENT?
Upper-range Shimano Deore drivetrain
2x drivetrain (double chainring)
Super wide gear range
46cm wide
Satori Easy Up stem (lotsa range and super stiff)
The original!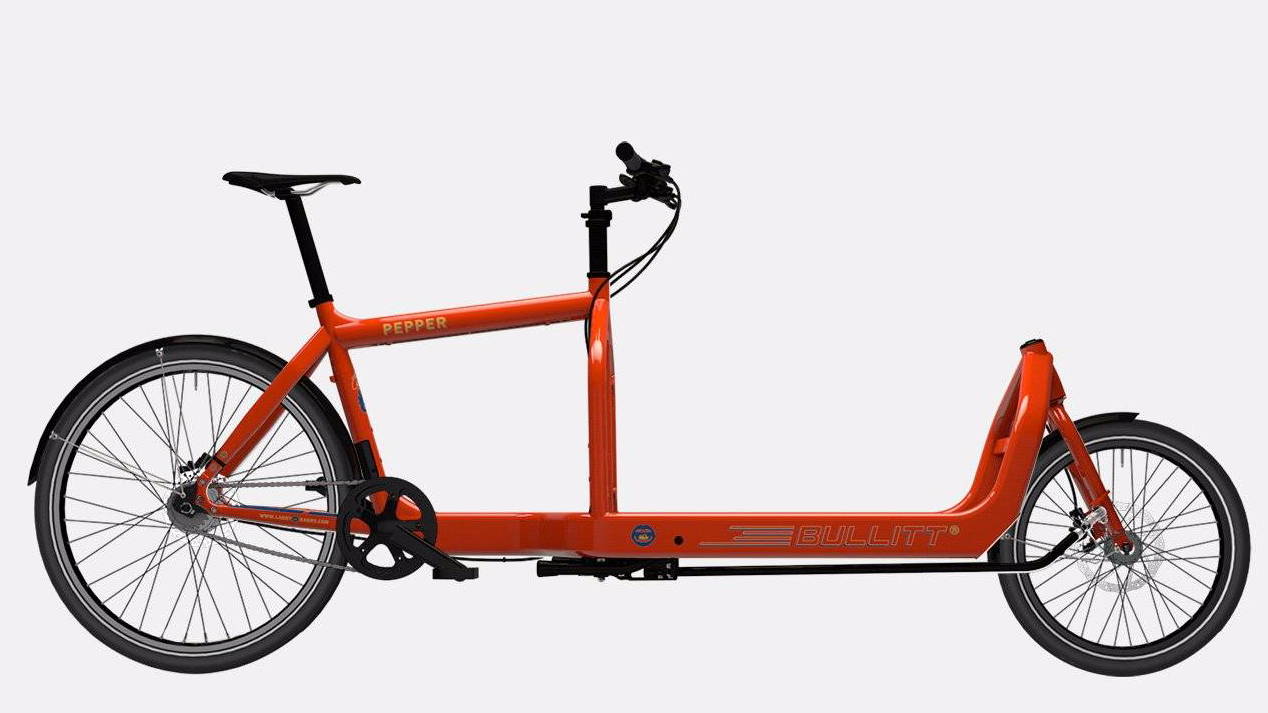 Alfine 8 Speed Hub is sealed from the elements
Limited 306% gearing
Gates Belt drive runs for 30,000km
No lubrication
No laundry costs (no greasy chain next to your pants)
2-piston Tektro hydraulic disc brakes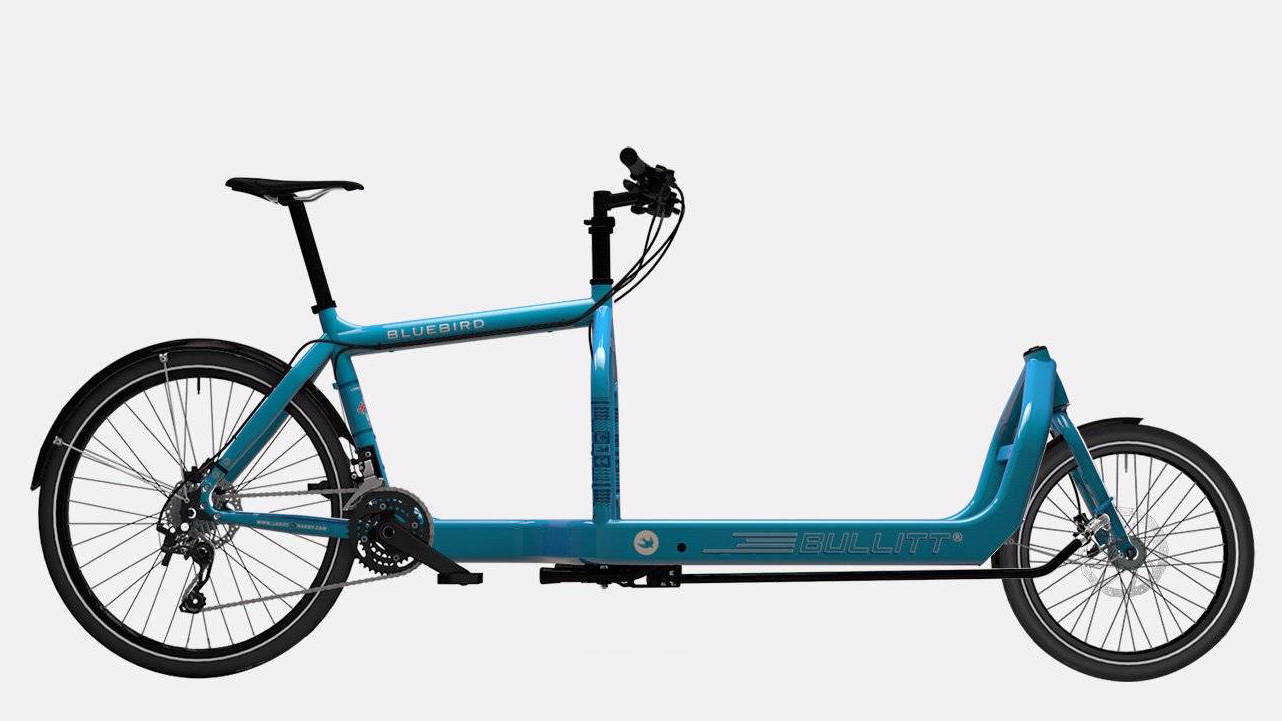 Shimano Deore derailleur system pushes performance
Super wide 491% gearing
Chain drive runs between 2000-4000km
Requires bi-weekly lubrication
Higher laundry costs (greasy chain is right next to your pant
2-piston Tektro hydraulic disc brakes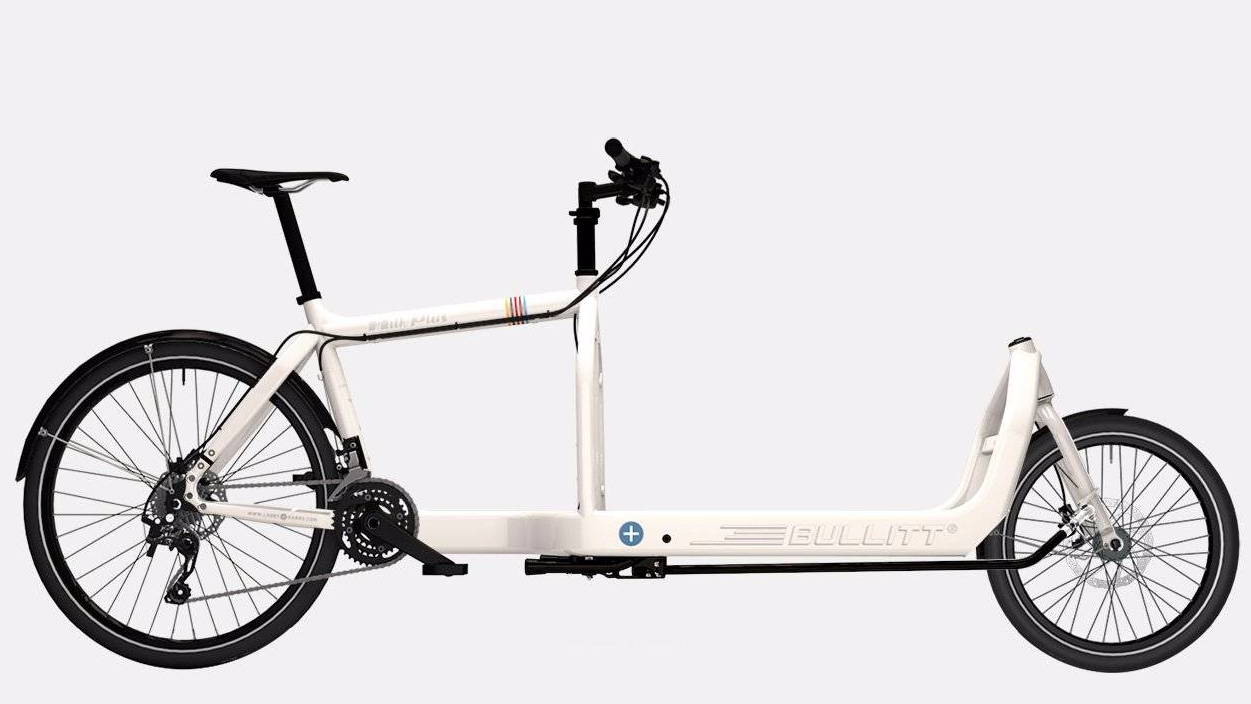 Shimano XT system is the ultimate in range and performance
Massive 621% gearing
Chain drive runs between 2000-4000km
Requires bi-weekly lubrication
Higher laundry costs (greasy chain is right next to your pant
4-piston Shimano Zee hydraulic disc brakes
---
ACCESSORIES WE HIGHLY RECOMMEND

Ready to hit the streets? Make sure your bike is well secured with an Abus lock. Add a Bullitt honeycomb deck to the chassis, or the super lightweight Fahrer Deck. Want a lighter solution than the cargo pack? The Fahrer bowl is great for cargo (but not for kids). Keep the top tube from getting banged up with a protector and advertise your business or put some cool stick on the billboard.
---
Why do we love the Bullitt? It's a high performance cargo bike that sets itself apart.
The frame is one piece, super-stiff, oversized aluminum with thick powder coat finishes
The bike easily adjusts to most rider heights
The three drivetrain options are well chosen and a difficult choice!
Choosing a colour is an impossible choice
The range of accessories are equally engineered in detail, safety, and performance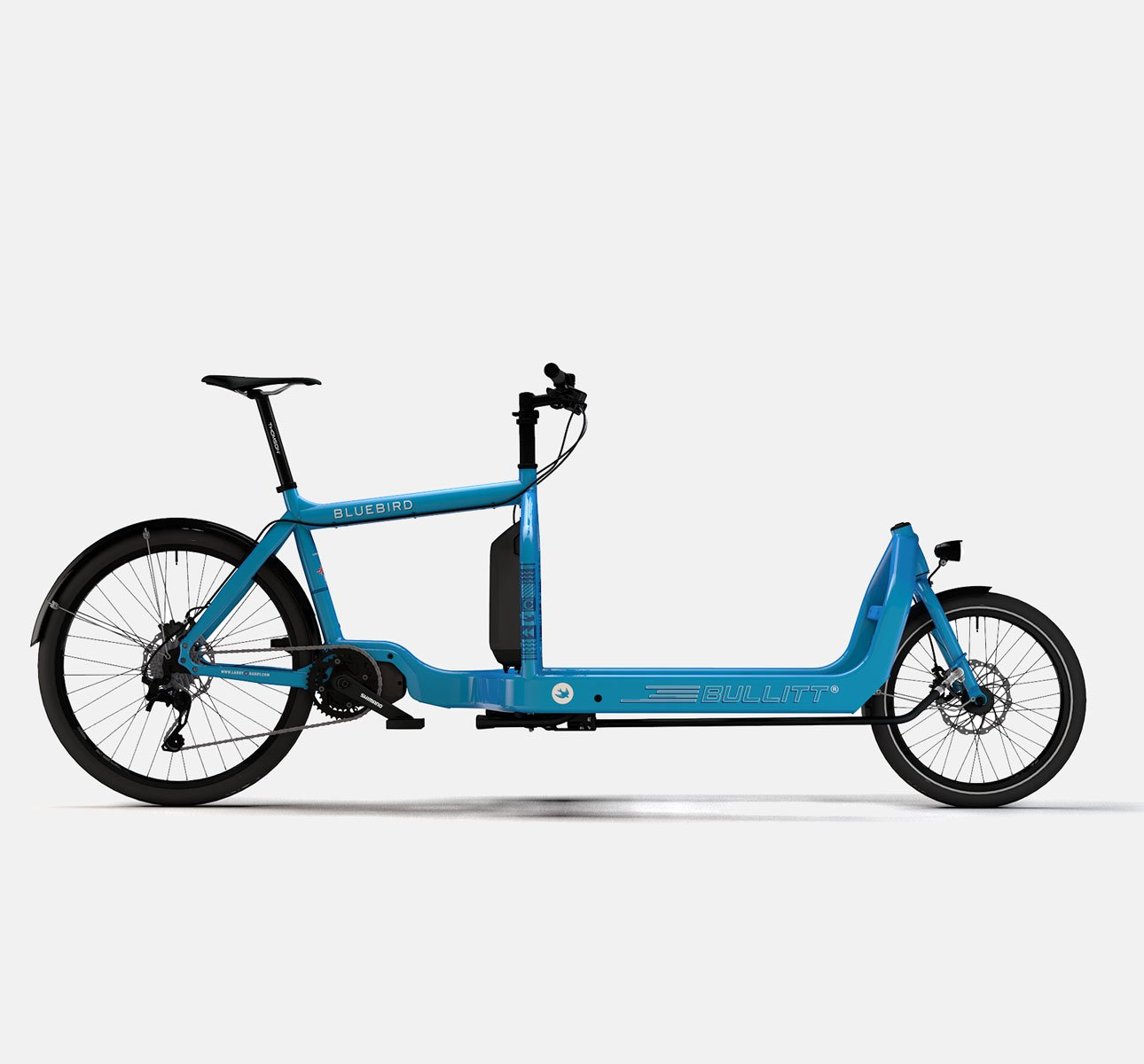 "As a store that literally started by the curb, we connect with Bullitt's street-smart, ear-to-the-ground approach and irreverent style. These are high performance bikes free of bullshit, and while they aren't for everyone, those they serve are fanatically passionate. These are precision bikes with a highly synced mind/machine connection that puts safety back into the hands (and handling) of the rider."
---
ABOUT LARRY VS HARRY (BULLITT)
The story of Larry Versus Harry is a real yin/yang affair. Larry is an established cargo bike designer. Harry is an ex-bike messenger who used an old Danish 'long john' to perform tasks. Did you know that the Danes invented the two wheeled front loader, not the Dutch? While the Dutch co-opted the Danish long john into an upright couch on wheels, Larry and Harry were out to resurrect the performance two-wheeled Danish cargo bike. And, while Larry and Harry don't always agree, they knew very well that a cargo bike is faster in urban settings than a car. So, how to tap into this efficiency? How to take this speed seriously? It would begin with the frame. Something light but also stiff and responsive, something that gave handling and acceleration back to the rider. Something narrow to cut through traffic. This same level of engineering would apply to all the parts. In a world of heavy and thin wood boxes or lightweight but thick EPP foam boxes, no one makes a thinner and more impact resistant panel system than Bullitt's aircraft influenced honeycomb and BBX boards. Finally, everyone knows that no one has more street-rep than Bullitt. And, they've earned that reverential position the hard way. They're tough bikes with street hustle, used by DHL throughout Europe and families who want safety but believe the rider should be having as much fun as the cargo.

---