An e-assist bike opens your world. It truly does. To the commuter who lives just far enough not to bike, the e-assist pulls you out of crowded transit and clogged highways and gives you back your freedom. To the recreational cyclist who wants to log the miles they used to, the e-assist makes you young again. No matter who you are, the E-Griffin is a bit of magic. It's upright position feels safe and wonderful and it's low-step frame is easy to jump onto. Like the Griffin, you have legs but you also have wings.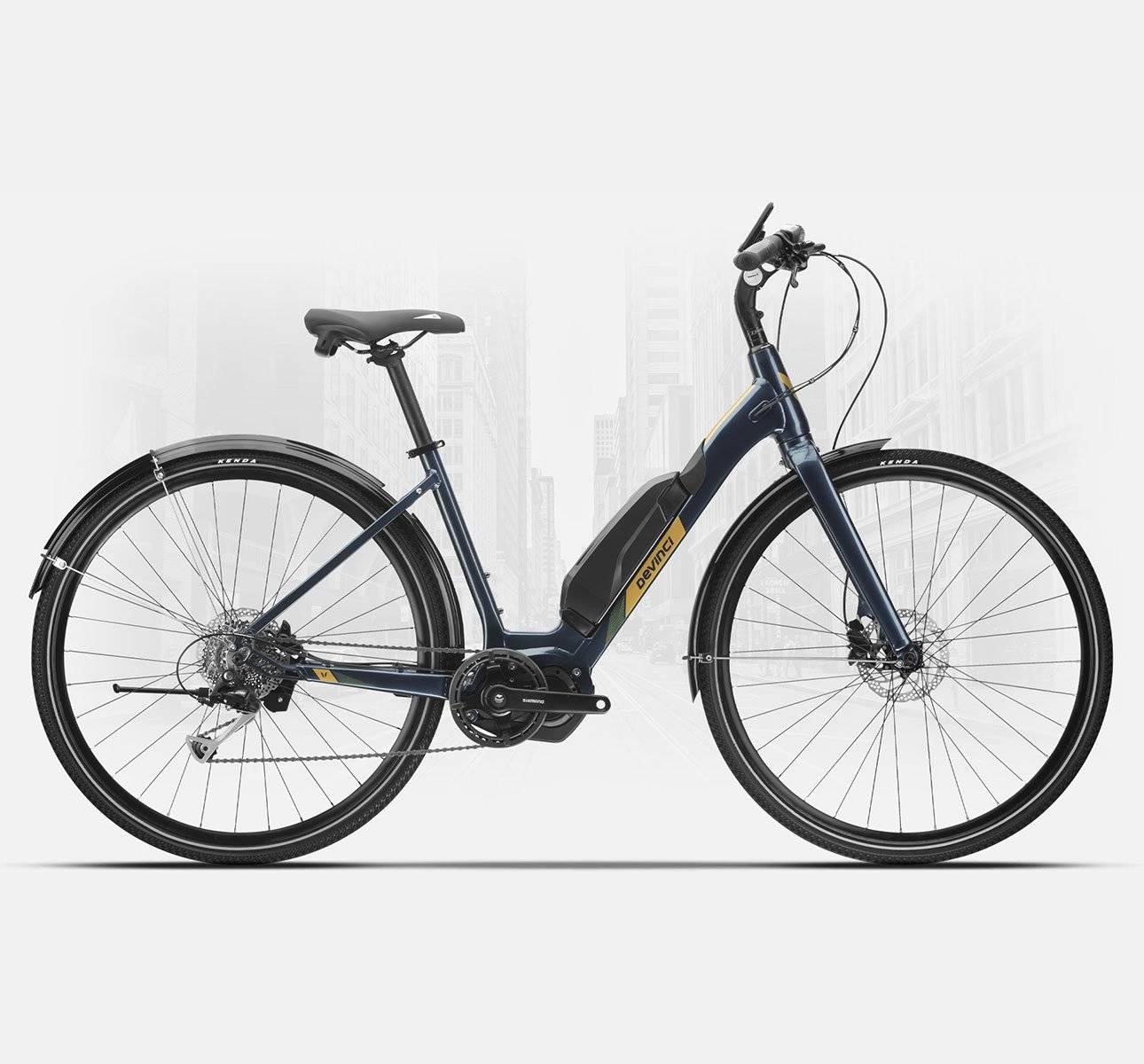 If you've read the history of Devinci, you know they are very unlike their brothers and sisters in California, who also design bikes. It is really a tale of two cities. In the first it is sunshine all year, sprawled cities where the car is king, and cycling is viewed as a 'weekend thing,' usually out of the city on recreational trails. In Montreal, people ride year-round in the city and on the weekends they explore the largest network of bike trails in North America. The E-Griffin takes that do-it-all Devinci DNA and plugs in some extra boost.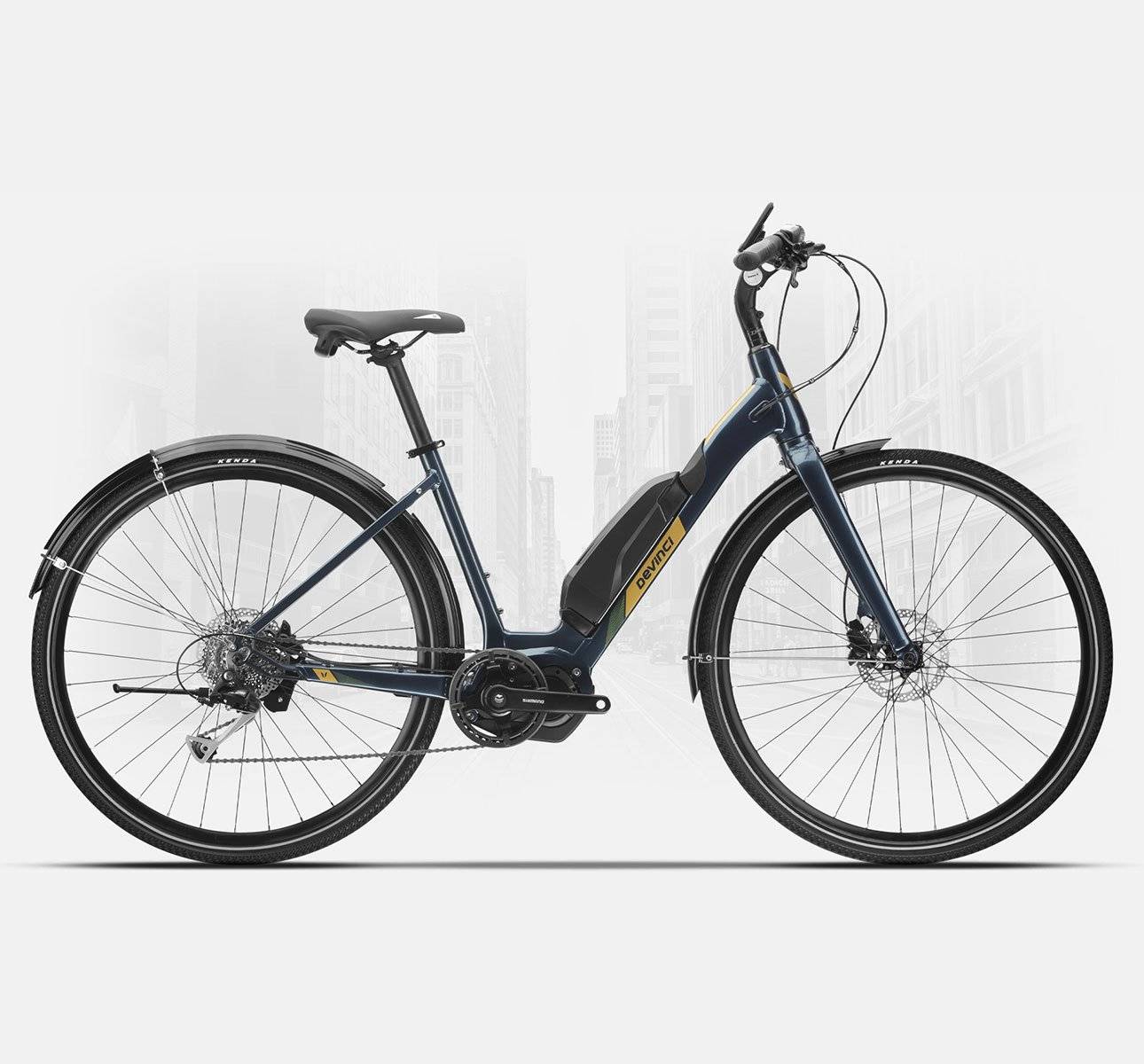 Let's see what makes this bike so special!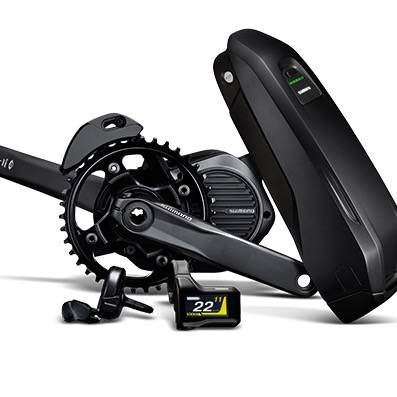 There are a lot of companies preying on consumer naivety these days when it comes to e-bikes.
First, an e-bike is a pedal-assist, or a pedelec. If you ain't pedalling, it ain't a bike.
Second, this is a good thing! A real e-assist bike has a super computer brain that reads your pedalling torque, your pedalling RPM's and wheel RPM's. It crunches this data and gives you power output that is variable in realtime. It feels like it is reading your mind!
Why Shimano? Quality and service. If something goes wrong, anywhere in the world, they have your back. We do too.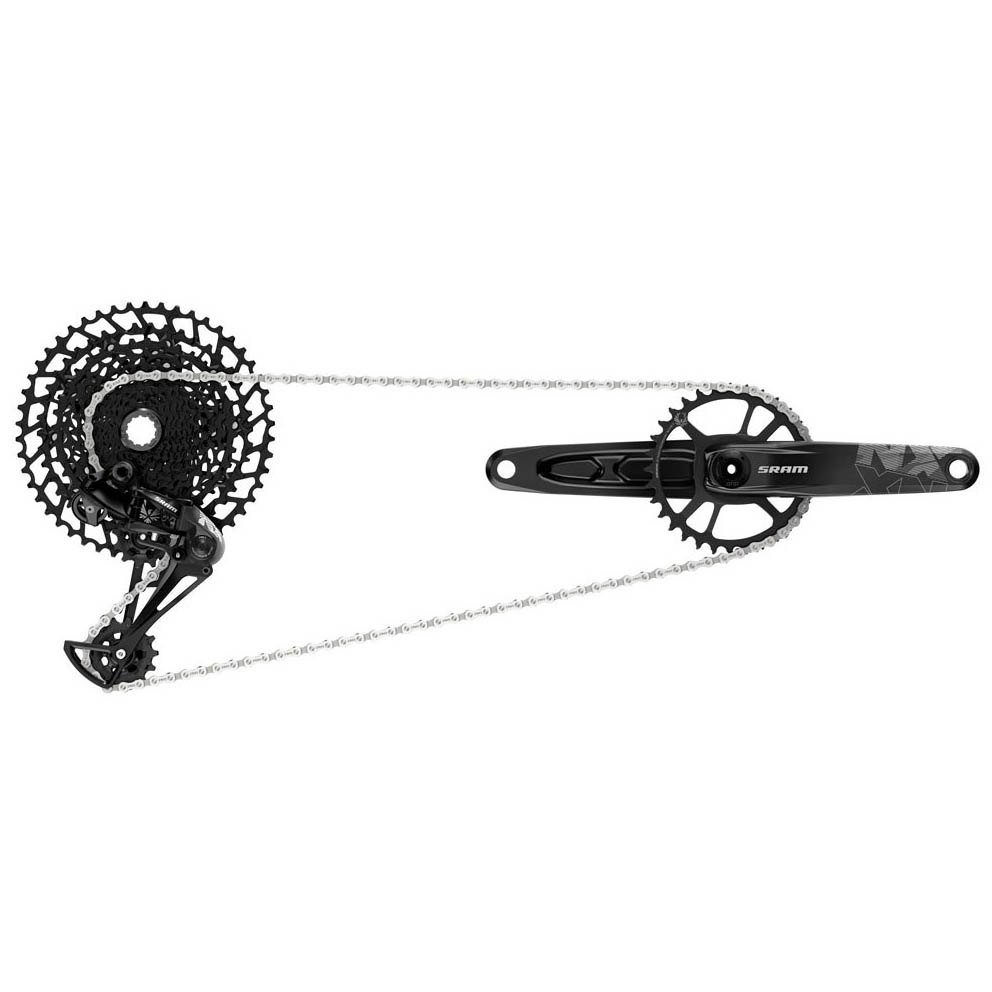 If you visit a bike shop these days a lot of staff will talk about 1x gearing, or "one by." What on earth does that mean?
It means we've all come to realize that bikes are often sold with too many gears! If you don't use them, they just provide more maintenance. So, why not give the rider all they need?
A 1x system simply means there is one chainring on the crankset (where the pedals are) rather than three. You get a nice wide range corset in the back - on the rear wheel - and that covers you for pretty much anything a short or long city ride can throw at you.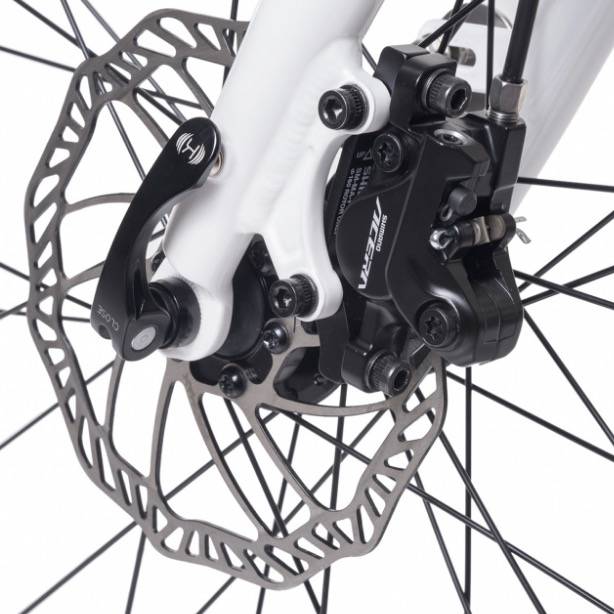 Why disc brakes on a e-assist bike?
Disc brakes are often seen on mountain bikes, where the rider has to stop suddenly to avoid injury. But, the same is true in the city, perhaps even more-so.
Disc brakes don't use the rim as a braking surface and thus maintain consistent control in all-weather. Plus, they are more powerful than rim brakes, and lower maintenance too.
The E-Griffin uses hydraulic disc brakes that are super powerful. When you have a bike that can go 32km/hr, that just makes sense.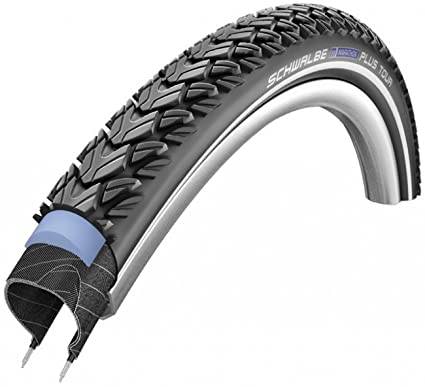 Devinci takes wheels seriously. After all, it's where the rubber truly hits the road.
Like all Devinci bikes, the E-Griffin features a strong double walled rim, rust-resistant stainless steel spokes and a puncture resistant tire.
But, where the E-Griffin gets interesting is its tire choice. While other bikes might assume the rider wants speed and more speed, the E-Griffin is for those who want to take the less beaten path.
That's why the E-Griffin comes with a 40mm gravel tire that balances city potholes with speed while fun on gravel too!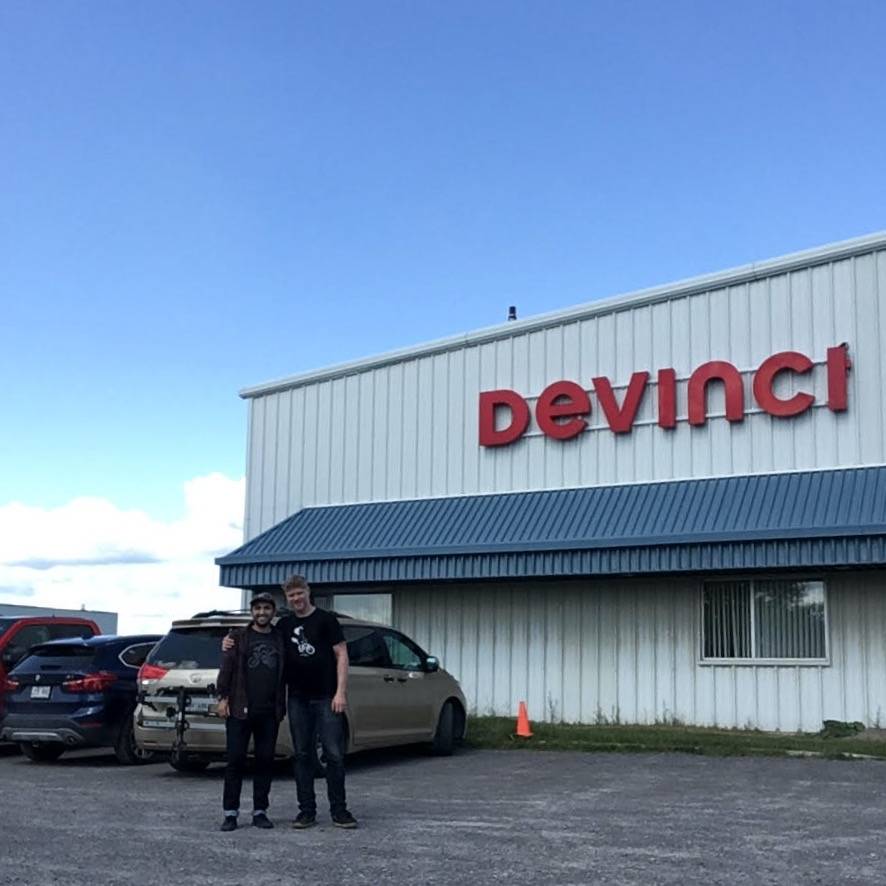 That's right, the E-Griffin is made in Canada. Yep, welded here too!
We're proud to carry Devinci, not just because they're a Canadian company but because they make many of their bikes in Canada.
This was not an easy choice for Devinci. Asian manufacturing is cheap and it's high quality, but it's also scaled to such high levels that innovation suffers - and Devinci is a company that is always innovating - especially hybrid bikes, which most of the market treats as an afterthought.
Today Devinci's choice is paying off. That's the backstory of the E-Griffin, a high integrity bike from a high integrity company.
(And yep, that's us at the Devinci Factory in Chicoutimi Quebec!)
---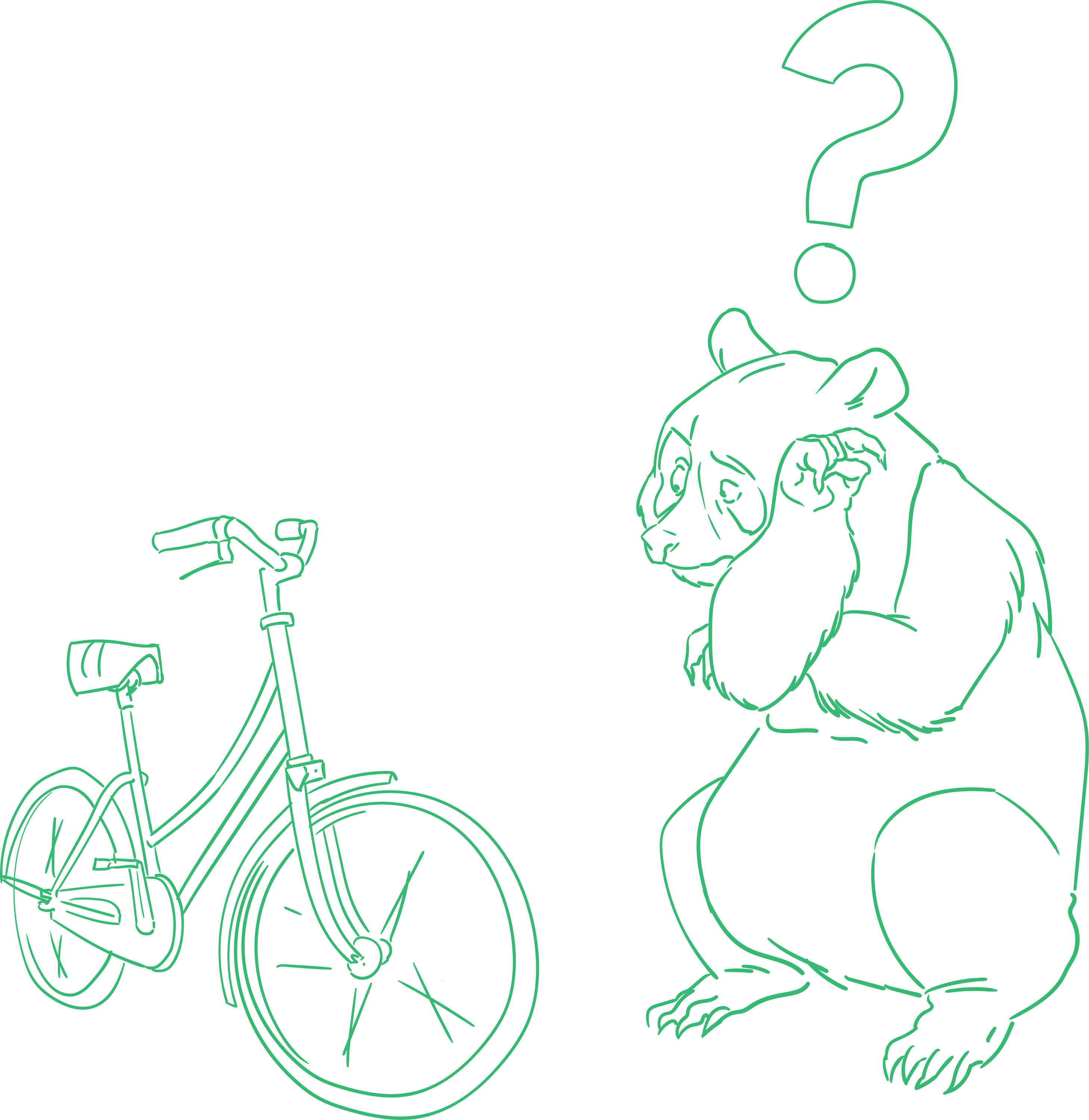 An e-bike is a pedal-assist bicycle, or a "pedelec." There is no throttle. Instead, there is a sophisticated computer system that reads your inputs and outputs a real-time variable assist that tunes itself to your needs right now. To ride one is sensational! It feels like the bike is reading your mind!

An e-bike is a pedal-assist bicycle, or a "pedelec.". There is no throttle. Instead of a throttle there is a sophisticated computer system that reads your pedalling torque + wheel RPM's + pedal RPM's a thousand times a minute. This data turns into a variable assist that constantly tunes itself to your needs in real-time. To ride one is sensational! It feels like the bike is reading your mind!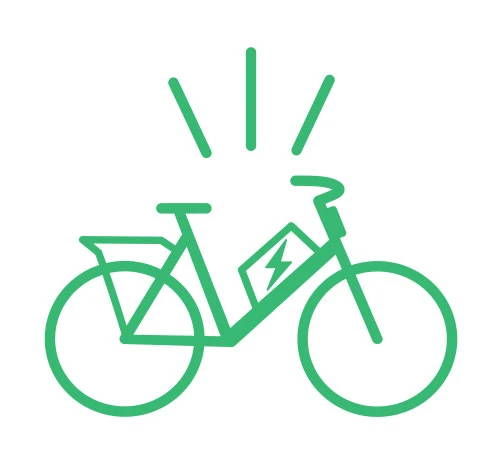 CAN I CRANK UP THE POWER?
Yes!! While the computer is constantly tuning itself to your real-time needs, you can also crank this variable assist anywhere from 30% assist to 300%+
A button on the handlebar allows you to easily toggle between levels of assistance. And, a console gives you all the data you need, from battery range to odometer to current speed per hour!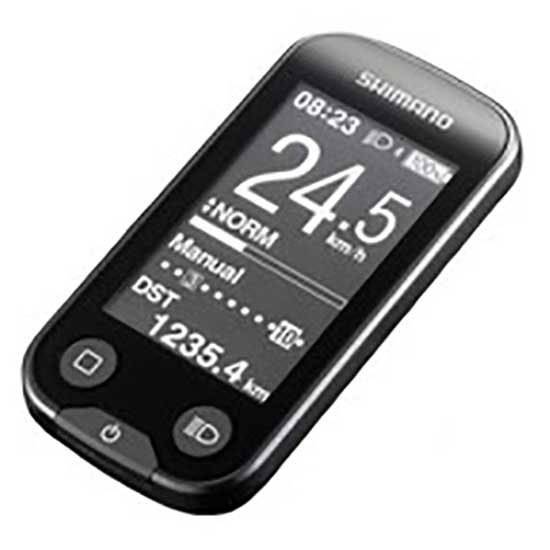 Absolutely not!
A bike with a throttle is dangerous. With a throttle you can stop pedalling or hit the brakes and you can still lurch forward.
On a pedelec, the motor cuts out the second you stop pedalling or hit the brakes. And, according to government regulation, the motor also cuts out above 32km/hr.
WHAT'S THE DIFFERENCE BETWEEN THOSE E-SCOOTERS I SEE?
Oh my goodness, where do we start? They shouldn't even be mentioned in the same breath!
E-scooters are a throttle based system and are illegal (or classified as motor vehicles) across Europe because they are dangerous. There are grounds to believe they will be illegal here soon too.
Currently, these bikes are sold through a legal loophole here in Canada.. In Europe, regulation says a motor can only operates while pedalling. In North America, regulation states the bike must have pedals, but never states these pedals need to be used..
E-scooters have pedals, but they rarely work. They are legal ornamentation and they aren't fooling anyone, and that includes lawmakers.
Plus, if it's between a computer that automatically senses the power you need or pushing down a thumb throttle, what would you prefer? Unless you like having a sore thumb?
One word: Service.
Service is key. For a long time e-bikes have been the wild-west until Bosch, Yamaha and Shimano came around. We speak from experience when we say that when you buy an e-bike that somewhere down the line, will go wrong. A good e-bike means we can run diagnostics with no guessing-games that take time and patience. A good e-bike means there is global technical support just a phone call away. .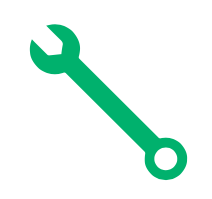 WHERE SHOULD THE MOTOR BE?
As a rule the motor should be a mid-mount and made by a company you can trust. Names like Yamaha, Bosch, and Shimano are key. Other players like Bafang are reliable, but if you haven't heard of the company, be extra careful
. Front motors are dangerous. And no rear mount motor compares to the performance quality of a reliable mid-mount.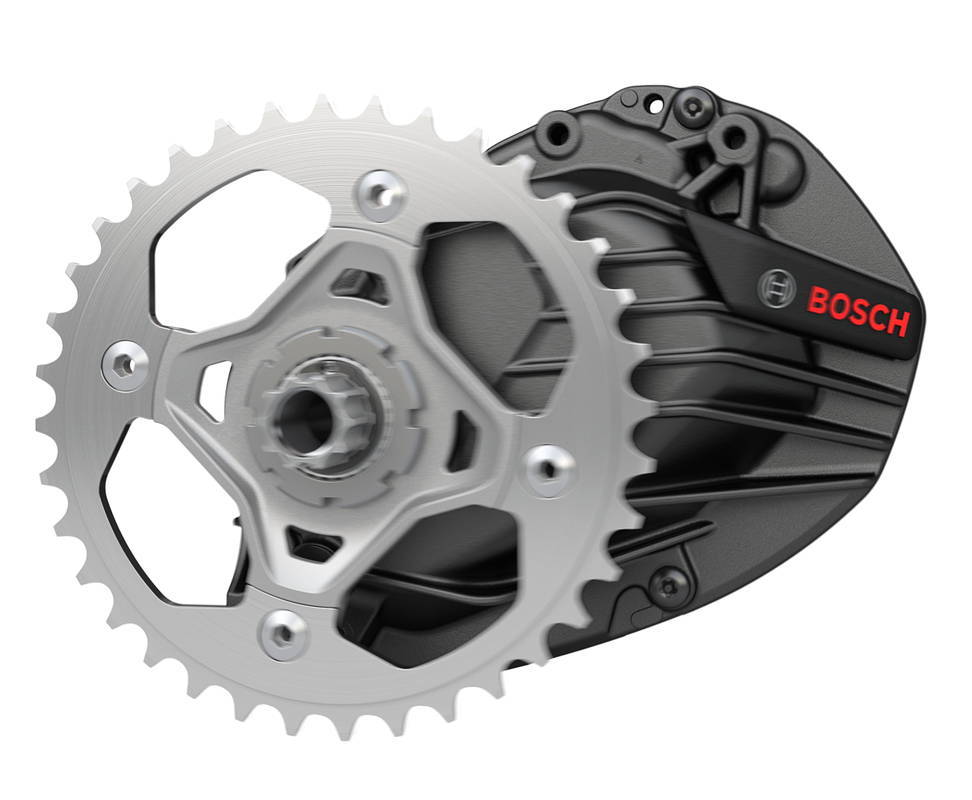 DESCRIBE THE DIFFERENT MOTORS PLEASE!
Each brand brings its own experience to motor production. The important thing is to focus on brand-name quality. That said, Shimano is known for mileage and a more intuitive feeling motor and is often seen on higher performance bikes.. Bosch is known for power and is often seen on cargo bikes. Yamaha is famous for torque and is often seen on commercial grade cargo bike. All bikes take about 3.5 hours to charge and use recyclable Lithium Ion Batteries that take 1000+ full charges (about five years of use).
Found on Devinci and Bullitt cargo bikes, these are highly tuned long-range motors with balanced power and torque
E6100 Motor
250 Nominal Power
418W battery
Up to 185km/Charge
60nm Torque
Found on Urban Arrow and Benno Bikes, these are powerful motors for heavy duty cargo carrying
Performance Line Motor
350 Nominal Power
400W battery
Up to 100km/Charge
65nm Torque
CX Motor
350 Nominal Power
500W battery
Up to 100km/Charge
75nm Torque
Found on Babboe family and commercial grade cargo bikes. These are high torque motors with tons of power.
PW Motor
350 Nominal Power
400/500W battery
Up to 100km/Charge
80nm Torque
---

DEVINCI E-GRIFFIN VS DEVINCI E-CARTIER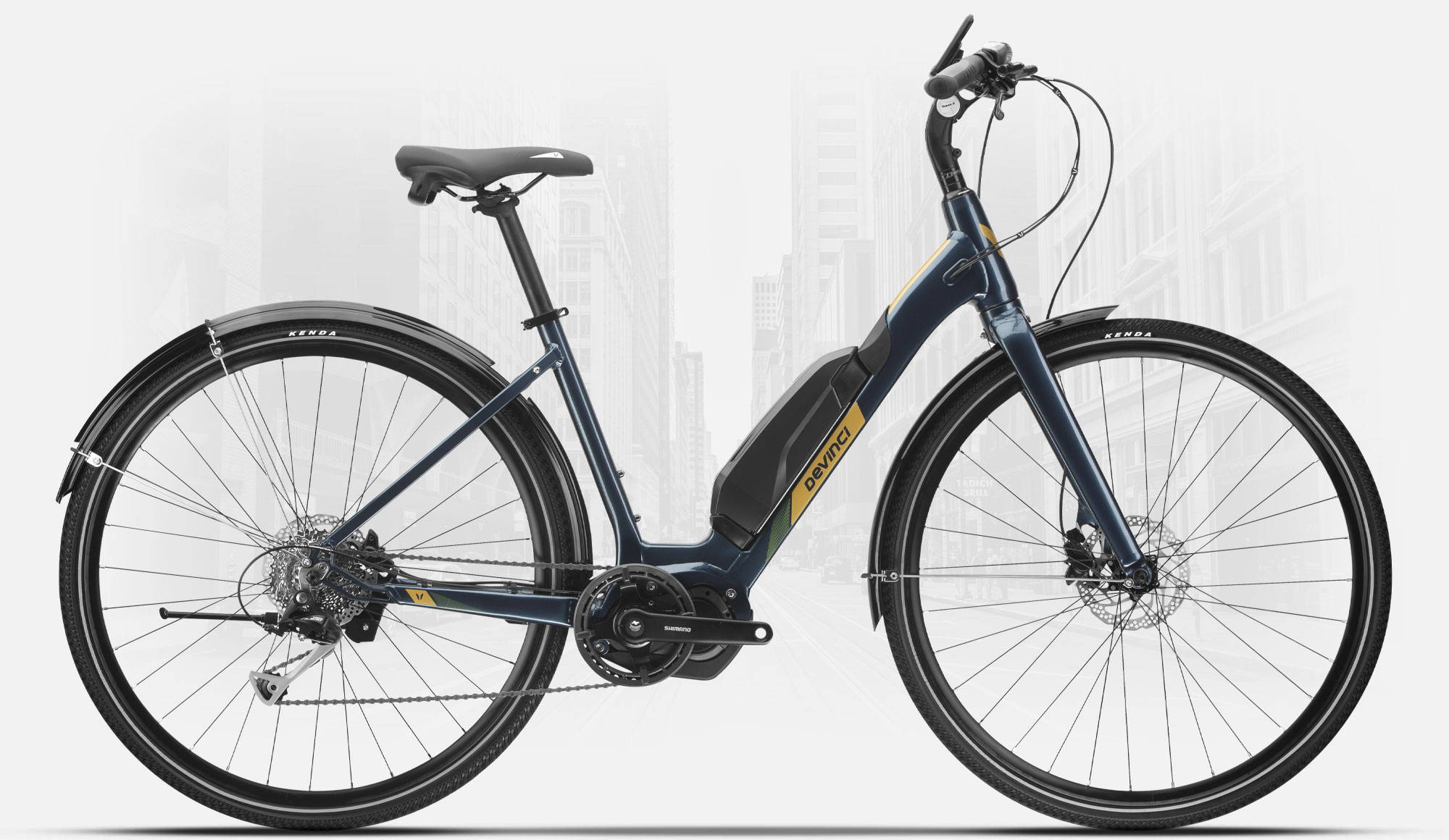 HOW ARE THEY DIFFERENT?
Dutch-style upright position that emphasizes comfort and safety
700c wheel for high-efficiency cruising speed on road or path
35mm tire for street or gravel
What are the differences between the E-Grffin and E-Cartier? There's a lot! The E-Griffin is a gloriously upright bike, designed for the wind in your hair and a smile on your face. The E-Cartier is a more aggressive machine, with a geometry designed for long commutes and getting places fast.  
HOW ARE THEY SIMILAR?
Reinforced aluminum frame & fork designed for recreation and city
Shimano E6100 Motor
wide-range 9-speed drivetrain
Center-mount battery for balanced weight
Shimano hydraulic disc brakes
Puncture resistant tires
Comfortable seats and grips
Rust resistant stainless or galvanized bolts throughout
HOW ARE THEY DIFFERENT?
Performance position that emphasizes acceleration and handling
650B (27.5") wheel for rapid acceleration and tight corner agility
45mm tire for potholed city streets and gravel
---
ACCESSORIES WE HIGHLY RECOMMEND

Your E-Griffin is ready for the streets but make sure to protect it and yourself! Protect your bike and wheels from thieves with a quality lock and wheel skewers. Make sure your protected during the night with a good set of lights (required by law... and a bell is too!). Need to carry stuff? Save yourself a sweaty back by carrying stuff on a rear rack! These are the items that work perfectly on your E-Griffin.
---
Why do we love the E-Griffin? The reasons are many!
It's made in Canada!
That means Canadian aluminum. Welded here, painted here and assembled here.
It's a remarkably upright and comfortable ride - made for everyone!
We love the Shimano E6100 motor for it's range and quality
The centre mount battery is much more balanced than a rear rack battery
We love Shimano for their after-sales service
The disc brakes are great for a bike that can go greater speeds
Puncture resistant tires are great for city riding
We love the comfortable sprung saddle and the ergonomic grips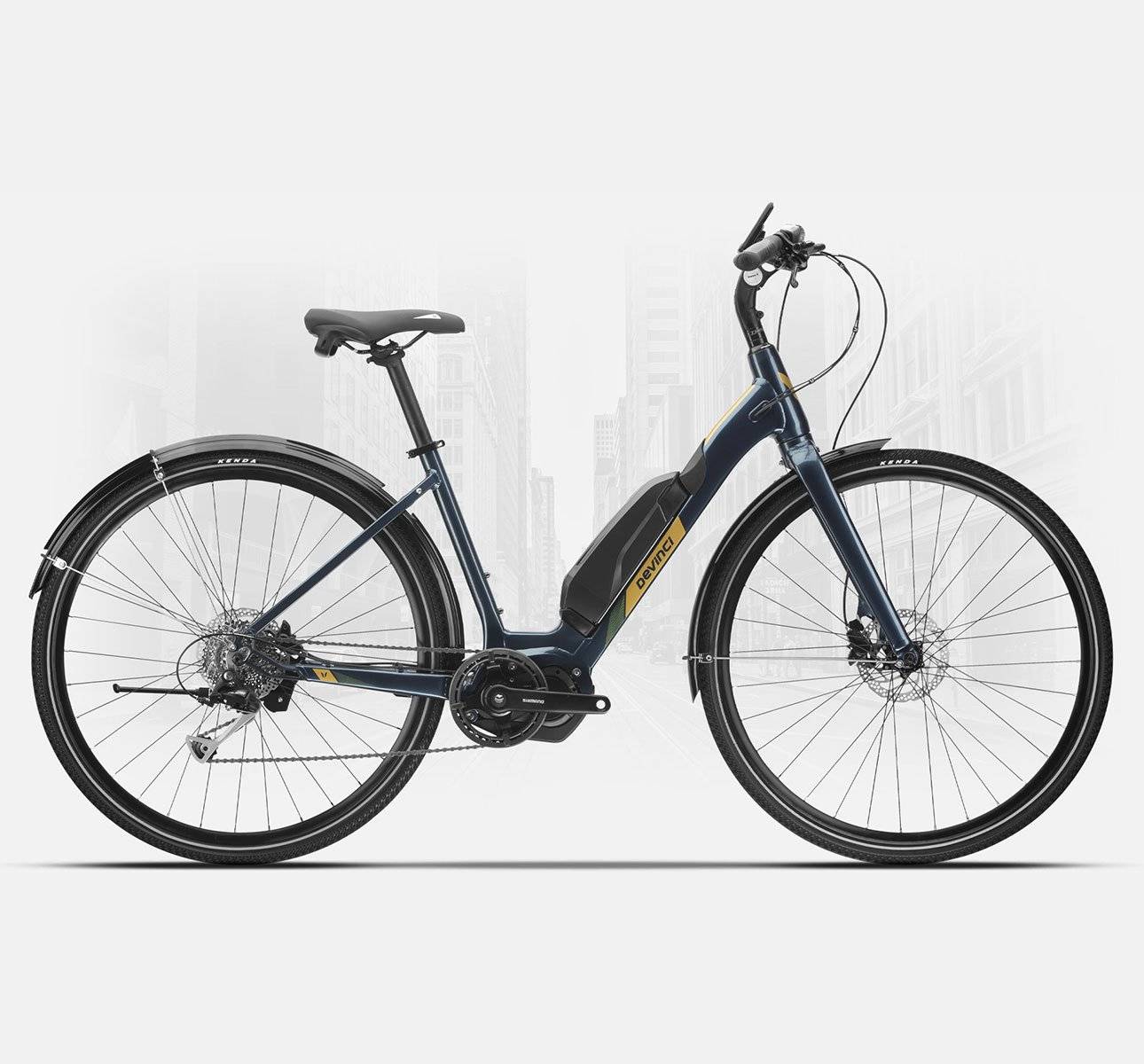 "Before we imported European bikes, we relied on hybrids as city bikes. Alas, very few were designed for the city. Devinci hybrids take city-cycling as seriously as they do recreational escapes. Behind each Devinci is a designer who pushes high-performance engineering without forgetting the reality of potholes or winter. Devinci's hold up."
---
Quebec may be the most European of Canada's provinces, and like Europe, they are made about cycling. Want proof? Take a look at their infrastructure.
Consider Montreal, the first major city to develop bicycle infrastructure back in the 1980's. Or, consider Le Route Verte, North America's largest network of dedicated cycling paths, now in excess of 5000km. That means an average Montrealer can ride their bike to work in summer or winter, ride the same bike on the weekend to escape outside of the city, or take the same bike and follow a path on a week long tour. This riding culture is the design context of the Devinci brand, it's DNA. It's what makes their bikes better.
That design context is what sets Devinci apart. While most of the bike industry builds the same commodity and competes on price, Devinci builds a user experience that is strong on breadth and depth. These are bikes of substance that take potholes and winter as seriously as they do a cottage country commute. These are bikes with soul.
---