The search for the all-weather sports-utility bike is over. Designed for the cyclist who needs a sprawl-and-hill busting companion that can easily be taken on a chill country trail too. Clean, utilitarian design. Investment-grade quality. Made in Germany.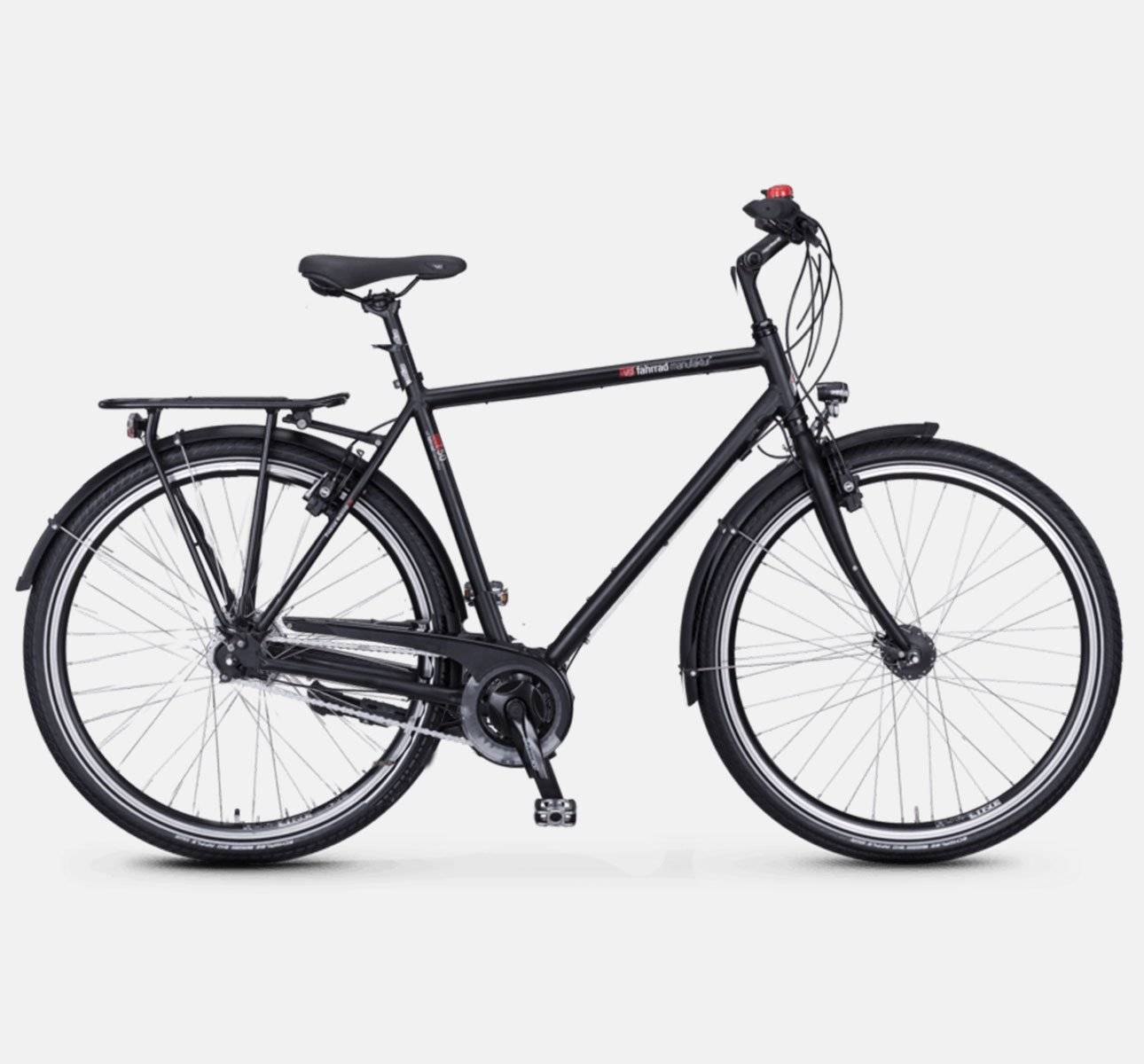 If you read the history of Fahrradmanufaktur you might think that Germany is a little bit like the Galapagos Islands of bicycle manufacture. And, it's kind of true! Fahrradmanufaktur produces its own evolved species of city bicycles, nearly impossible to reproduce elsewhere. Part of this is the regulative context where a "city bike" is defined. Part of it is the competitive ethos to innovate and increase quality. Part of it is the grassroots user-experience that develops bicycles that work in large, northern cities, From the geometry to the kickstand, these are bikes that take quality transportation seriously.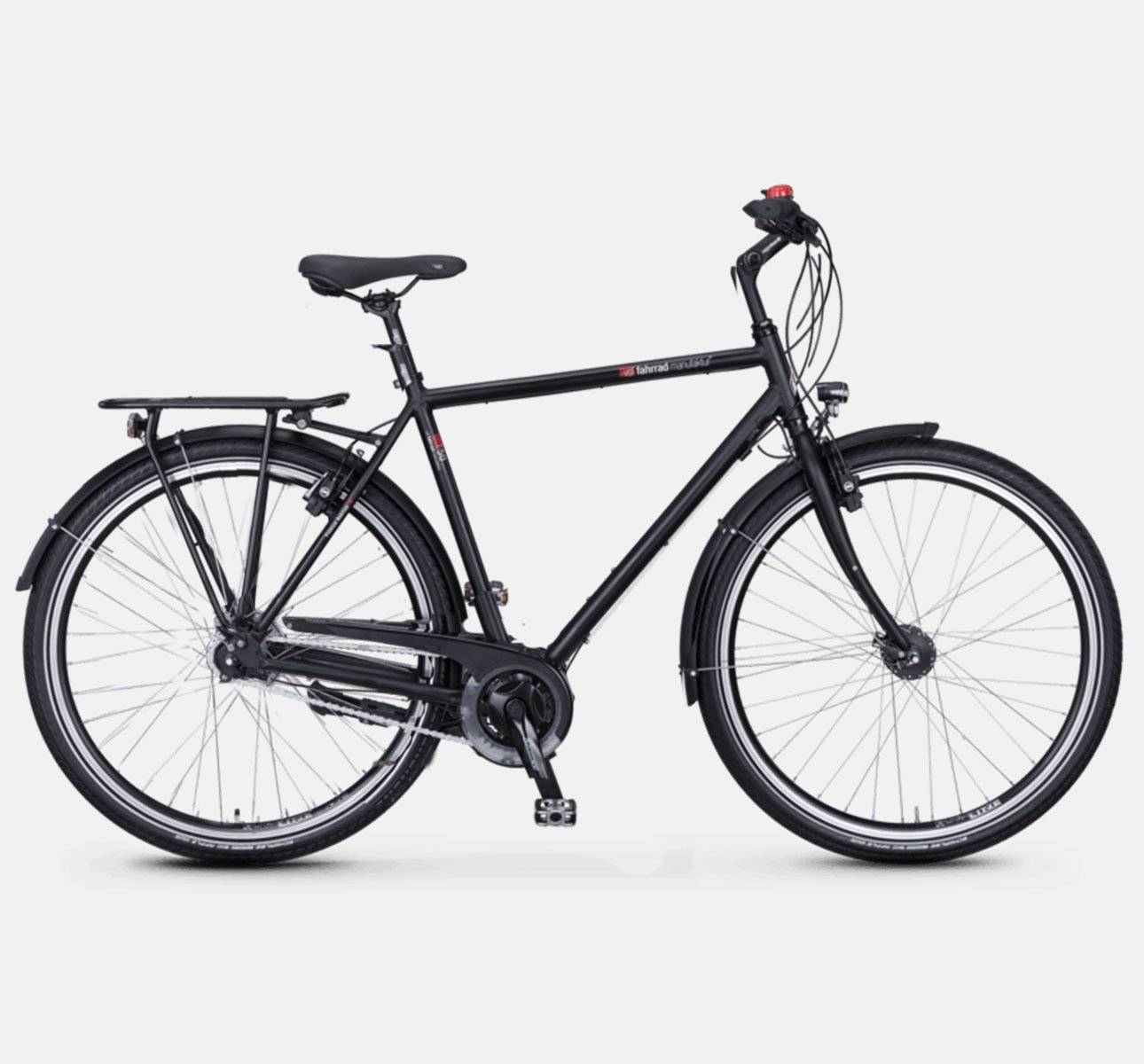 Let's see what makes this bike so special!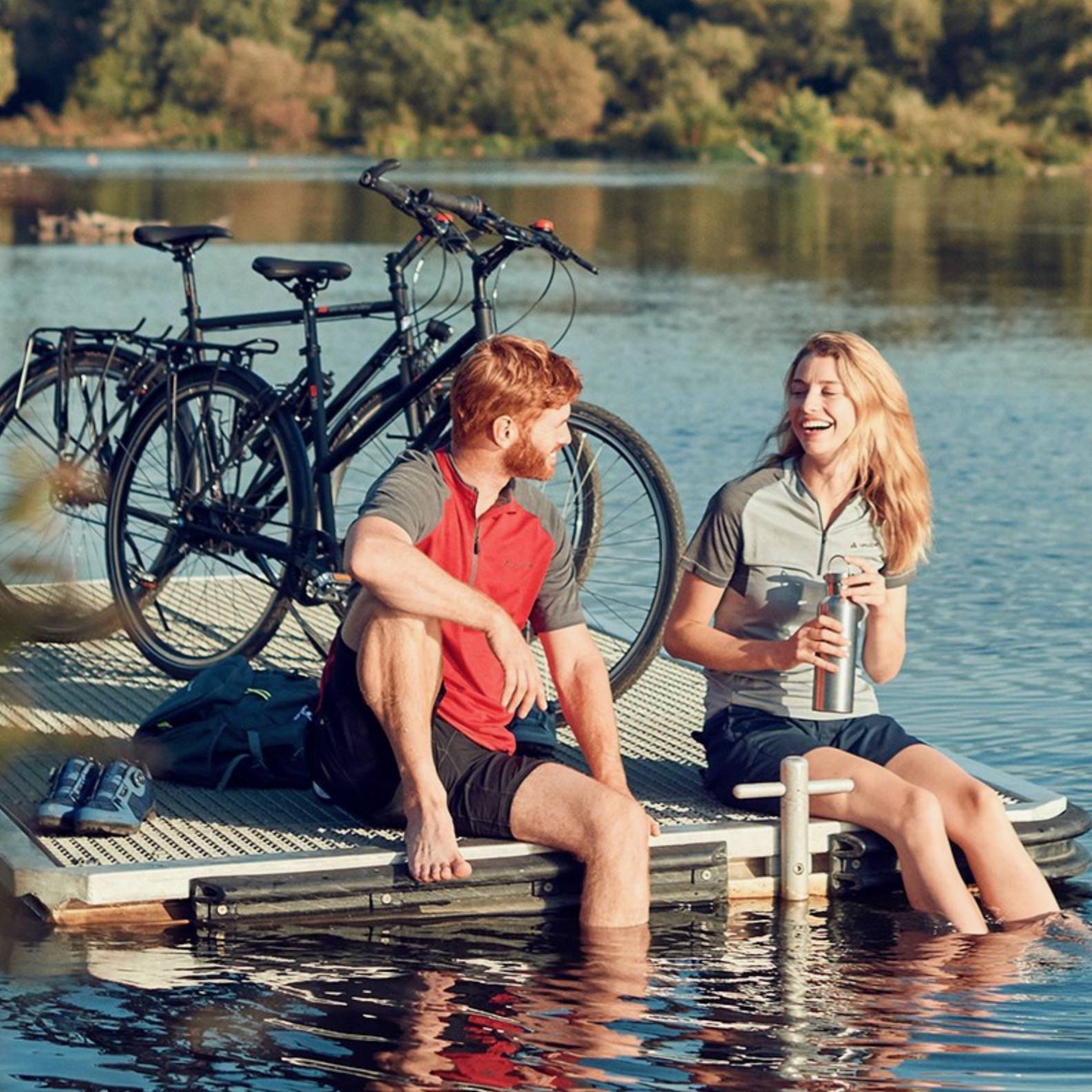 Most bikes these days are designed for speed and long-distance or short-distance comfort.
But, what if you want both?
Whether you're a long distance commuter who takes comfort seriously or a short-distance city cyclist who craves longer distance weekend adventure, the T-50 does it all!
It's the perfect cross-over bike:
Comfortable and efficient with super low maintenance parts.
Wide high-pressure tires: perfect for pavement or gravel roads.
Cottage country or city! It's your constant companion.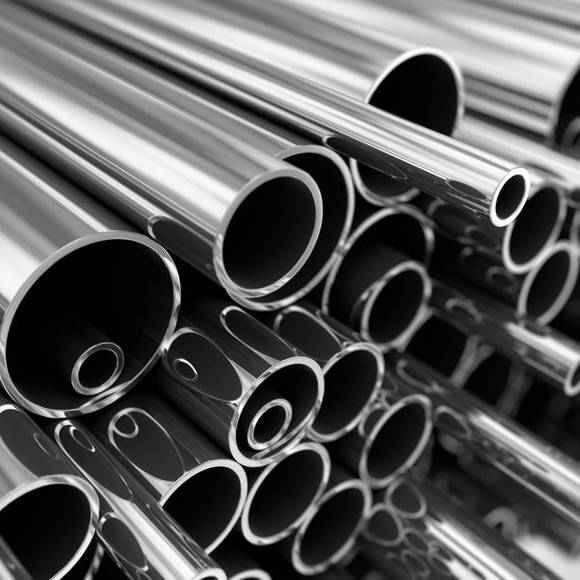 Riding longer distance or up hills? A lighter bike makes a difference!
If you're an all-weather cyclist locking up around town, frame material matters too.
Aluminum is lighter than steel, but most aluminum bikes have paper-thin walls that dent easily.
Not the T-50!! It has thicker tube walls to balance strength and weight. That means it's good for city and for weekend adventures.
But, the best thing about aluminum is that it can't rust. That means it's perfect for all-weather conditions, especially salty snow.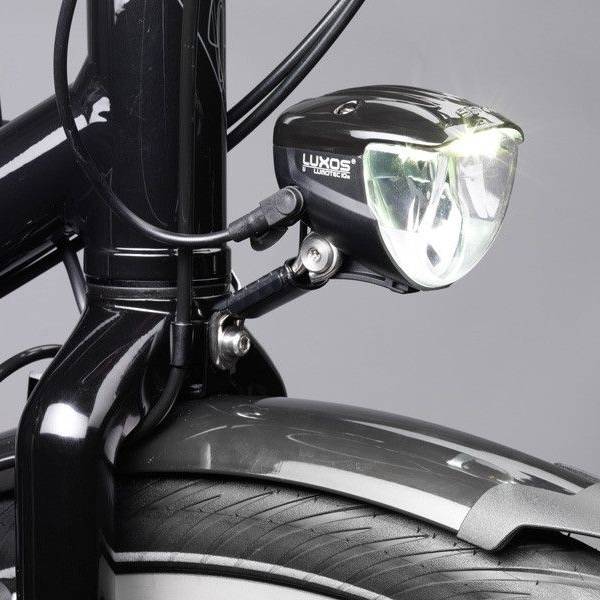 In Germany all city bikes are regulated by the straßenverkehrszulassungsordnung, a long word that we don't dare pronounce!
One thing it means is that all bikes must be sold with dynamo lights. Dynamo lights are powered by the front hub, which produces power for both front and rear lights.
These are incredibly bright, and you can use them at night or for daytime running lights (never be too safe!)
Plus, they bolt onto the bikes and are very hard to steal. Take that, thieves!
Oh, and they keeping running even when you stop. Wow!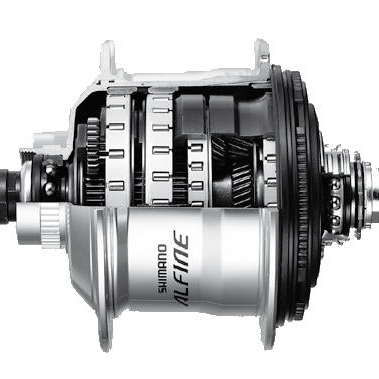 Few people in Germany or dense North American cities have places to store their cargo bikes. They probably also don't have a great deal of tolerance for high maintenance gears and brakes.
That's why Fahrradmanufaktur (like 90% of our city bikes) use internal gears. These are proven low maintenance systems that are remarkably reliable (and durable) and which seal all mechanisms behind tons of o-ring seals.
This is very different from most North American bikes which use external derailleurs, both of which require constant attention and are susceptible to easy damage.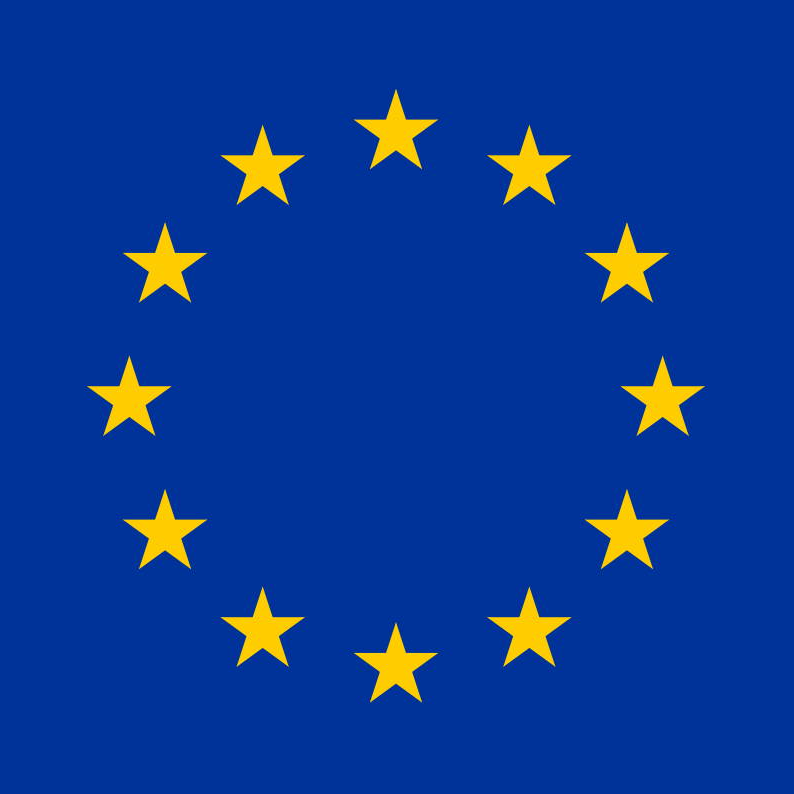 One thing we love about the T-50 is how it comes already equipped with racks, fenders, kickstands and lights.
The other thing we like is how it is made in Germany.
But, what if we told you most of the parts are also made in the EU?
Kickstands from Pletscher - made in Switzerland
Fenders by SKS - made in Germany
Racks by Racktime - made in Germany
Lights by AXA - made in Germany
Saddle by Selle Italia - made in Italy
Puncture resistant tires! Made by Schwalbe (Germany)
Even the grips are European! Made by Herrmans in Finland!
Just try finding a higher quality bike!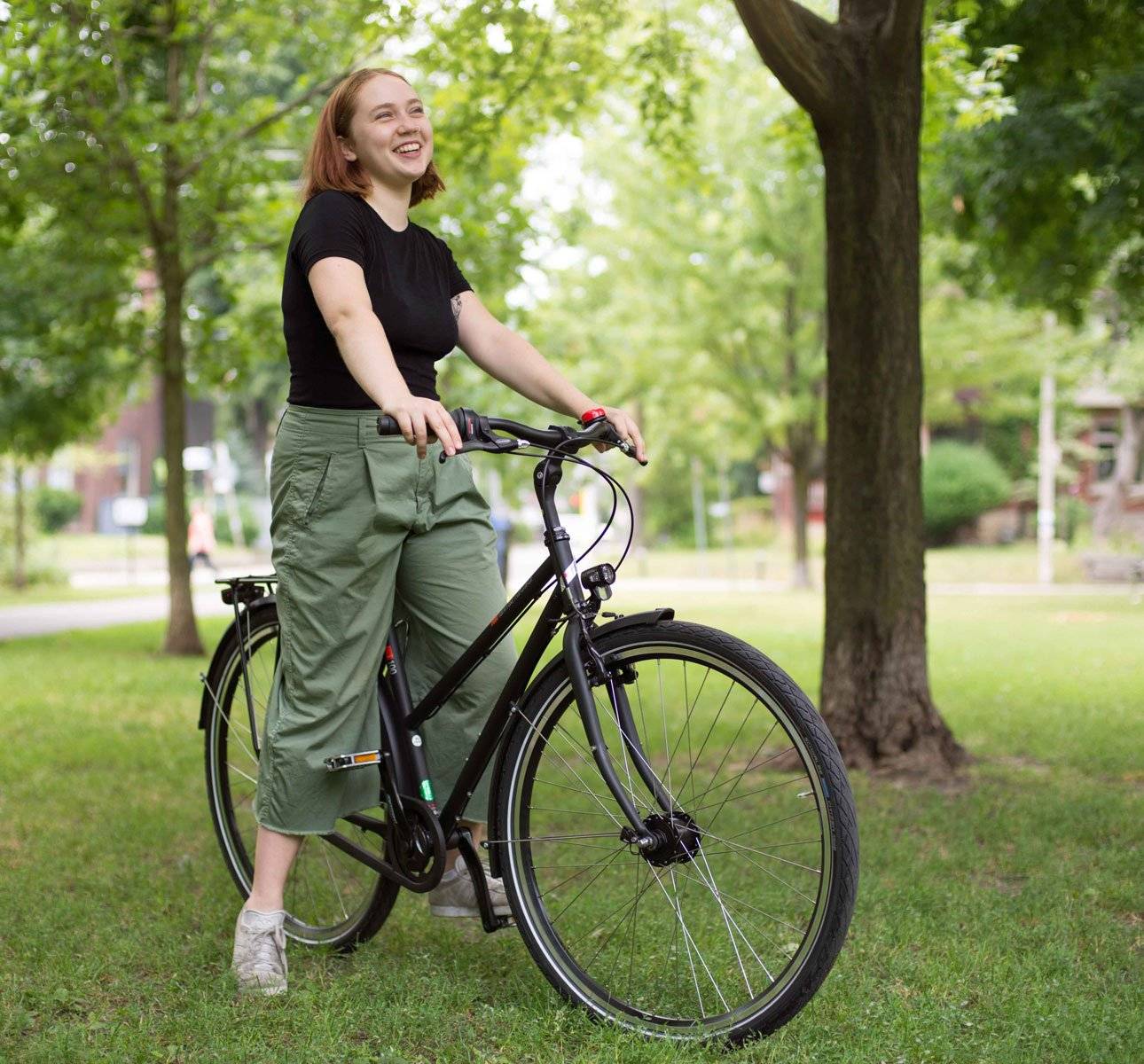 Ever wonder how Europeans look so darn stylish on their bikes?
If you're dressing up for work or a night on the town, it's good to have a bike that keeps your clothing clean. Most bikes don't do that!
From the German-made fenders to the full-cover chain case, you can rock your outfit grease-free.
The T-50 is understated design for the statement outfit. With the T-50, make the bike lane your catwalk!
Or, just wear whatever you want!
---
THREE GREAT FRAME-STYLES TO CHOOSE FROM!
A breeze to get onto and dismount from. The Low Step is also gender-free. For everyone!
Sporty with nice clean lines. The Step-thru is also gender-free. A bike for everyone!
The classic diamond frame with strong crisp lines. 100% unisex!
---
THE T-50 VERSUS A CONVENTIONAL DUTCH BIKE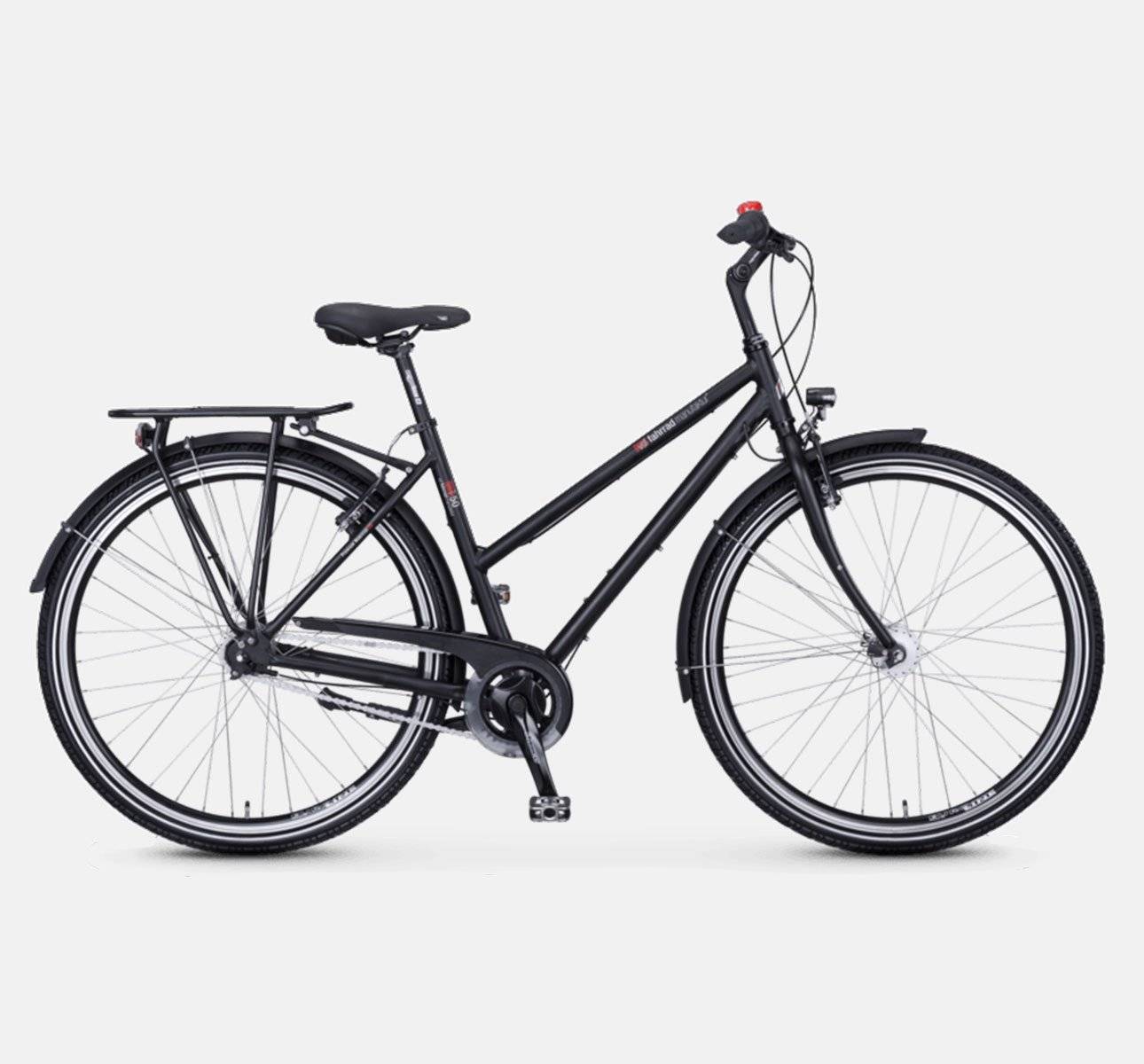 HOW ARE THEY DIFFERENT?
Lighter frame
Lighter parts (with same durability)
Sportier geometry for longer distances
Wide, high-pressure tires for multi-terrain
Light-weight (external) V-brakes: (more maintenance but very low cost to repair)
There is no doubt that the T-50 owes a lot to the venerable Dutch bike. And, while it evolves the Dutch bike considerably, it holds onto key fundamentals; quality especially.
On each side we review how each bike is different, but it's also important to view how each are similar too!
HOW ARE THEY SIMILAR?
Amazing Quality
Made in the EU
Powdercoat finishes: chip & rust resistant
Made for all-weather outdoor storage
Made for all-weather riding
Upright and comfortable
Low maintenance internal gears
Chaincase for clothing protection
Dynamo Lighting systems
Puncture resistant tires
Fully equipped (rack, fenders, etc)
HOW ARE THEY DIFFERENT?
Heavier frame
Heavier parts
Bolt-upright geometry for shorter distances
Conventional width tires for city use
Heavy, but practically zero maintenance (internal) drum brakes
THE T-50 VERSUS A "DUTCHI" STYLE BIKE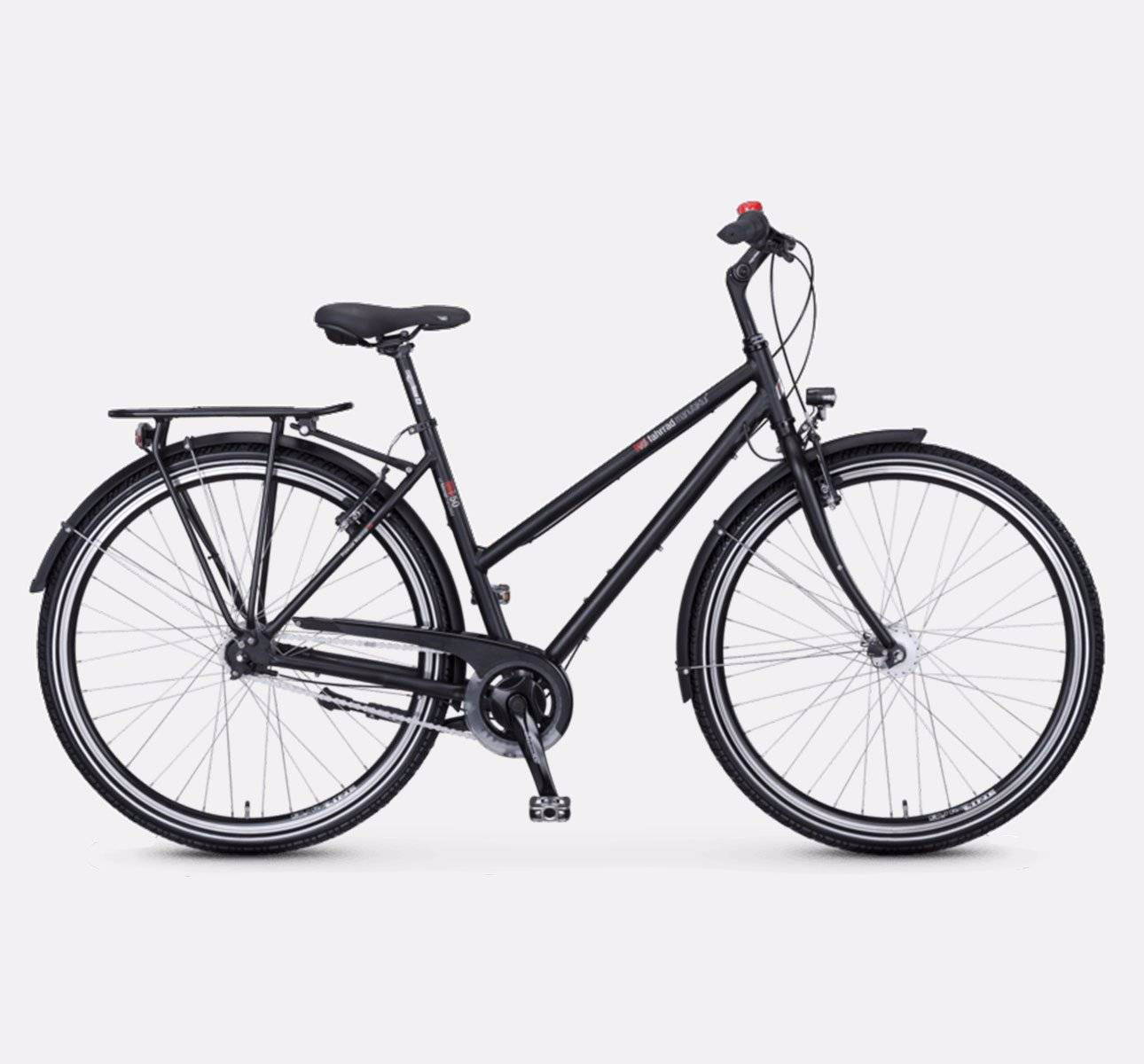 HOW ARE THEY DIFFERENT?
Amazing Quality - Made in the EU
Powdercoat finishes: chip & rust resistant
Sportier geometry for longer distances
Wide, high-pressure tires for multi-terrain
Made for all-weather outdoor storage
Made for all-weather riding
Dynamo Lighting systems
Puncture resistant tires
Strong rear rack (25kg)
So-called "Dutchi" bikes emerged out of California after the first wave of Dutch bikes we first imported back in 2006. These bikes borrowed heavily on the iconic Dutch style and upright riding position, but not much on durability or quality.
HOW ARE THEY SIMILAR?
Upright and comfortable
Low maintenance internal gears
Chaincase for clothing protection
Fully equipped (rack, fenders, etc)
Looks pretty!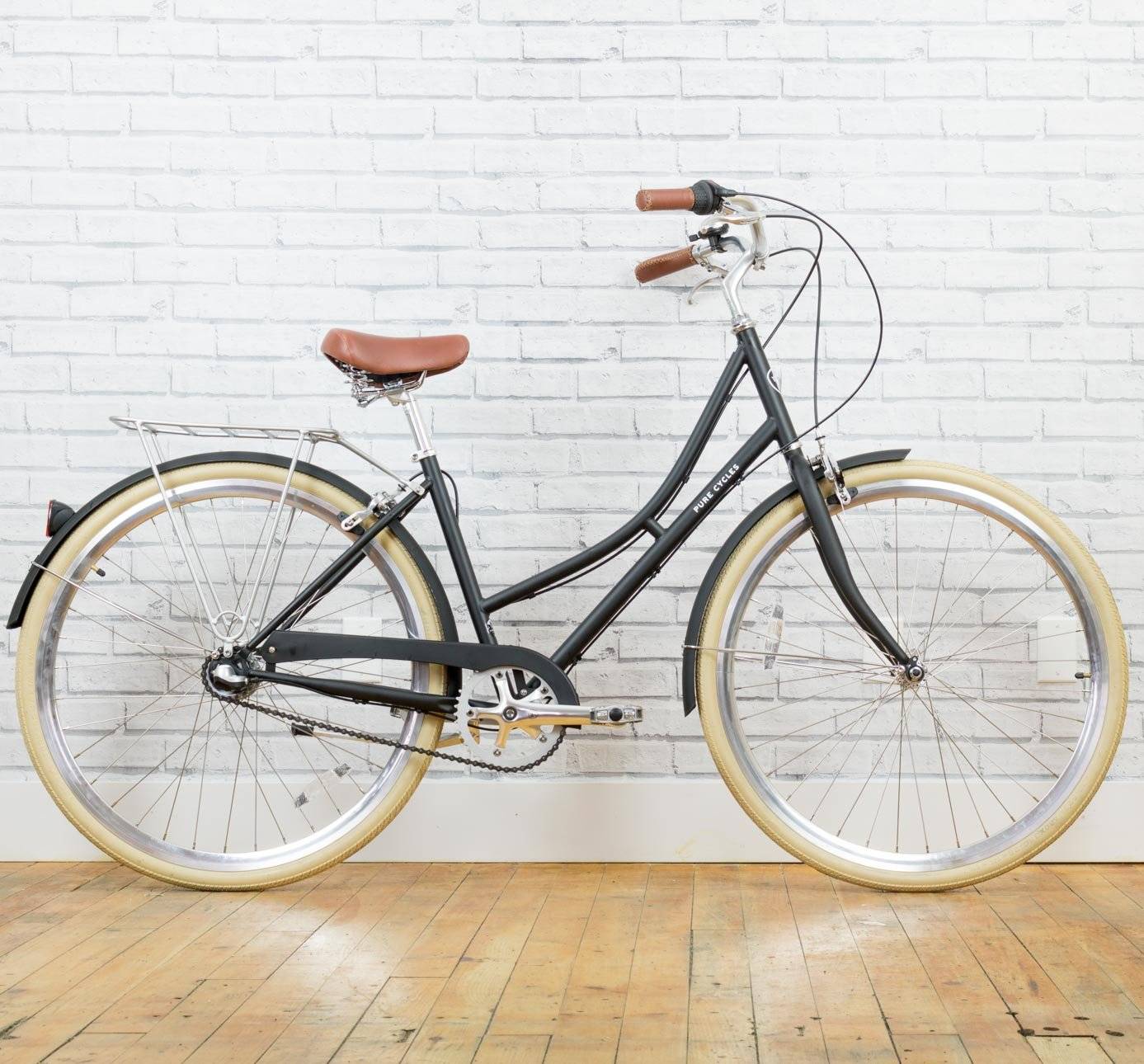 HOW ARE THEY DIFFERENT?
Lower quality - made in China
Wet-paint finishes: chips & rusts easily
Dutch style geometry for shorter trips
Conventional tires for city only
Spring/Summer outdoor storage only
Spring/Summer riding only
No lights
Cheaper tires, puncture easily
Weak rear rack (15kg)
THE T-50 VERSUS THE T-100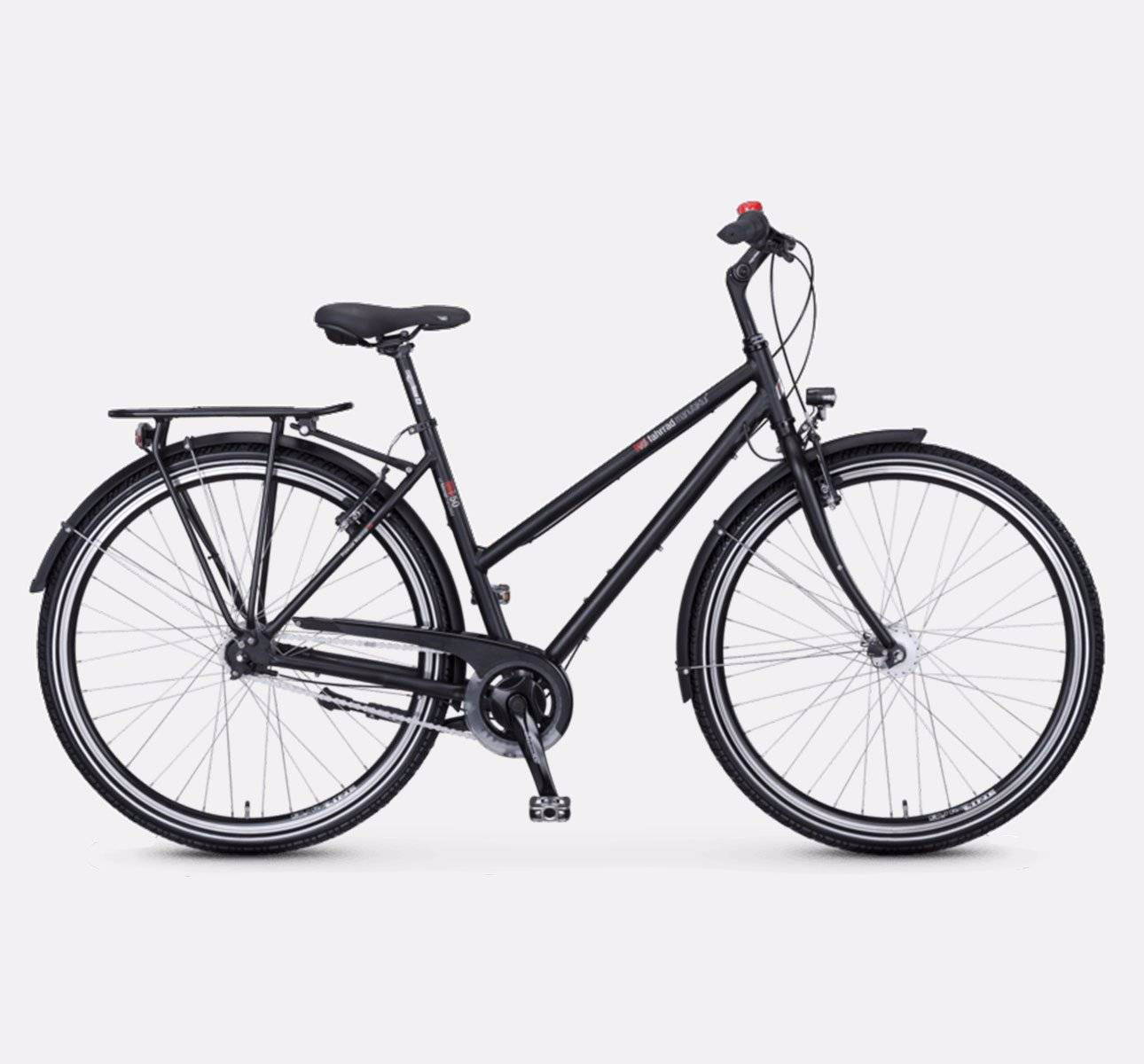 HOW ARE THEY DIFFERENT?
Durable Aluminum Frame (naturally rust resistant)
Seven Speed Internal Gears with 277% gear range
3/4 coverage "shotgun" chain-case
Center mount kickstand
The T-50 and T-100 are similar but different. Both can multi-task city utility and recreation perfectly. But, the T-100 is a better recreational bike, with more gearing range and a comfier riding frame.. And, the T-100 is arguably the better city bike too, with a fully covered chain and better kickstand too.
HOW ARE THEY SIMILAR?
Amazing Quality - Made in the EU
Powdercoat finishes: chip & rust resistant
Sportier geometry for longer distances
Wide, high-pressure tires for multi-terrain
Made for all-weather outdoor storage
Made for all-weather riding
Dynamo Lighting systems
Puncture resistant tires
Strong rear rack (25kg)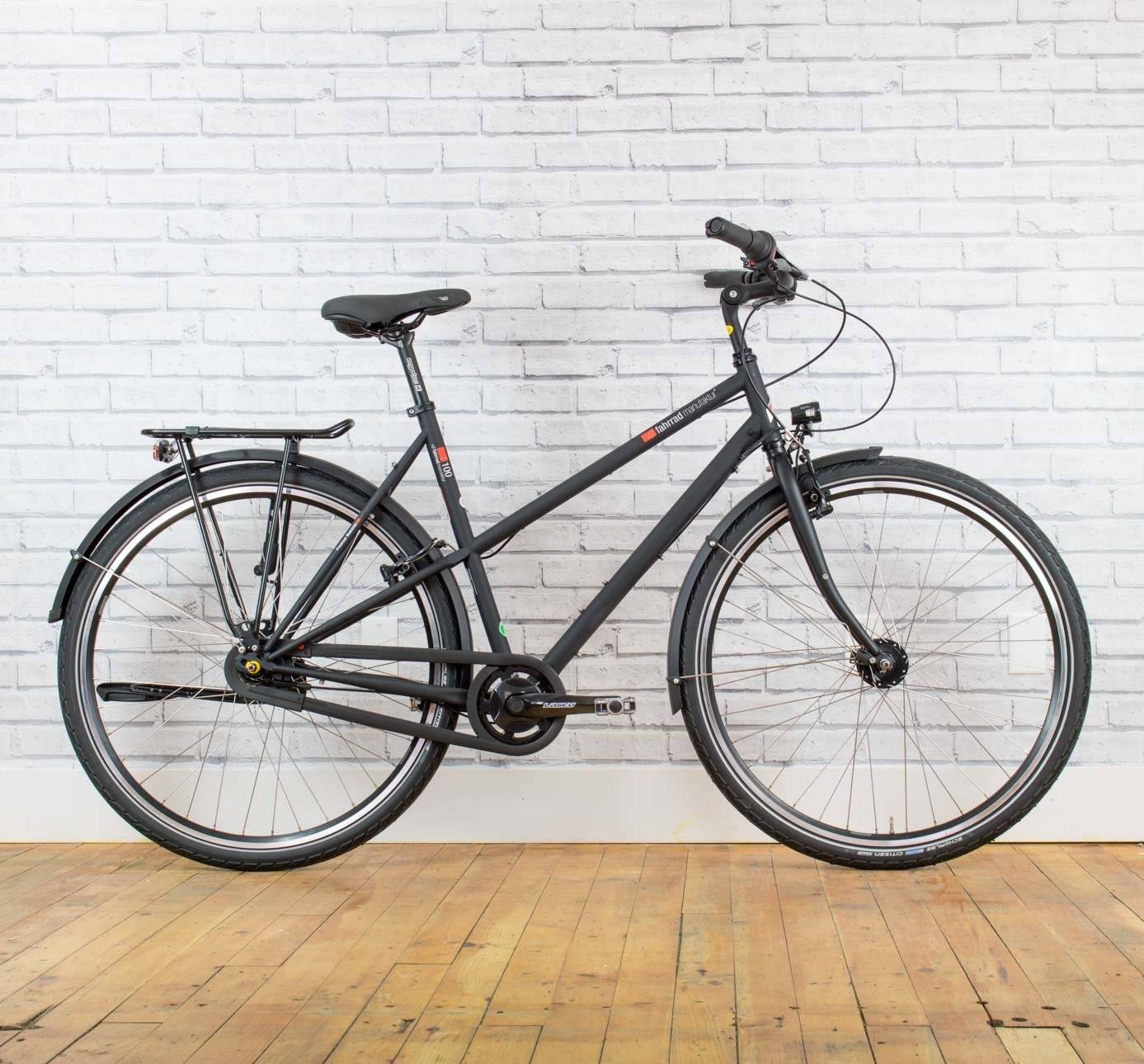 HOW ARE THEY DIFFERENT?
Stronger and more comfortable Cro-moly steel frame
Eight Speed Internal Gears with 306% gear range (mostly added climbing range)
Full chain coverage
Ultra-stable, wide-legged, rear-mount kickstand
---
ACCESSORIES WE HIGHLY RECOMMEND

The great thing about the T-50 is that it already has most accessories on it! But, a good bike always requires a good lock, and we recommend the burly German-built Abus Granit 53. Couple this with an Abus cafe lock, and you have a quick solution when you're in and out grabbing a coffee. If your storing outdoors keep the rain off with a waterproof lockable cover. And, for carrying stuff we love Germany's Racktime. They make bags and baskets that snap perfectly onto the Racktime rack that already comes on your T-50. Now, go for a ride!
---
Why do we love the T-50? There are so many good reasons!!
It's upright geometry is safe on the streets and comfortable on longer rides
It's aluminum frame is lightweight, strong, and best of all rust-resistant!
It's chain-case means we can dress-up and go for a night on the town!
It has a wide=range 7-speed hub that can go up almost any hill
It has a theft-resistant, battery-free, dynamo lighting system that lights up the night and runs even when stopped!
It is fully equipped with quality parts, from puncture-resistant tires to a comfy grips and gel seat
It's made in Germany!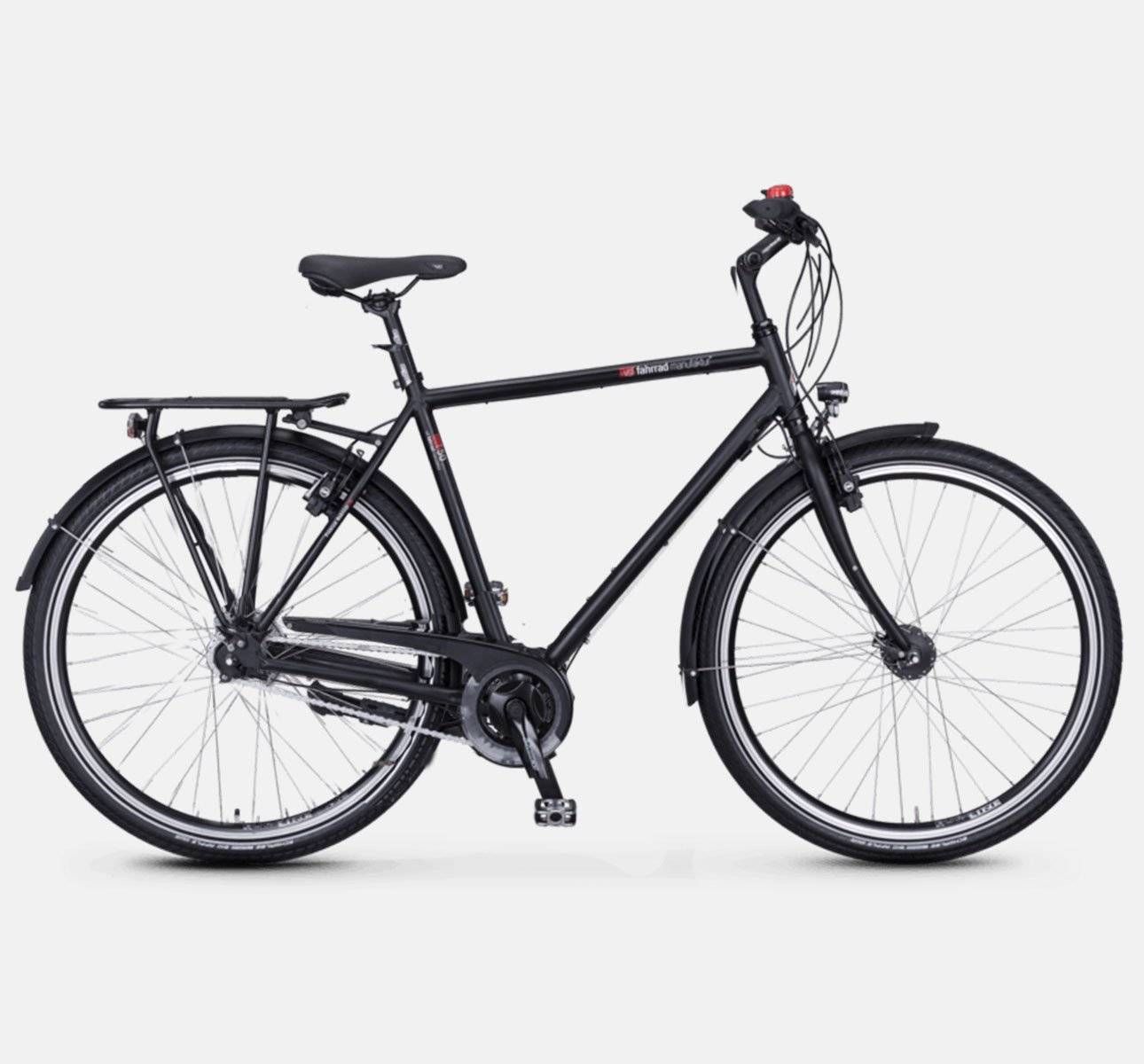 "As North America's first city bike importer, the quest to find the perfect city bike has been a long one. We started with Dutch bikes but they were far too heavy. We moved to price-point North American options, but the quality was poor. Our shift to Germany's Fahrradmanufaktur gave us and our customers bikes that are designed for big city sprawl, hills and weekend adventure. These are pure German ethos and aesthetics: understated form and overstated function"
---
It would seem Germans love smashing two nouns into a compound word - a "Komposita." The name Fahrradmanufaktur is such a Komposita and literally means "bike maker."
Perhaps it is this impulse to turn two words into one that defines Fahrradmanukfatur. In a world where bicycles are designed in an office in California and produced by a separate compound in China, Fahrradmanufaktur builds their bikes on their own compound in the lovely Hanseatic town of Oldenburg, Germany.
This isn't just for reasons of marketing or provenance, it's because of quality. And quality doesn't just mean durability (as it so often does), it also means performance.
Ultimately, quality is about tooling, If a factory is tooled to push innovation in durability and performance, then it can produce bikes that do more than other bicycles. Thus, who makes the best bicycle also becomes the question: who makes the best kickstand? As a compound, each part on a Fahrradmanufaktur contributes to the whole in its durability and function. Maybe that's why Germans like to smash nouns together. Maybe that's also why they still make their bikes in Germany. The parts become the whole!
What is a city bike? It's a question the Dutch answered long ago, but at some point, it seems they stopped asking the question. As the city bike moved outside of the Netherlands to bigger cities - with more hills and topography - the question needed to be asked again and again. As we shall see, Fahrradmanufaktur was critical in asking and answering this question, and their product is pure German formalism: detail, detail and more detail packed into an almost-perfect compound.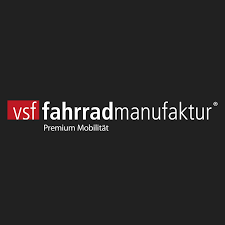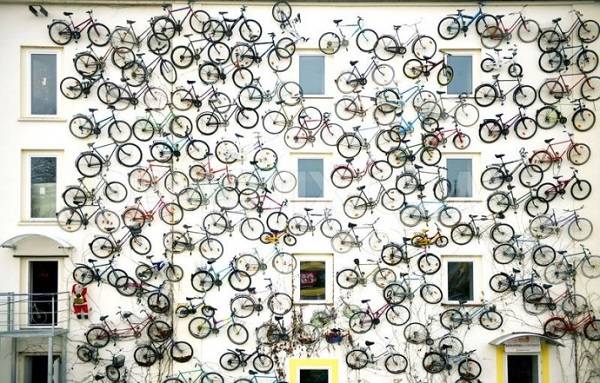 "Berlin is more a part of the world than a city, "said the 19th century Bavarian poet, Jean Paul. Today, that's still feels true. It's been observed that Berlin is like New York in its culture yet preserves nature like Seattle. And, unlike Amsterdam or Copenhagen - whose utopian bicycle cultures are impossible to replicate in North America - Berlin feels closer to home.  
While the Netherlands has seen a steady growth in city cycling for over 100 years, this was not the case in Berlin, Copenhagen or 'older' bicycle cultures in North America (the oldest being Montreal). What kickstarted these 'bicycle cultures' was the 1970's oil crisis. In Montreal this led to some of the earliest bike lanes in North America, but very little industry around city biking. In Copenhagen it led to the worlds finest bicycle infrastructure and an industry that punches above its weight. And, in Berlin it led to the same position many North American cities are in today, asking the question, what does bicycle infrastructure look like in a huge, sprawled out city? And, how is the bicycle that rides this infrastructure different?
In Montreal, as in the rest of Canada, the 1970's saw a large influx of heavy British city bikes, not unlike the Dutch bikes that we first imported as a company back in 2006. These provided as many new problems as they did solutions. They were heavy, they were archaic, and they couldn't handle sprawl or hills. In Copenhagen the industry largely innovated on the Dutch bike, making it lighter and increasing handling. But Copenhagen like Amsterdam is a small city and a flat city, and solutions were far more local than global. If a global answer was available, it's not surprising that it would be from Berlin.
---
Berlin is a city of over six million souls, nearly twelve times bigger than Copenhagen by population. Back in the 1970's, Berlin was home to several bike stores, many of whom were witnessing the same groundswell of grassroots citizen cycling as we do in North America today. They needed a one-bike solution that could handle long commutes, short commutes, hills and valleys, and could multitask long recreational weekend rides. These Berlin retailers tried Dutch bikes only to discover they only worked for short commutes, flat commutes, and definitely not longer recreational rides. It's the same issue we have here!
However, there was a problem. The bicycle industry in Germany at the time was largely tuned to performance and recreational bikes and turned a blind eye to the growth in city cycling. To the Berlin bike stores responding to their customers and who believed biking is a real transportation solution, this was very frustrating. It's the same problem we have in North America today. Does your local bike store carry city bikes? Do they even know what a city bike is?
In true German fashion these Berlin retailers banded together and created a regulative body called the VSF, the Verbund Selbstverwalteter Fahrradbetriebe, which meant, the "association of self-managed bicycle companies." These companies developed certified (zertifiziert) best-practices for bicycle shop management, bicycle design, bicycle infrastructure, and bicycle legislation. You can see the little label in the picture to the left. Today they are a 300 strong network of bicycle companies that play an outsized role with German bicycle legislation and whose members follow strict regulative agreements on product innovation. Many of the companies we import, from Hebie, to Busch & Muller, to Tubus are all VSF companies.
The VSF began by creating a set of standards and certifications that pushed German bike companies to produce proper city bikes. Today, it is these standards that VSF created that form the Straßenverkehrszulassungsordnung, or: the Road Traffic Licensing Regulations for bicycles. Under these rules, to be certified a road traffic vehicle - in this case, a city bike - a bike would have to always include the following: a low-maintenance internal gear hub, fenders, a certified rack (of minimum 35kg load), a dynamo lightest, to name a few. This set the standard for what is and isn't a city bike, and created a fertile context for city bike innovation.
---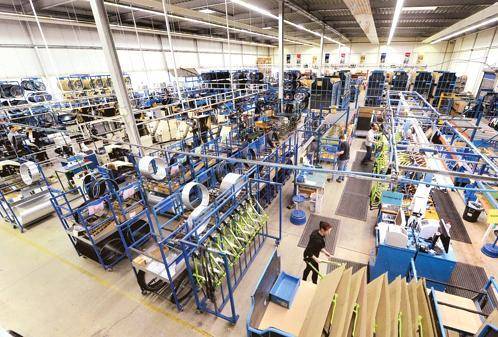 Of course, every journey takes unexpected twists and turns.
Alas, the German bike industry largely ignored the VSF and continued producing mountain bikes and racing bikes. That took a lot of leadership on the part of VSF to change, but to get there they had to go it alone. But, by this time they were strong in partners and in principles. They knew what they wanted because they knew what their customer wanted. They had their ear to the ground. Now it was time to build a bike from the ground up.
So, in 1988, VSF decided they couldn't wait for the bike industry to follow their certifications. Instead, they would model what this bike looked like themselves. In 1988 VSF set up the first Fahrradmanufaktur plant in Bremen. This factory let them produce bikes according to the standards that they thought essential (and that today have officially become German law). Moreover, this produced the culture of innovation (and regulation) that makes every part of a Fahrradmanufaktur so special.
Today, Fahrradmanufaktur are built in Oldenburg, near Hamburg. They are part of a much larger, VSF certified factory that builds other great German bicycle brands like Rabeneick, Kreidler, and more. Today they have expanded, becoming the go-to brand for touring and trekking - employing many of the lessons they learned from building strong city bikes that can multi-task distance and heavy loads.
So, why Fahrradmanufaktur? Because they are leaders, innovators, and manufacturers who produce investment-grade products with a heck of a lot of integrity.
And darned if they don't build a pretty bike too!.
---