A lot of people say, "you could buy a car for that!" As if somehow a car did more or saved you money. If you live downtown anywhere, chances are good you live up 90% of your life within a 7km radius. That means your entire life is made of distances too far to walk and too far to drive. Enter the Nihola 4.0. It's a bike with trunk space. An impact-resistant box that can carry up to four kids, and it can be parked outside year round, just like a car. Best of all, it breezes through gridlock without ever having to search for a parking spot again. What we love about the 4.0 is it's combination of perfect stability and handling. That's important if you're sharing space with cars. And it's lightweight too, nearly 40% lighter than it's competition! That means you can take it for long rides on the weekend and explore new parks and coffee shops. Like we said: the Danish SUV!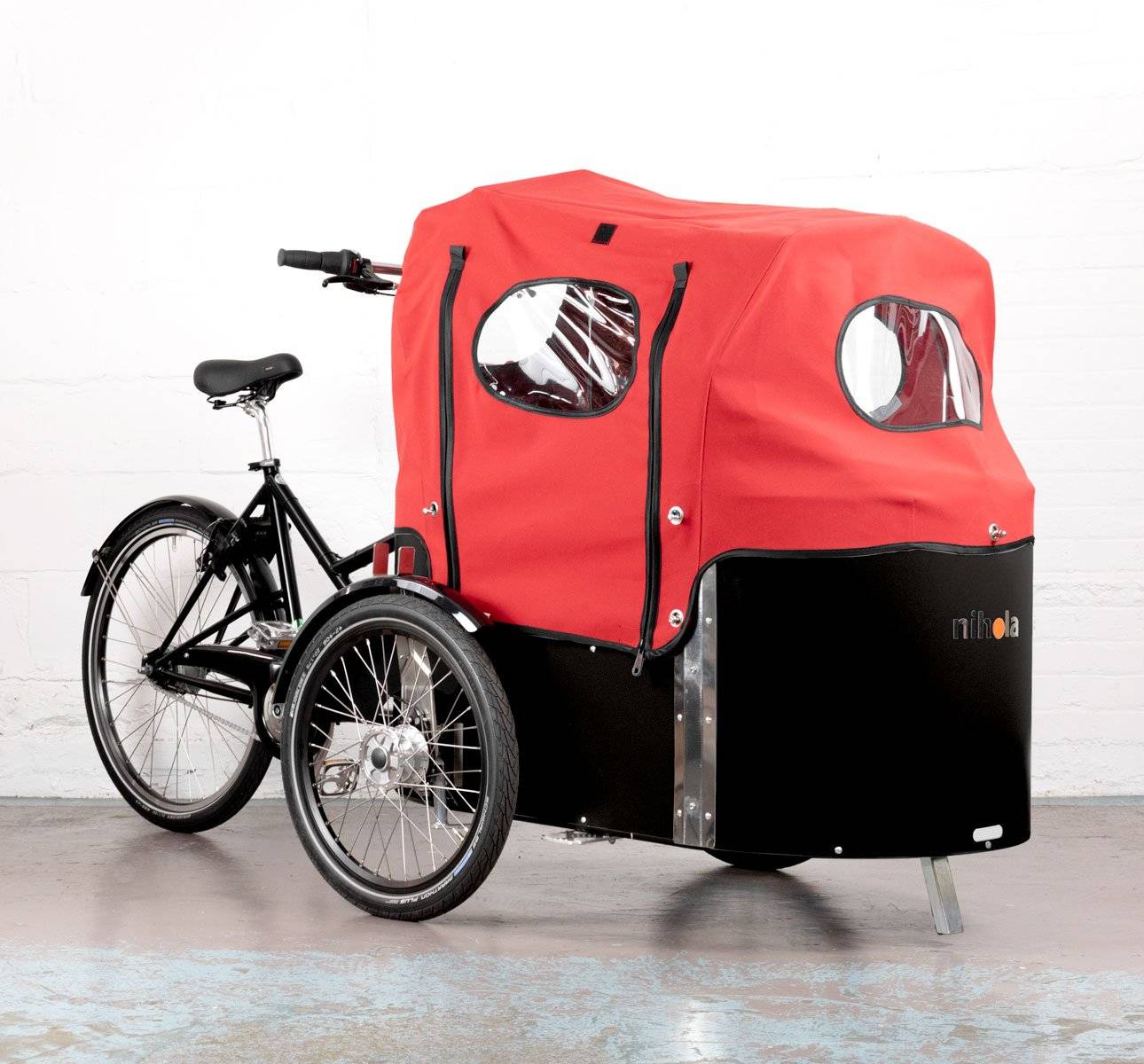 At Curbside, our commitment is to import cargo bikes that prioritize safety, and not just storage. The difference between a European cargo bike and a North American cargo bike is impact resistance. The box isn't just meant to be a container for your kids or groceries, it's meant to be a safe container. Like all of our cargo bikes, Nihola is ruthlessly tested in the lab and proven on the streets to keep your kids safe as possible from crashes and falls. Like the family car - or a replacement of your families car! - it is meant to navigate dense urban gridlock with grace and safety. Like all cargo bikes, it's faster than driving or walking, but like a car, it's got a whole lot of trunk space, and it takes safety seriously. Very seriously.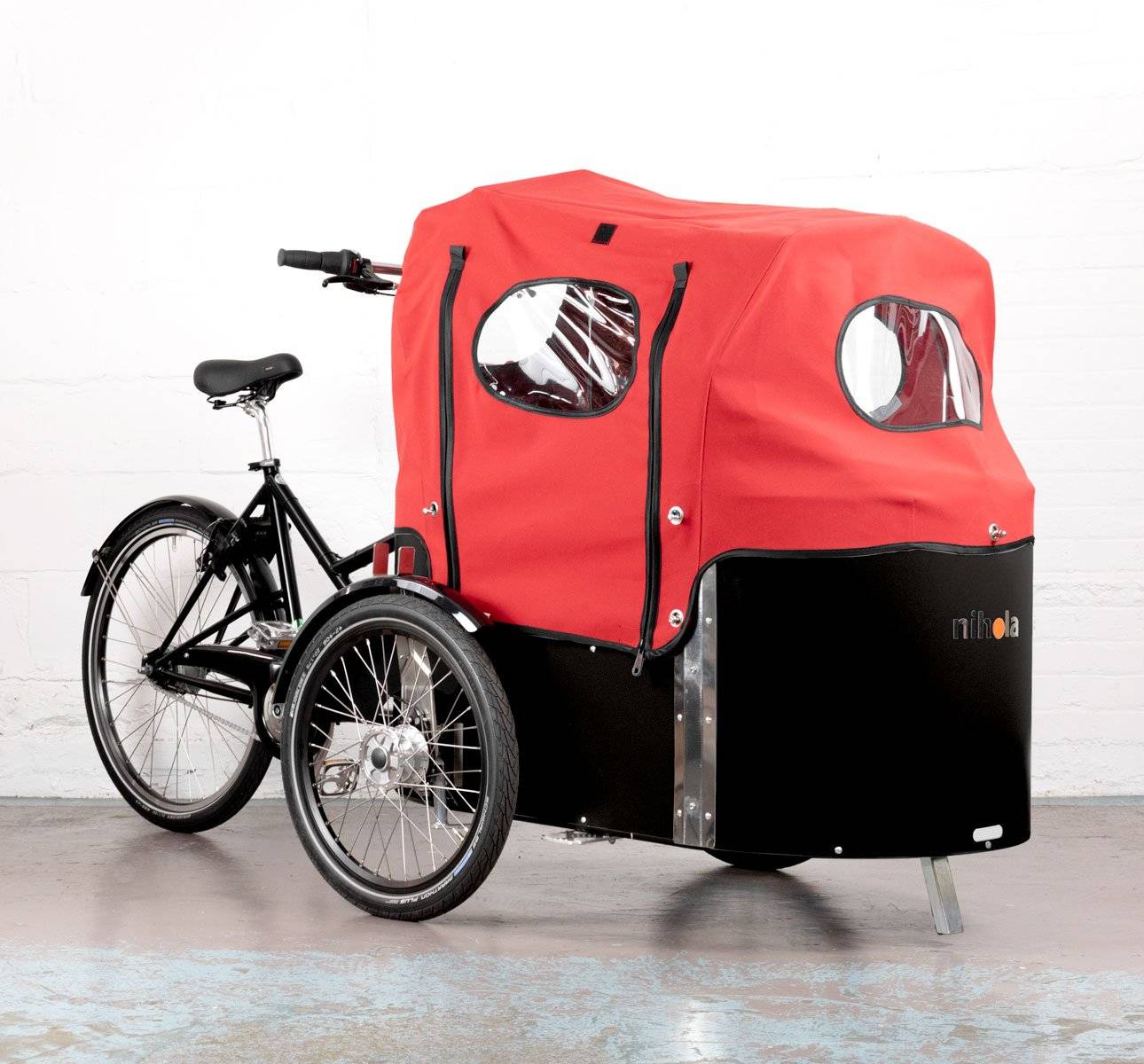 Let's see what makes this bike so special!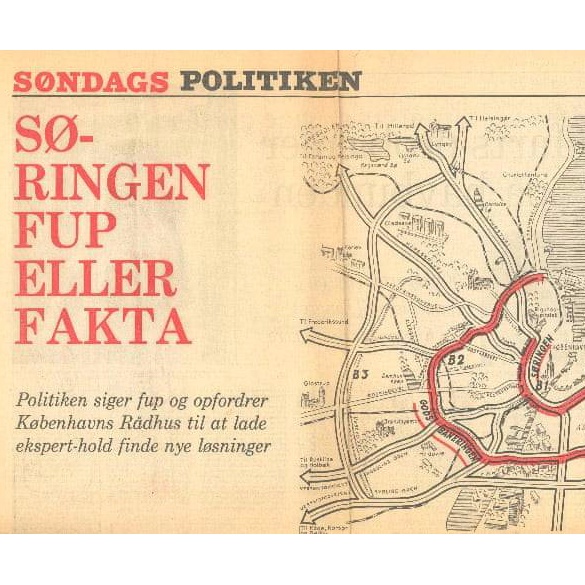 MADE FOR THE PRE-BICYCLE CITY

In the 1960's Copenhagen was sprawling like a North American citiy. Not a bike lane in sight. However, there was a small car-free island in the middle of town called Christiana. There began the Christiana cargo bike. It was heavy, used box-pivot steering, and wasn't that different from a Babboe Big, but it worked.
As citizens protested the proposed ring roads it became clear that bikes would be the answer. However, with few bike lanes in place, the Danes felt unsure on two wheeled cargo bikes, but equally unsure on the clunky Christiana three-wheelers.
Nihola was borne in the same context as many North American cities today. It had to be stable like a three wheeler but nimble like a two wheeler. And it had to be light. That's why it's the perfect bike to 'Copenhagenize' cities. Let's dig in!
Perhaps Nihola's greatest contribution to cargo bike design is its independent steering. Our rule for cargo bikes is simple. First, it must be impact resistant. Second, it must be stable - and a three wheeler is! But third, it must be nimble, because in a cities that don't have bike infrastructure, bikes compete in the same space as cars - and that's where handling becomes just as important as stability.
Whereas most cargo bikes steer by 'swinging' the entire box left to right, the Nihola steers much like your car. And, because you're not swinging a heavy box left and right, it is light to the touch and highly responsive.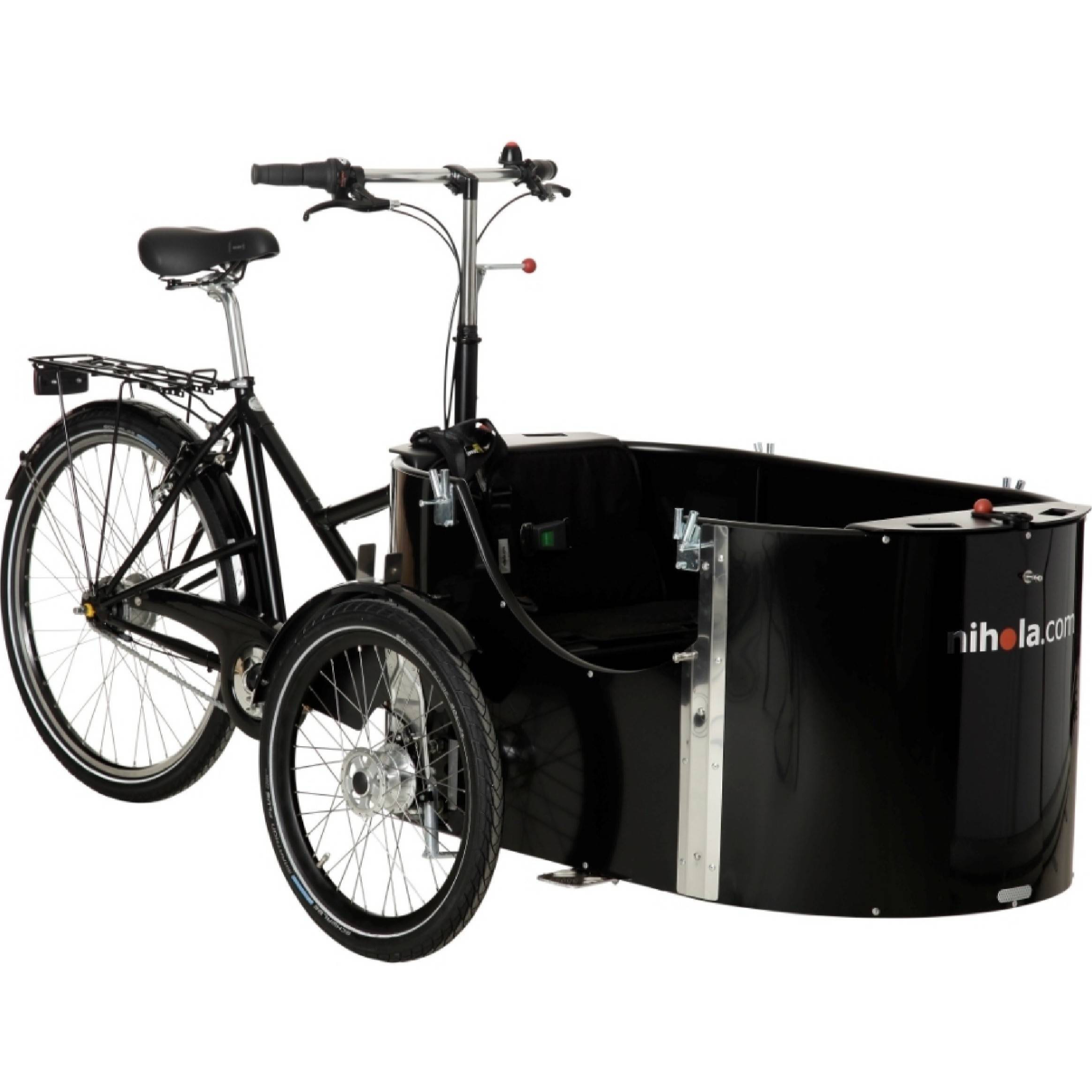 The box on a cargo bike is not just about storage, it's about safety. And, safety means impact-resistance. All of the cargo bikes we import are rigorously tested in the EU to protect precious cargo against crashes and collisions.
Each company approaches impact resistance differently, but if they're from the EU, each takes it very seriously. Urban Arrow uses EPP helmet foam. Babboe uses marine grade Finnish hardwood. Bullitt uses aircraft-grade honeycomb boards.
The Nihola box is surrounded by welded steel tubes and covered by impact-resistant Lexan plastic. The same stuff found in hockey rinks to sustain massive body checks. This keeps the bikes weight low and the safety very high.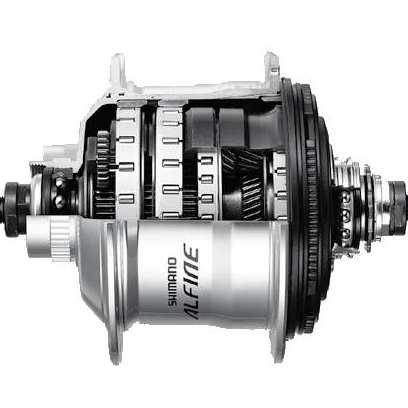 Few people in Copenhagen or dense North American cities have places to store their cargo bikes. They probably also don't have a great deal of tolerance for high maintenance gears and brakes.
That's why Nihola (like 90% of our cargo bikes) use internal gears and brakes. These are proven low maintenance systems that are remarkably reliable (and durable) and which seal all mechanisms behind tons of o-ring seals.
This is very different from most North American bikes which use external derailleurs and brakes, both of which require constant attention and are susceptible to easy damage.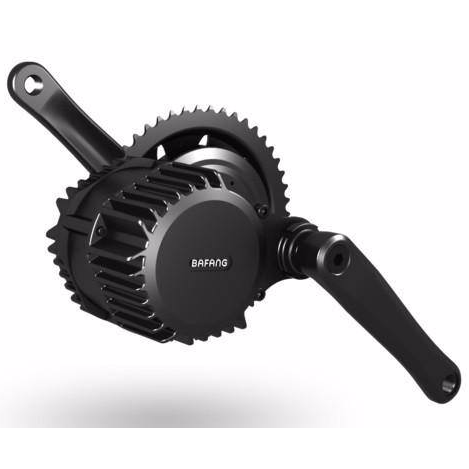 Need an assist? Sometimes heavier cargo and bigger hills require an added bit of oomph.
Unlike Urban Arrow, Bullitt or Babboe, Nihola does not make an integrated e-assist bike. Perhaps one day! Instead, we install a kit.
Choosing kit require experience and discernment. Our criteria is that it come from a proven company who have made the investment in North American service centres, because after-sales service is key. We use the Bafang BBSHD kit. A powerful 500W motor that you can install now or later. If you plan on installing later, we recommend buying the disc brake model. Email eric@curbsidecycle.com for more details!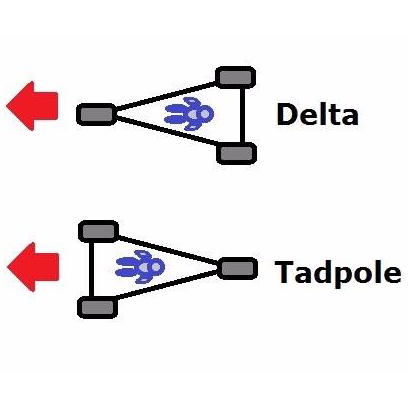 Image: https://engineerdog.com/2015/09/09/engineering-a-3-wheel-vehicle-chassis/
There are two different kinds of 3-wheeled trikes. Delta's, which have the two wheels at the back (also known as Rickshaws) and Tadpoles, which have both wheels at the front. Tadpoles are much better.
On a tadpole, both front wheels steer, offering much more control and way less tippiness. Moreover, on a Tadpole the centre of gravity is much lower, contributing to enhanced control and handling. The drivetrain attaches to one acceleration wheel, rather than two, so one is not steering against the drive wheel all the time.
The other great thing? You can see your cargo!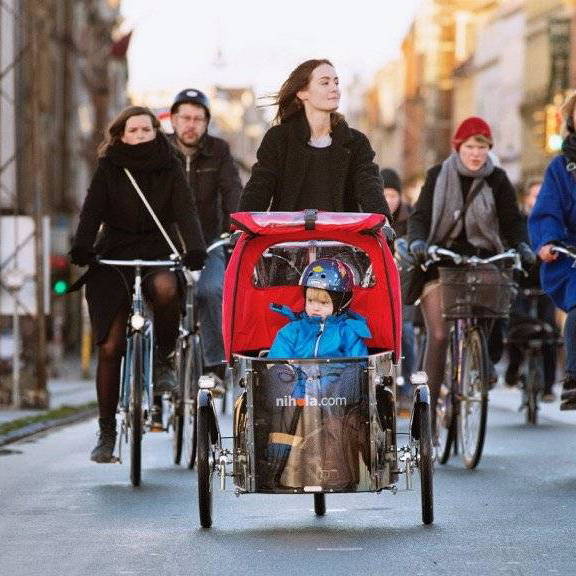 Danish bikes are famous for being upright and comfortable, and this is certainly true for the Nihola bikes. Not only do you sit high above traffic - so you can look out for danger - you're also in a relaxed position with your shoulders squared and your back upright.
And, with the super low step-through frame it's easy to hop off safely!
Safe, comfortable, and a joy to ride - that's the Nihola difference!
---
Fenders to keep your clothing clean
Internal gear hub to reduce maintenance
Internal drum brakes to reduce maintenance
Impact-resistant Lexan Plastic Box
Choose from 12 different colours panels
Choose from 8 different colours rainhoods
PEDAL POWER OR PEDAL ASSIST!
---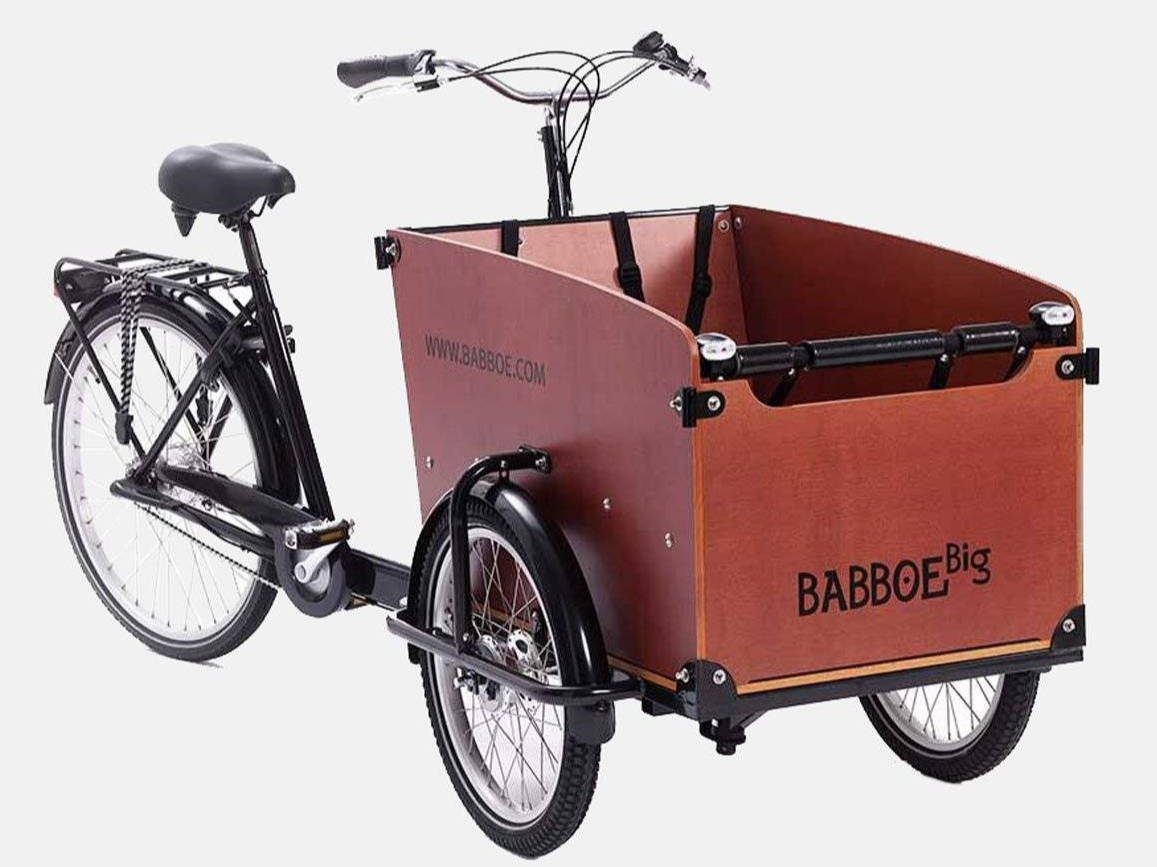 MSRP $3499 (w/out raintent)
HOW ARE THEY DIFFERENT?
Box pivot steering (wheels are attached to box and entire box steers)
Impact-resistant marine-grade plywood
7-speed internal gear hub with 277% range
Fits four kids
130lb weight
Without a doubt, the cycling world owes Babboe a thanks for being the first to scale the 3-wheeled cargo bike. But, sometimes the world still requires more. If a cargo bike is judged by weight, steering and stability then the Big only wins on one score (stability). The independent steering and lightweight design of the Nihola is the reason why it's our number one selling bike. It's 40% lighter than the Babboe, and reacts much quicker in traffic.
HOW ARE THEY SIMILAR?
Rigorously tested in the EU to withstand impacts and crashes
Strong steel frames that are treated for rust resistance and chip resistance
Can both be stored outdoors in all weather
Both use low maintenance internal gears
Both use low maintenance (internal) drum brakes
Chainguard to keep clothing clean
Upright seating position
Comfortable grips and saddle
Puncture resistant tires
100kg cargo capacity + 100kg rider capacity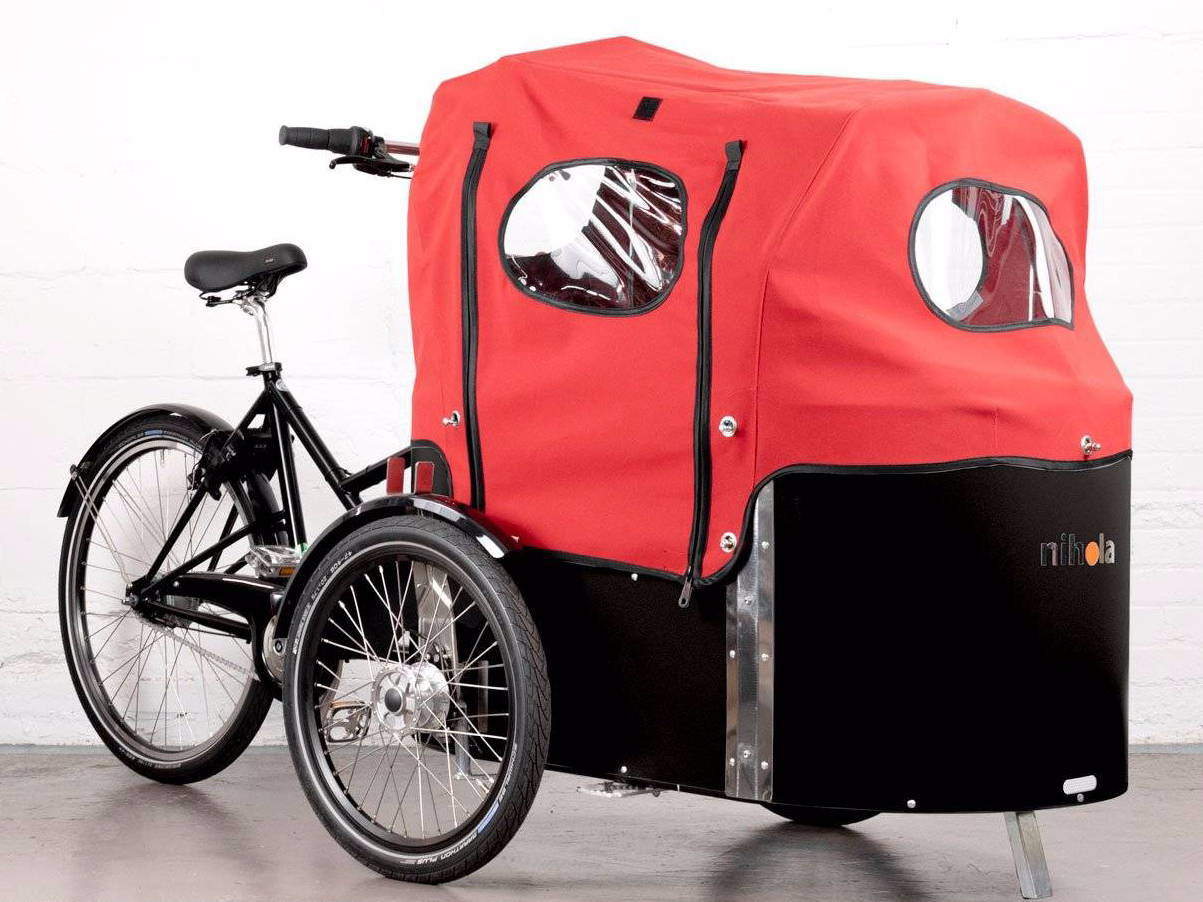 HOW ARE THEY DIFFERENT?
Independent steering (only the wheels turn, just like a car!)
Impact resistant Lexan Plastic
8-speed internal gear hub with 306% range
Fits four kids
81.5lbs weight
NIHOLA 4.0 E-ASSIST VS BABBOE CARVE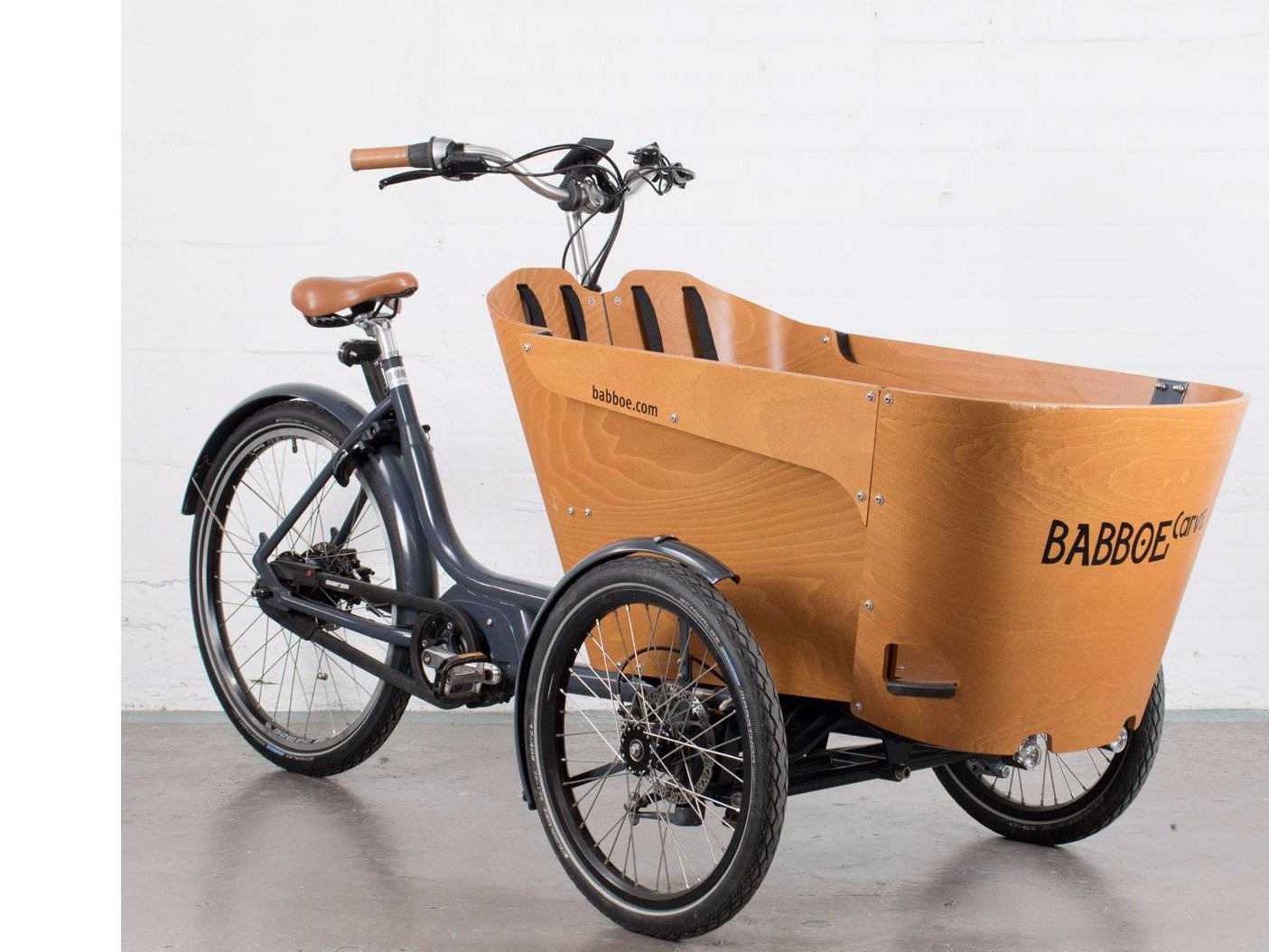 MSRP $10499 (w/out raintent)
HOW ARE THEY DIFFERENT?
On/off tilt steering option
Glues to the ground on high speed corners
Heavier wood box for impact resistance
High quality Yamaha motor integrated into frame
Global after-sales serviceability on motor
Wide-range Nuvinci hub with 380% range
High powered lights runs on battery
Carries 2-4 kids (w/extra bench)
150lbs weight
The Babboe Carve is without a doubt the most advanced cargo bike on the market. It borrows Nihola's independent steering and adds a higher-speed tilt feature - which you can also turn on/off. So, how to choose? The Nihola is perfect for slower-speed dense urban traffic whereas the Carve is perfect for dense urban traffic and higher-speed off-street bike paths. The biggest reason to go for the Carve? The best-in-class Yamaha motor.
HOW ARE THEY SIMILAR?
Rigorously tested in the EU to withstand impacts and crashes
Independent steering
Strong steel frames that are treated for rust resistance and chip resistance
Can both be stored outdoors in all weather
Low maintenance internal gears
Powerful disc brakes
Chainguard to keep clothing clean
Upright seating position
Comfortable grips and saddle
Puncture resistant tires
100kg cargo capacity + 100kg rider capacity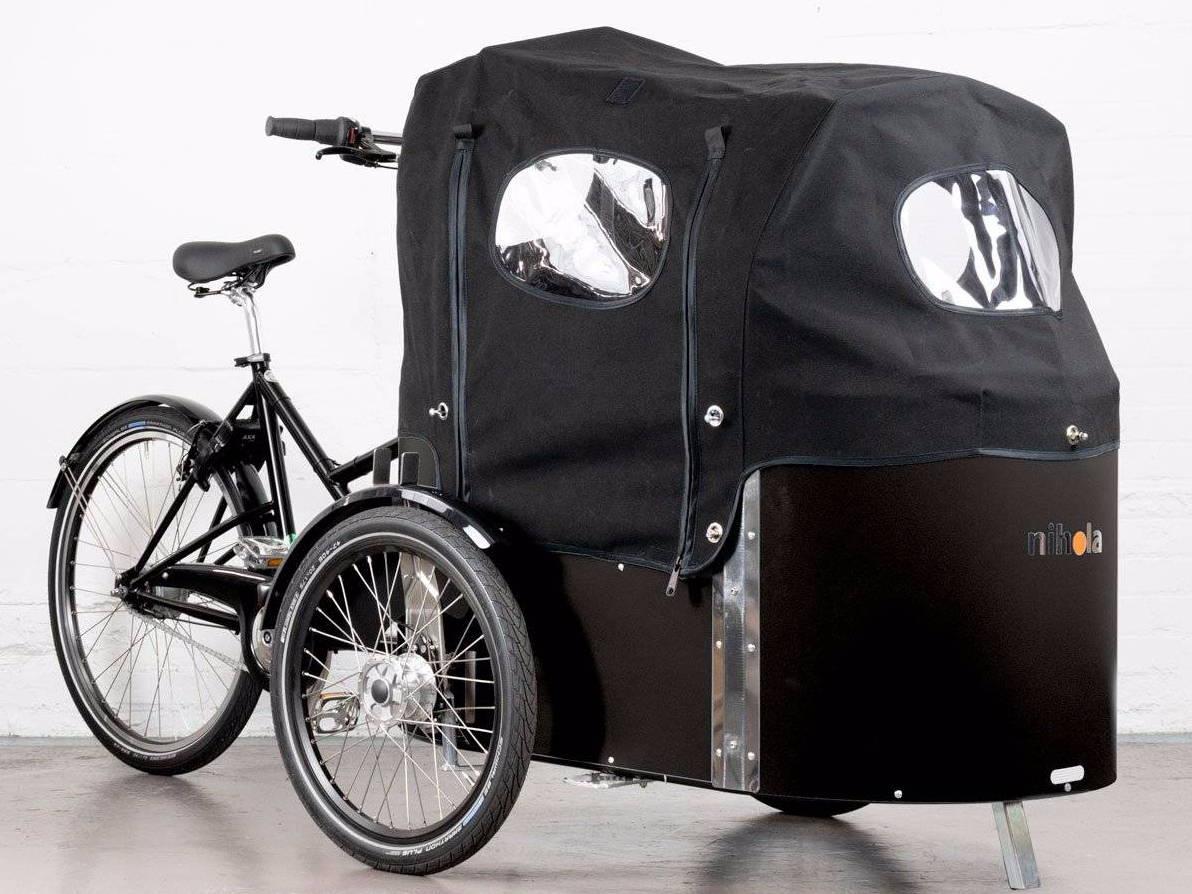 HOW ARE THEY DIFFERENT?
Independent steering only
Get's a bit tippy in high speed corners
Lightweight, impact-resistant Lexan Plastic
Good quality Bafang aftermarket motor kit installed onto frame
Spotty after-sales serviceability on motor
Decent range Nexus hub with 306% range
No lights included
Carries 4 kids
98lb weight
---
ACCESSORIES WE HIGHLY RECOMMEND

Your Nihola is ready to hit the streets but before you go out make sure you have the worlds best lock, an Abus chain! Storing outside overnight? The Parka is strongly suggested. A rear rack helps organize more stuff and the Elips light securely bolts to the rear rack for theft-proof visibility.
---
Why do we love the Nihola 4.0? Because it's safe and fun, and has zero learning curve!
It's the number one cargo bike in Denmark.
The three wheels keep you stable and the independent steering provides handling where bicycle infrastructure is lacking
The Lexan plastic box is highly impact resistant and super lightweight
The steel frame is strong and both chip and rust resistant
The upright position fits all riders and is safe and barrier-free
The puncture resistant tires are a welcome touch
The full chain case means less laundry so you can look sharp
It's better than a car!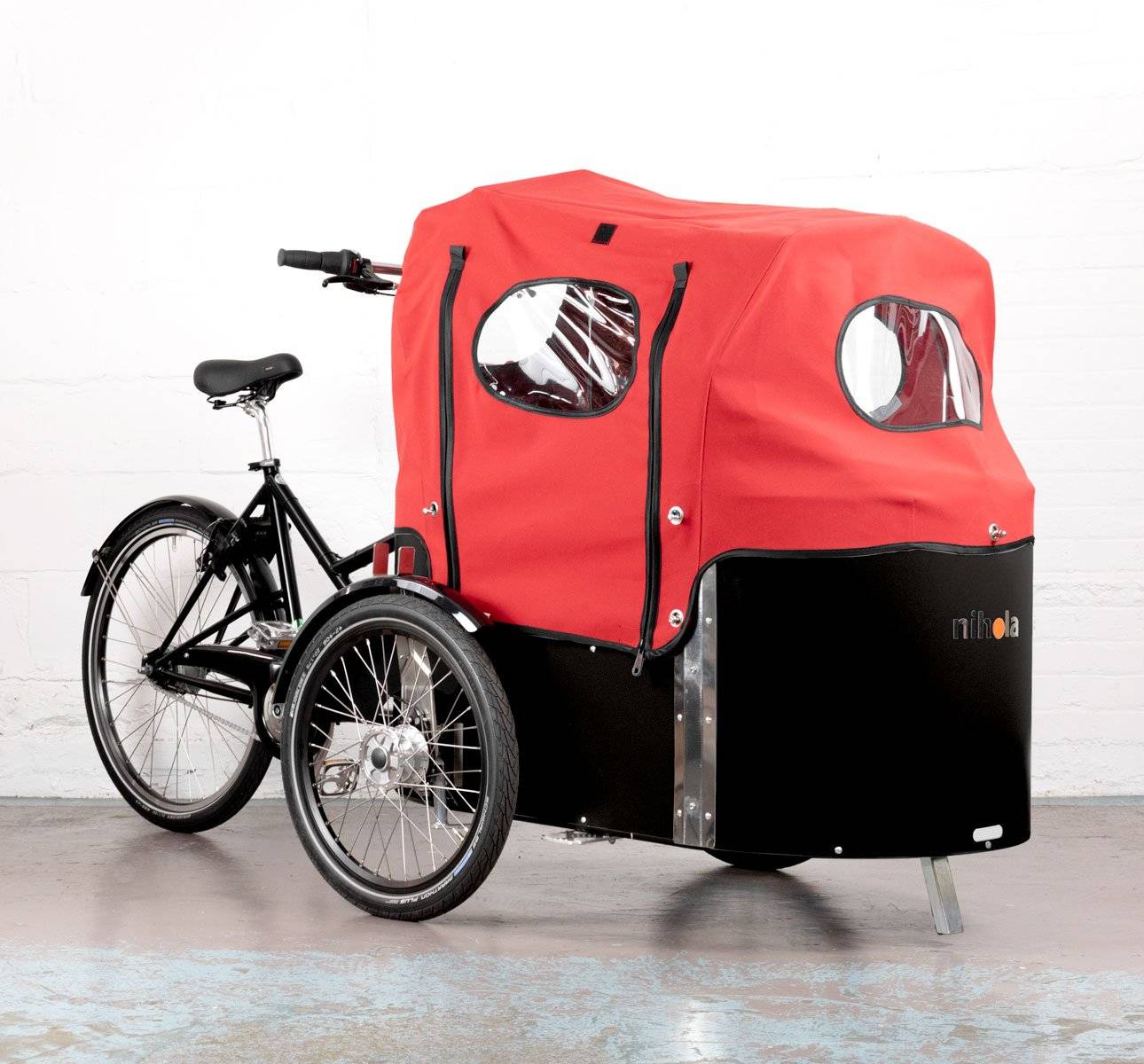 "Today, Copenhagen is known as a leading bicycle city, with algorithmic bicycle signalling systems, bicycle freeways, and a taxonomy of bike lanes used by urban planners everywhere. But, it wasn't always this way. For a long time, bicycles competed in the same space as cars, and a cargo bike was needed that took on more safety. This is why Nihola is the perfect North American cargo bike, it was designed for the emerging bicycle city. In fact, it helped emerge the Copenhagen we know today."
---
In 1998 Niels Holmes Larson (Ni-ho-la, yes, it's true) was at a bike show in Copenhagen. As an engineer in a city that had rapidly grown its cycling culture and infrastructure since the late 1980's he was interested in the bicycle itself; and whether better engineering could close down barriers to create more cycling adoption.
An article in a Copenhagen newspaper proved he wasn't the only one thinking the exact same thing. In the article the writer wrote of the same bicycle show, saying that 'bicycles would only be able to compete against cars when they could transport two children and groceries at the same time.' And so, Nihola was borne.
In Holland people often own more than two bikes per person. In Denmark it's usually just one. That means the Nihola had to be a cargo bike and a regular daily bike, all in one. The independent steering provides two wheel handling and the 70lb weight is nearly 40% lighter than the competition.
And, it's safe. That means the box is tested for high impact resistance but it also means the bike can share the same space as cars with responsive handling and a stable footprint.
Today, Nihola is the most common cargo bike in Denmark. And, they are still made there too. From the frame welding to final assembly. They are a company of stubborn integrity who take quality and engineering seriously, Curbside is the first store outside of Europe to import Nihola, and we're proud to be the oldest and largest dealer in North America.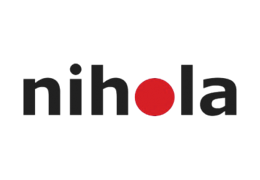 ---