The Load 60:
Freedom, unloaded.
A low centre of gravity and huge cargo bed let you haul anything while still enjoying the bike's full suspension and sporty feel.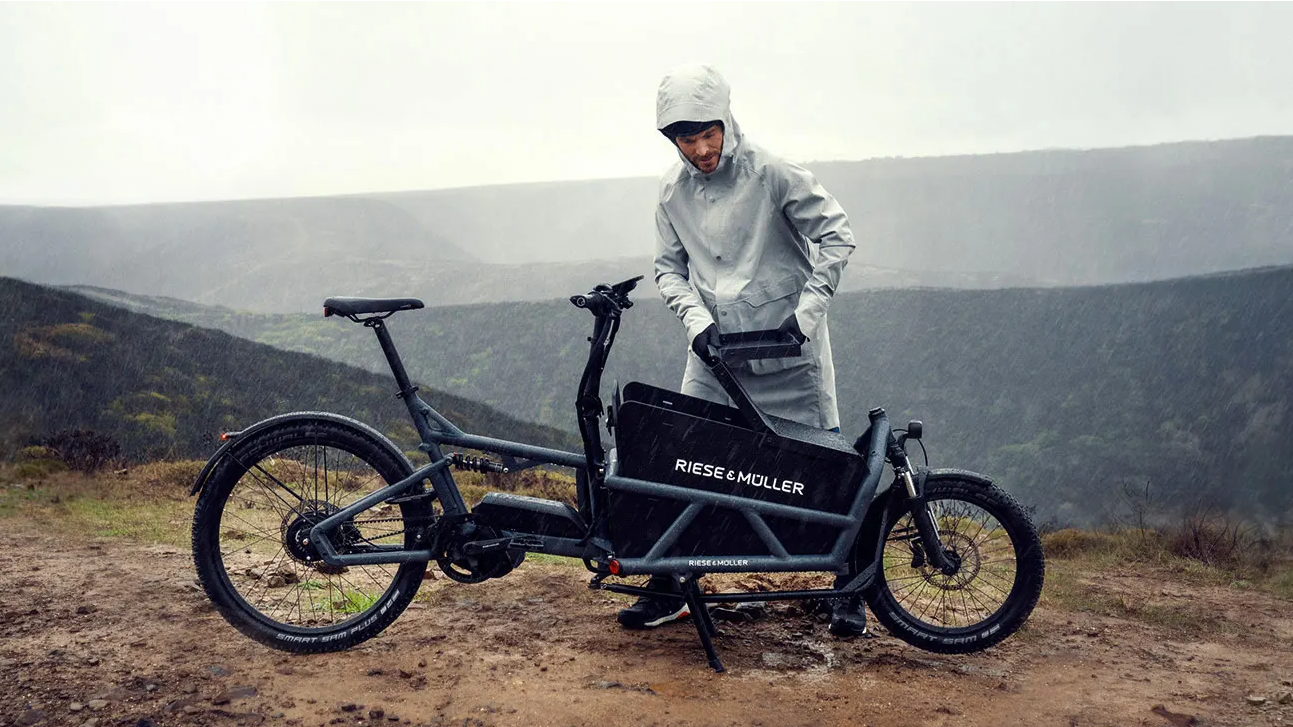 ---
Freedom feels like wind in your hair, speeding along straightaways, with everything you need along for the ride. The Load 60 delivers in spades with its premium componentry and reliable build. Riese & Muller's Control Technology and Bosch Cargo Line Cruise motor keep you following the line and going the distance, be it on tarmac or single track.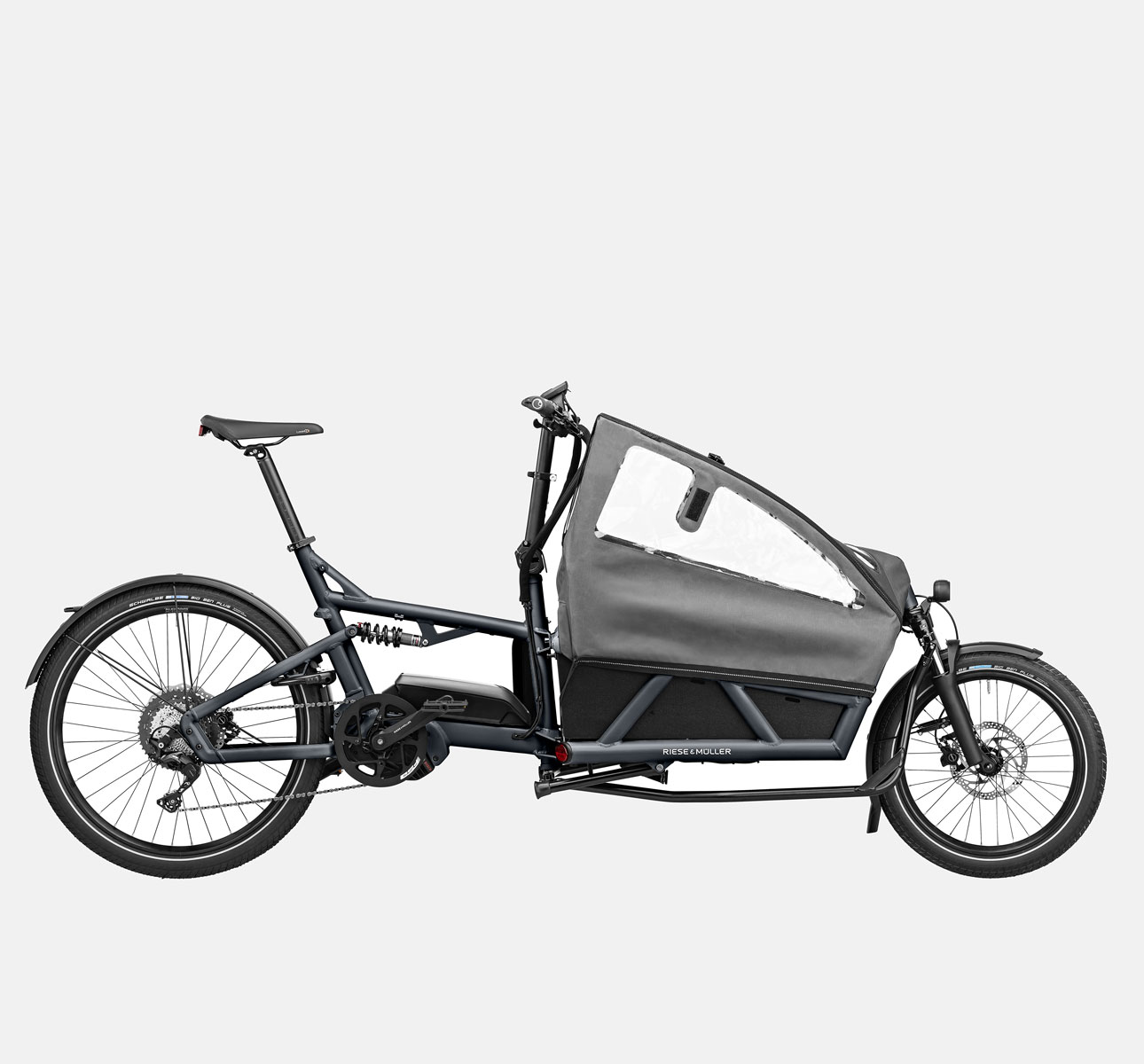 Load 60 Touring / Coal Grey Matte / Road Spec / Optional: DualBattery 1000, Low Sidewalls, Two Child Seats, Child Cover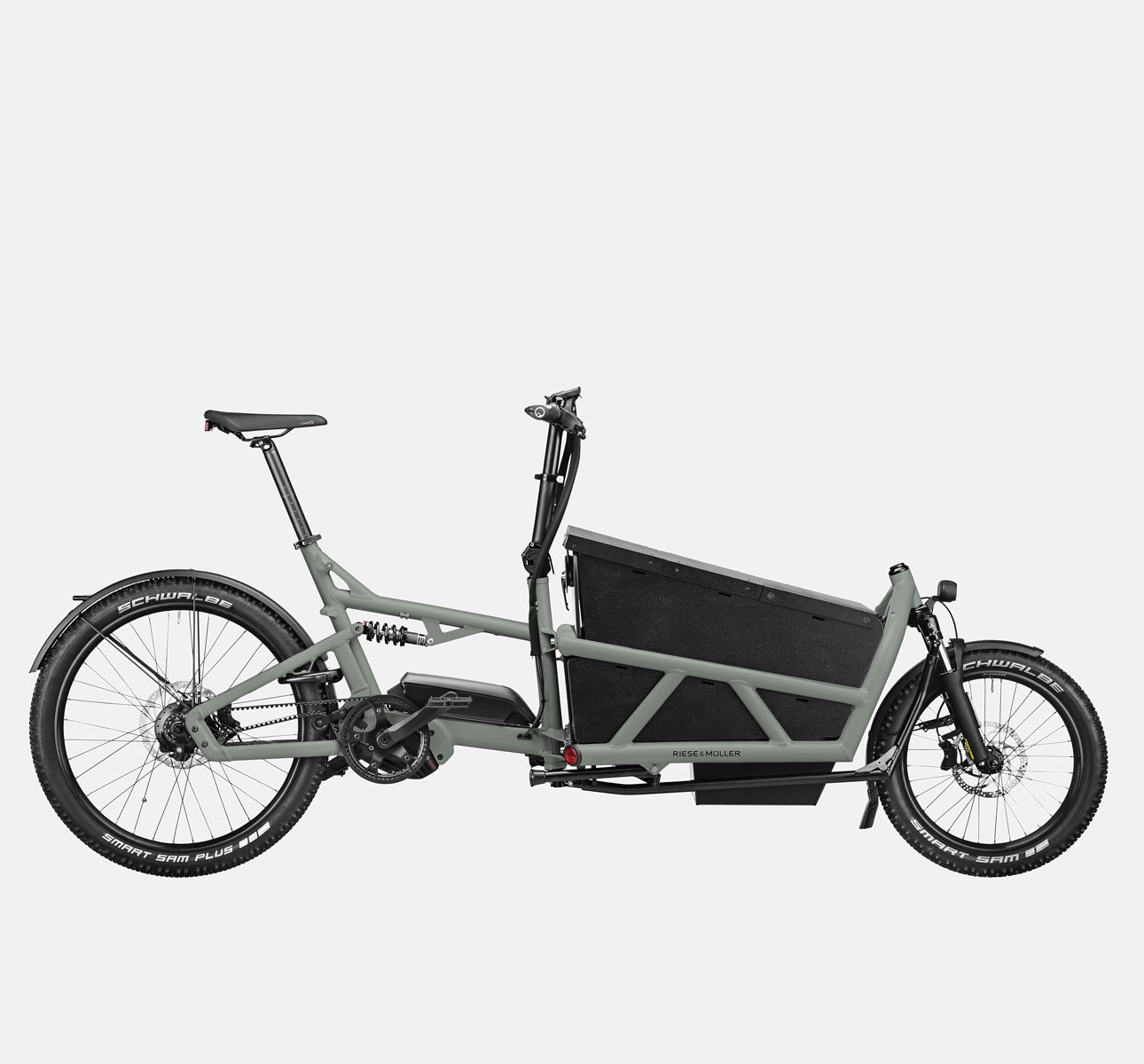 Load 60 Rohloff / Tundra Grey Matte / Optional: GX Option, High Side Walls with Box Cover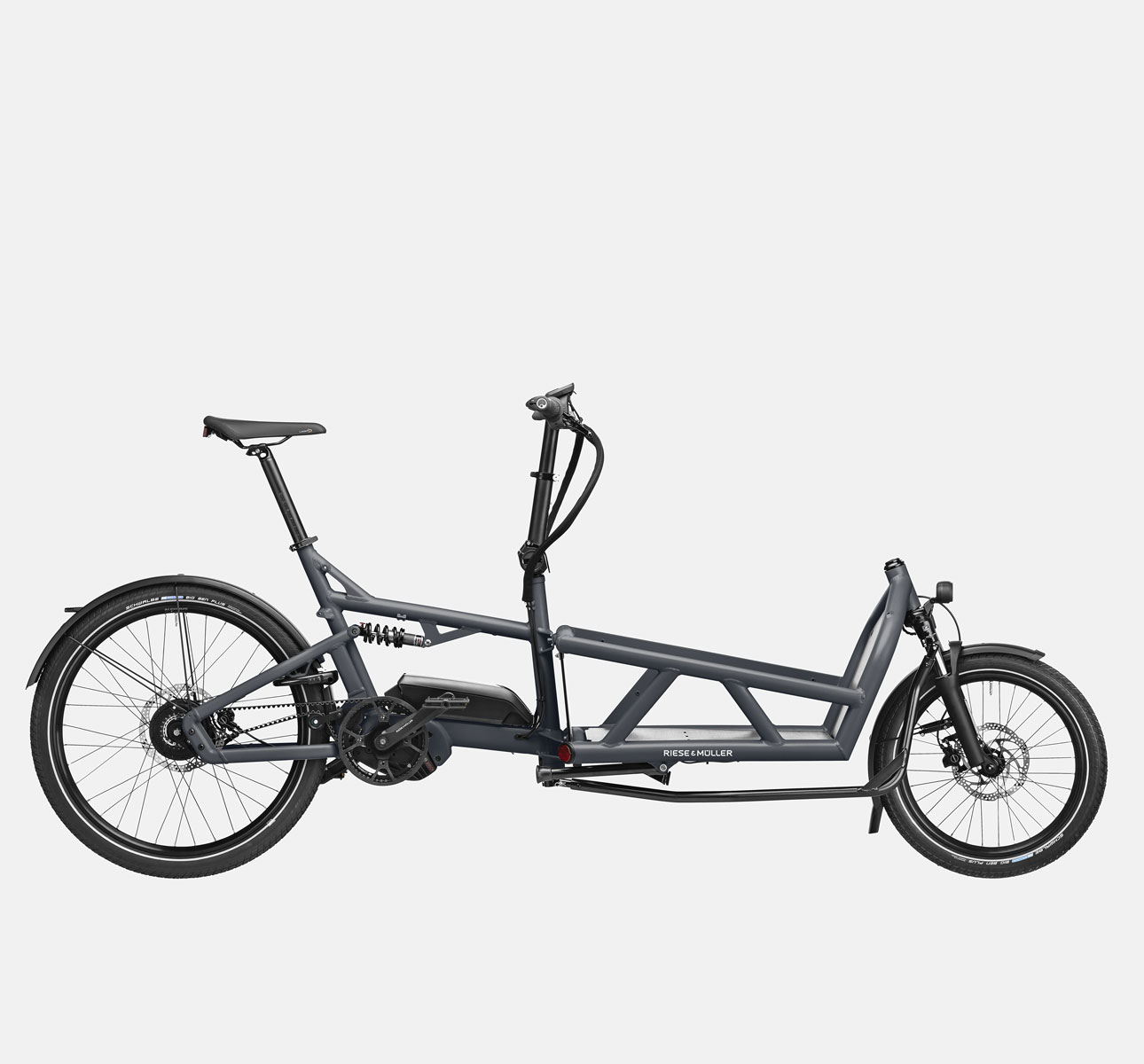 Load 60 Vario / Coal Grey Matte / Road Spec
---
For work or play - seize the day.
See how Lars and his family use the Load 60 in Norway where winter can last up to 6 months.
---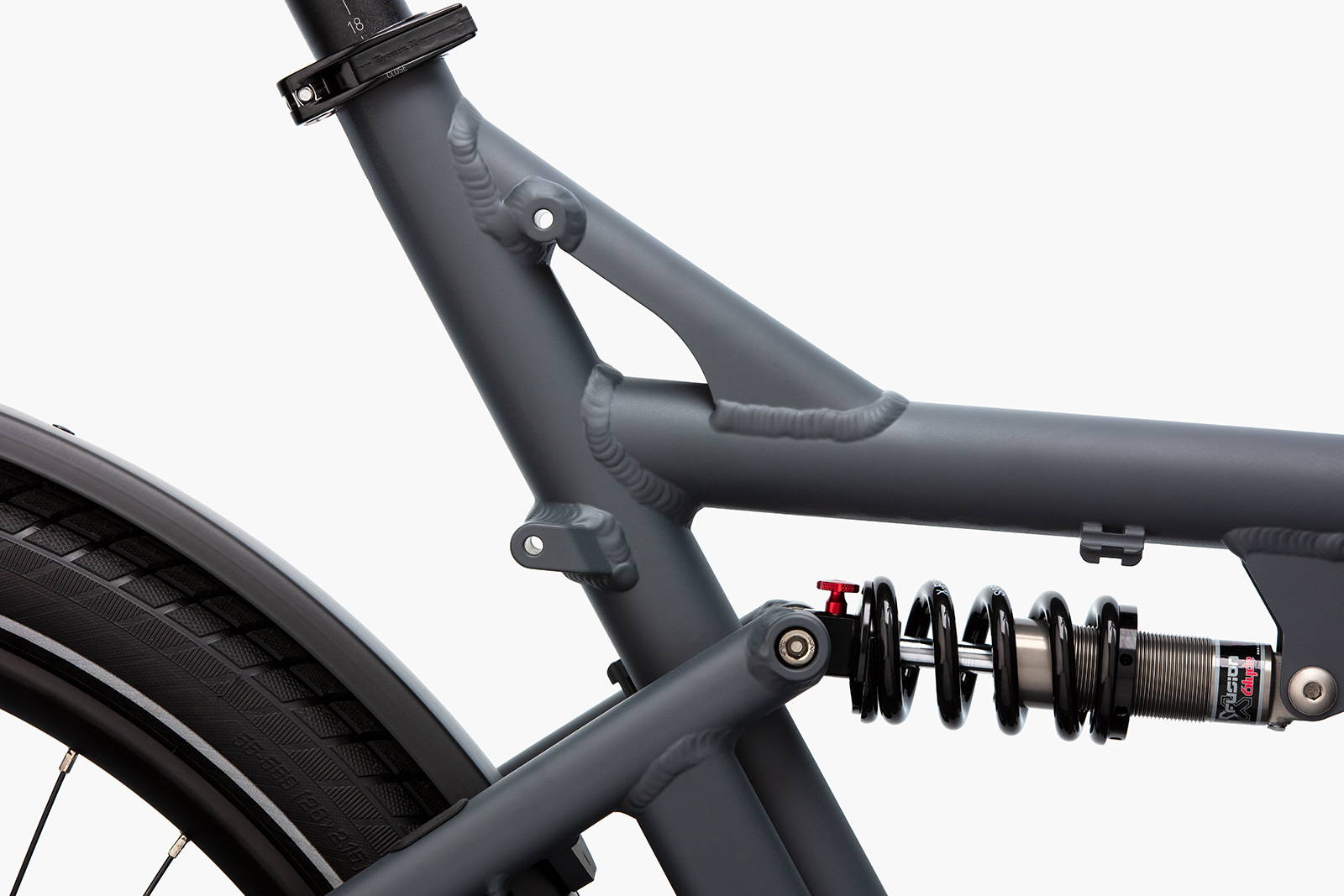 Fun and safety, synchronized.
Cargo bikes don't have to be traditional. The Load 60's Control Technology including the optimized chassis and full-suspension system promise and deliver safe riding at high speeds, excellent road grip, and protection from vibrations and hard impacts like cobblestones and street curbs. Tektro TRP C 2.3 cargo brakes pack quite the punch to stop on a dime, no matter the weather or payload.
---
Transport up to two children.
Growing family or last-minute sleepover? No problem. The Load 60 can comfortably transport up to two kids in the front cargo box and the optional Child Cover keeps them warm and dry during inclement weather without blocking their view. An extra-spacious footwell ensures there's space for everyone, winter boots and all.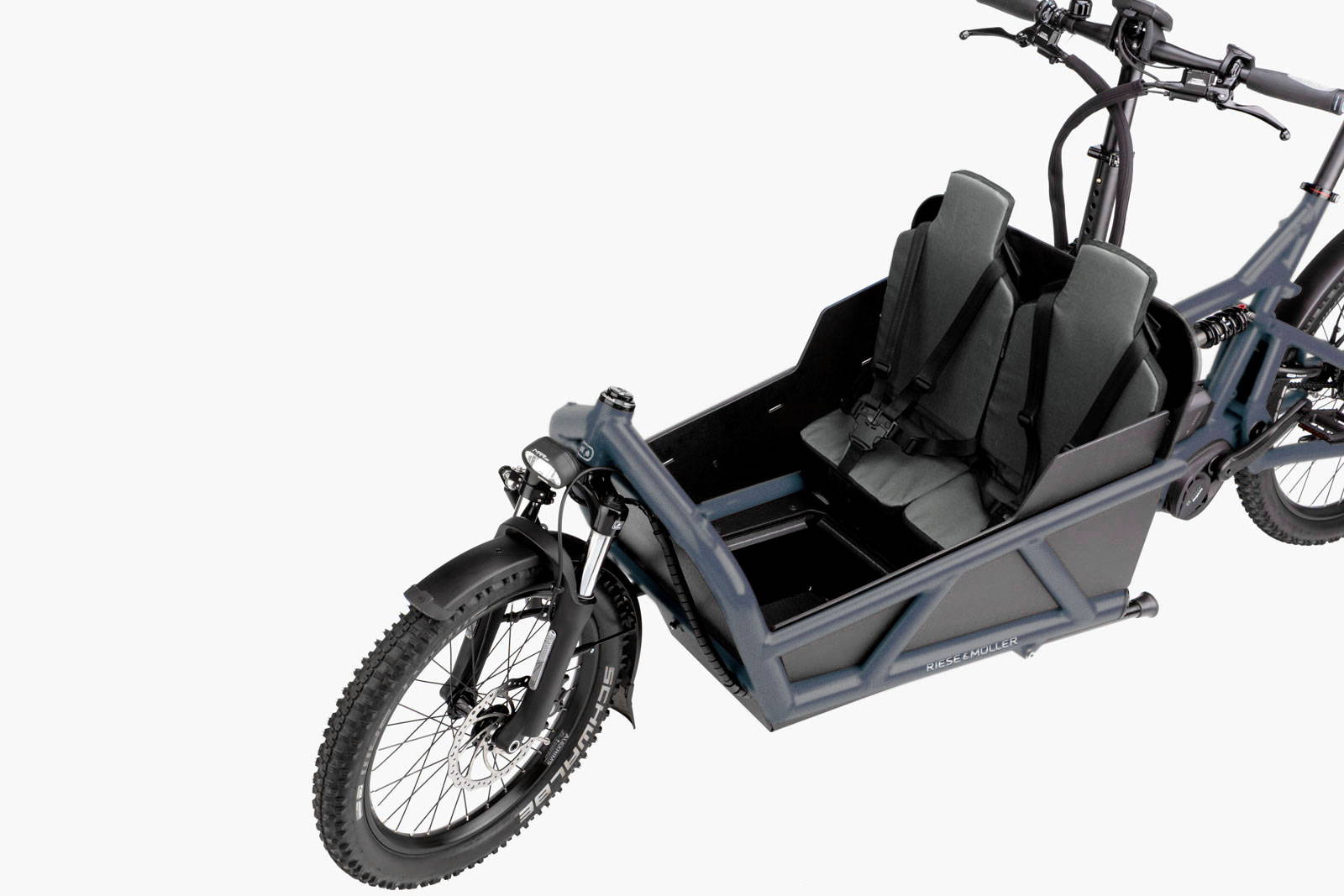 ---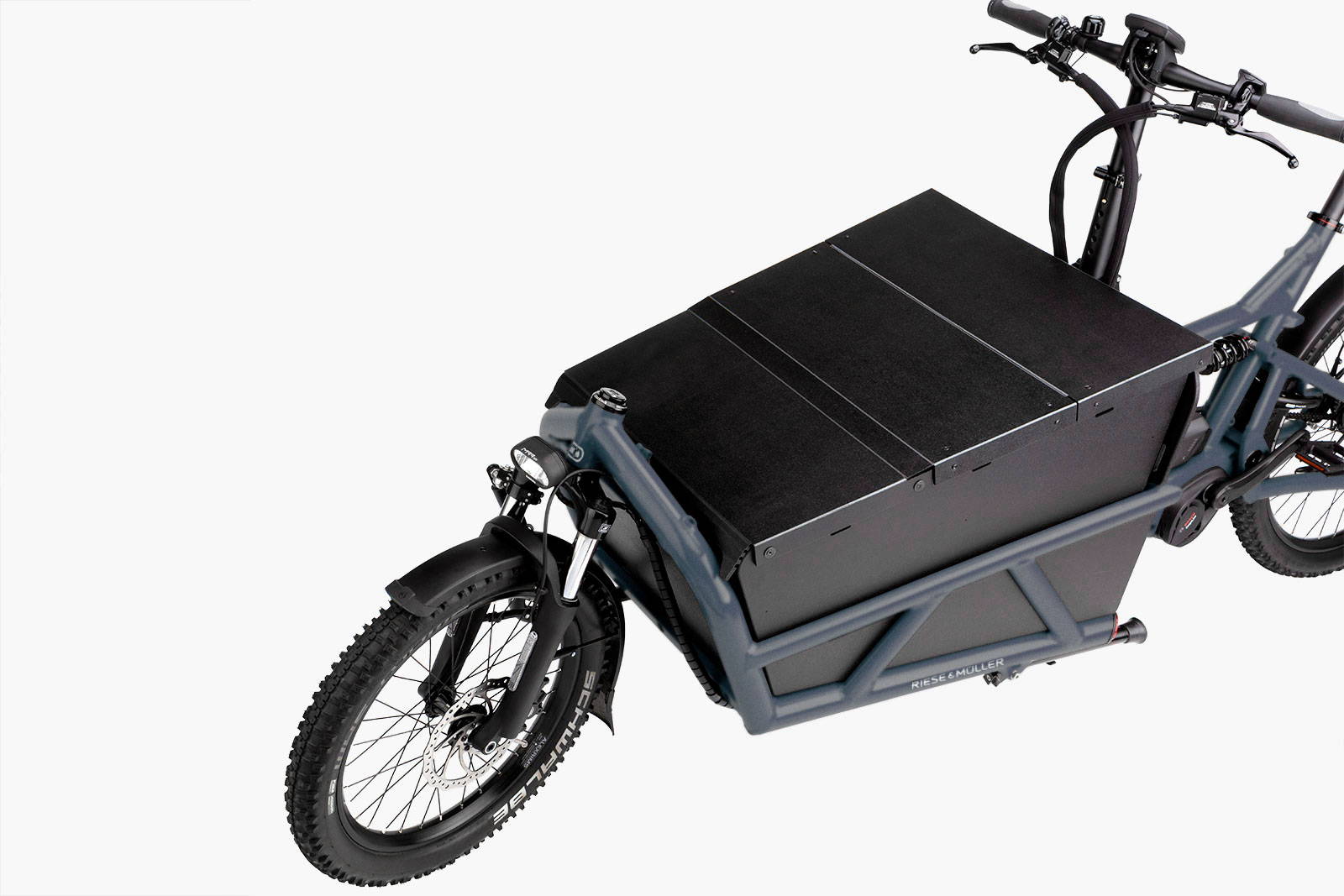 Bring Everything. Really.

Flexible transport options.
Use the Load 60 for school dropoffs, grocery hauls, carrying tools or materials for small businesses, or going on a weeklong camping expedition - everything fits without impacting the safe, agile riding experience. The low centre of gravity and Control Technology work together to keep the bike feeling nimble yet stable. Carry up to 200 kg/400 lbs of weight on the bike and customize the cargo deck with a myriad of options for kids, cargo, and more.
---
See and Be Seen - For, Like, Ever.
Stay safe, day and night.
The daytime running light on the ultra-bright Supernova M99 Mini Pro headlamp with hi-beam functionality lights up the night while offering daytime visibility on busy streets. Paired with the exceptionally bright Supernova M99 tail light with brake-light technology, this is a lighting system that won't let you down and will burn bright for years, maintenance-free.
---
Change riders and seating position quickly.
The angle- and height-adjustable stem paired with the quick-release seatpost lets you change your riding position by leaps and bounds. Quickly swap between riders ranging in height from 4'11" to 6'5" - perfect for parents or business partners of wildly different statures sharing the bike for work or play.
---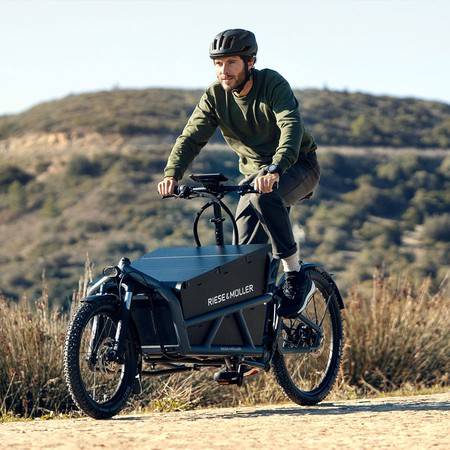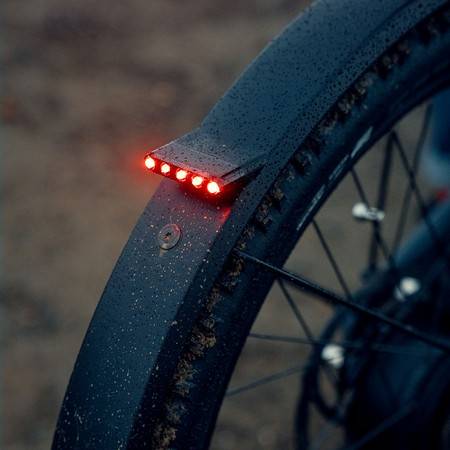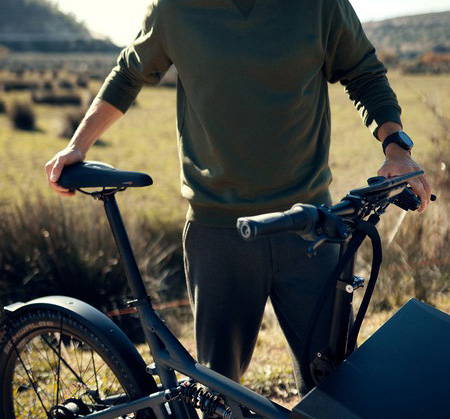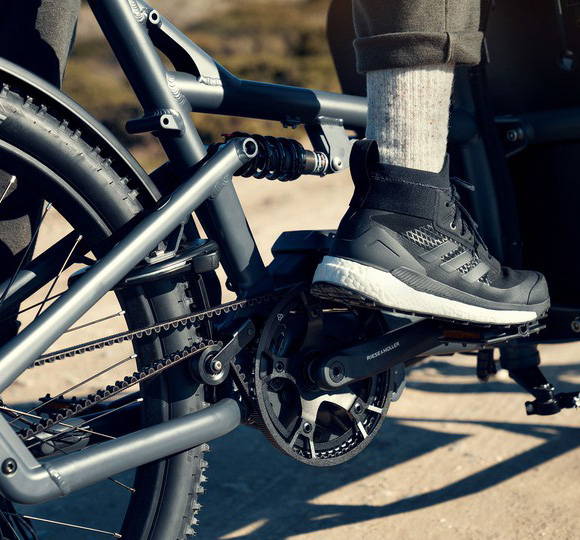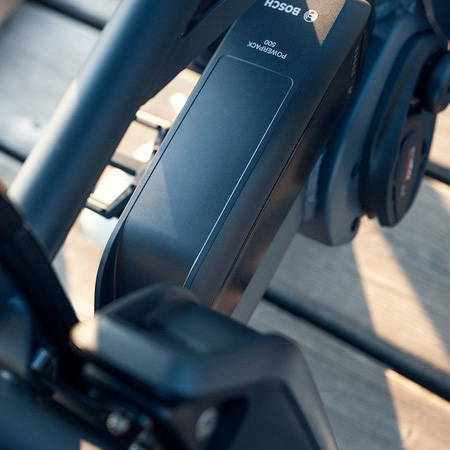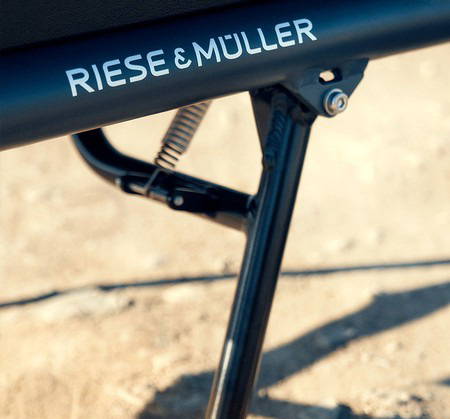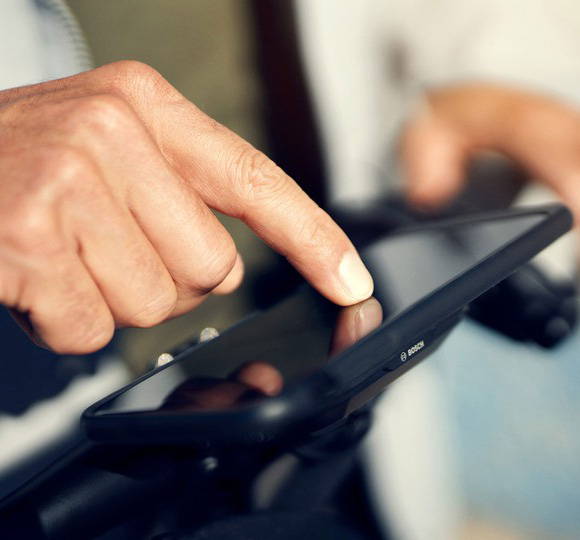 ---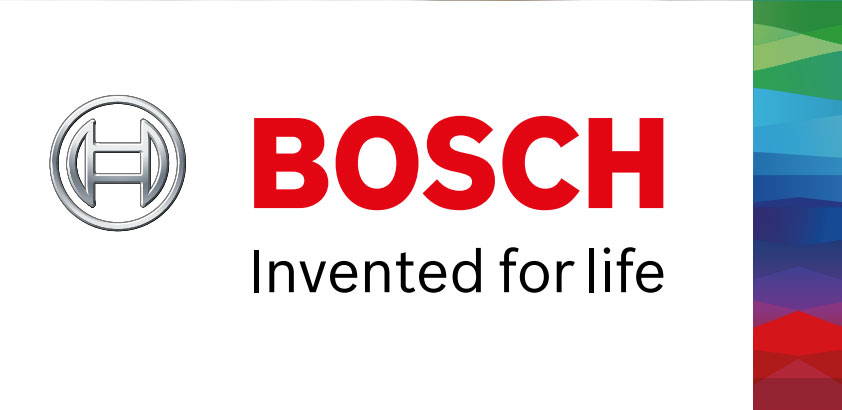 Motors, batteries and displays working in unison - unrivalled performance from a trusted manufacturer.
Research your Bosch e-bike system with the Bosch Range Calculator. This tool allows you to input rider weight, riding surface, and many more details to see how far you can ride assisted on a single charge.
This bike uses a Cargo Line Cruise motor paired with a 500W PowerPack or 1,000W DualBattery.
---
$112 CAD
A contained deck for lashing your cargo to your bike without losing anything along the way.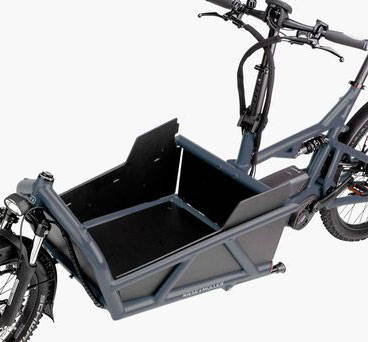 High Sidewalls with Tarpaulin
$351 CAD
High sidewalls come in handy for transporting larger loads. The tarpaulin conceals and contains your cargo from prying eyes and inclement weather. Roll and secure it to the front of the cargo box with a locking mechanism.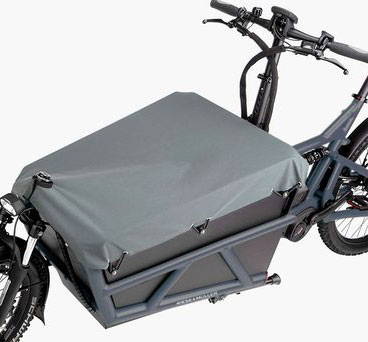 High Sidewalls with Hard Cover
$421 CAD
High sidewalls come in handy for transporting larger loads. The locking hardcover protects your cargo or tools from thieves or flying out of the box on bumpy rides. It can be partially opened to do double duty as a child protector paired with two forward-facing child seats to keep your kids warmer and drier in shoulder seasons.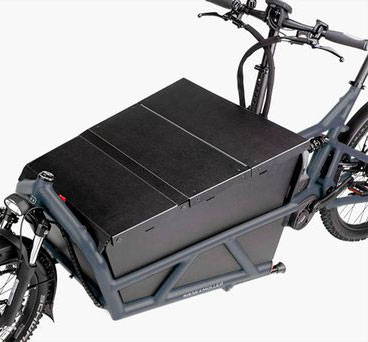 Low Sidewalls with Child Cover
$463 CAD
Low sidewalls make it easy for kids to climb in while providing protection on the road. The fully weatherproofed child cover protects your kids from rain, snow, and errant stones and can be opened along the sides in summer for a breezy ride.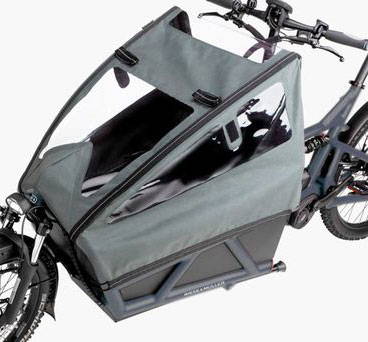 High Sidewalls with Child Cover
$561 CAD
High sidewalls provide the best protection for your precious cargo. The fully weatherproofed child cover protects your kids from rain, snow, and errant stones and can be opened along the sides in summer for a breezy ride.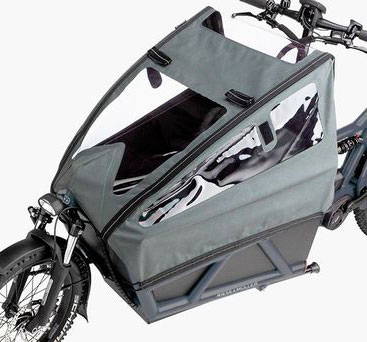 Two Child Seats with Footwell
$351 CAD
Two padded seats with height-adjustable headrests provide secure seating for kids up to age 8. Five-point seatbelts ensure their safety along the journey. Only one passenger? No problem - simply remove one seat and attach the remaining one in the centre of the cargo box for more storage space and a comfortable ride for your little one.
This option is only available paired with the Low or High Sidewalls option.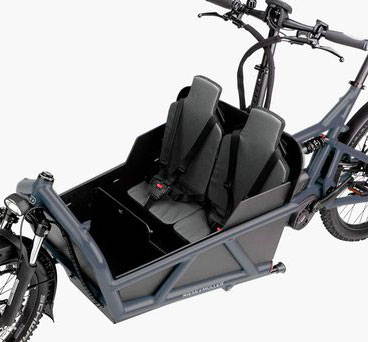 $183 CAD
Built into the cargo area, the glove compartment features a space for bags or smaller items so that they do not shift around while riding. A spray guard below the compartment keeps your items dry.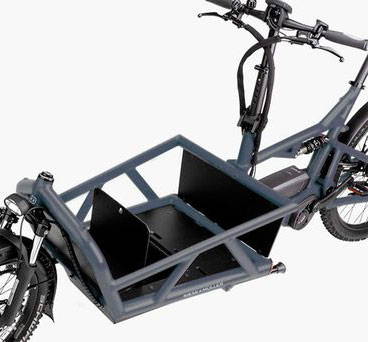 ---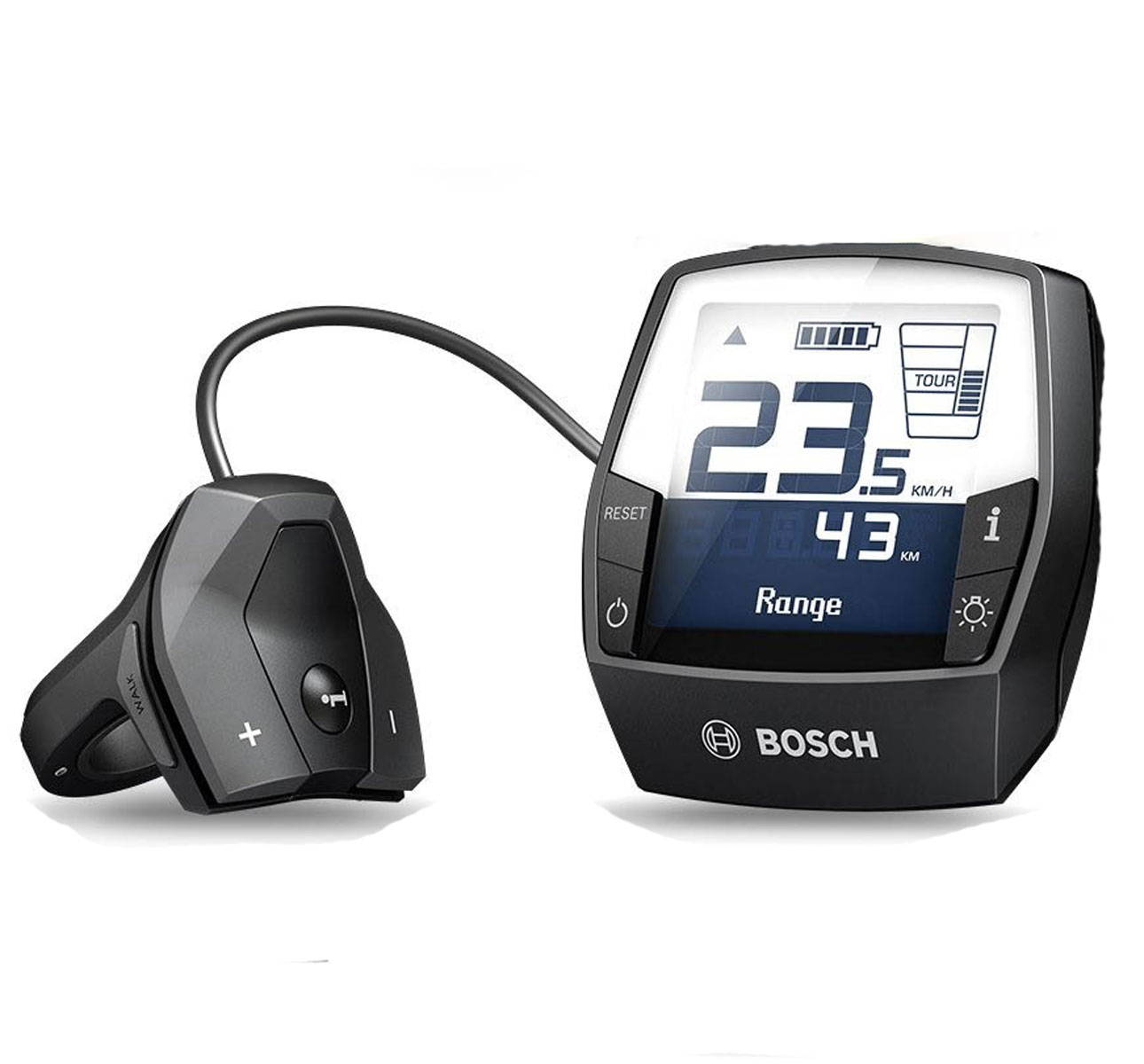 Comes standard
Intuvia keeps things simple alongside full control. A black-and-white screen is visible even in the brightest sunlight and provides data on battery status, range, daily mileage, riding time, current motor power, time, speed, and average travel speed.
The Intuvia is operated using a remote control mounted alongside your handlebar grip for easy thumb access.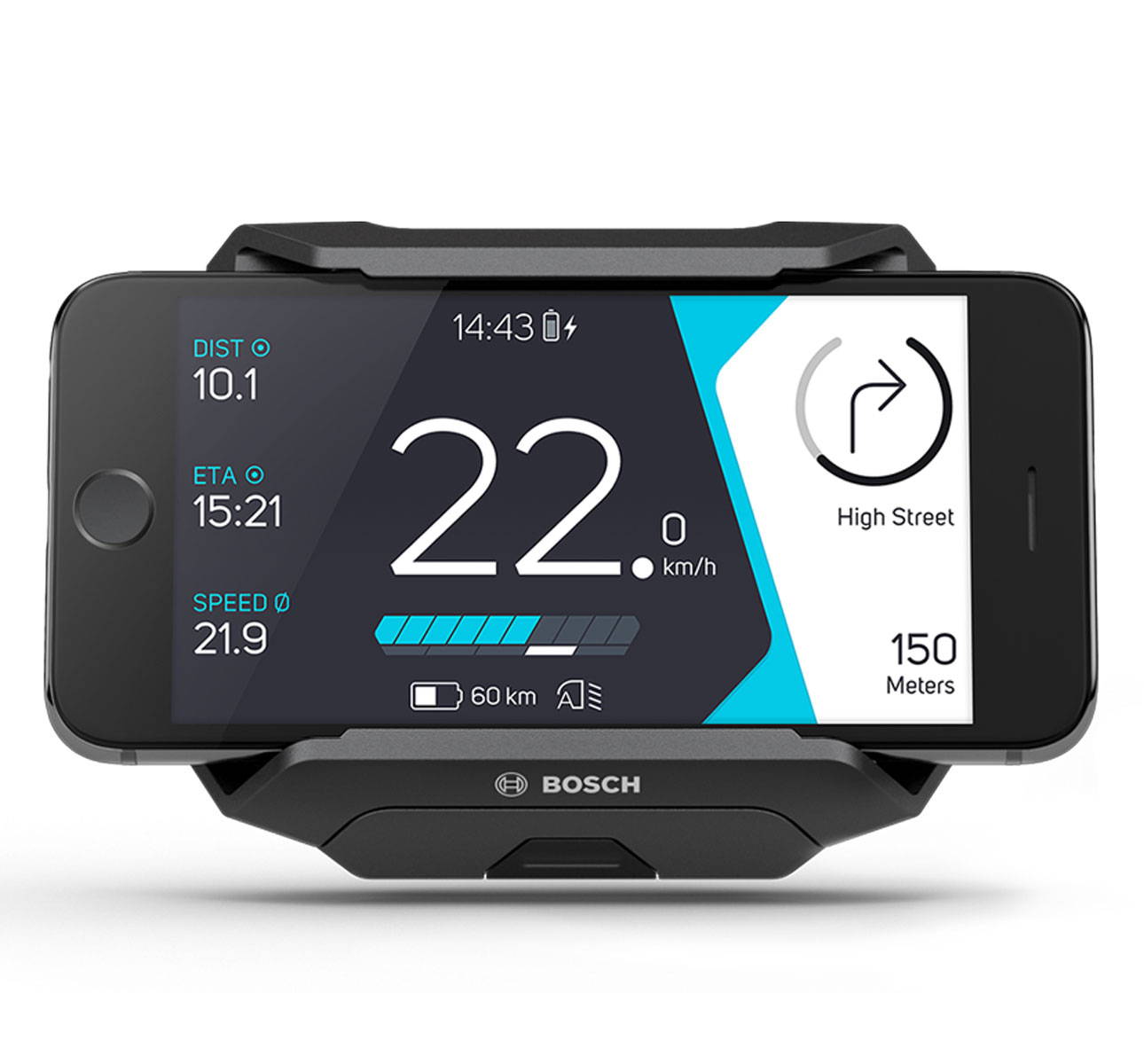 $140 CAD
Turn your smartphone into an e-bike display with tons of capability. Combine smart navigation with weather updates, fitness data, audiobooks, podcasts and music, and the ability to make and take phone calls on the road. Internal cable routing and an adjustable stem angle keep things clean and flexible for your unique riding needs. Includes a simple black-and-white display behind the phone mount for days when you want to truly go off the grid.
Not compatible with Rohloff models.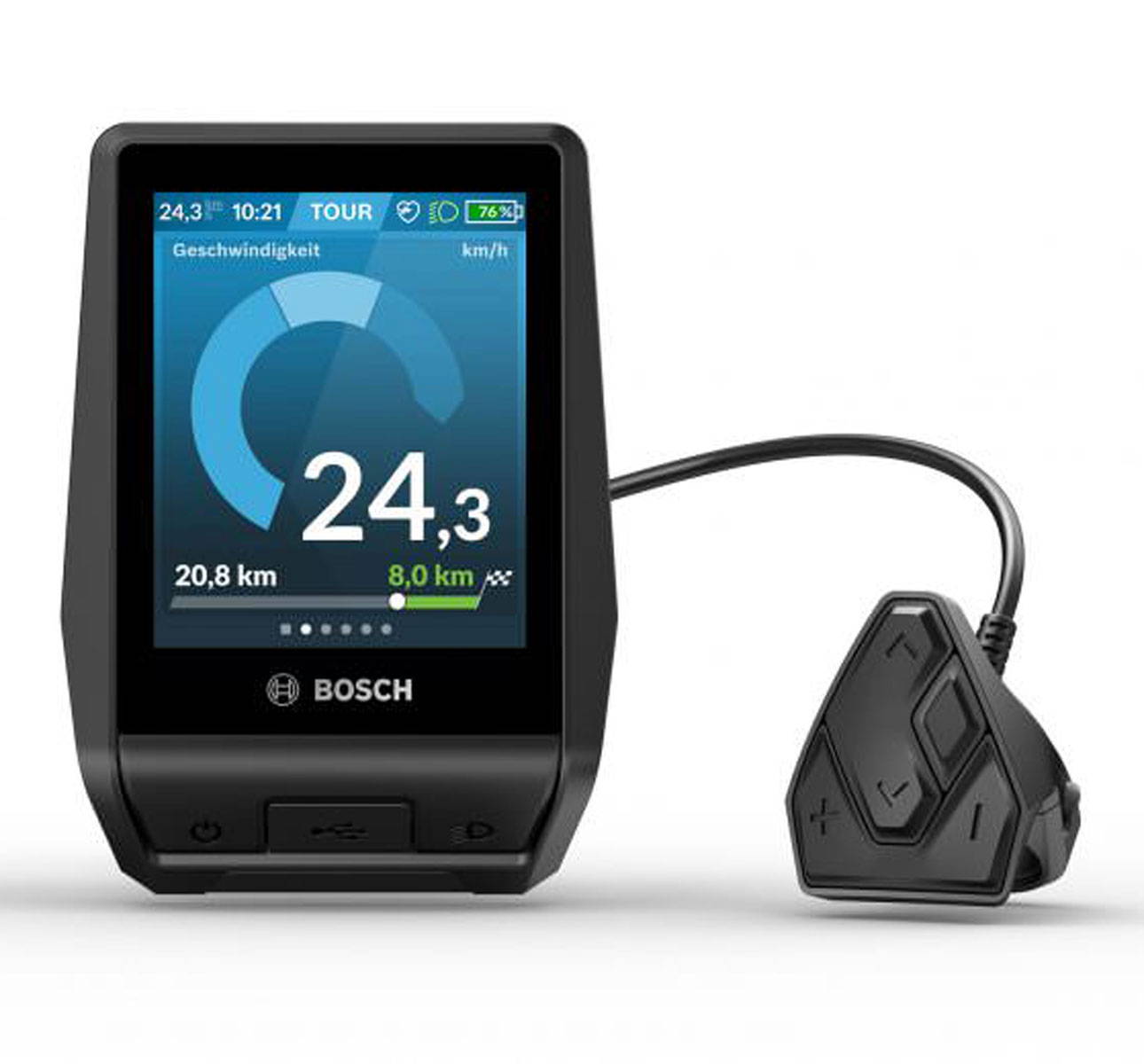 $421 CAD
The Kiox display unit is integrated into the cockpit with internal cabling that keeps things minimalist and clean. An adjustable stem angle allows you to adjust between a sporty aggressive position or a more upright and relaxed one.
A colour touchscreen display provides navigation and trailblazing capability alongside fitness data to ensure you make the most of your riding time.
Comes standard
A single Bosch PowerPack 500Wh battery will take you up to 100km on a single charge - perfect for day-long rides close to home or with easy access to a recharging pit stop.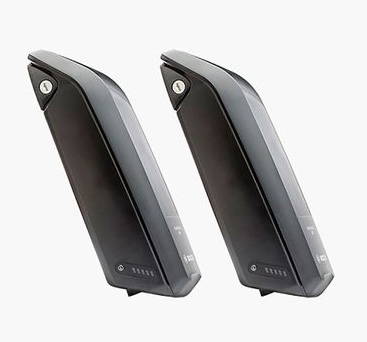 $1,401 CAD
Two Bosch PowerPack 500Wh batteries combine their charge to provide 1000Wh total of e-assist capacity. The batteries provide up to 200km of ridign without needing a recharge - perfect for multi-day weekend trips or long-haul rides far from home.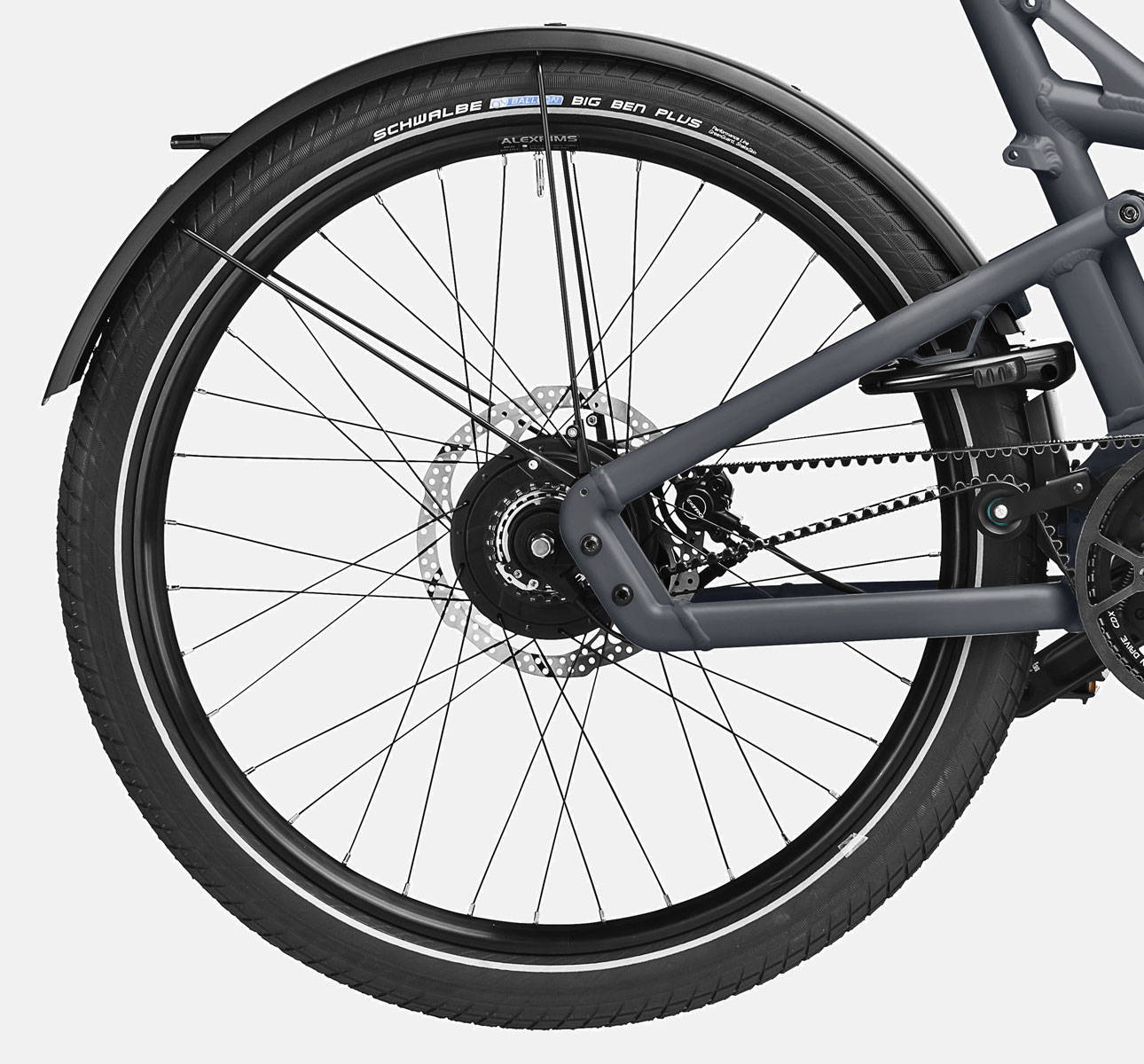 Comes standard
Schwalbe Big Ben Plus tires provide the width and grip you need for urban roads and light gravel trails while offering enough cushion for precious cargo.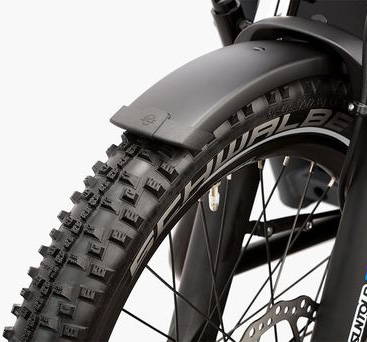 $70 CAD
This one's for the off-road enthusiasts. Schwalbe Smart Sam Plus tires guarantee exceptional grip, especially when cornering. 3mm of puncture-proof protection within the tire provides peace of mind over rough rock or road debris. Wide VP 538 pedals add sandpaper-like grip for your feet to stay put.
$183 CAD
Need more storage space? Secure panniers or baskets to the Rear Carrier, which utilizes the frame's built-in suspension to keep your kit safe on every topography and terrain.
Additional Chain Lock with Bag
$70 CAD
An included ABUS Shield frame lock secures your rear wheel and prevents theft when you're close by, but what if you need to leave your bike locked? The 130cm ABUS chain lock connects to the Shield frame lock and is keyed-alike with your battery for minimal key carry. A saddlebag keeps the chain lock close and at hand when you need it without making noise or getting in the way while riding.
---
Watch our Load 60 Buyer's Guide
(Please note that Gloss White colour option has been discontinued for 2022)
---
Want to try before you buy?
We offer extended test rides from 1 - 3 days.

---
Starting at $11,359 CAD
Bosch Cargo Line Cruise Motor
Bosch PowerPack 500 Wh or DualBattery 1000 Wh
Shimano Deore XT, 11-speed Derailleur with Chain
Configurable accessories
Gear Inches: 79.5 - 361.0 
Starting at $11,859 CAD
Bosch Cargo Line Cruise Motor
Bosch PowerTube 500 Wh or DualBattery 1000 Wh
Enviolo 380 Continuous Hub Gear with Gates Belt Drive
Configurable accessories
Gear Inches: 103.5 - 392.9 
Starting at $13,879 CAD
Bosch Cargo Line Cruise Motor
Bosch PowerTube 500 Wh or DualBattery 1000 Wh
Rohloff E-14 Speedhub, 14-speed Hub Gear, Gates Belt Drive
Configurable accessories
Gear Inches: 65.75 - 351.6 
---
Can't decide? We're here to help - Talk to an expert!
---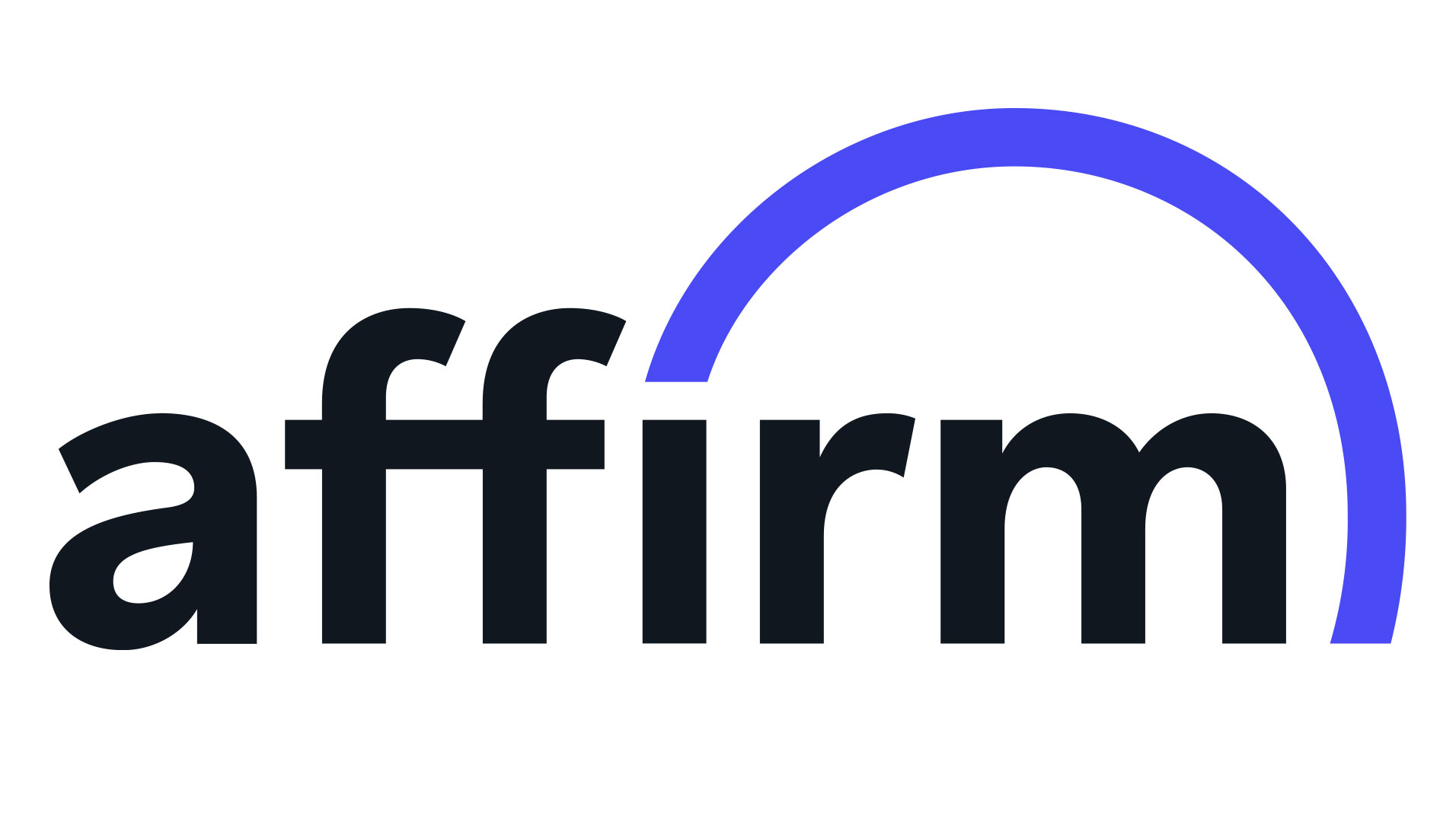 Buying an e-bike can be a daunting expense. Luckily, we offer financing through Affirm! That means zero interest and six low monthly payments to pay off your brand new bike in stages.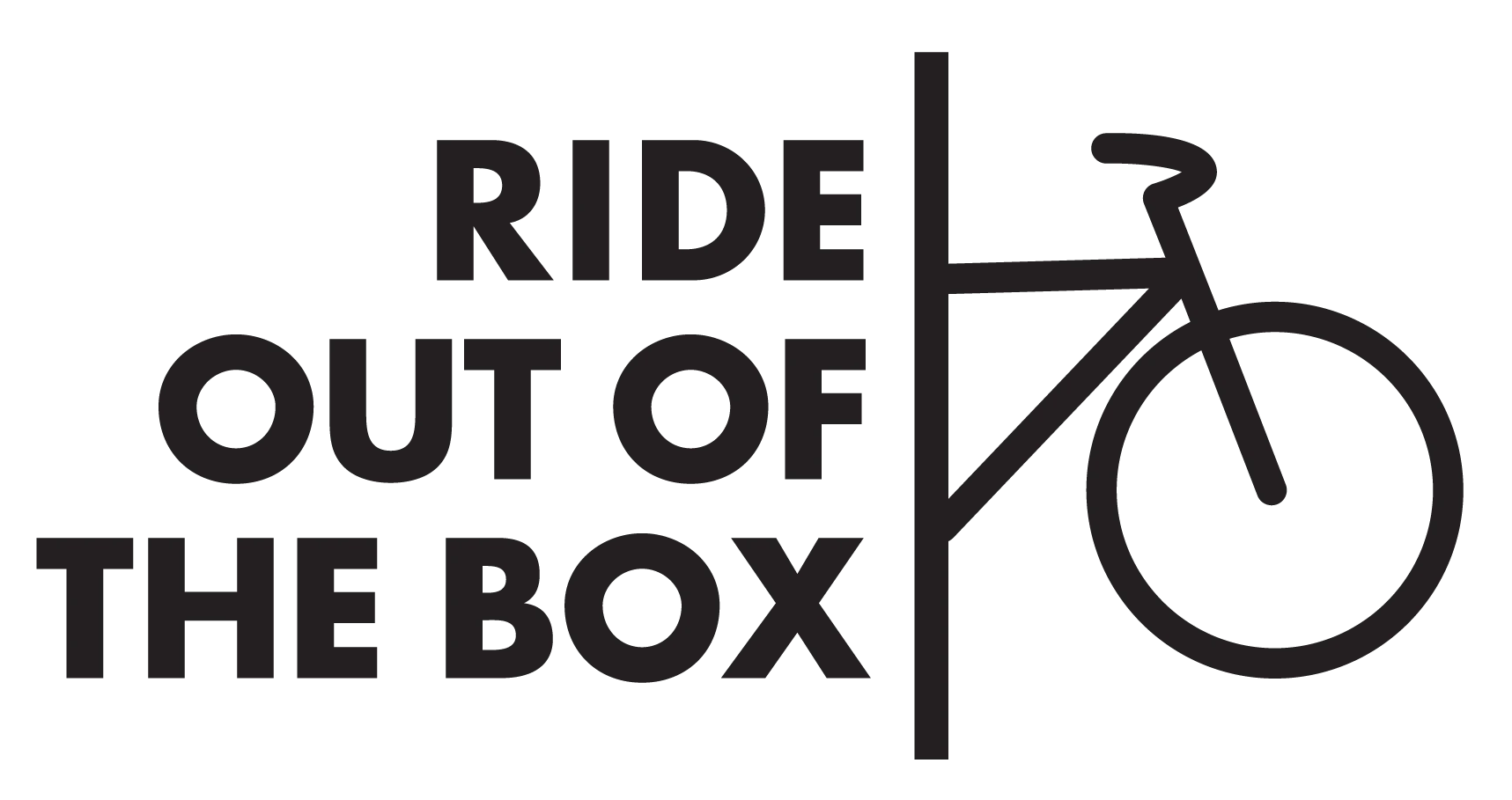 Did you know we ship bikes completely built and ready to ride? Our bikes are shipped Ride Out Of The Box meaning they are professionally tuned and delivered - worry free. Your bike will arrive at your door step with any accessories installed, so you can ride it right out of the box.
---