The Multitinker:
Compact. Urban. Versatile.
The Riese & Muller Multitinker is a bicycle built for two (or three). Zip around town with kids, cargo, or a passenger in tow.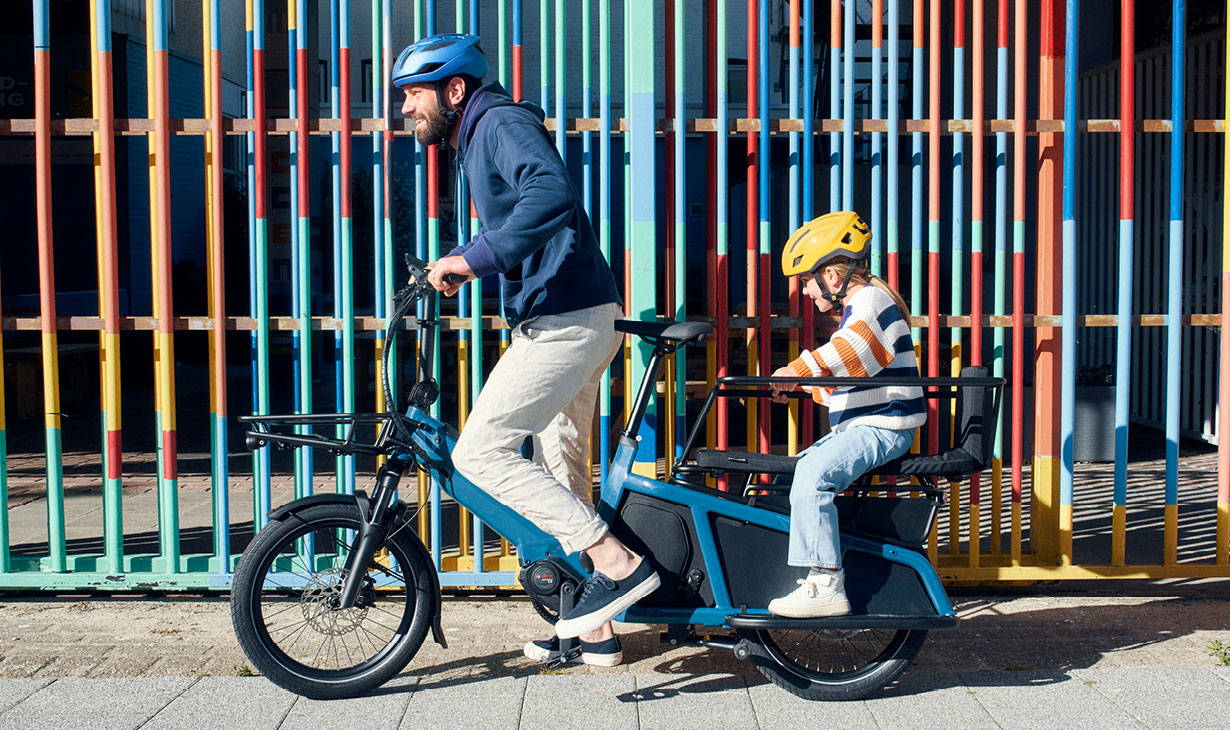 The Riese & Muller Multitinker was created to replace a family car in the city. Whether on the streets, crowded buses and subways or hauling heavy cargo, the compact frame with a low centre of gravity can take it all. An integrated frame bag keeps necessities close at hand, while the trailer attachment interface means you can bring as much as you need on the journey.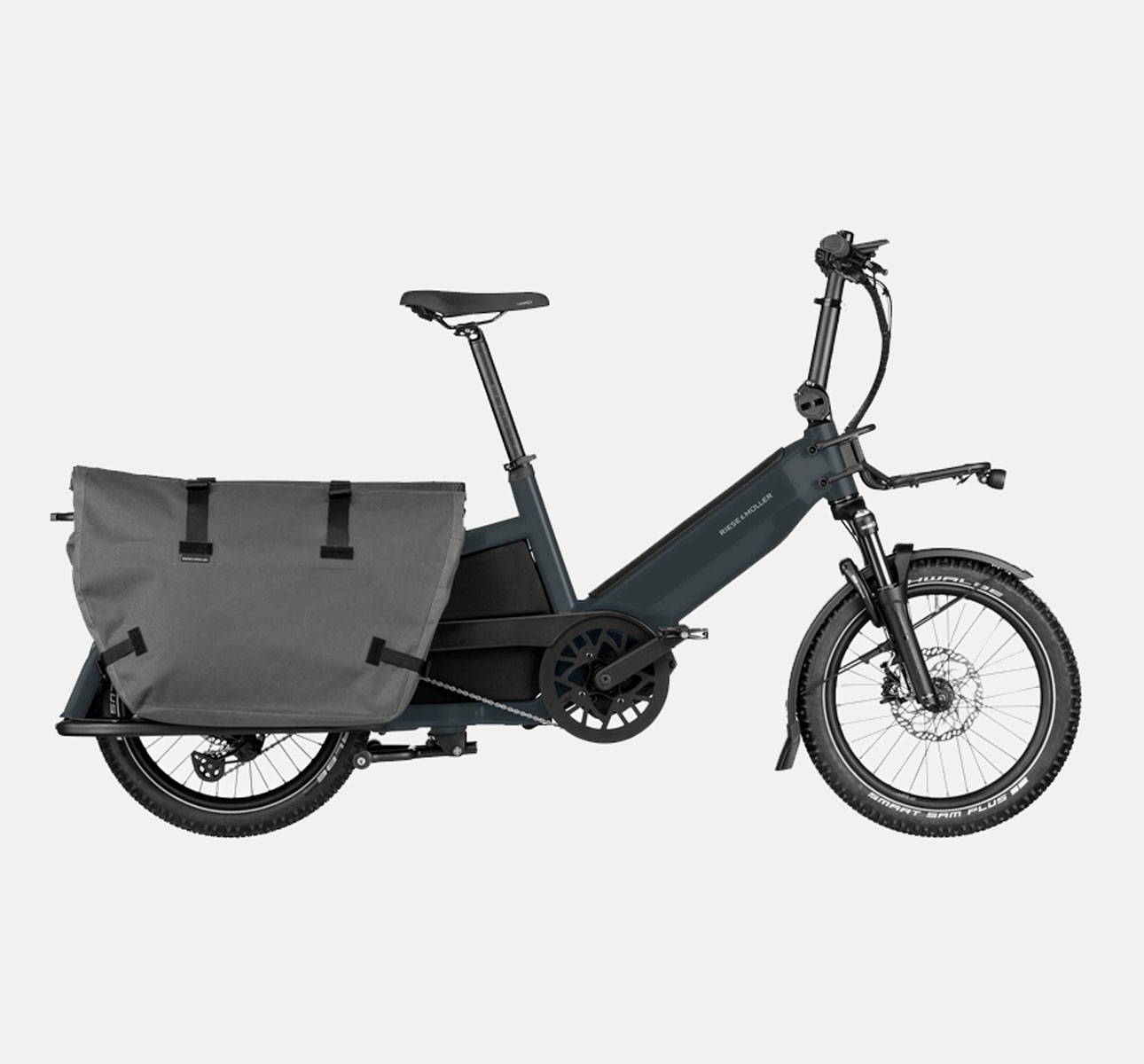 Multitinker Touring / Utility Grey & Black Matte / GX Option, Cargo Bags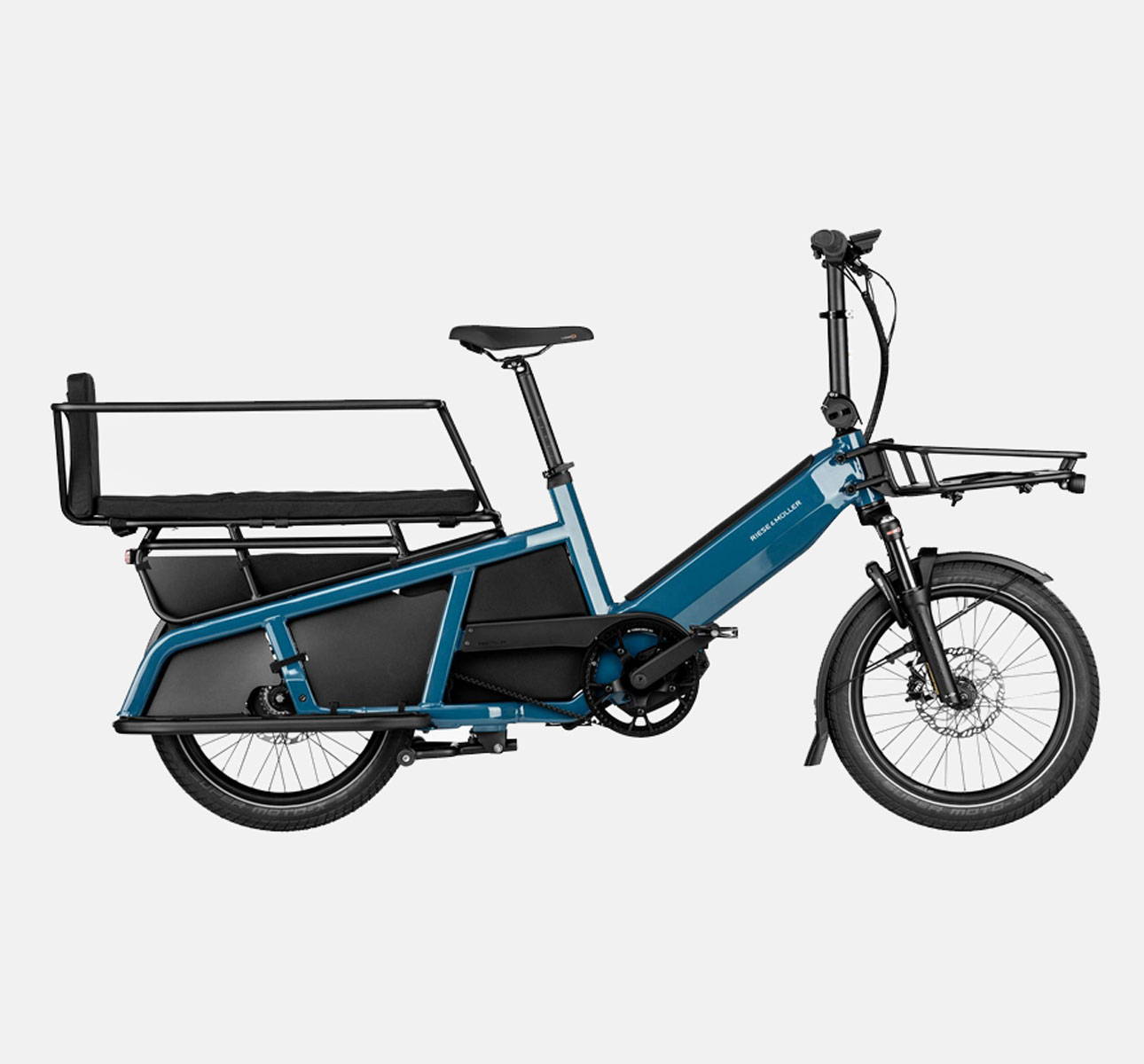 Multitinker Vario / Petrol & Black Matte / Kiox 300, Cargo Front Carrier, Safety Bar Kit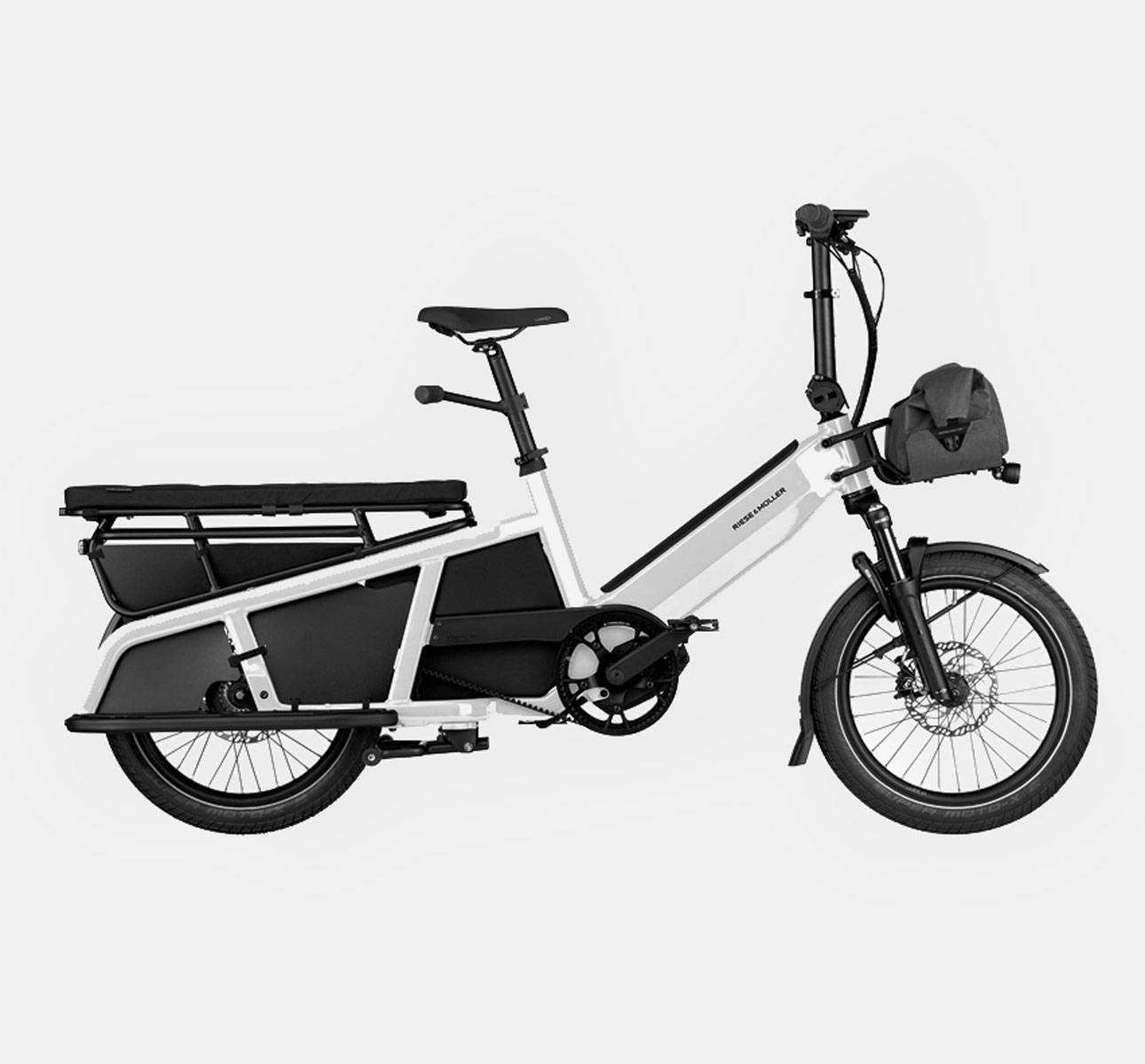 Multitinker Vario / Pearl White & Black Matte / Front Carrier with Bag, Passenger Kit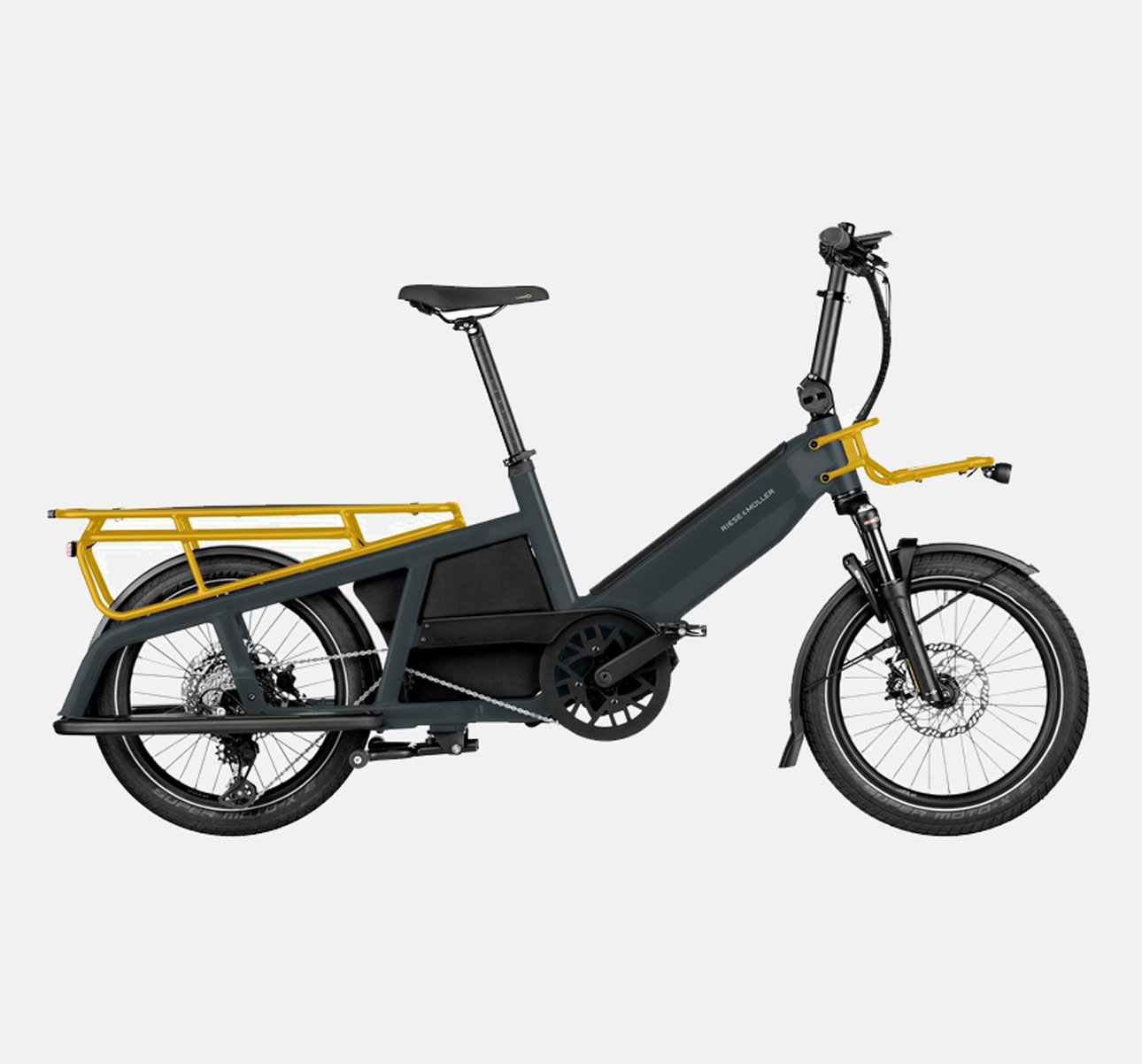 Multitinker Touring / Utility Grey & Curry Matte
---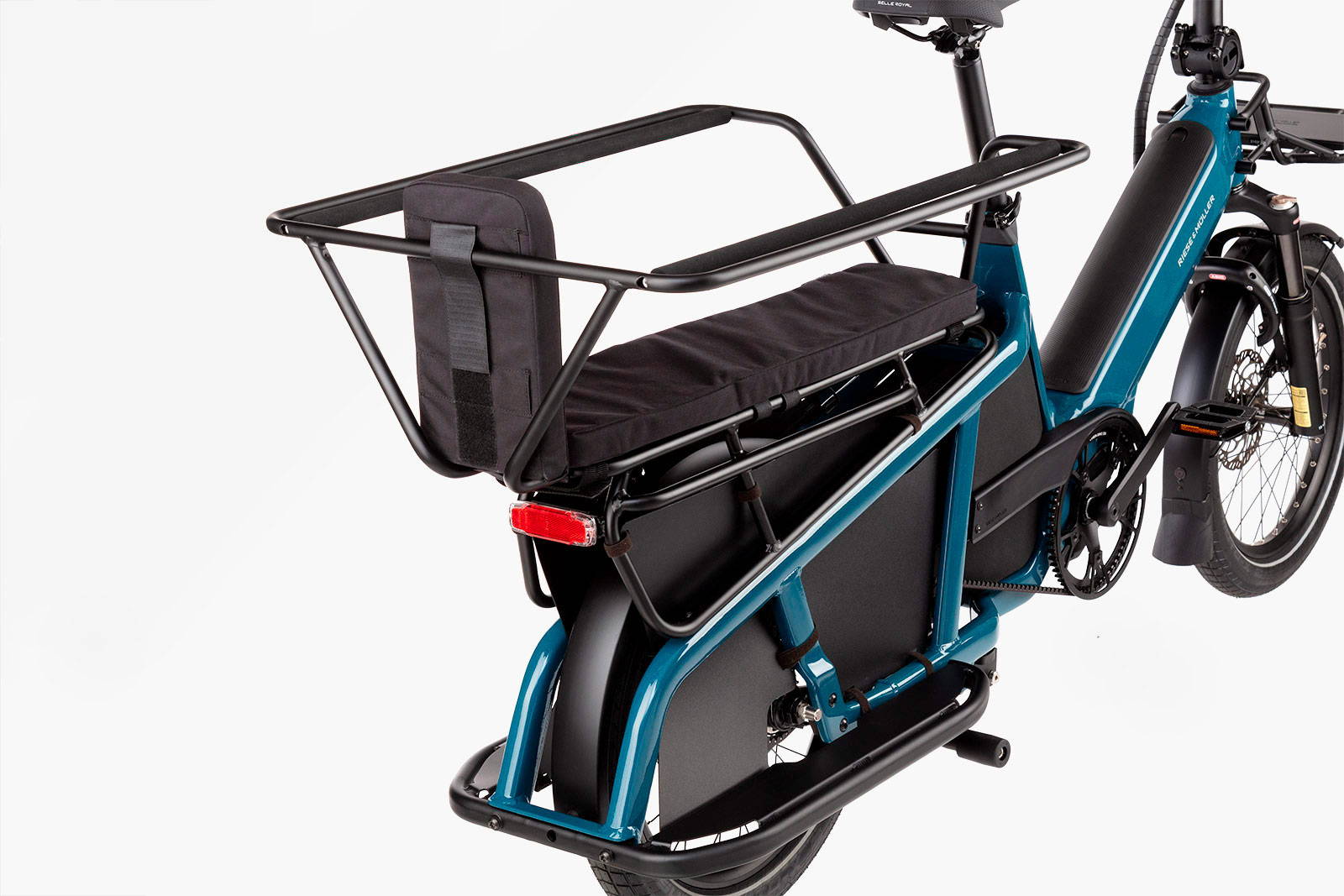 Safe transport for the young (and young at heart).
The Multitinker is designed with passengers in mind. Carry up to two children or one adult weighing 140 lbs on the bike's longtail. Safety Bar Kits make the ride safe for little ones, while the Passenger Kit adds comfort for older copilots. A bipod kickstand makes getting on and off easy, and the bike's low centre of gravity means the ride is calm, predictable, and fun.
---
For croissants to kitchen sinks, and everything in between.
The Multitinker features a rear cargo platform that can carry 140lbs of load effortlessly thanks to the powerful Bosch Performance Line CX motor and 625Wh battery. A standard Front Carrier with option to upgrade to one with higher weight capacity (or one with waterproof bag included) offer even more storage space. The Multitinker can also tow a bike trailer with the coupling interface for maximum versatility.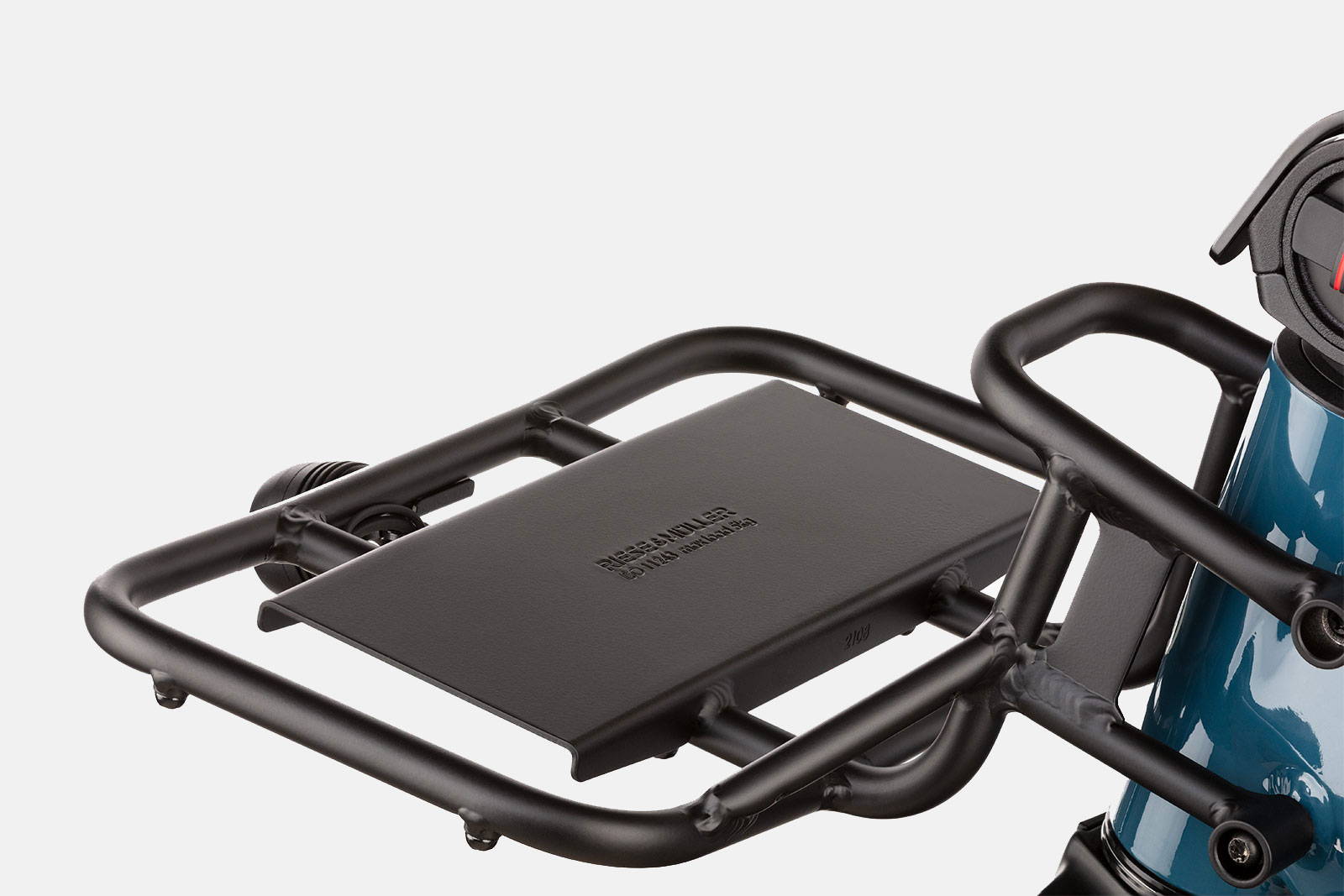 ---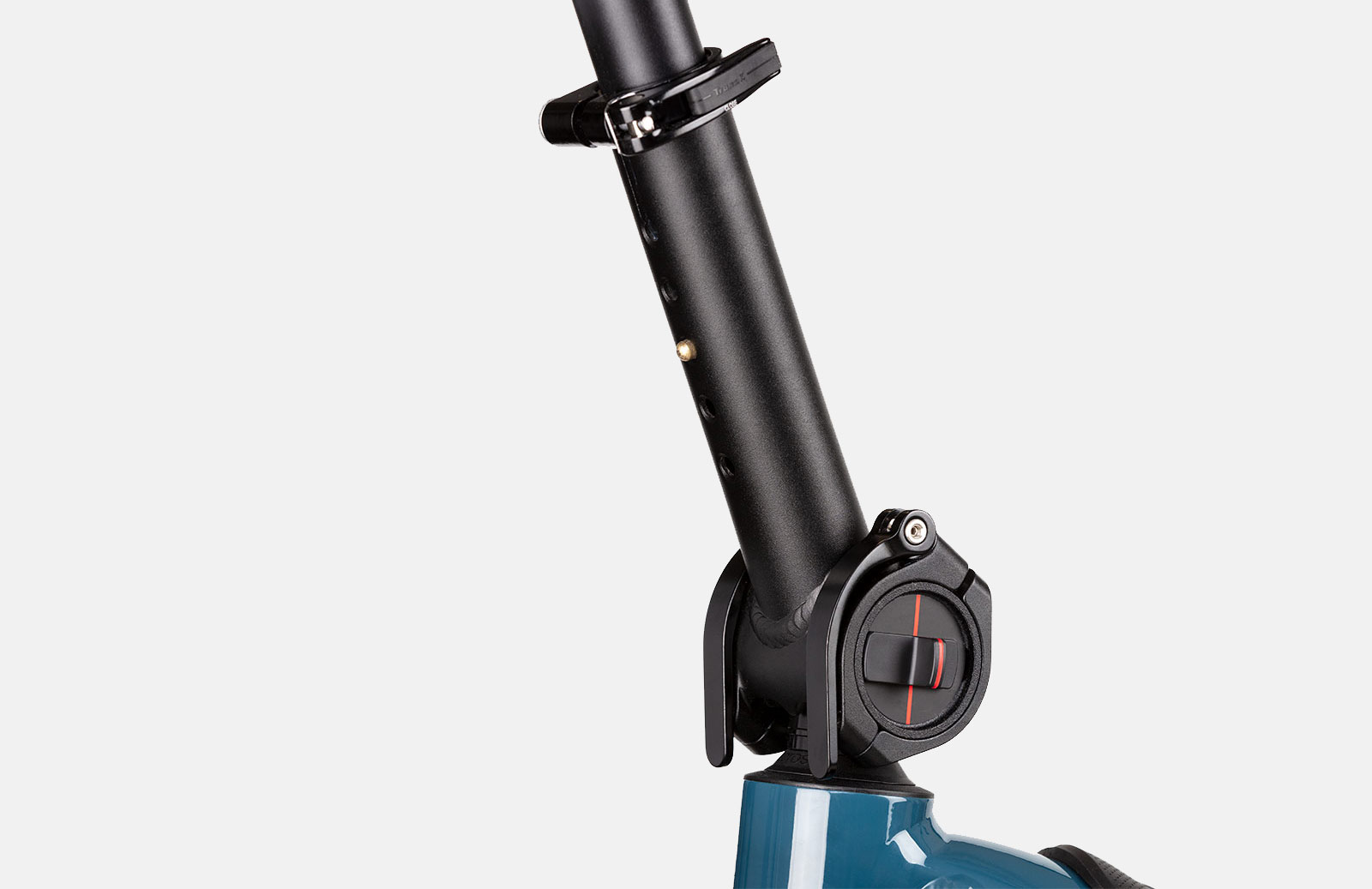 Adjustable Stem
The unique stem on the Tinker can be adjusted to fit people from 4' 11" to 6' 4" without sacrificing comfort. This makes the bike perfect to share between family members, or to use for houseguests visiting your city.
---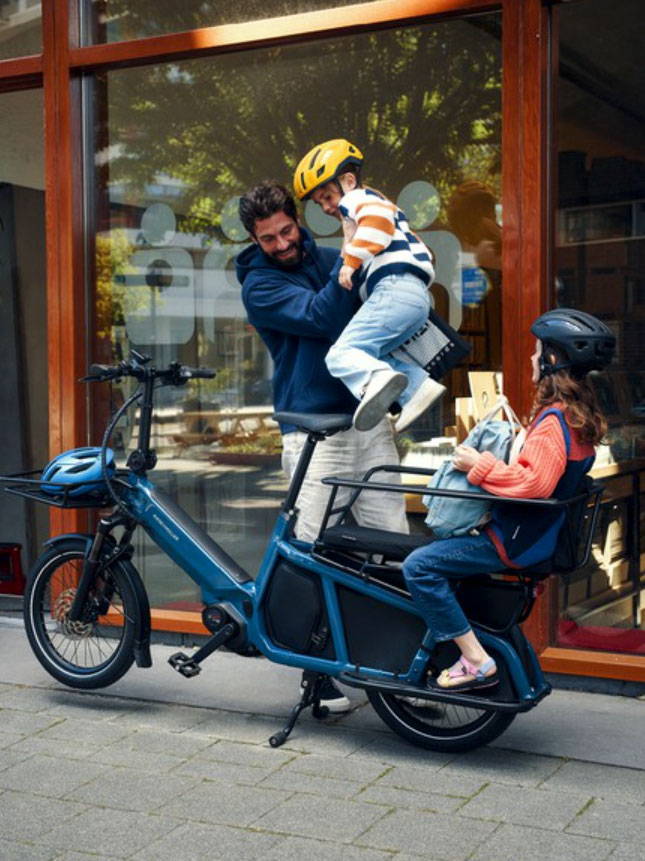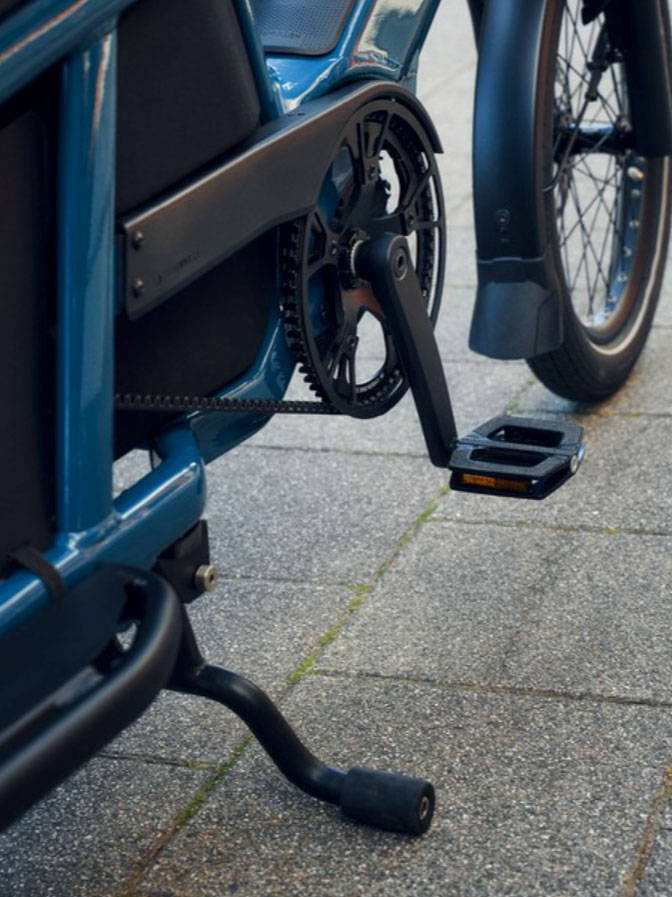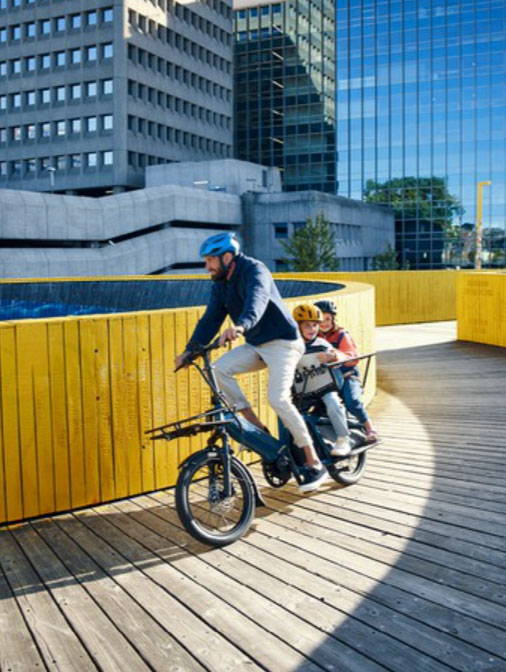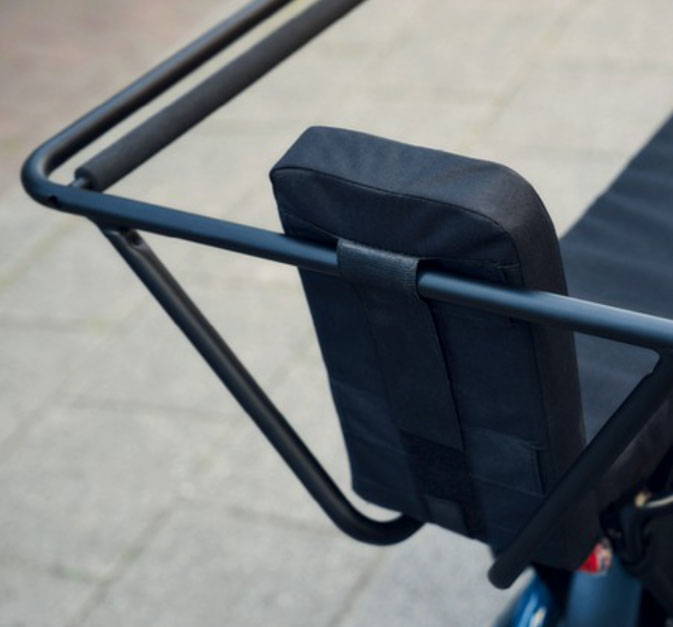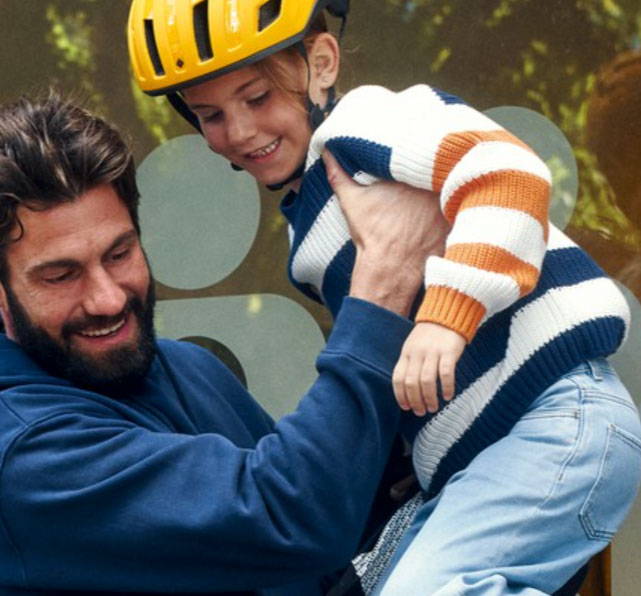 ---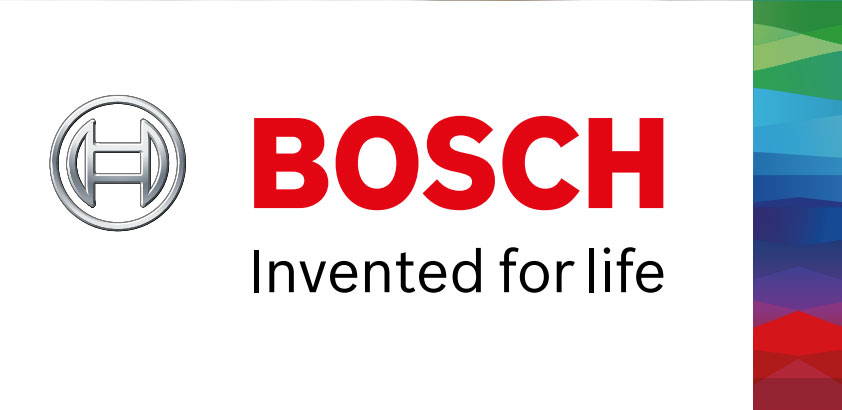 Motors, batteries and displays working in unison - unrivalled performance from a trusted manufacturer.
Research your Bosch e-bike system with the Bosch Range Calculator. This tool allows you to input rider weight, riding surface, and many more details to see how far you can ride assisted on a single charge.
---
Comes standard
The Front Carrier is bungee-compatible and offers a platform to lash your bag, shopping, or coat to while you're riding. The Front Carrier supports up to 11 lbs of cargo.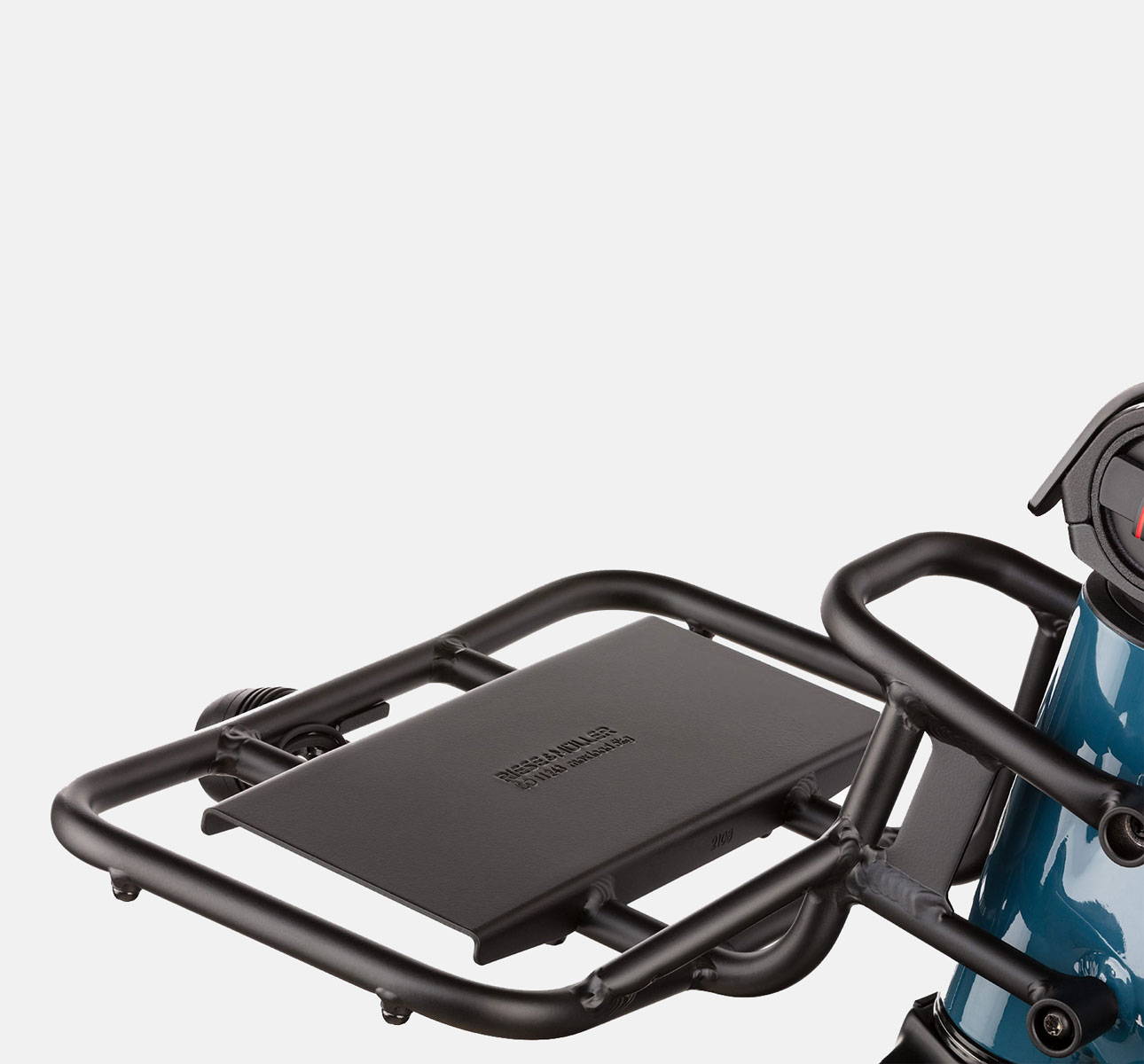 $69 CAD
The Cargo Front Carrier is designed to carry up to 33lbs without issue, secured to the bottom plate with built-in bungees. Your cargo is safe and sound thanks to the bike's fork suspension.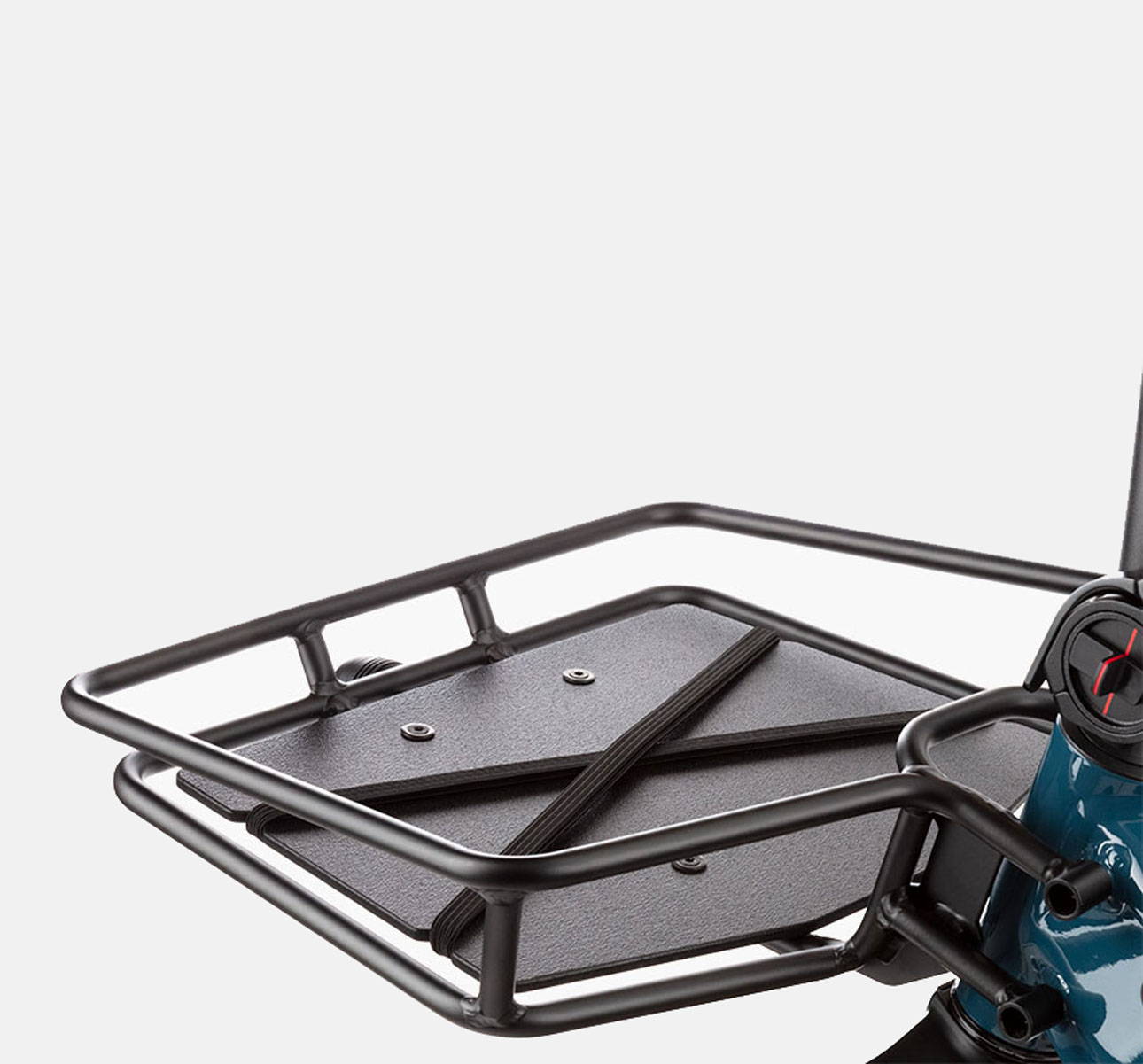 $98 CAD
Secure up to 11 lbs of cargo to the Front Carrier and keep everything snug and waterproof inside the Front Carrier Bag. This 18L zippered roll-top bag offers plenty of space for a day trip out and can be taken off the bike quickly and easily for pit stops. Two zippered outer pockets keep phones and wallets close at hand.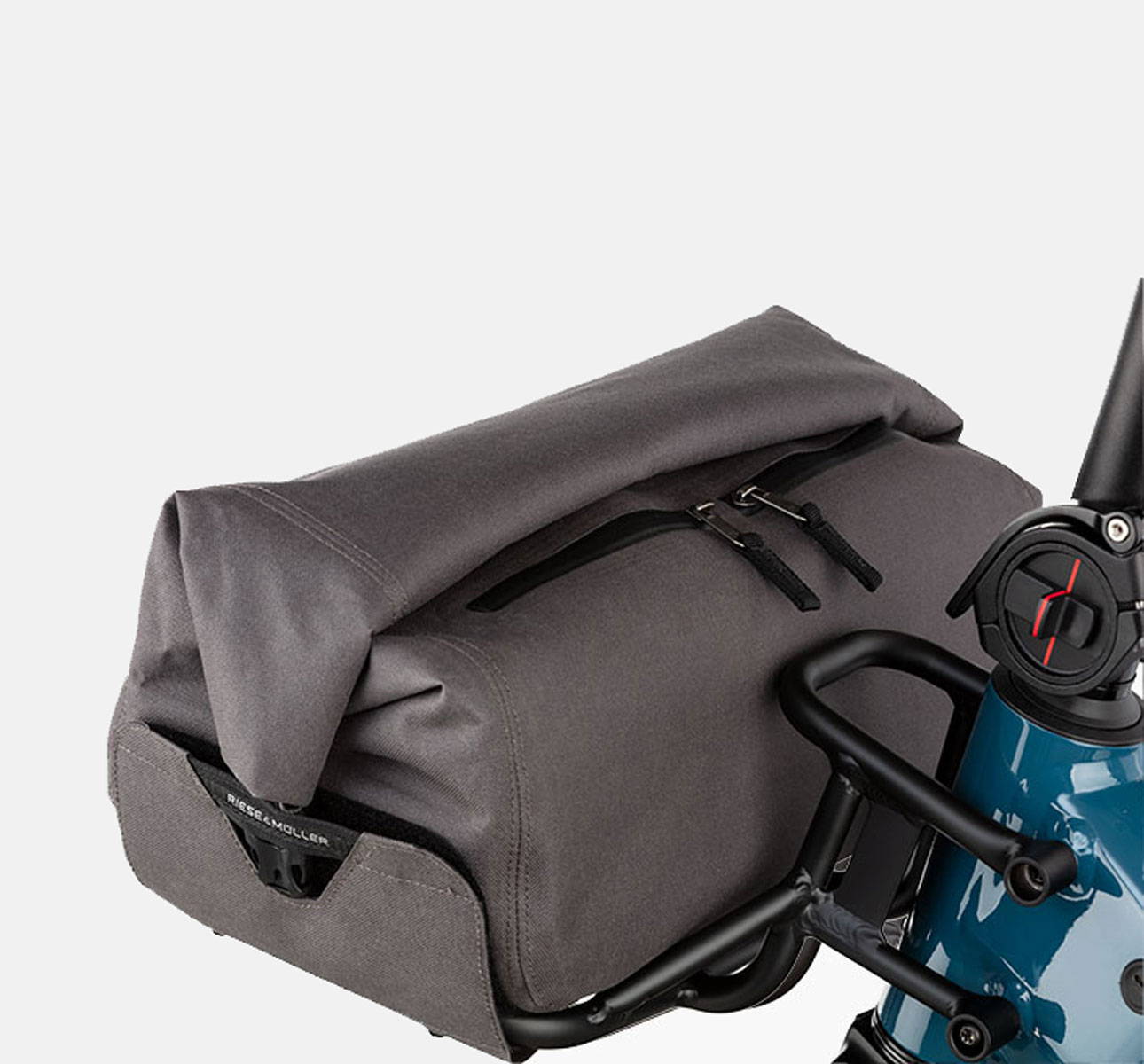 $267 CAD
Two massive cargo bags (42L each) perfectly compliment the Multitinker's dedication to big cargo runs. Roll-tops keep your cargo dry and the bags can easily be removed without the use of tools to bring into the grocery store if needed.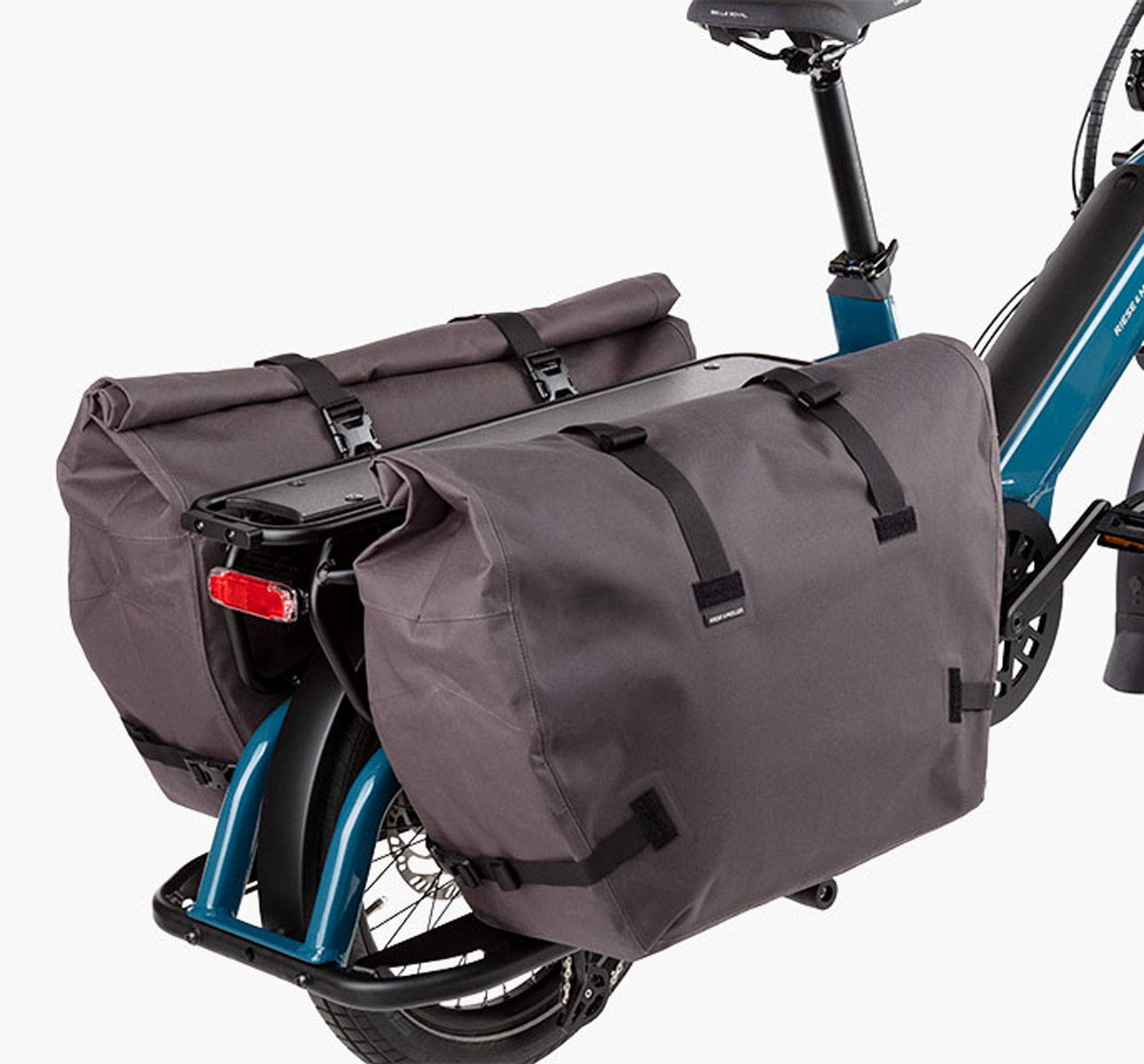 $98 CAD
Comprised of a foam seat, grab handles, spoke guards and footrests, the Pasenger Kit turns the Multitinker into a tandem bike for one passenger aged 7 or older weighing up to 140lbs. The bipod kickstand makes loading and unloading passengers easy.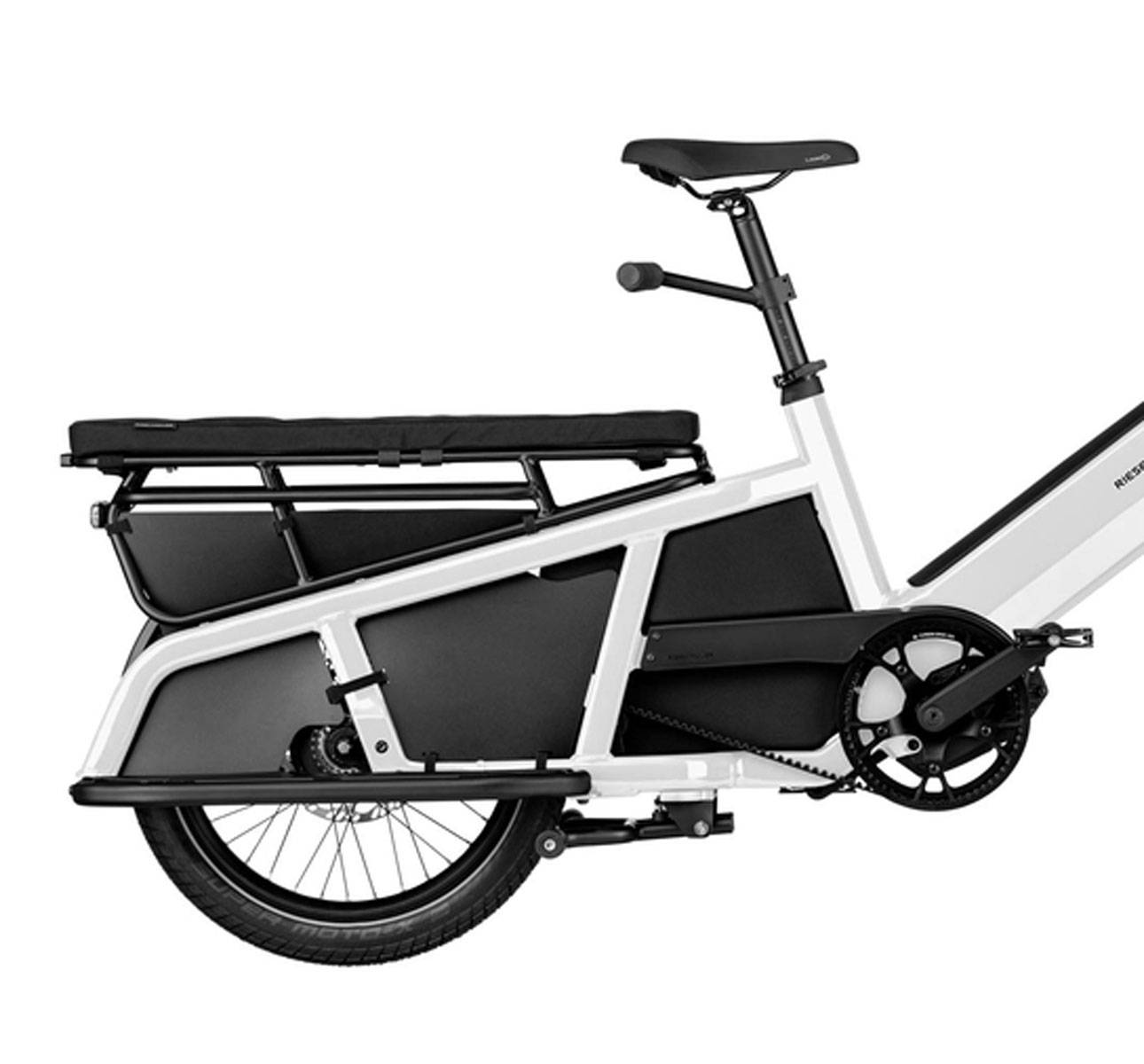 $239 CAD
The Safety Bar Kit turns the Multitinker into a true family vehicle. Two children up to age 9 with a combined weight of no more than 140lbs are safely secured between the outside bar and inner foam-wrapped grab-bar. If your children are still young enough to need child seats (under the age of 7), you can secure them one behind the other between the safety bars. A wheel guard keeps toes out of spokes and a footrest provides a safe place to put boots and shoes when riding. A bipod kickstand makes loading kids easy and efficient.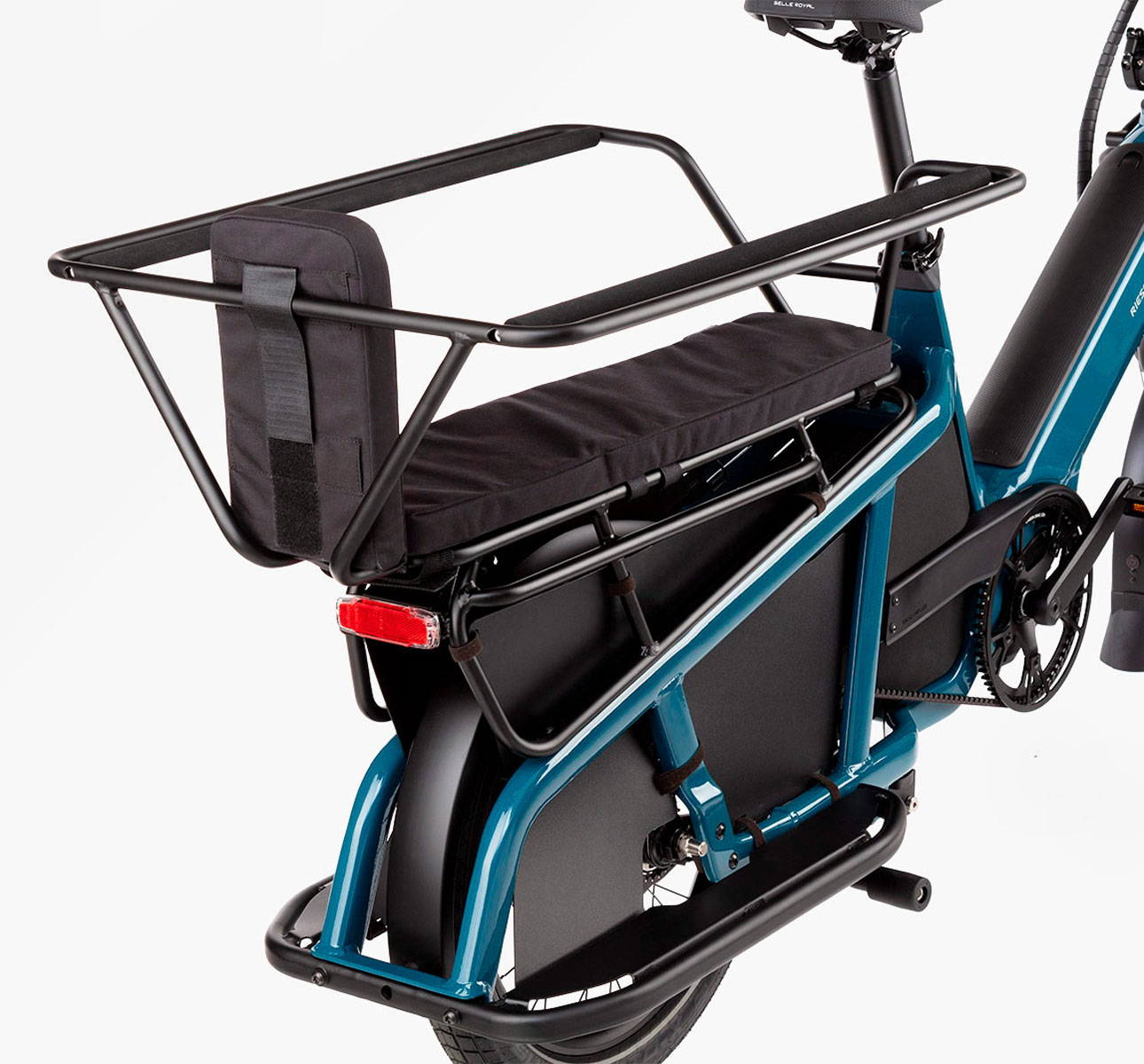 ---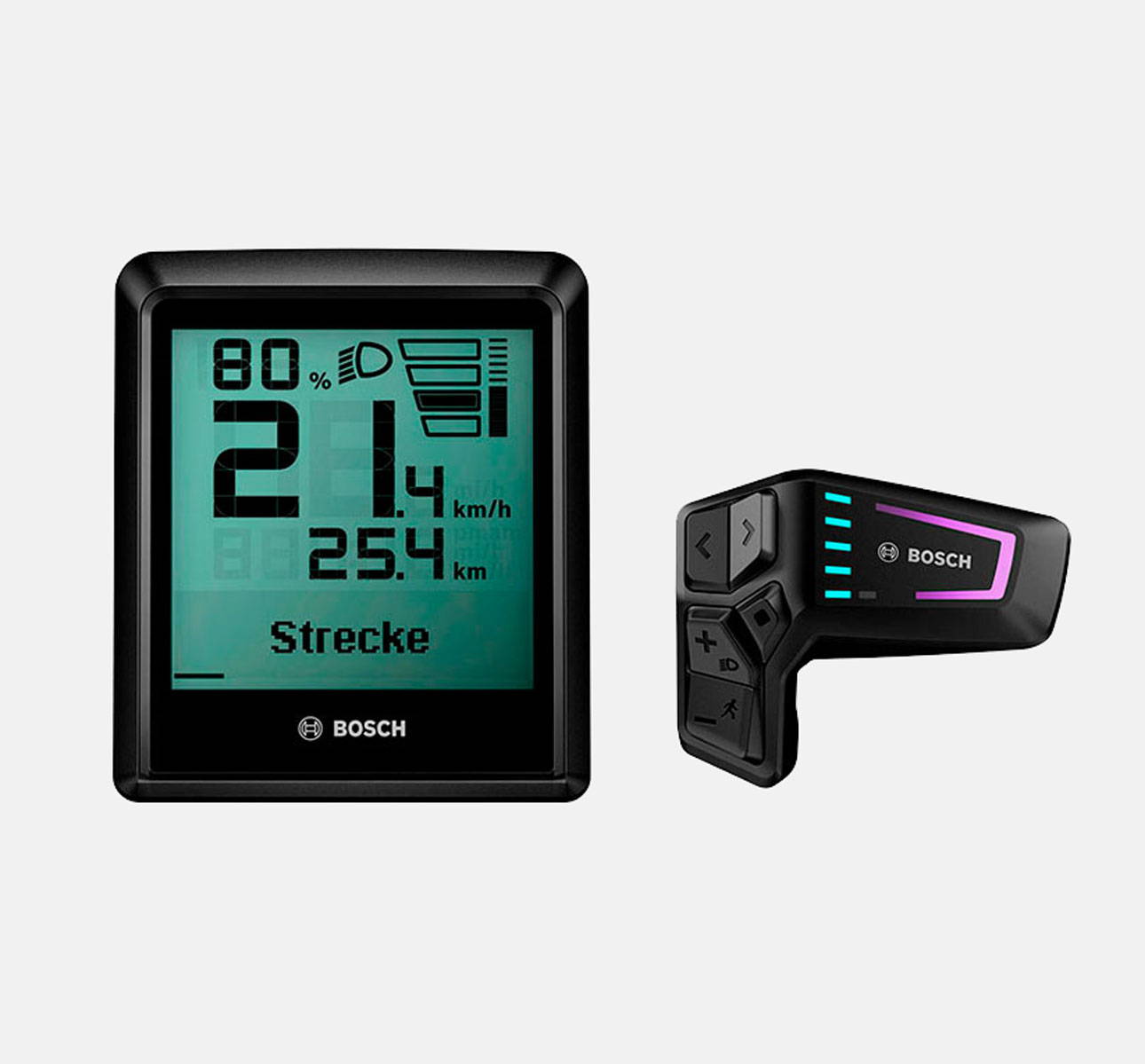 Bosch Intuvia 100 Display
Comes standard
Intuvia keeps things simple alongside full LED Remote control. A black-and-white screen is visible even in the brightest sunlight and provides data on battery status, range, daily mileage, riding time, current motor power, time, speed, and average travel speed. It also features a digital E-bike Lock (and Alarm - coming soon, not currently available in Canada) as it's part of the Smart System.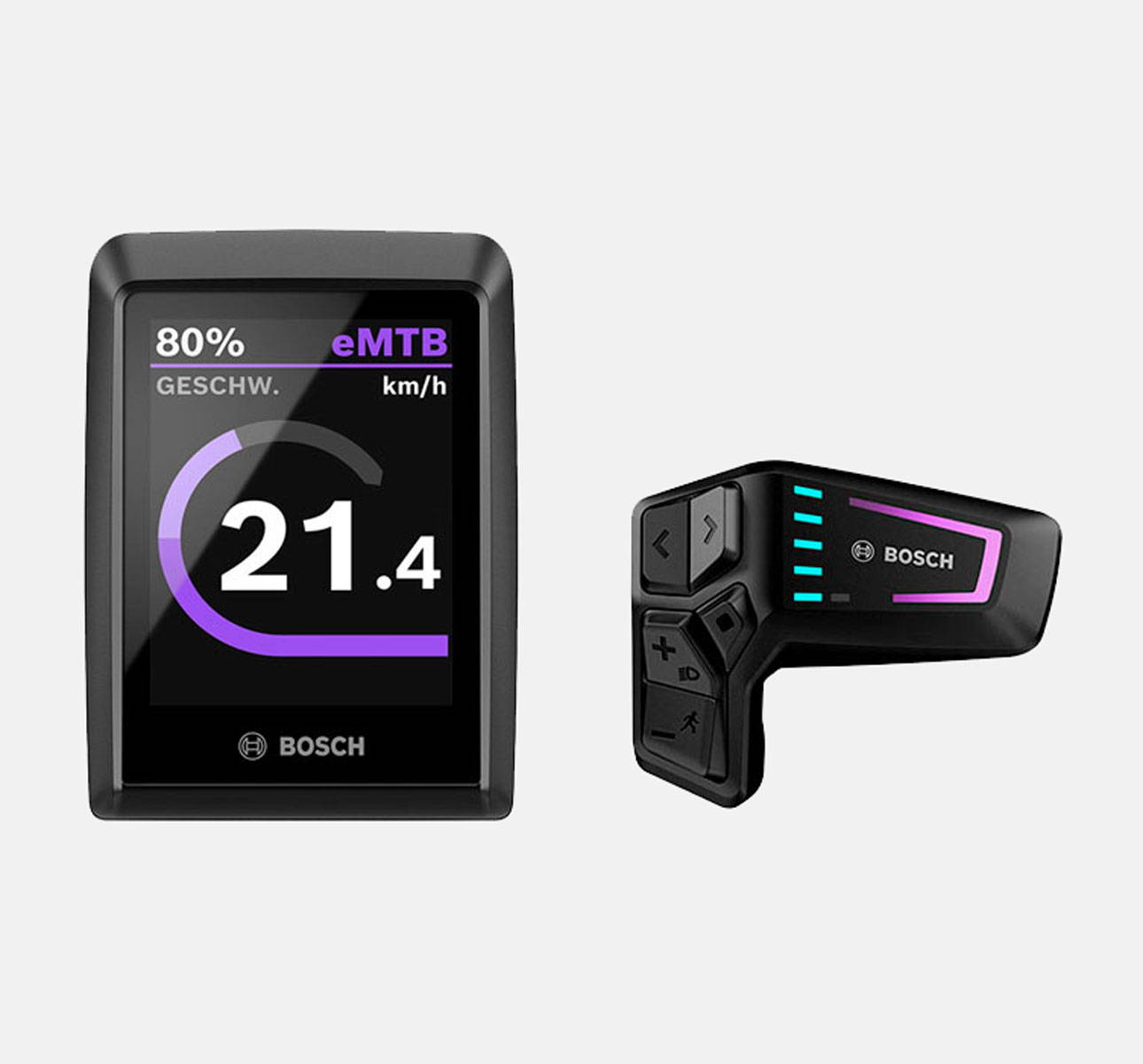 $69 CAD
The Kiox display unit is integrated into the cockpit with internal cabling that keeps things minimalist and clean.
Different training modes are available and it can be connected to a heart rate monitor via Bluetooth. Map-free navigation (when paired with a smartphone) and scratch-resistant Gorilla glass mean it's ready for any adventure. It also features a digital E-bike Lock (and Alarm - coming soon, not currently available in Canada) as it's part of the Smart System.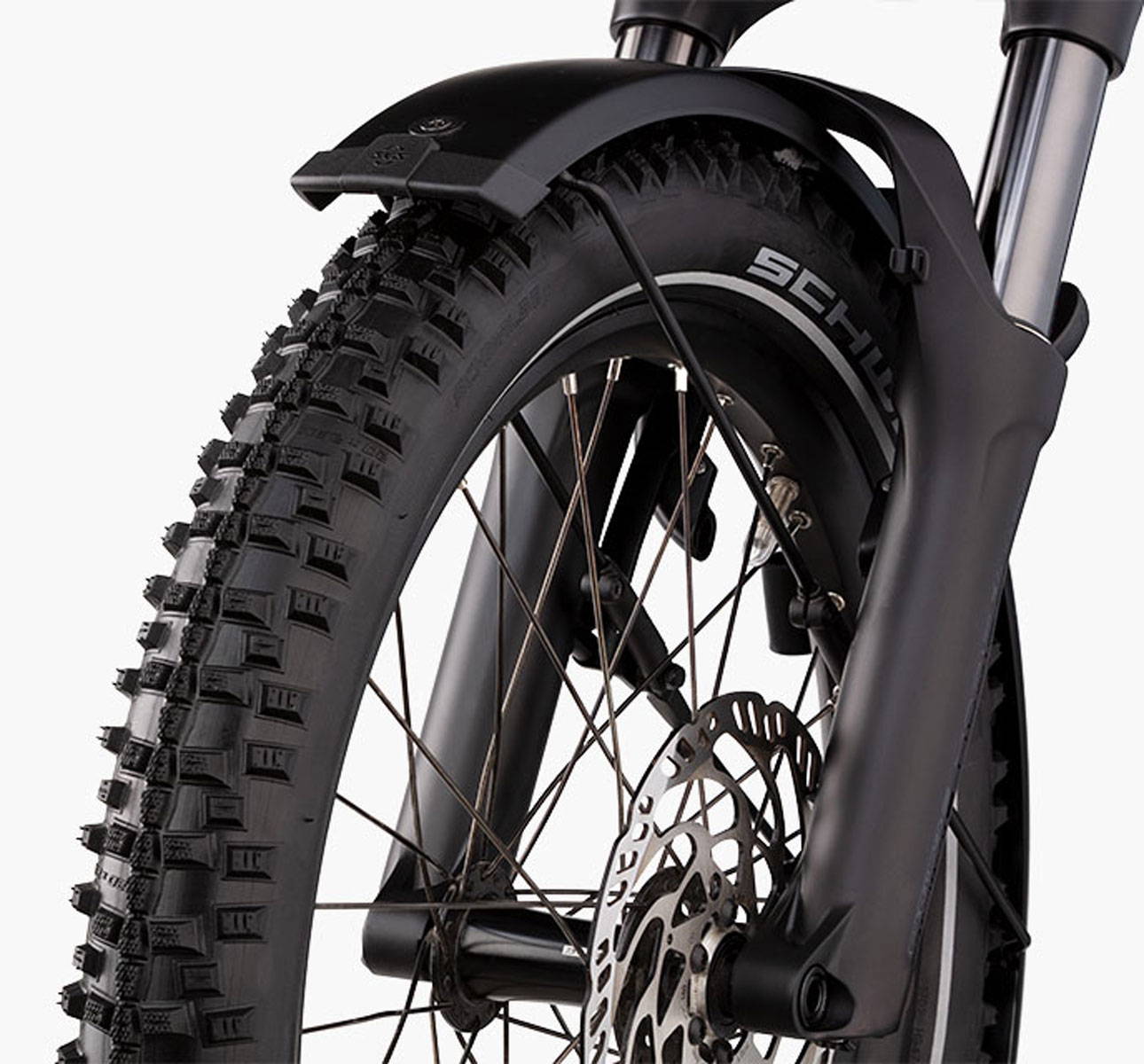 $69 CAD
This one's for the off-road enthusiasts. Schwalbe Smart Sam Plus tires guarantee exceptional grip, especially when cornering. 3mm of puncture-proof protection within the tire provides peace of mind over rough rock or road debris.
Additional Chain Lock with Bag
$69 CAD
An included ABUS Shield+ frame lock secures your rear wheel and prevents theft when you're close by, but what if you need to leave your bike locked? The 130cm ABUS chain lock connects to the Shield+ frame lock and is keyed-alike with your battery for minimal key carry. A saddlebag keeps the chain lock close and at hand when you need it without making noise or getting in the way while riding.
---
Want to try before you buy?
We offer extended test rides from 1 - 3 days.

---
Starting at $8,979 CAD
Bosch Performance Line CX with Smart System
Bosch PowerTube 625 Wh
Shimano Deore, 10-speed derailleur gear
Configurable accessories
Gear Inches: 83.46 - 326.77
Starting at $9,689 CAD
Bosch Performance Line CX with Smart System
Bosch PowerTube 625 Wh
Enviolo 380, continuous hub gear, belt drive
Configurable accessories
Gear Inches: 86.22 - 326.77
---
---
Can't decide? We're here to help - Talk to an expert!
---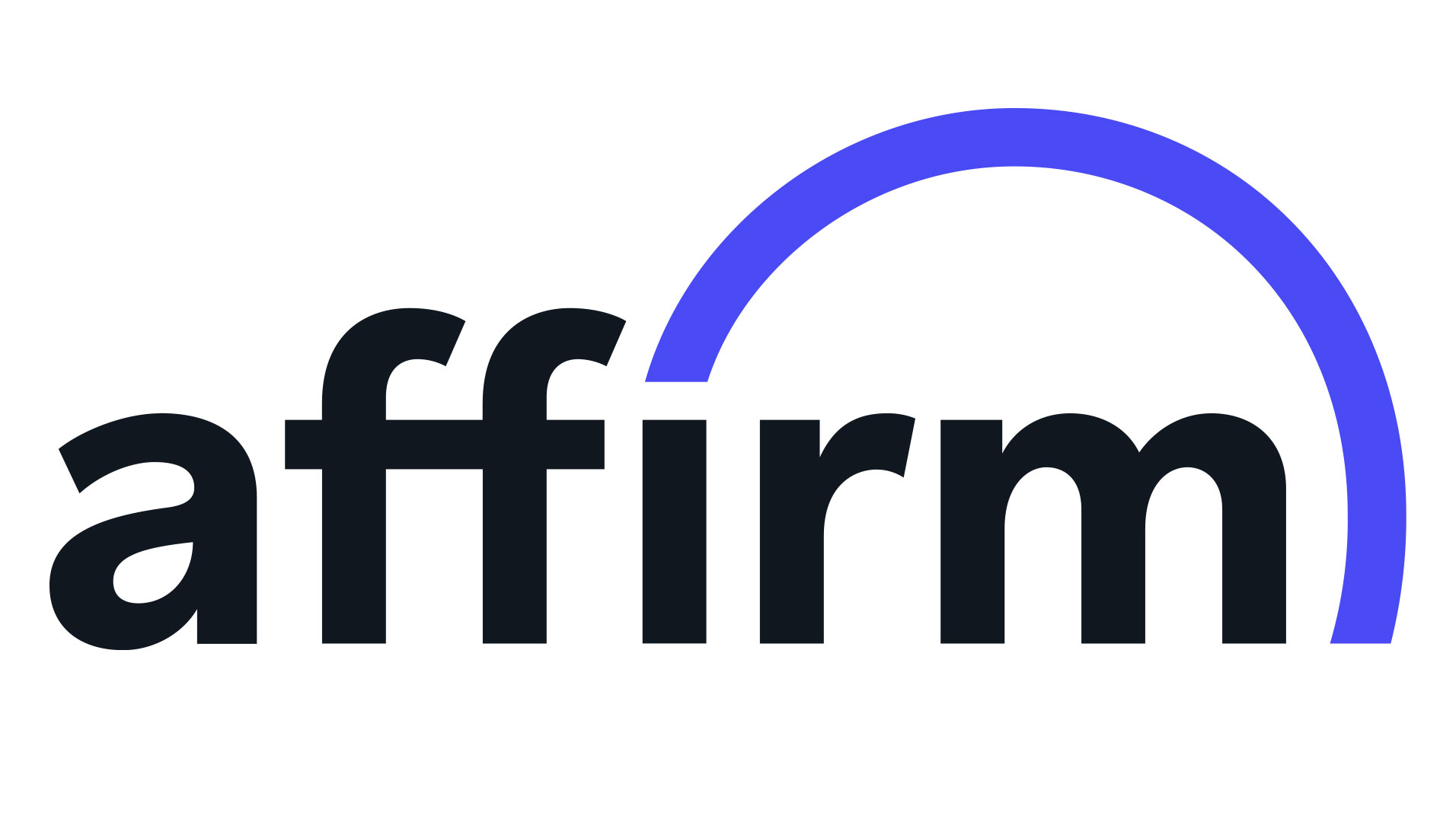 Buying an e-bike can be a daunting expense. Luckily, we offer financing through Affirm! That means zero interest and six low monthly payments to pay off your brand new bike in stages.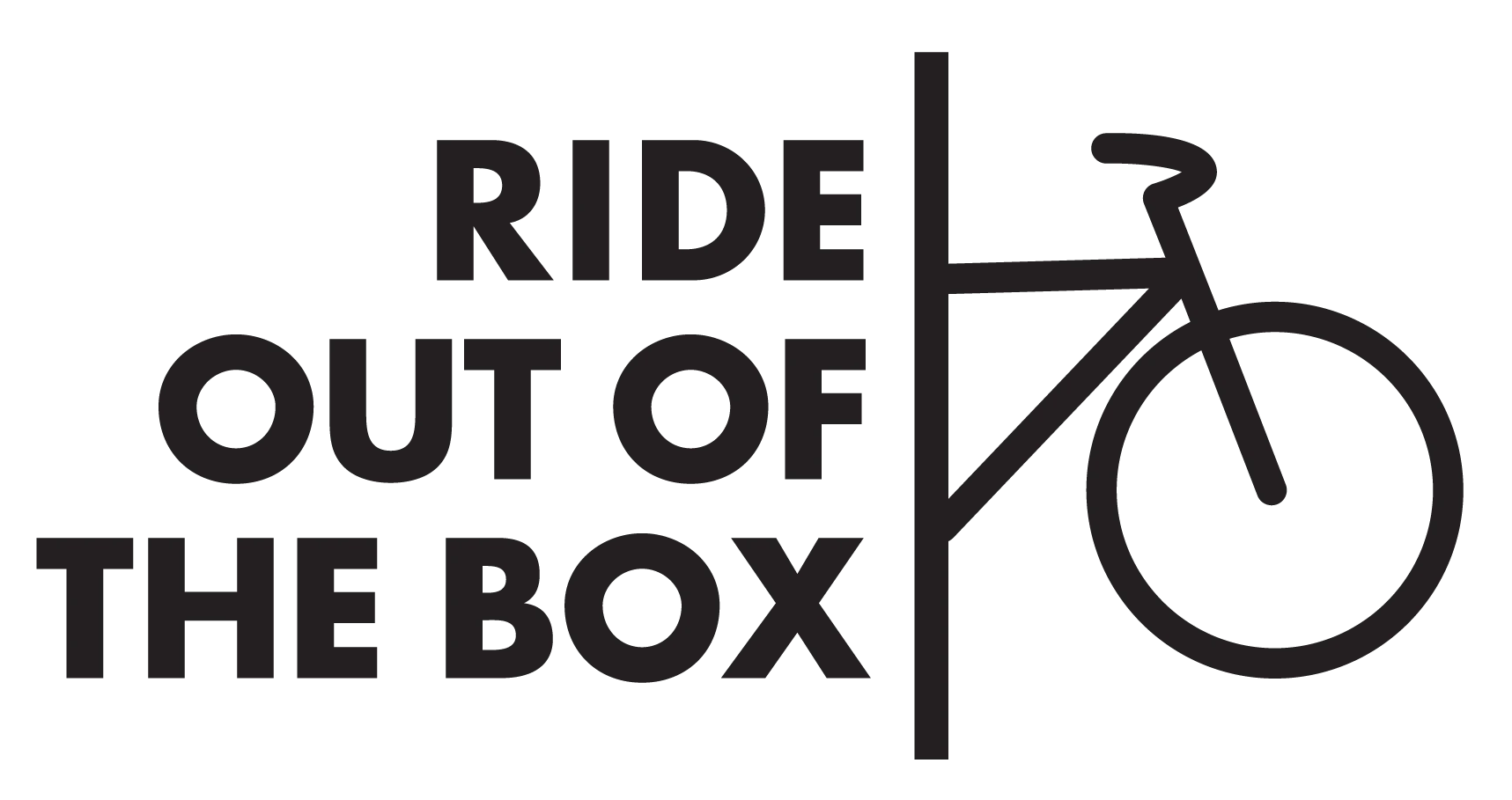 Did you know we ship bikes completely built and ready to ride? Our bikes are shipped Ride Out Of The Box meaning they are professionally tuned and delivered - worry free. Your bike will arrive at your door step with any accessories installed, so you can ride it right out of the box.
---