The Transporter2 65: One bike to do it all.
Hauling kids, dogs, cargo, or a mix of everything? Trust your precious cargo to the Transporter2 65 for all your everyday needs.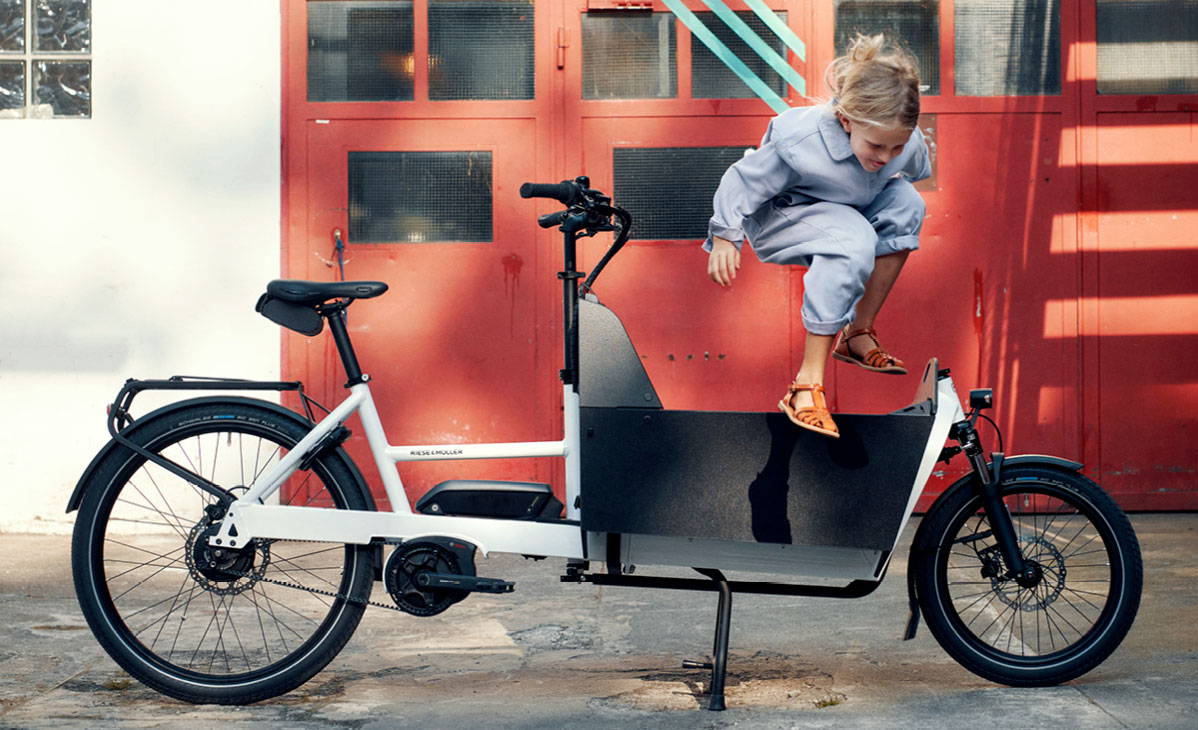 The Riese & Muller Transporter2 65 is ready for anything. Whether you're shuttling the kids round town, taking your dog on a day trip or hauling cargo from A to B, the Transporter2 65 should be your e-cargo bike of choice. Its powerful Bosch Performance Line motor with Smart System is intuitive and built to last.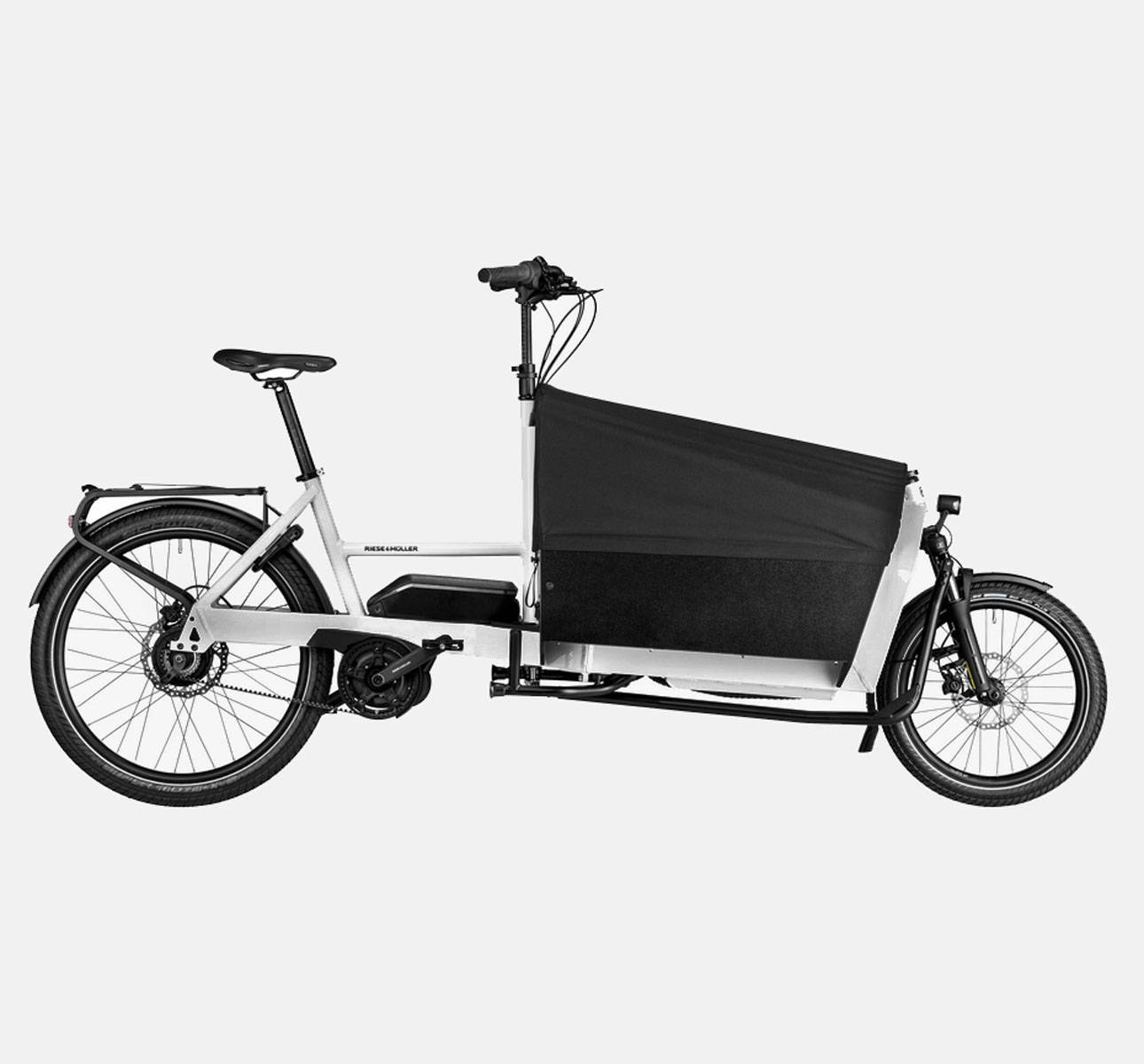 Transporter2 65 Vario / True White /725Wh Battery, Box with Tarpaulin, Rear Carrier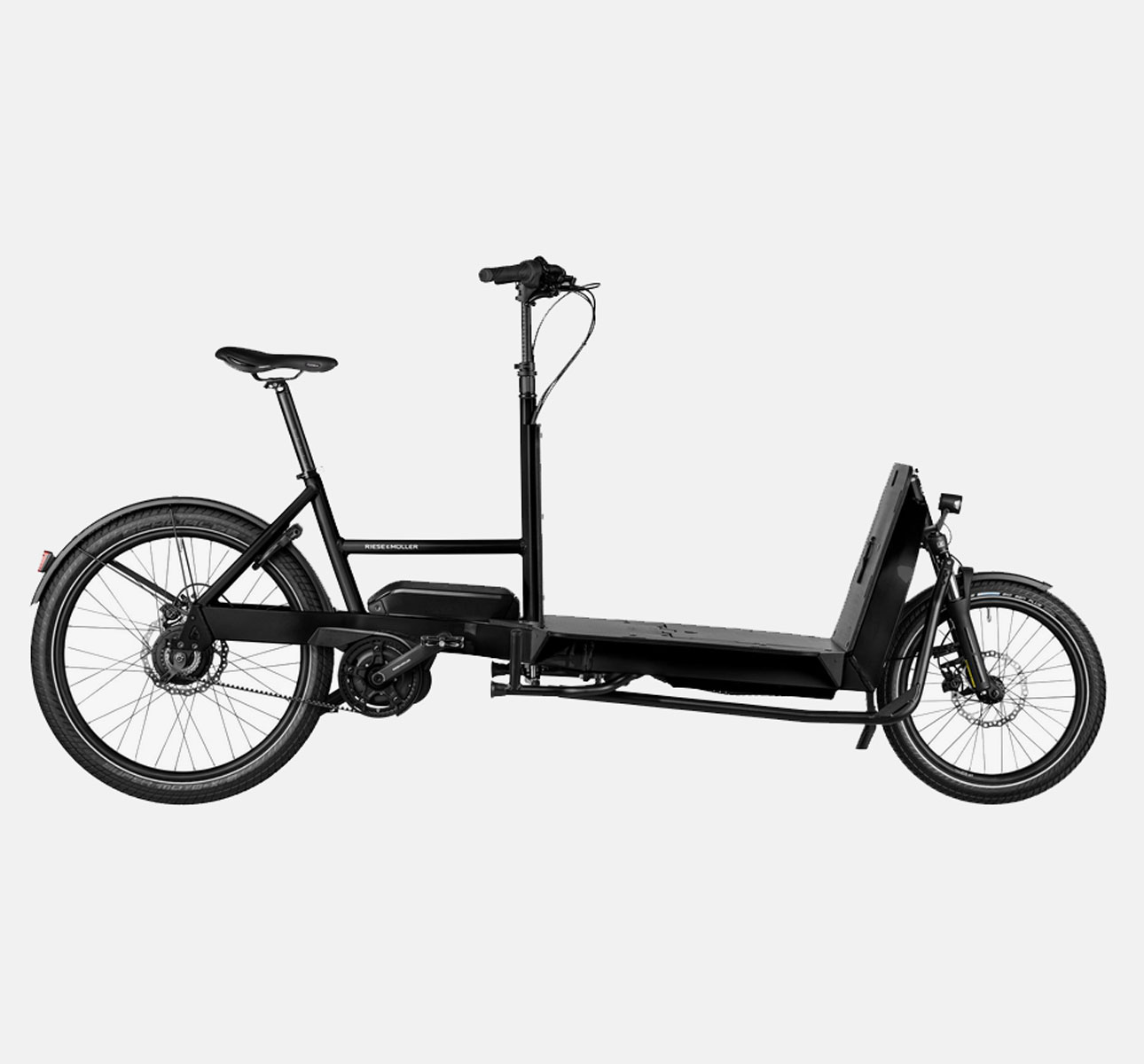 Transporter2 65 Vario / Black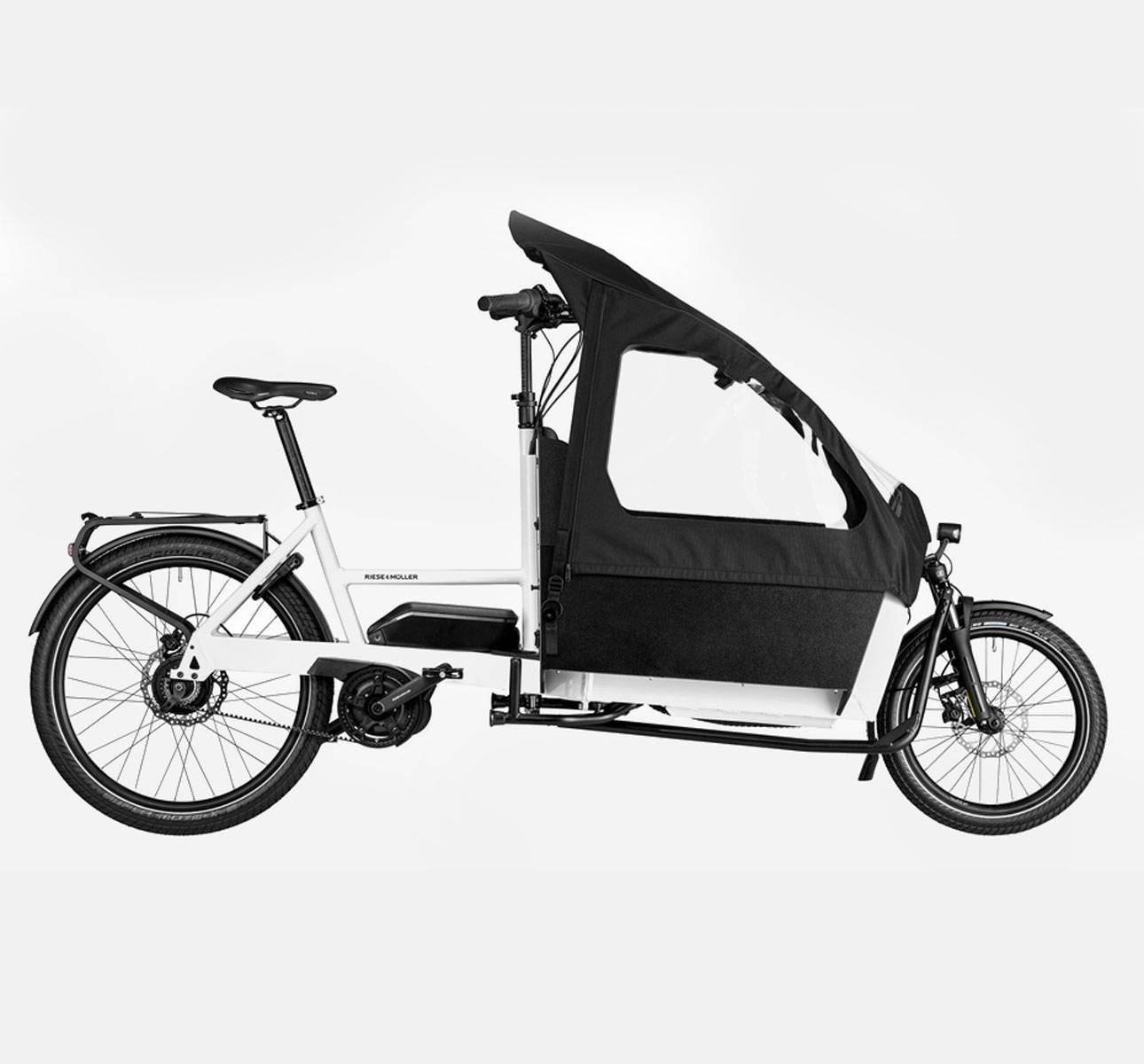 Transporter2 65 Vario / True White / 725Wh Battery, Box, Double Child Seat with Cover, Rear Carrier
---
Safe transport for the young (and young at heart).
The Packster 70 is designed with passengers in mind. Carry up to two children and keep them safe with 5-point seatbelts. The side door in the box makes disembarking a breeze, while the footwell provides ample room for boots and/or groceries. Dogs are also welcome with the addition of the Dog Kit - featuring a flat floor, full-size mat, and harness clip.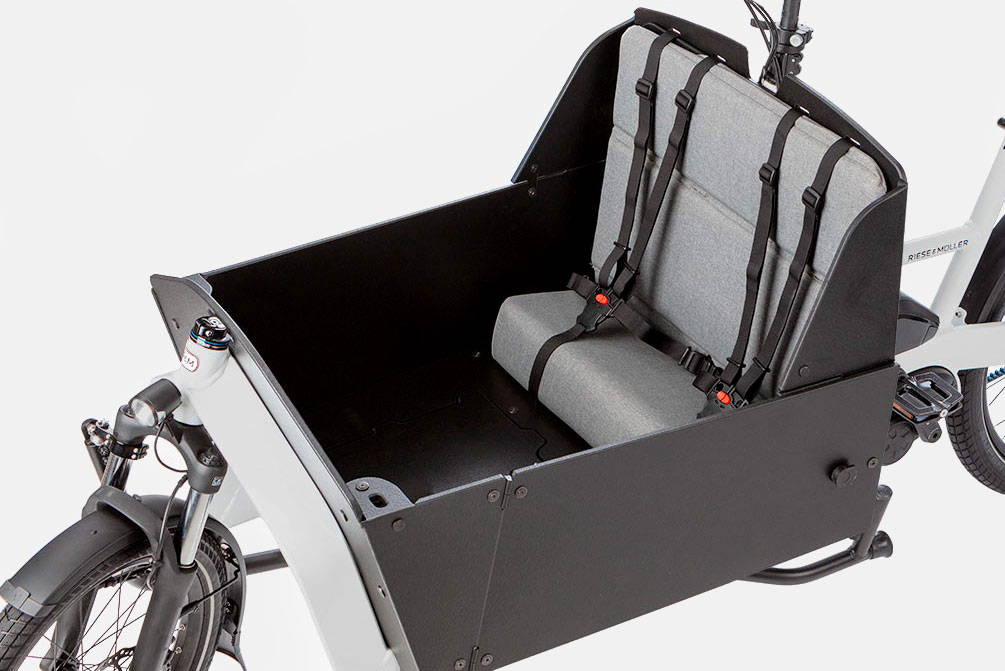 ---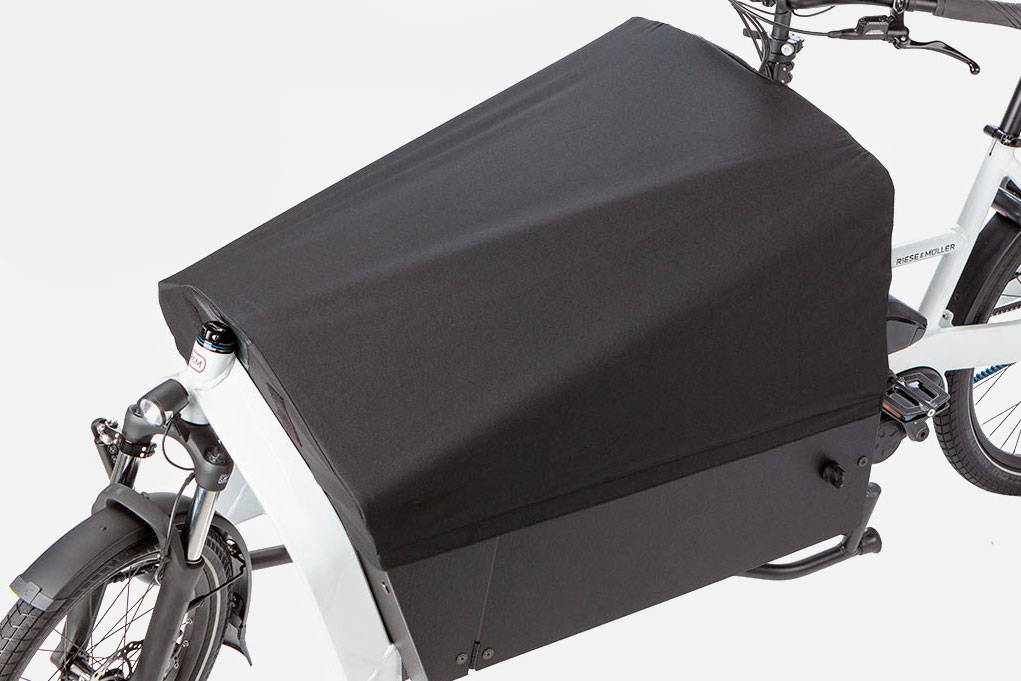 For croissants to kitchen sinks, and everything in between.
The Transporter2 65 adapts in a flash to your transport plans. The stock-standard boards configuration provides a long, wide platform for your boxes and bulky goods. Keep everything safe and secure with multiple lashing points - and store your straps in the lockable glove compartment under the deck when they're not needed. Alternatively, the optional box provides a closed cargo area and the optional tarpaulin protects your goods from wind and foul weather.
---
Reliable, Low Maintenance Riding

Enter the future with the Gates carbon belt drive and Vario hub system.
The Transporter2 65 features a Vario Enviolo 380 internal gear hub and Gates belt drive for true four-season versatility. The continuous shift system lets you choose the exact gear you need along a spectrum instead of clicking up and down a standard gear cassette. The Gates carbon belt drive lasts three times longer than a chain and offers silent, skipless pedaling power.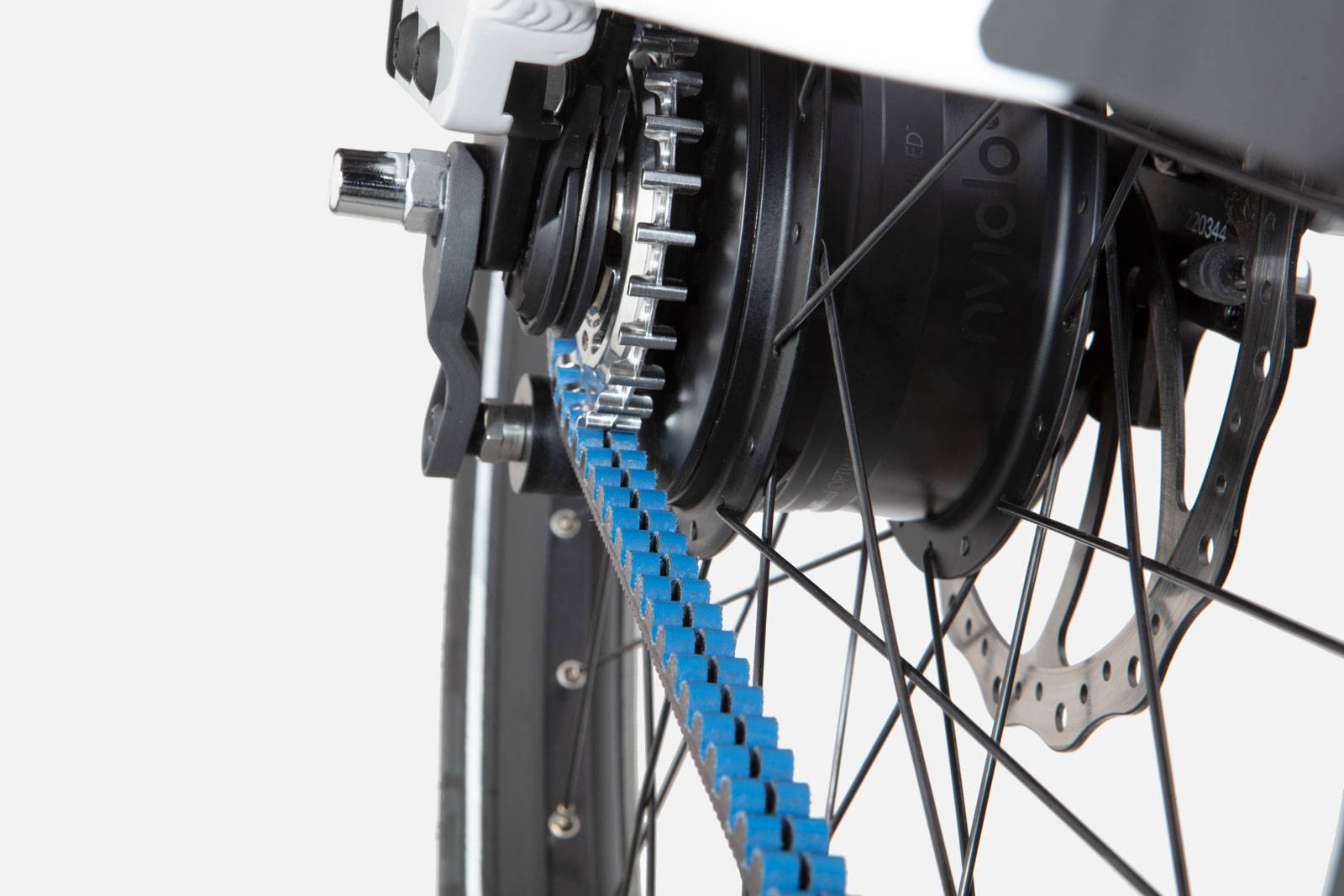 ---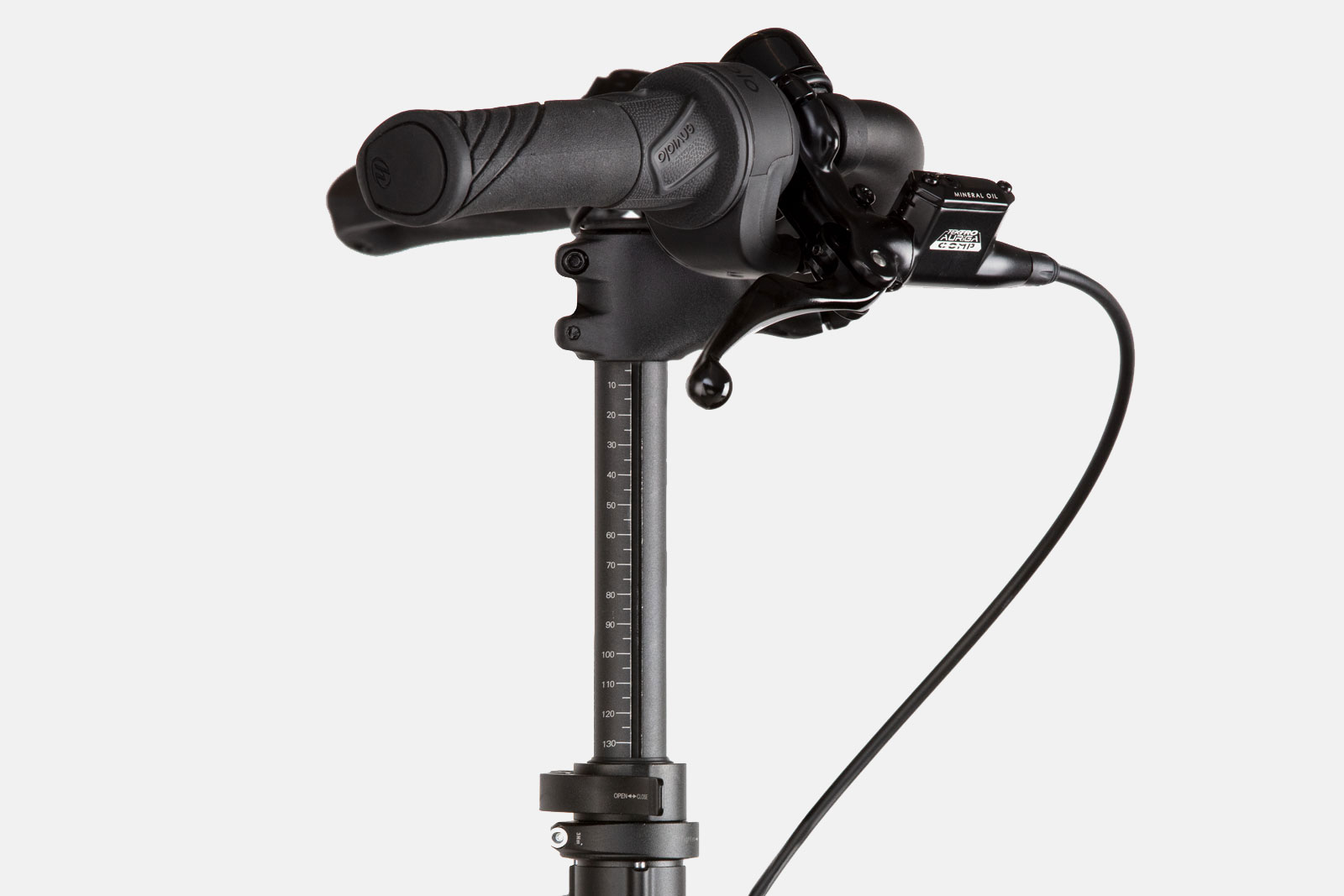 Adjustable seating position for multiple-rider households.
The height-adjustable seatpost and stem let you dial in the bike for riders between 4'11" t0 6'6", making the Transporter2 65 ideal for multiple riders. The low stepover height makes getting on and off the bike easy, while the centre kickstand with prop-up aid allows the bike to be parked easily - even when fully loaded.
---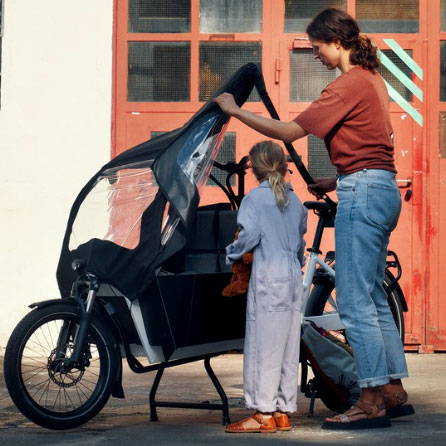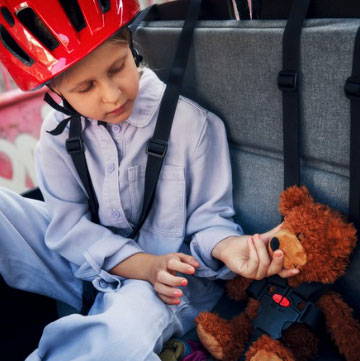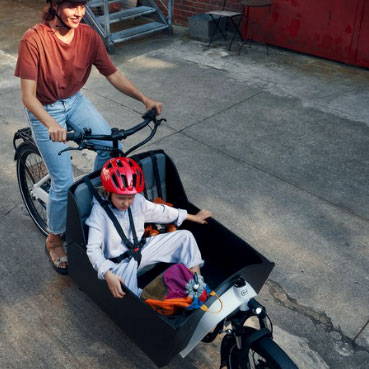 ---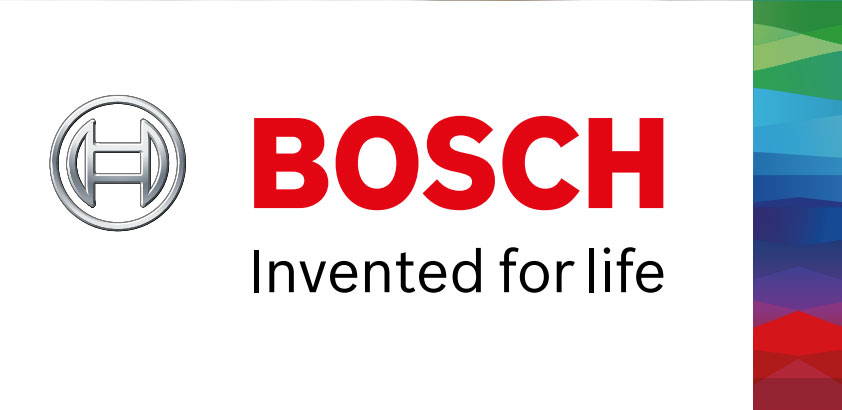 Motors, batteries and displays working in unison - unrivalled performance from a trusted manufacturer.
Research your Bosch e-bike system with the Bosch Range Calculator. This tool allows you to input rider weight, riding surface, and many more details to see how far you can ride assisted on a single charge.
This bike uses a Performance Line motor with your choice of PowerPack 545Wh or 725Wh battery.
---
Comes standard
A flat platform with multiple lashing points provides space for large, bulky items. The lockable glove box in the base of the platform gives you somewhere to stash your straps or chain lock while in transit.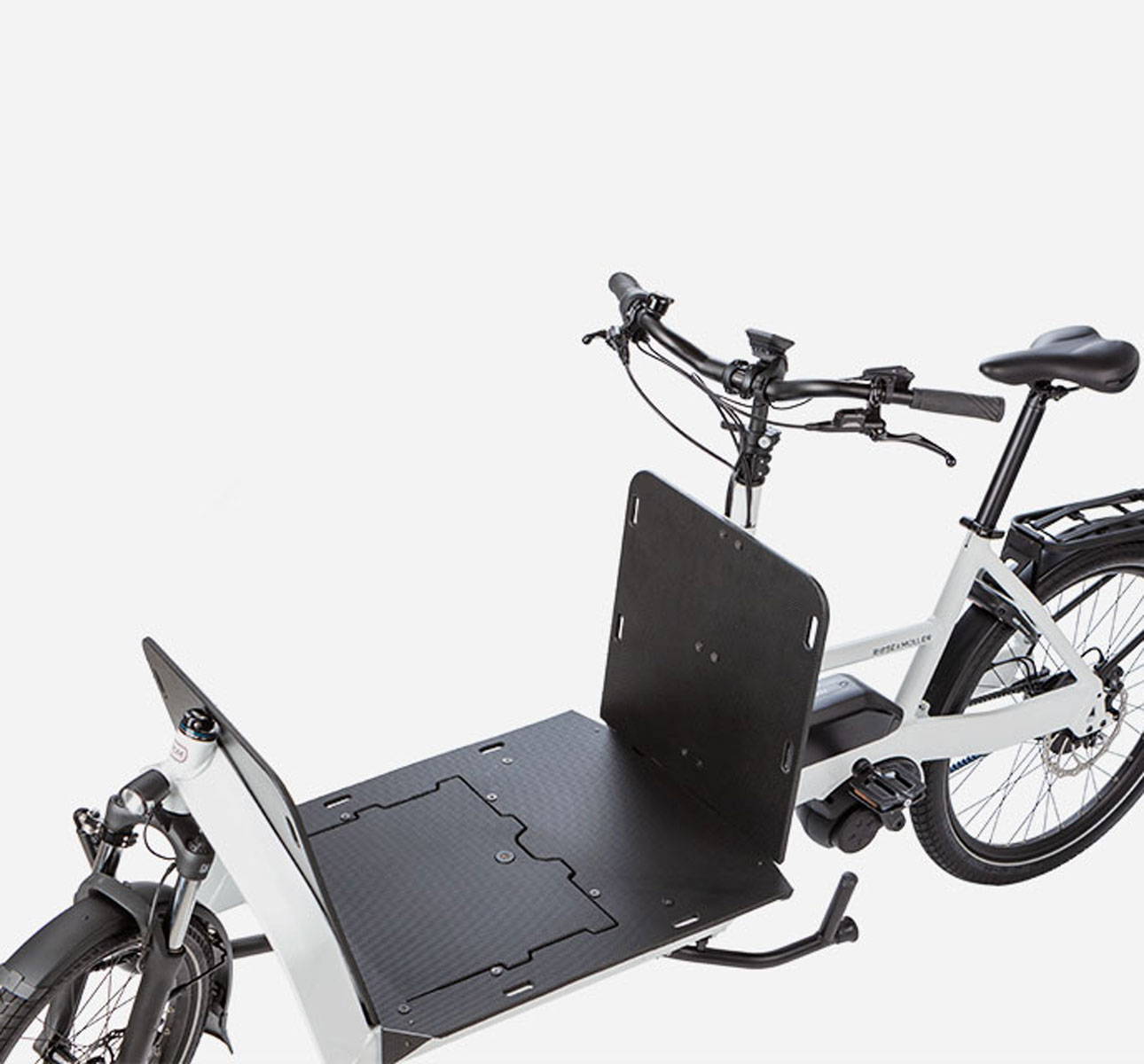 $421 CAD
The Box is made of robust polypropylene and is 100% recyclable. The door on the left side can only be opened from the outside and lets kids or dogs easily enter or leave the box.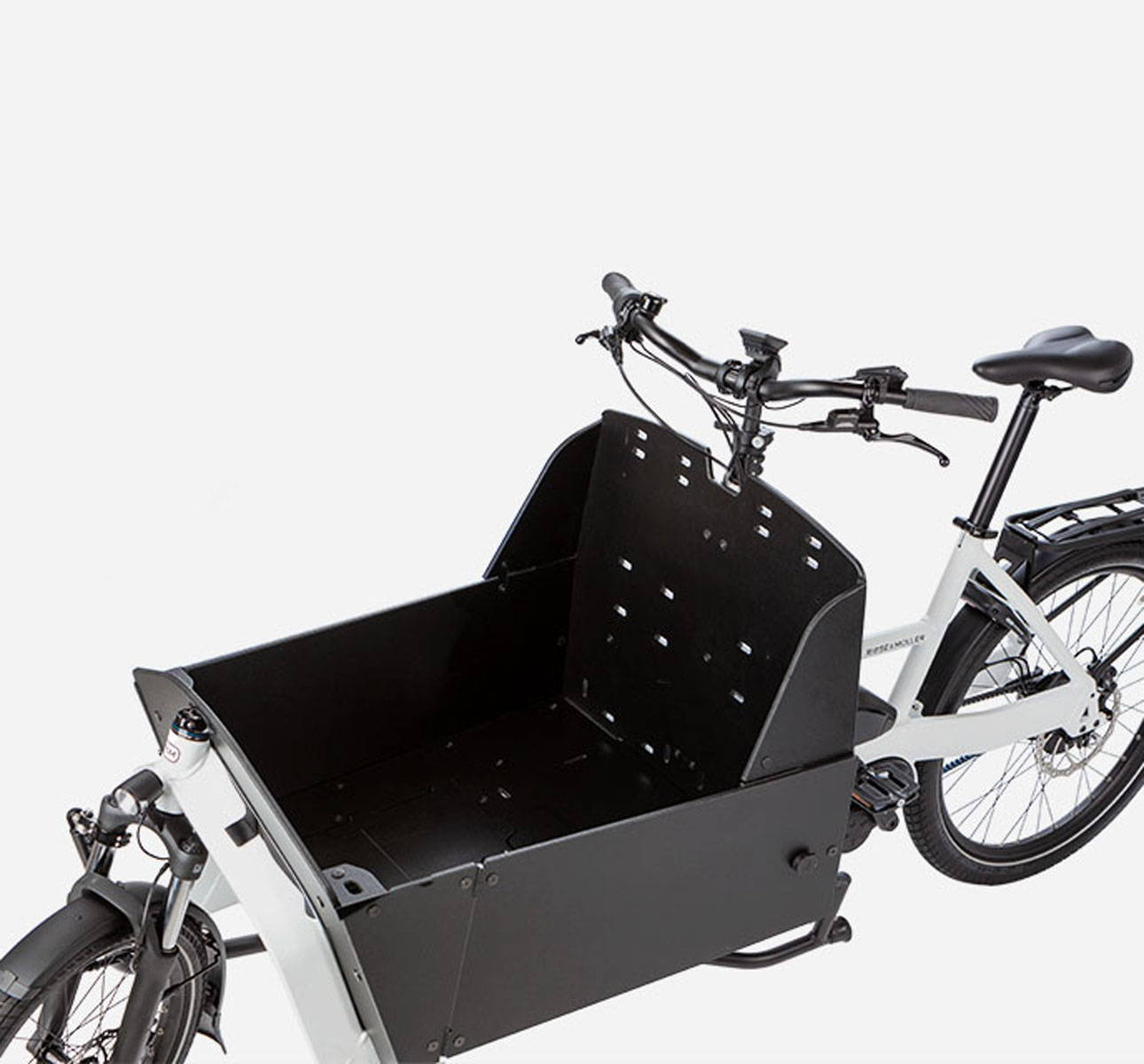 $168 CAD
This seating configuration holds two children younger than seven years old. Five-point seatbelts ensure maximum safety, and the shoulder belts can be adjusted to better fit smaller co-pilots. The standard footwell allows plenty of space for winter boots, or can be used as an additional 15L of storage space.
$98 CAD
A full-size cushion fills the entire base of the box for your best friend to stay comfortable on the commute. Your dog's harness is safely secured to the box with a carabiner safety belt. The footwell in the base of the box can still be accessed by lifting the mat, providing a secure place to store leashes and water bowls en route.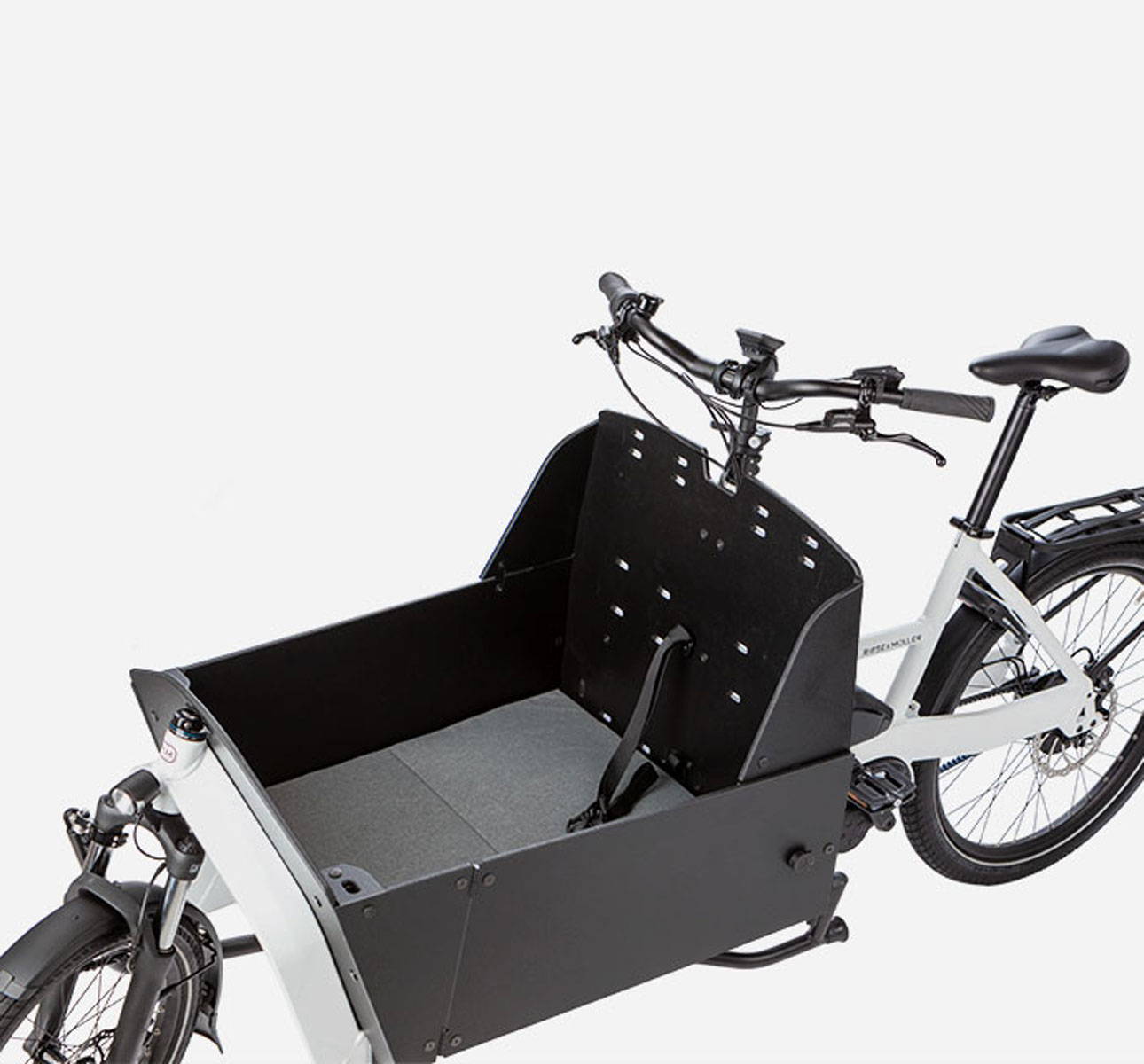 $70 CAD
The Tarpaulin is strong and weatherproof to keep your kids or cargo dry. Cover the whole box, or roll it back partway to offer your kids some foul-weather protection on wet days.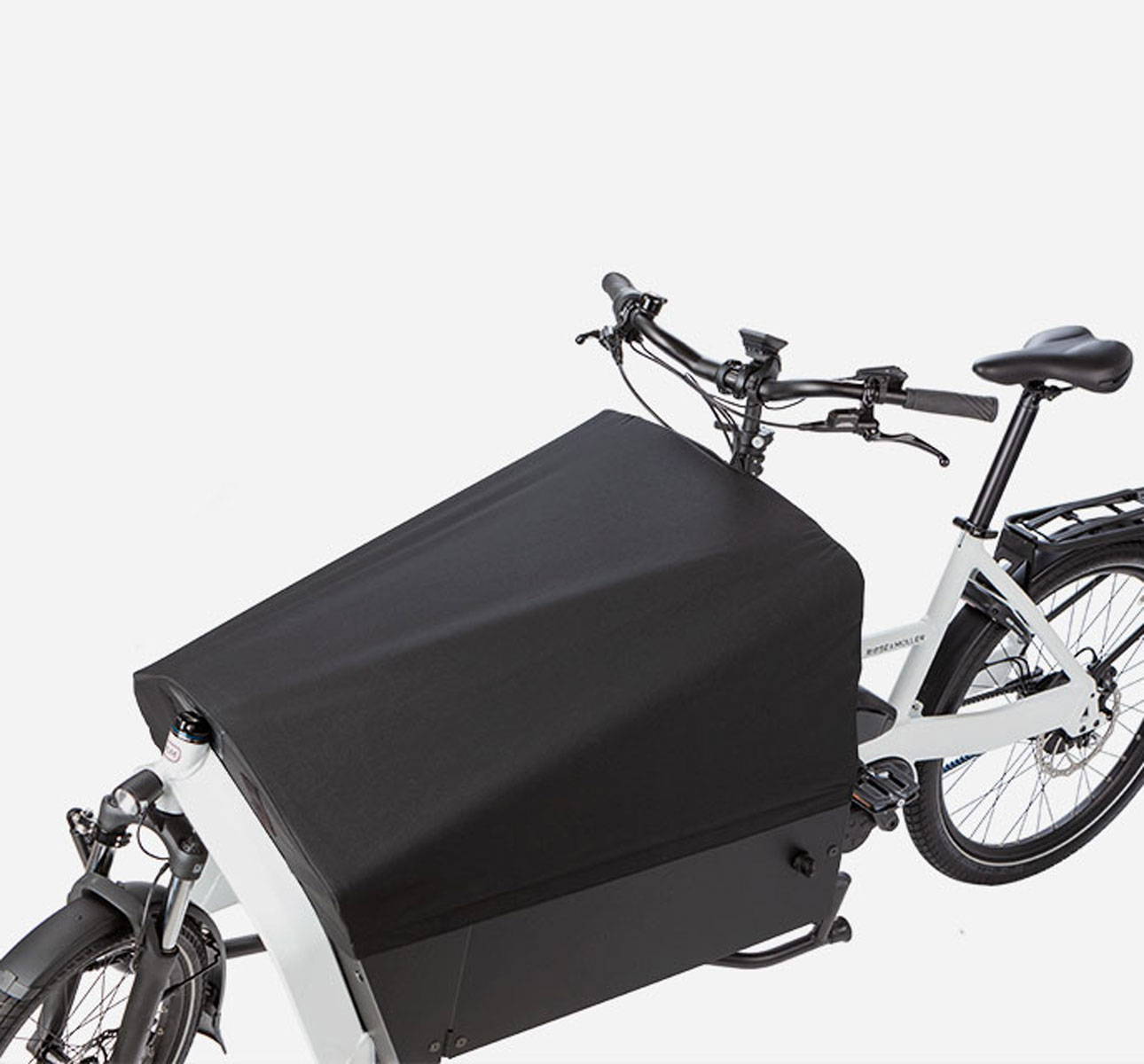 $351 CAD
The year-round Child Cover keeps your kids comfortable in any season. Its height can be adjusted depending on the handlebar's position to fit passengers as tall as 5'5". The door can be used even with the child cover installed, and a flexible pocket on the roof of the cover offers storage space for lightweight objects. Keep the cover partially open with sun shade and breezes in summer, and batten everything down for warmth in winter. The spoiler keeps the rider's hands warm and protected as well.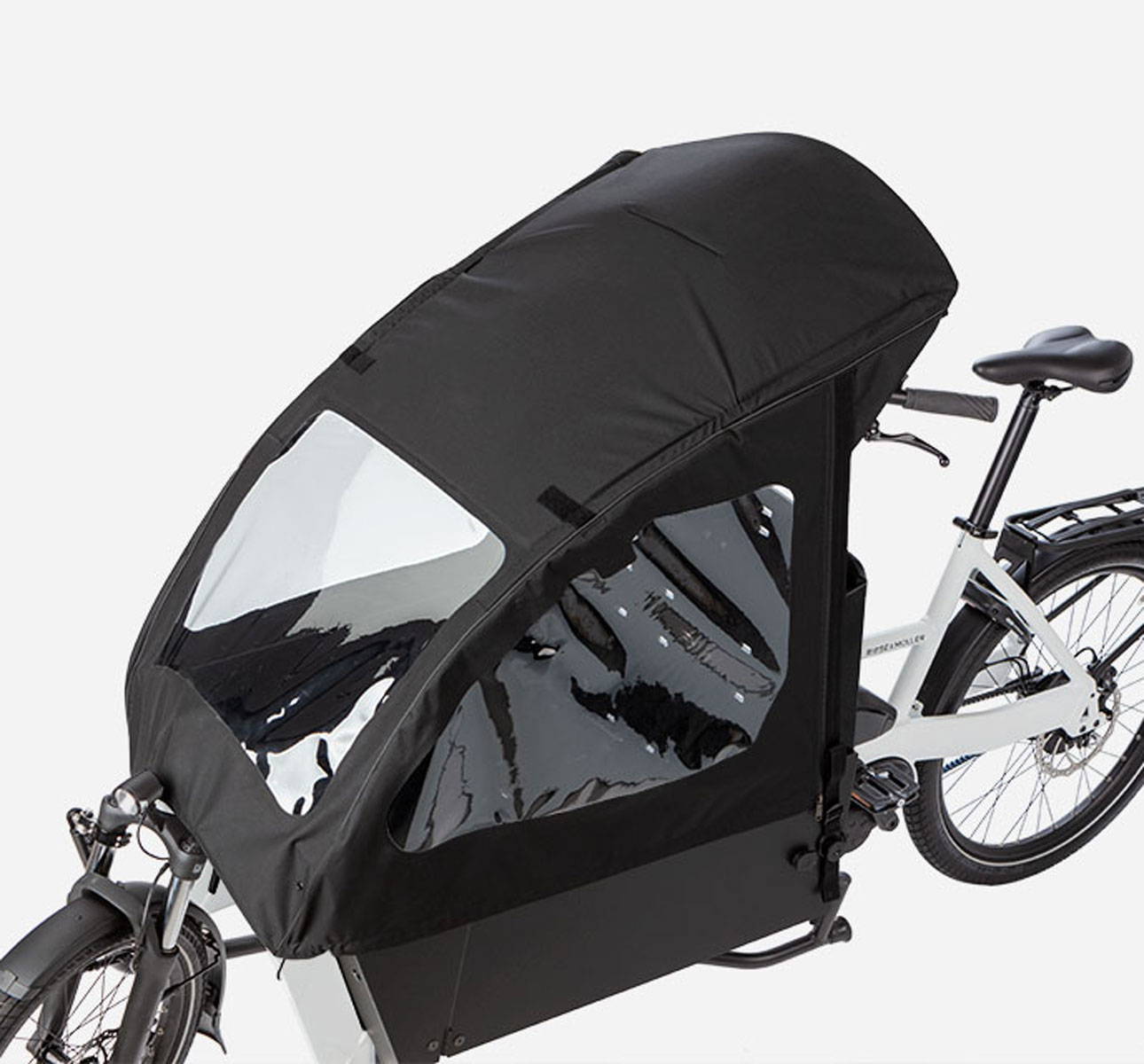 ---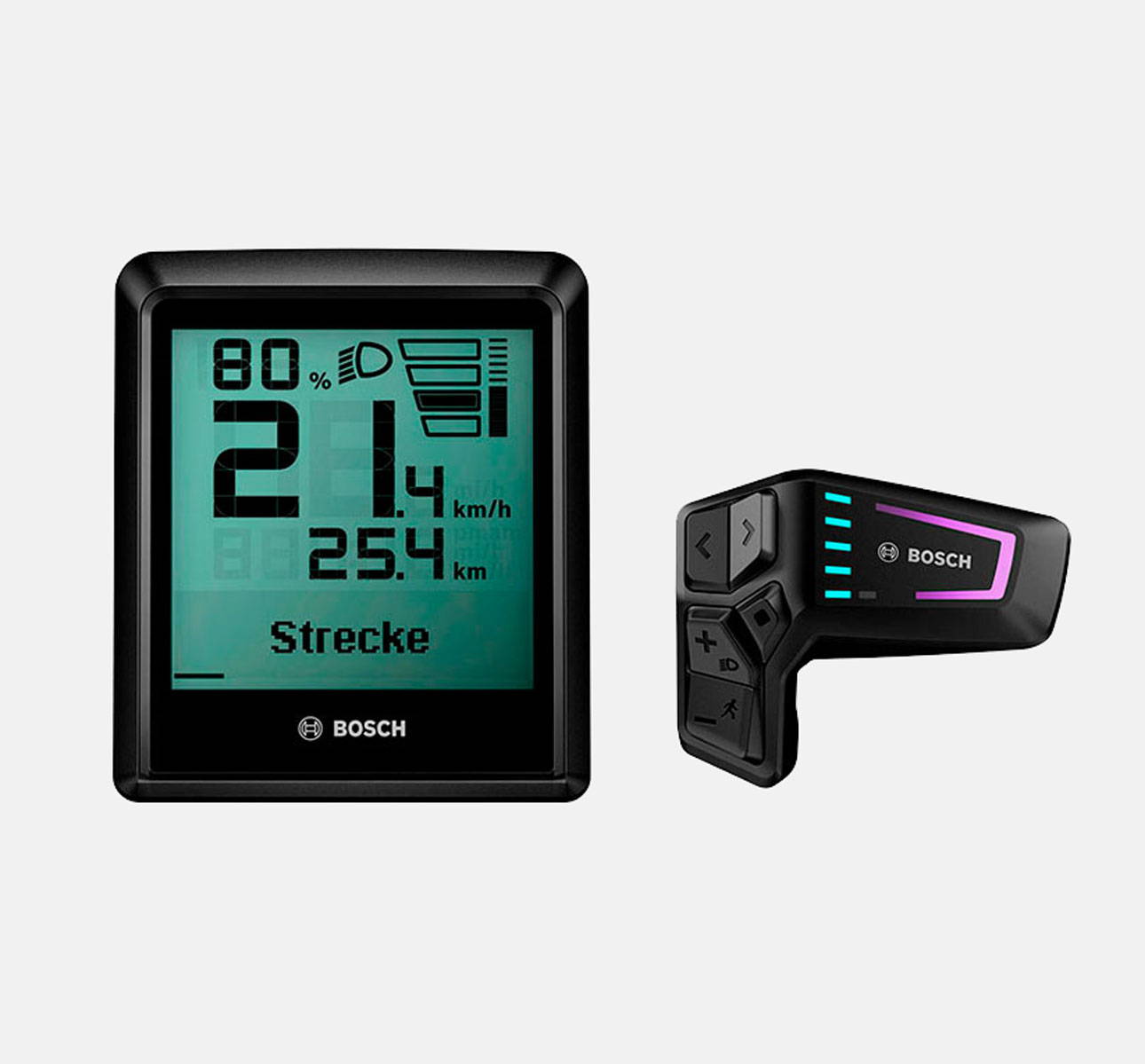 Comes standard
Intuvia keeps things simple alongside full LED Remote control. A black-and-white screen is visible even in the brightest sunlight and provides data on battery status, range, daily mileage, riding time, current motor power, time, speed, and average travel speed. It also features a digital E-bike Lock (and Alarm - coming soon, not currently available in Canada) as it's part of the Smart System.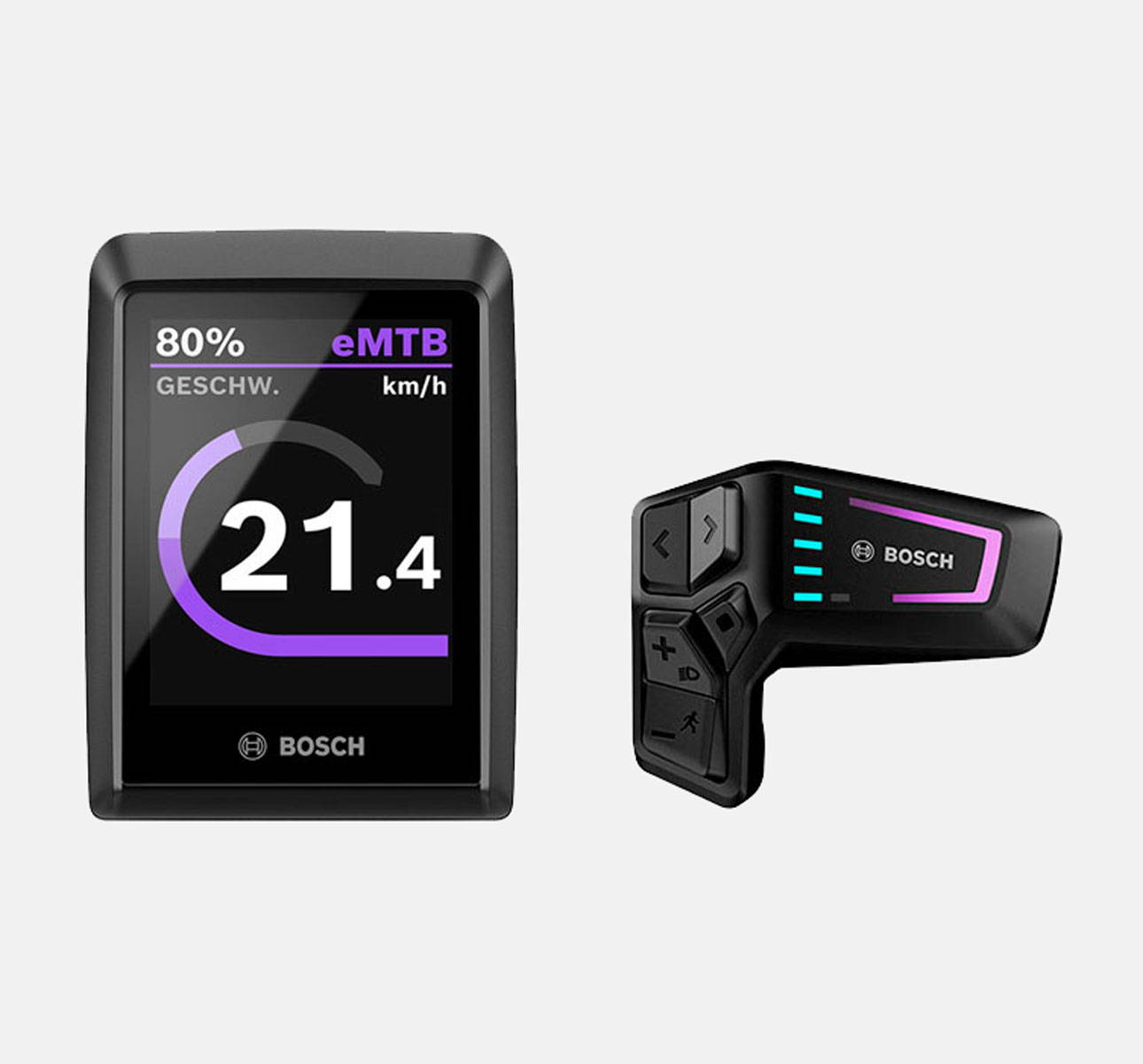 $70 CAD
The Kiox display unit is integrated into the cockpit with internal cabling that keeps things minimalist and clean.
Different training modes are available and it can be connected to a heart rate monitor via Bluetooth. Map-free navigation (when paired with a smartphone) and scratch-resistant Gorilla glass mean it's ready for any adventure. It also features a digital E-bike Lock (and Alarm - coming soon, not currently available in Canada) as it's part of the Smart System.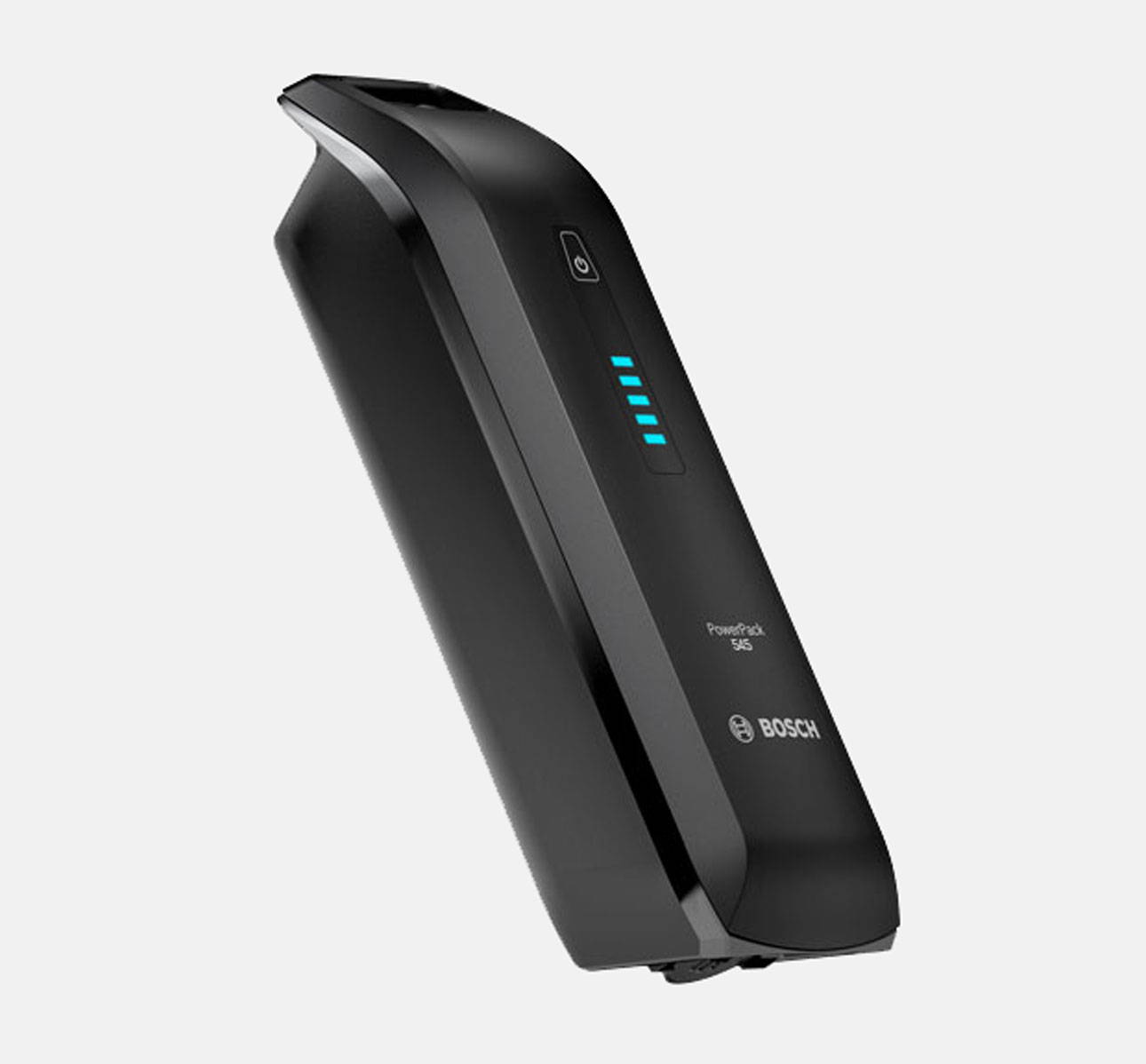 Comes standard
A single Bosch PowerPack 545Wh battery will take you up to 110km on a single charge - perfect for day-long rides close to home with easy access to a recharging pit stop.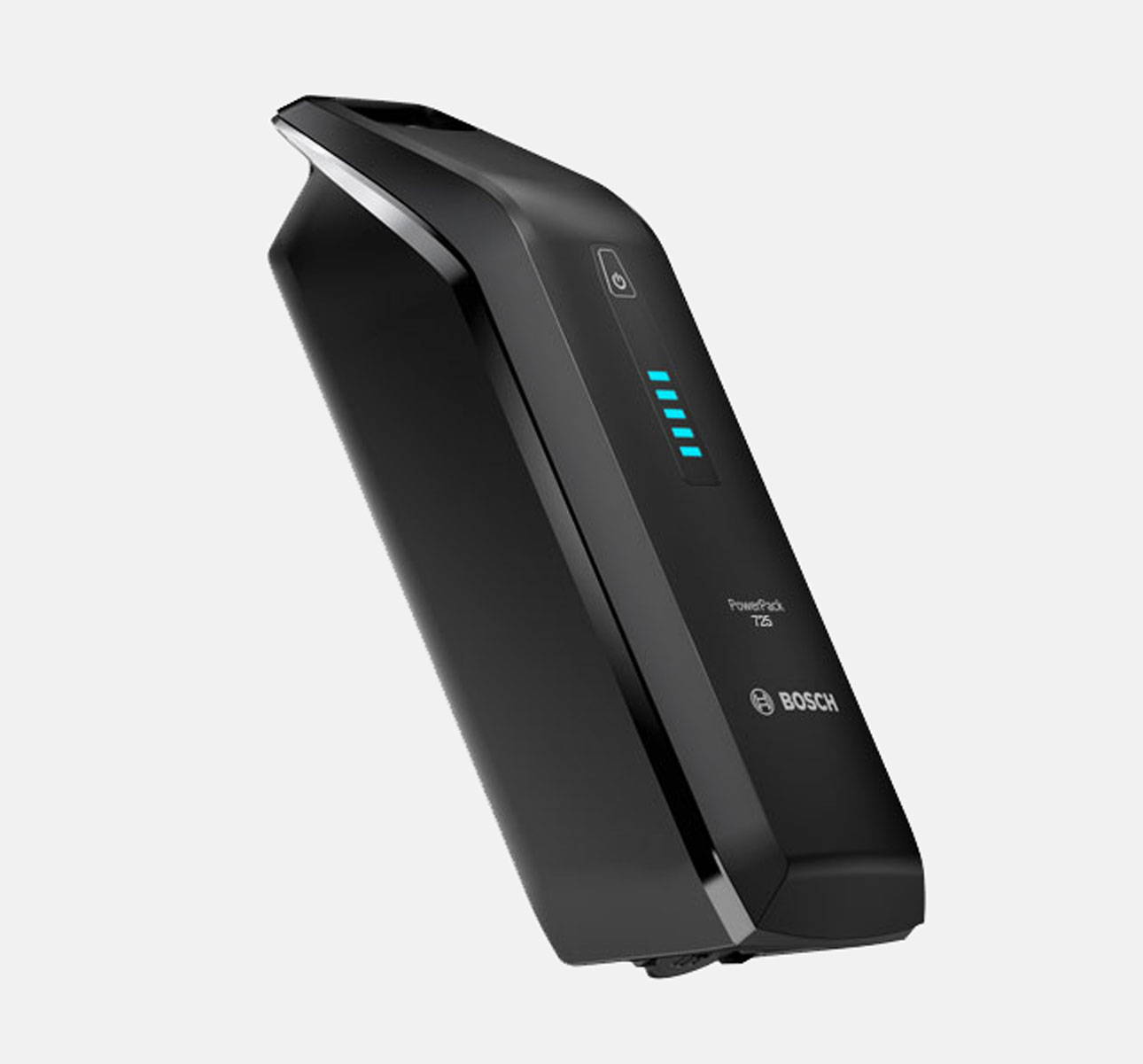 $421 CAD
A Bosch PowerPack 725Wh battery lets you travel up to 160km without needing a recharge - perfect for multi-day weekend trips or long-haul rides far from home.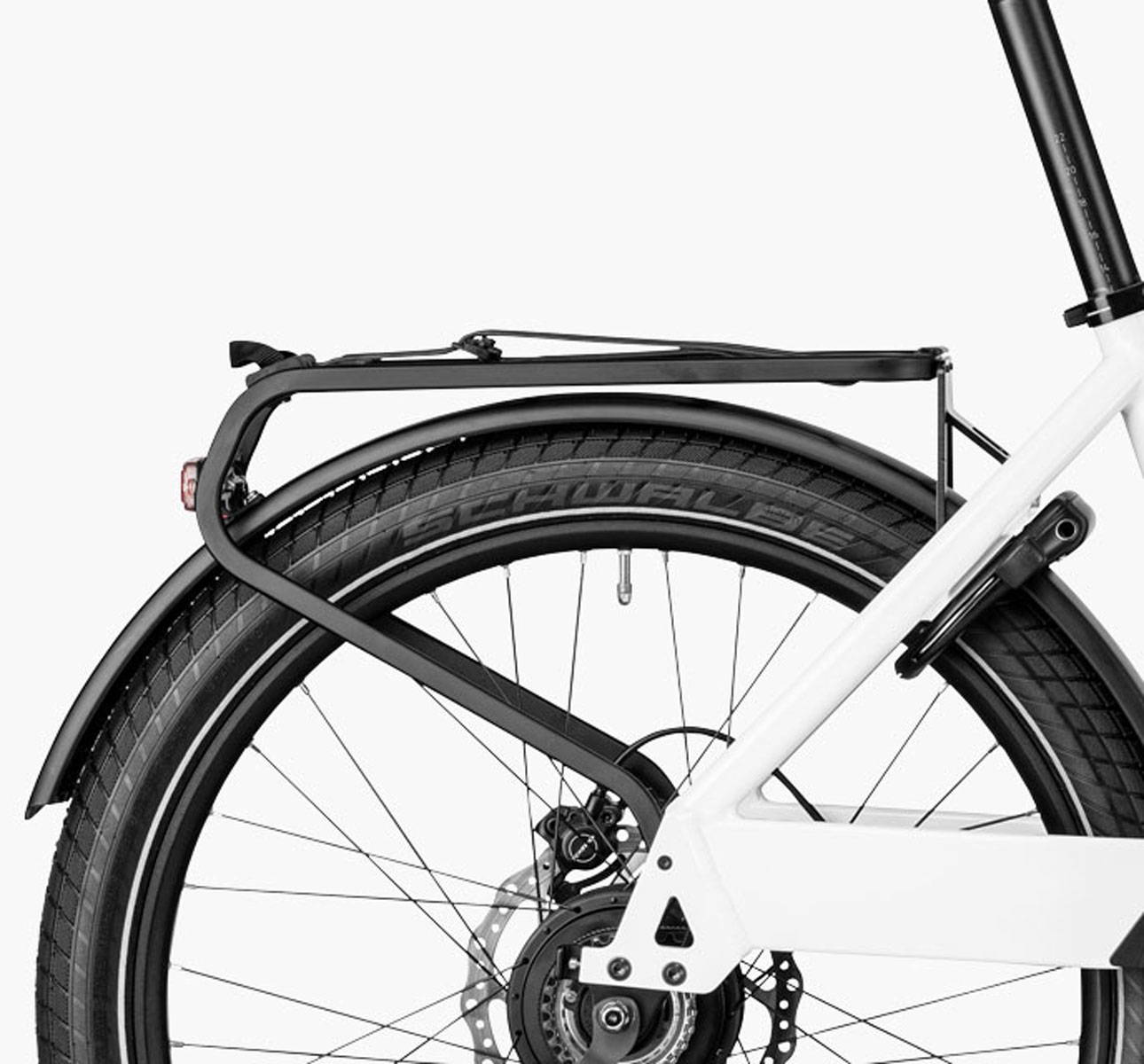 $112 CAD
Need more storage space? Secure panniers or baskets to the Rear Carrier equipped with MIK system for adaptable baskets and bags.
Additional Chain Lock with Bag
$70 CAD
An included ABUS Shield+ frame lock secures your rear wheel and prevents theft when you're close by, but what if you need to leave your bike locked? The 130cm ABUS chain lock connects to the Shield+ frame lock and is keyed-alike with your battery for minimal key carry. A saddlebag keeps the chain lock close and at hand when you need it without making noise or getting in the way while riding.
---
Want to try before you buy?
We offer extended test rides from 1 - 3 days.

---
Starting at $10,379 CAD
Bosch Performance Line with Smart System
Bosch PowerTube 545Wh or 725Wh battery
Enviolo 380, continuous hub gear, belt drive
Configurable accessories
Gear Inches: 88.2 - 335.4
---
---
Can't decide? We're here to help - Talk to an expert!
---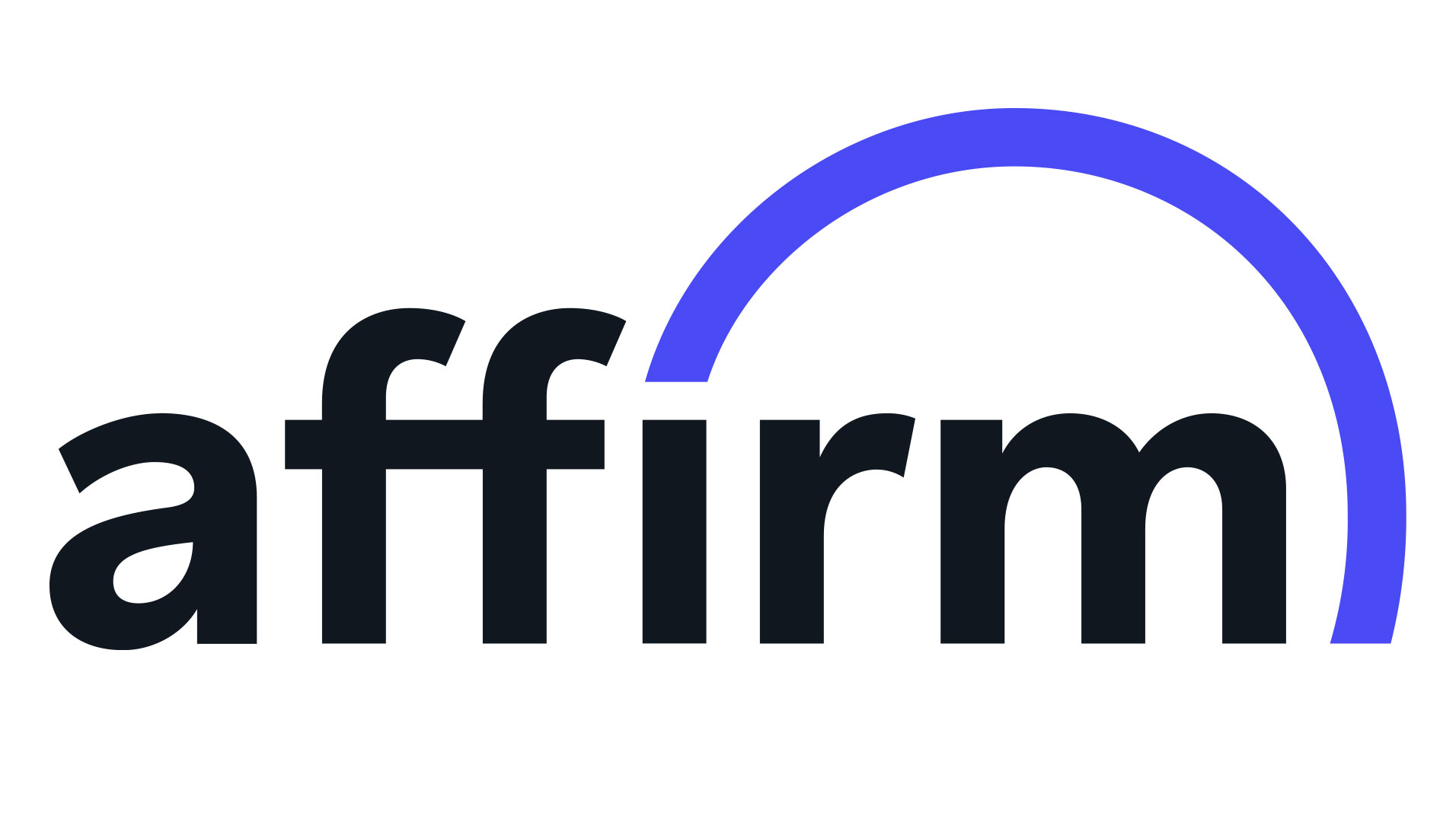 Buying an e-bike can be a daunting expense. Luckily, we offer financing through Affirm! That means zero interest and six low monthly payments to pay off your brand new bike in stages.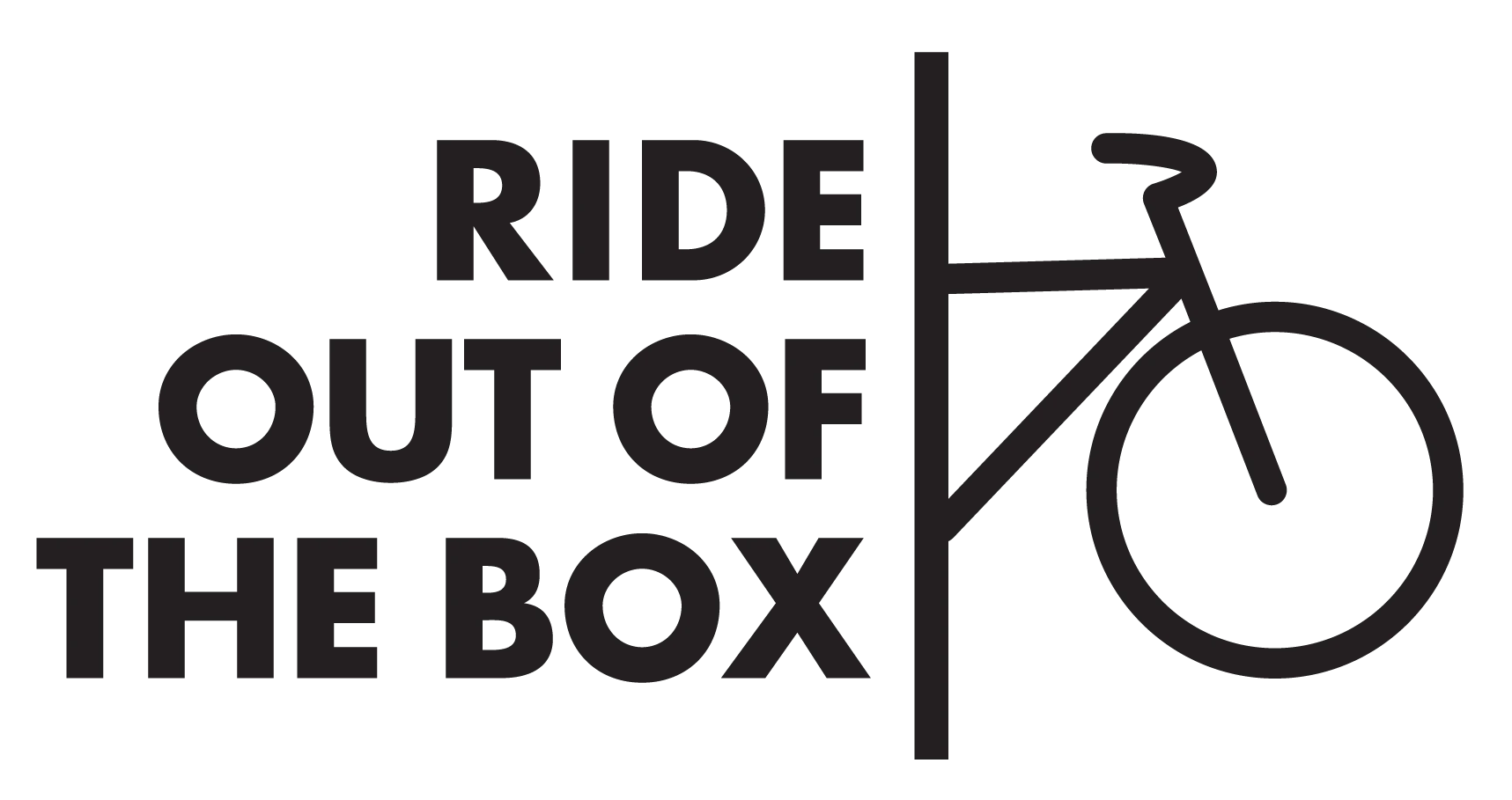 Did you know we ship bikes completely built and ready to ride? Our bikes are shipped Ride Out Of The Box meaning they are professionally tuned and delivered - worry free. Your bike will arrive at your door step with any accessories installed, so you can ride it right out of the box.
---